Unlock document.
This document is partially blurred.
Unlock all pages and 1 million more documents.
Get Access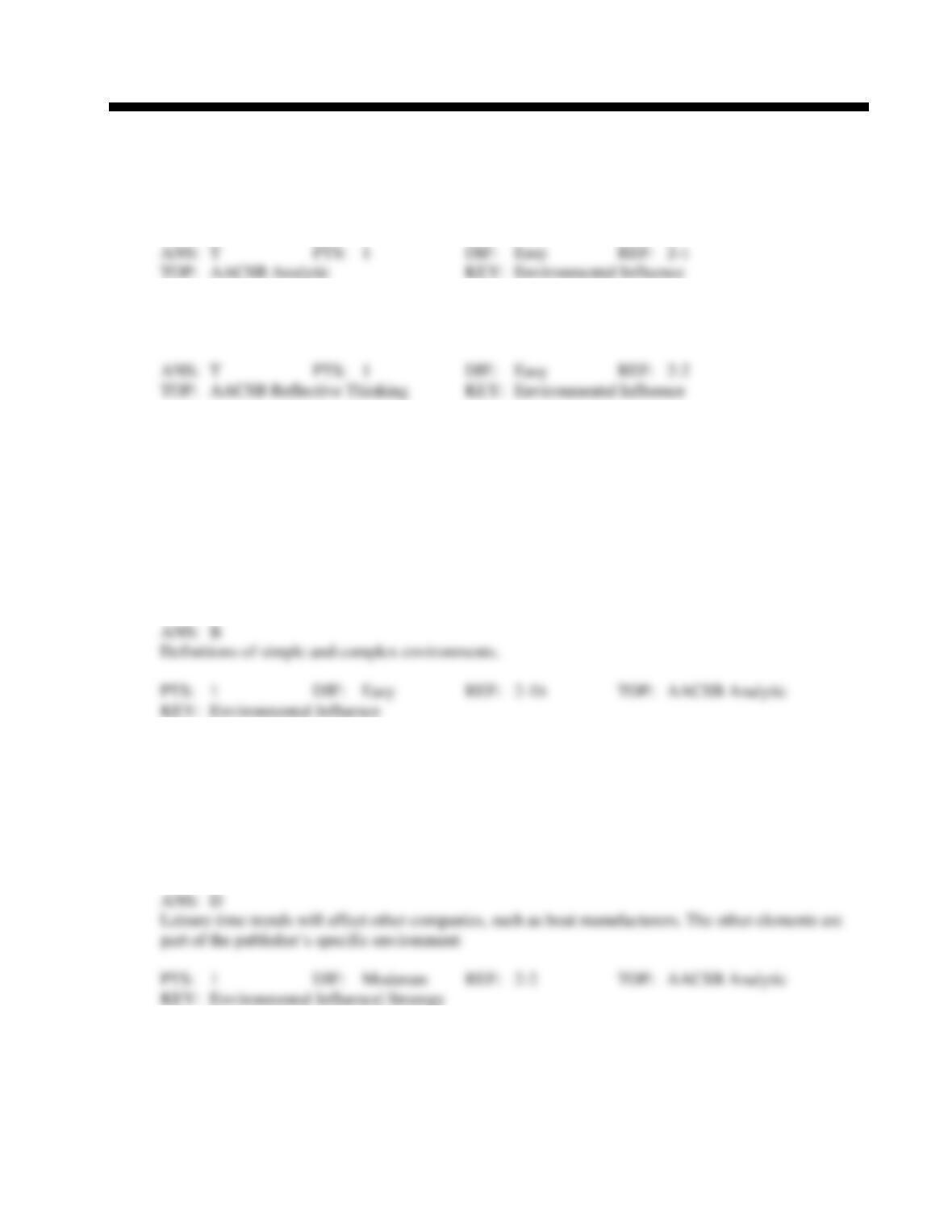 Course Pre-Assessment CH 02
Williams Effective Management 6e
1.
External environments are the forces and events outside a company that have the potential to influence
2.
The two kinds of external organizational environments are the general environment that affects all
organizations and the specific environment that is unique to each company.
1.
In terms of environmental complexity, ____ environments have few environmental factors, whereas
____ environments have many environmental factors.
non
-competitive; competitive
market-oriented; product-oriented
2.
Which of the following is a component of a book publisher's general environment and will indirectly
influence how it does business?
other book publishing companies
an advocacy group supporting free books for children
a trend toward less leisure time
3.
____ is used to refer to a company's practice of identifying and addressing customer trends and
problems after they occur.
Consumer confidence forecasts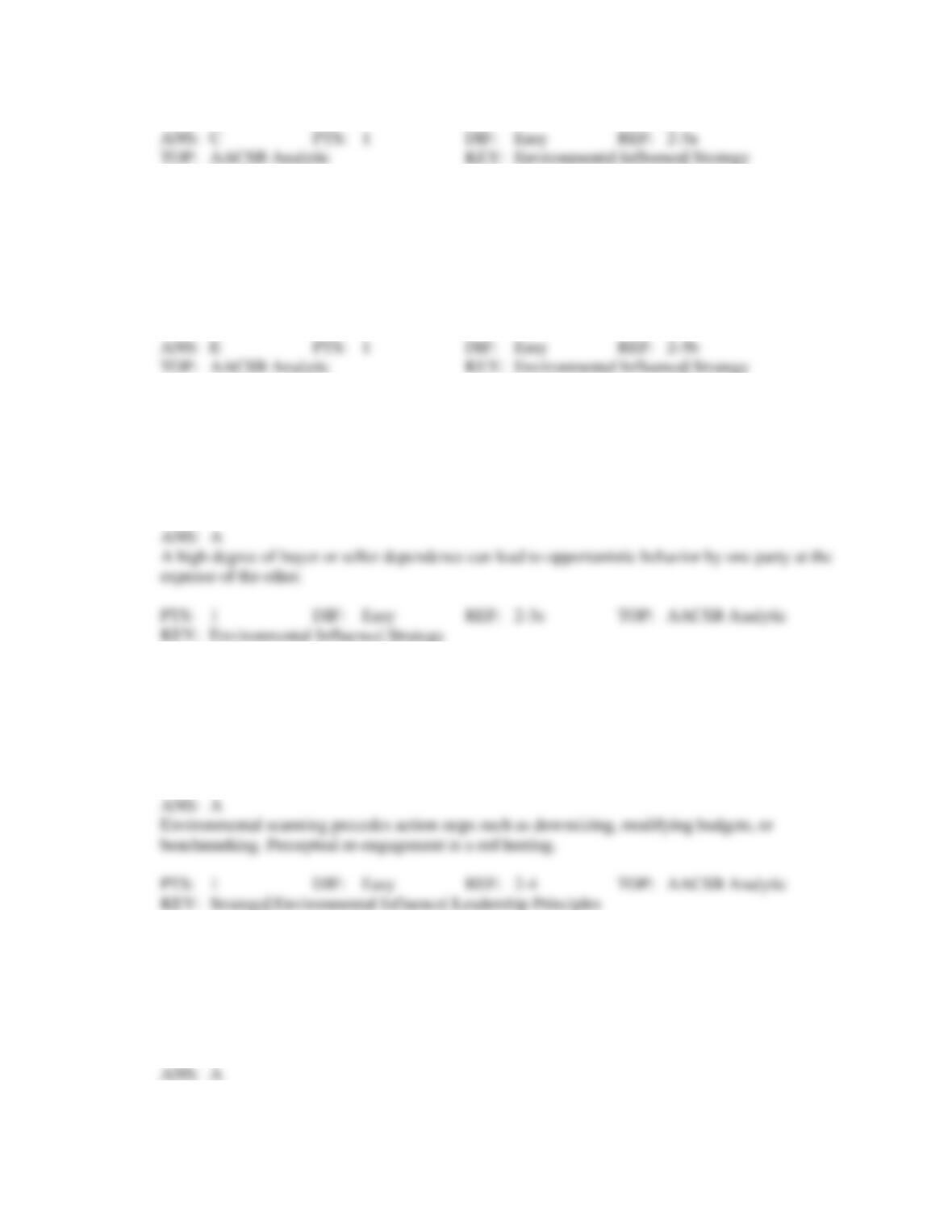 Reactive customer monitoring
Proactive customer monitoring
4.
____ involves deciding who your competitors are, anticipating competitors' moves, and determining
competitors' strengths and weaknesses.
5.
Typically the most important factor in the relationship between companies and their suppliers is:
how dependent they are on each other
how much they know about each other
how compatible their organizational cultures are
the type of product being manufactured
6.
The first step managers use to make sense of their changing environments is:
7.
____ is a primary source of organizational culture.
The organization's competitive strategy
The industry in which the organization operates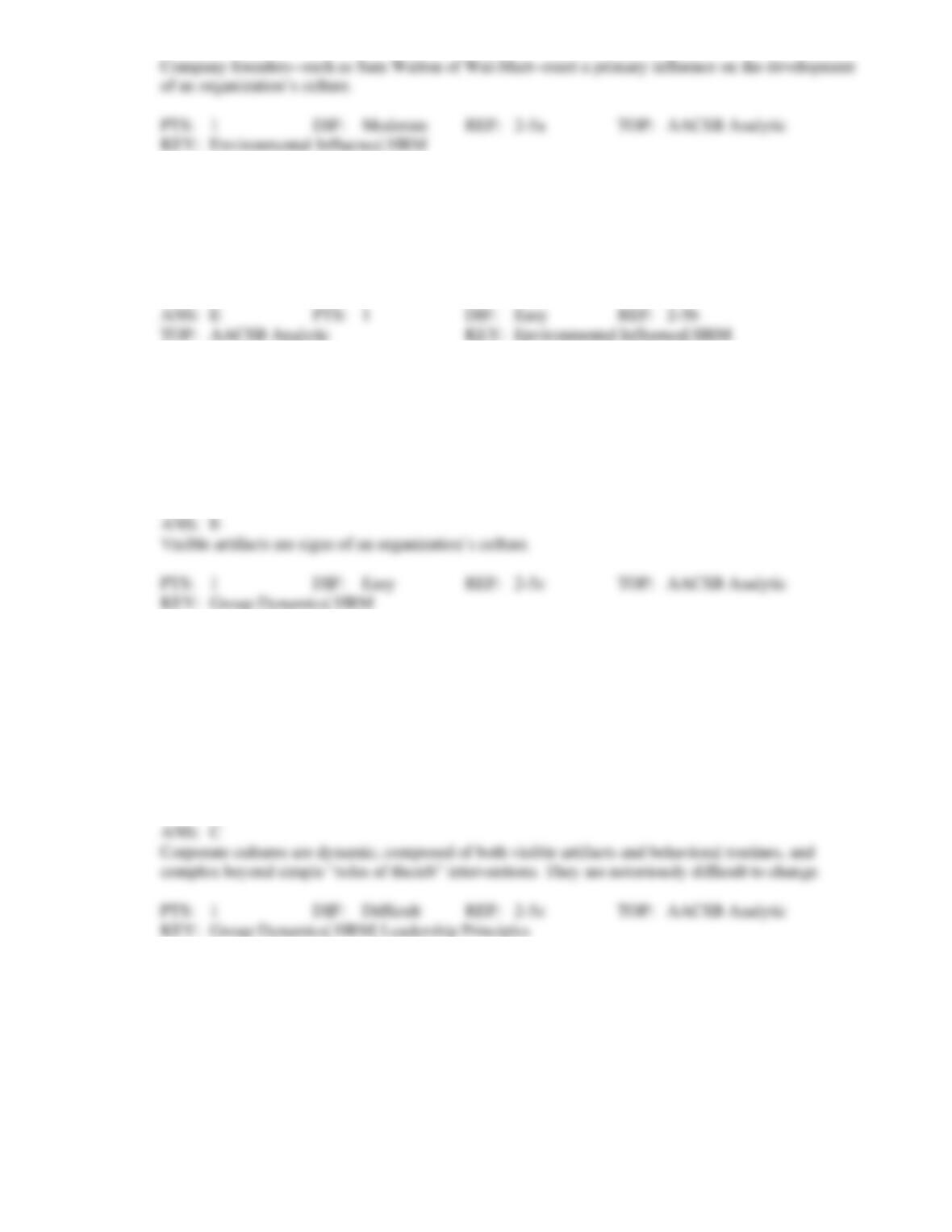 8.
Which of the following is a characteristic of successful organizational cultures?
9.
Which of the following would be an example of a visible artifact for an organization that is being
merged with a large international firm?
personal parking spaces for all salespeople
a private company dining room
10.
Which of the following statements about corporate cultures is true?
Corporate cultures are dynamic creations that respond positively to change.
Corporate culture are unaffected by changes in perks, office layouts, or work relationships.
Corporate cultures are very difficult to change.
Any manager who wants to modify a corporate culture must follow the cultural change
plan, which begins with employee input and ends with behavioral addition and/or
substitution.
Corporate culture change is significantly easier with behavioral addition than with
behavioral subtraction.