Unlock document.
This document is partially blurred.
Unlock all pages and 1 million more documents.
Get Access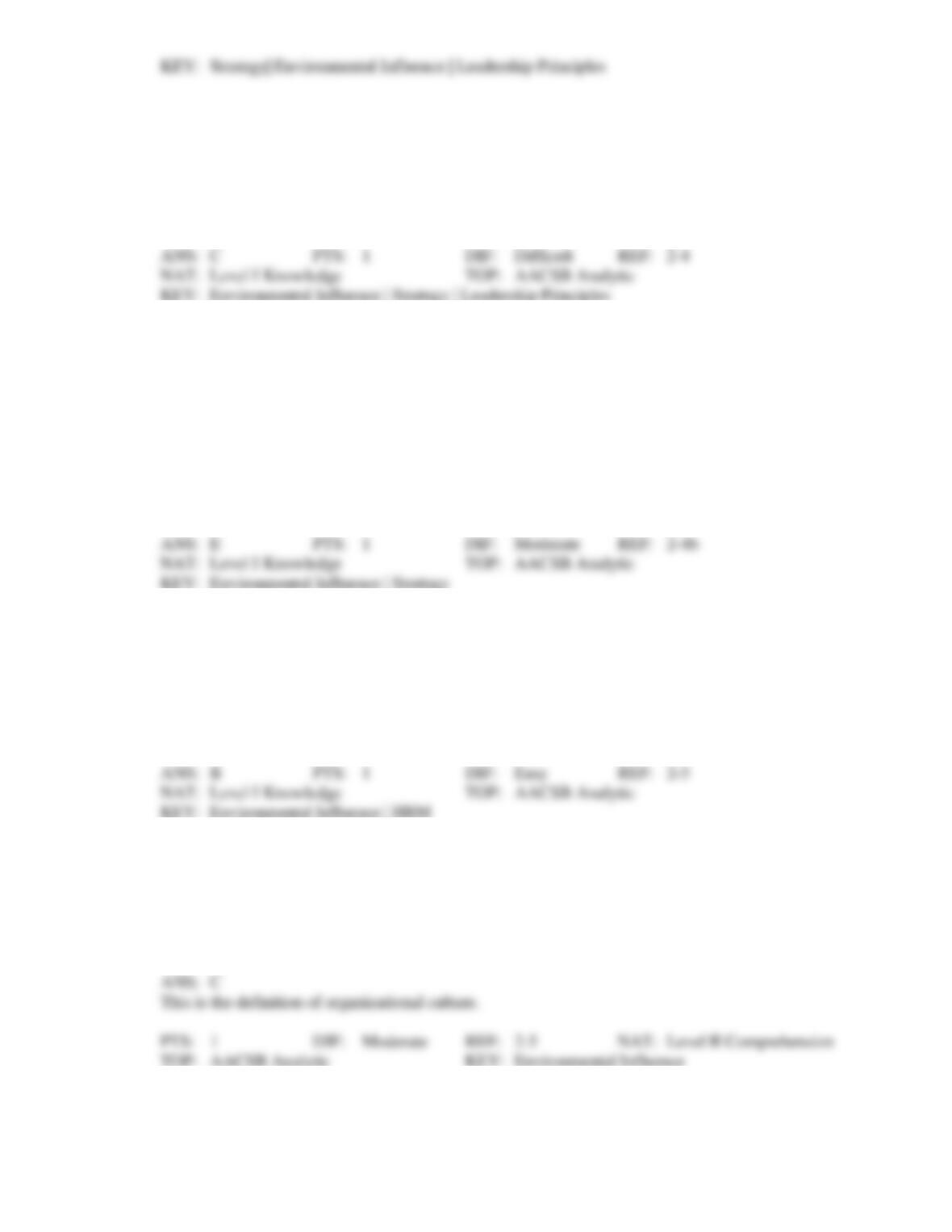 47.
Which of the following is one of the steps in the process that managers use to make sense of their
changing environments?
acting on threats and opportunities
creating strategic windows
48.
Kodak makes digital cameras and paper for prints. Kodak would view the ubiquity of digital cameras
as a(n) ____ in its external environment if it considered how digital cameras affect sales of cameras
that use film. On the other hand, Kodak would view the growing popularity of digital cameras as a(n)
____ in its external environment if it considered the amount of Kodak processing paper used in
printing pictures made by digital cameras.
49.
The term ____ refers to the events and trends inside an organization that affect management,
employees, and the organizational culture.
50.
The ____ is the set of key values, beliefs, and attitudes shared by members of an organization.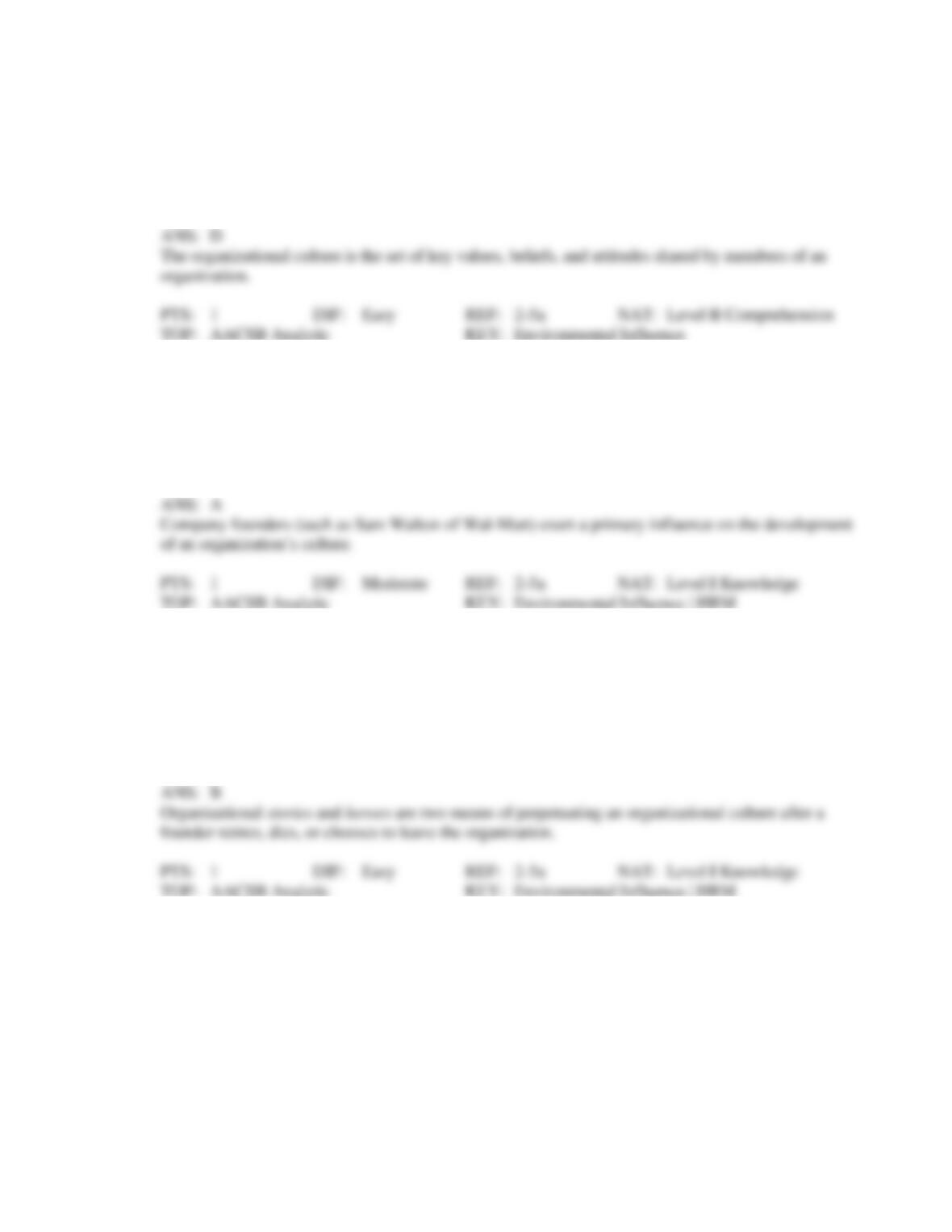 51.
When Susan started work at Henderson Textile Co., she was amazed at its employees who would take
30
-minute restroom breaks, leave for the day at 2 p.m., and generally belittle the company's
management. Such employees' actions most likely developed over time as a result of a faulty ____.
response to an opportunity
52.
____ is a primary source of organizational culture.
The organization's competitive strategy
The industry in which the organization operates
53.
After an organization's founders are gone, the organization can use ____ to sustain its organizational
culture.
54.
According to a book by a Harvard Business School professor, some organizational cultures simply
cannot meet the challenges posed by innovation and must respond to threats from new technologies by
building outside ventures. Digital Equipment is described as having one of those organizational
cultures.
The company squandered the opportunities presented by the PC revolution even though it
was well equipped to build cheap PCs. The company did not have ____.
a formula for success laddering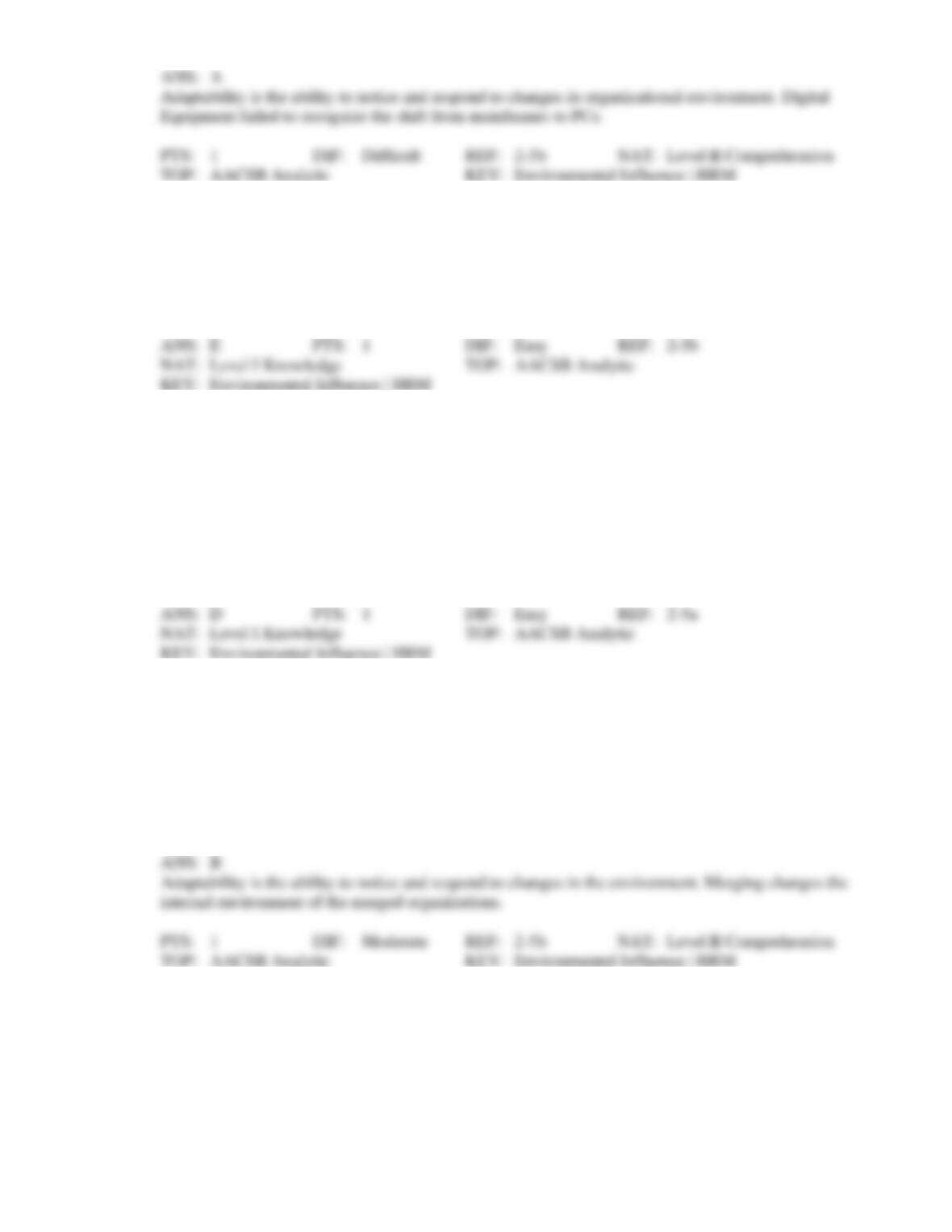 55.
Which of the following is a characteristic of successful organizational cultures?
56.
The Edmonton Oilers ice hockey team develops a sense of history for its current players by raising
banners showing its success - five championships - and the retired numbers of great players from the
past in its stadium and locker room. What tactics for maintaining organizational culture are the
Edmonton Oilers using?
organizational complexity and consistency
organizational benchmarking
organizational stories and organizational heroes
behavioral addition and behavioral substitution
57.
One of the difficulties encountered in recent mergers has been the inability of employees in the two
existing organizational cultures to operate harmoniously. In other words, merging organizational
cultures often lack the ____ that would increase the likelihood of a merger's success.
58.
One of the problems with many of the dot-com companies that failed in the mid-1990s was a lower
and middle management adherence to innovation and an expectation that work would be fun while top
management envisioned the company being profitable and the elimination of unnecessary expenses.
These companies lacked ____ in their organizational cultures.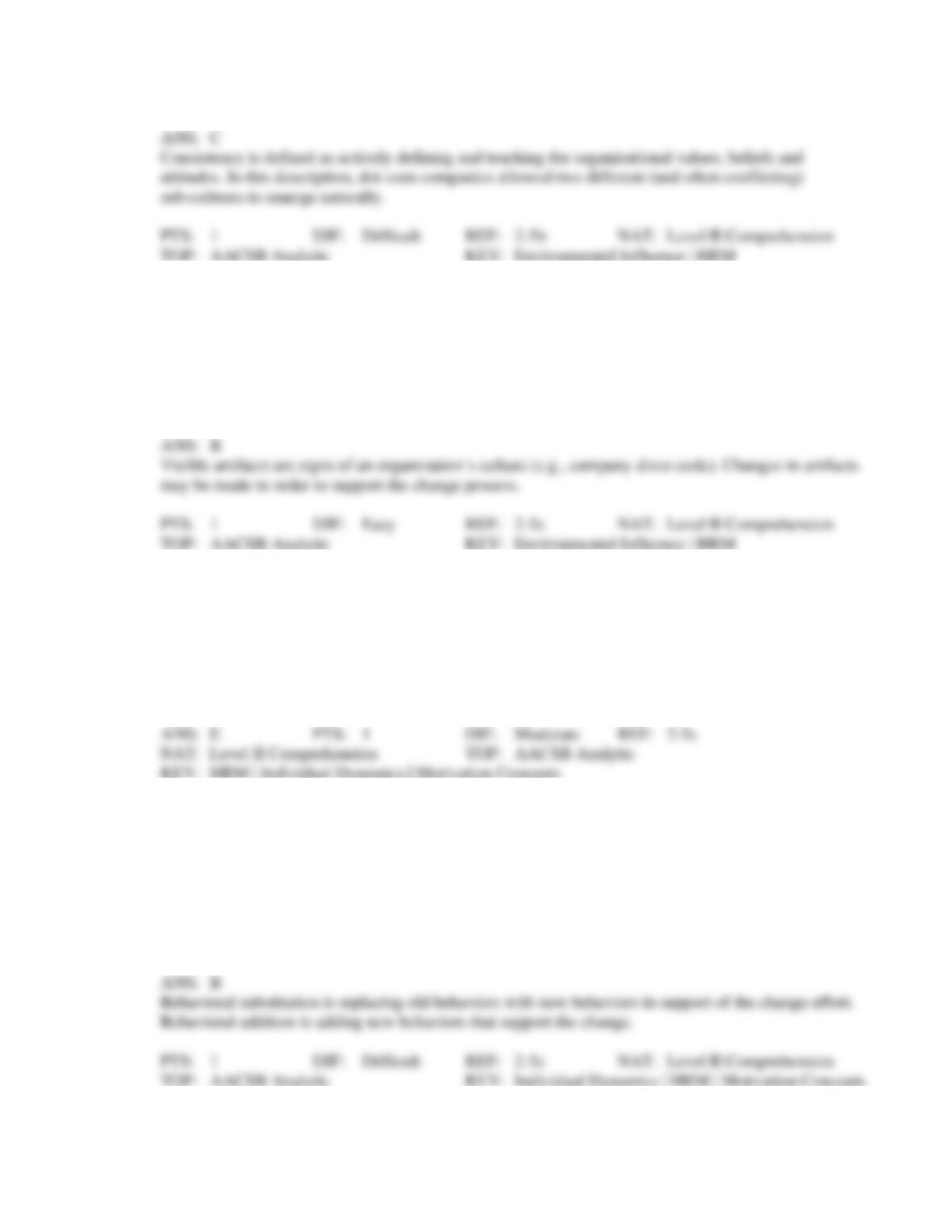 broad spans of management
59.
Organizations use behavioral addition, behavioral substitution, and ____ to change their organizational
culture.
60.
____ is the process of having managers and employees perform new behaviors that are central to and
symbolic of the new organizational culture a company wants to create.
Relationship transformation
61.
When using ____techniques to change organizational culture, the key to success is to choose behaviors
that are central to and symbolic of the old culture that is changing and the new culture you want to
create.
attitudinal motivation and conditioned learning
behavioral substitution and behavioral addition
conditioned and classical learning
negative and positive reinforcements
organizational stories and heroes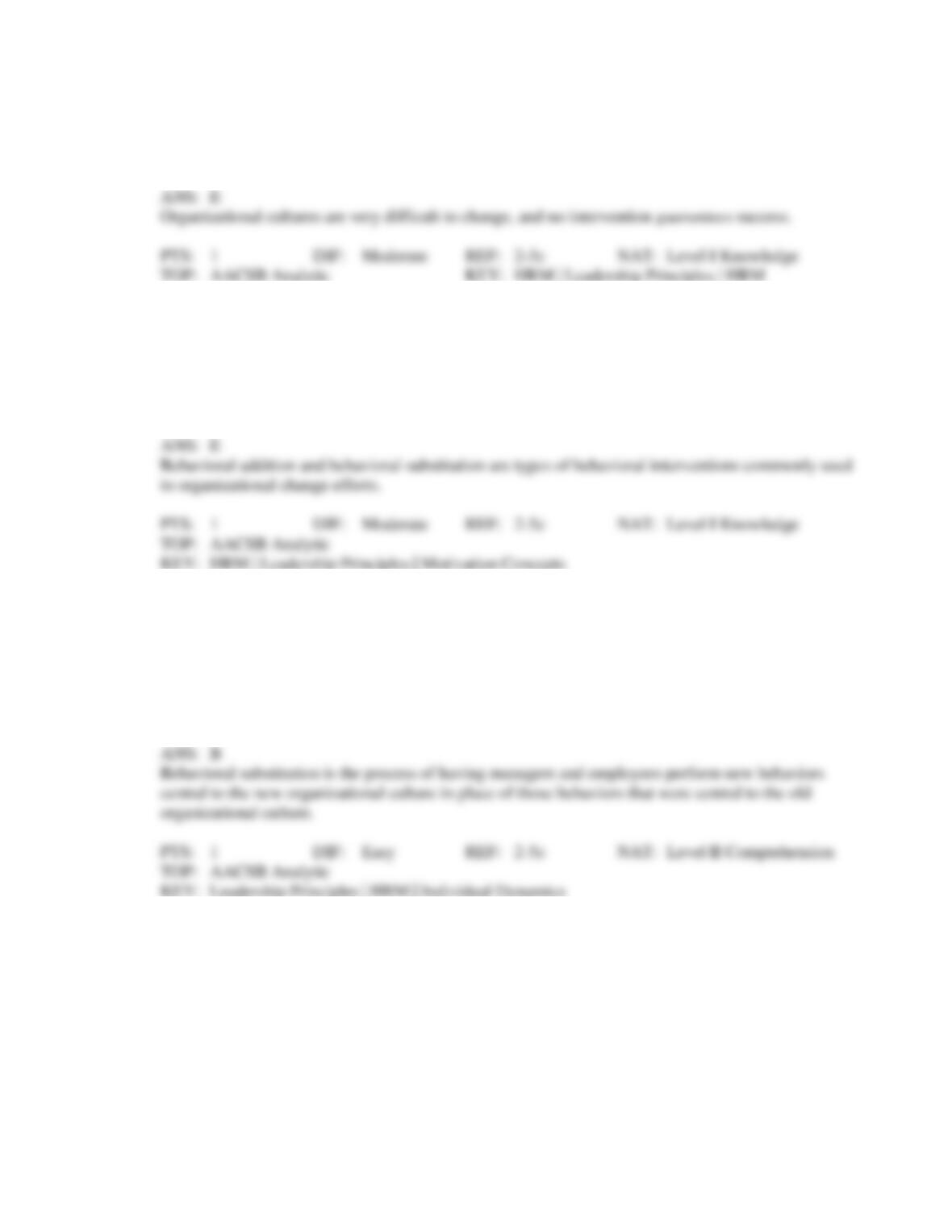 62.
Which of the following approaches will guarantee the successful change of an organizational culture?
the recognition of new organizational heroes
new organizational stories
None of the choices can guarantee successful organizational change.
63.
Managers can use behavioral addition and behavioral substitution to ____.
assess the threats and opportunities in the internal environment
locate new markets for existing products
64.
In order to change an organizational culture, top management can persuade other managers and
employees to perform a new behavior in place of an older one. This technique is called ____.
organizational acculturation
65.
When Samsonite purchased American Tourister, one of the first things the new management did was
to eliminate the American Tourister Gorilla mascot (which had appeared in all American Tourister ads
for years and which represented the quality construction of American Tourister luggage). The gorilla
had been a symbol of quality and commitment for American Tourister employees. The executive order
to remove the gorilla posters from the walls of offices and factories was one of the means Samsonite
used to change the organizational culture at American Tourister. The gorilla posters were an example
of ____.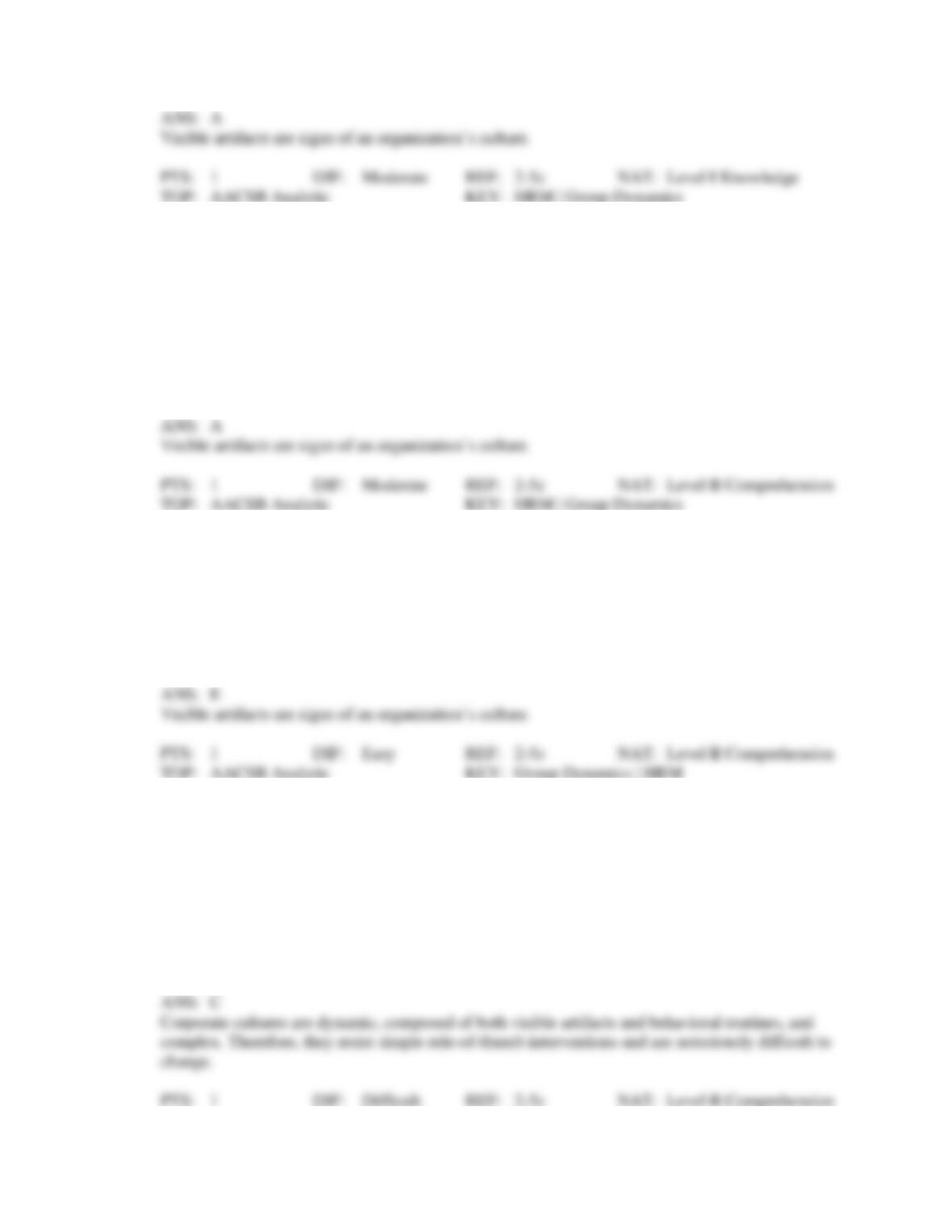 organizational allegories
66.
A mace is commonly used at a university or college convocation ceremony. The mace was originally a
weapon, then became the symbol of government, and now has become the symbol of authority of the
institution to grant diplomas or degrees. In terms of organizational culture, the mace is an example of
a(n) ____.
67.
Which of the following would be an example of a visible artifact for an organization that is merging
with a large international firm?
personal parking spaces for all salespeople
a private company dining room
68.
Which of the following statements about corporate cultures is true?
Corporate cultures are dynamic creations that respond positively to change.
Corporate culture are unaffected by changes in perks, office layouts, or work relationships.
Corporate cultures are very difficult to change.
Any manager who wants to modify a corporate culture must follow the cultural change
plan, which begins with employee input and ends with behavioral addition and/or
substitution.
Corporate culture change is significantly easier with behavioral addition than with
behavioral subtraction.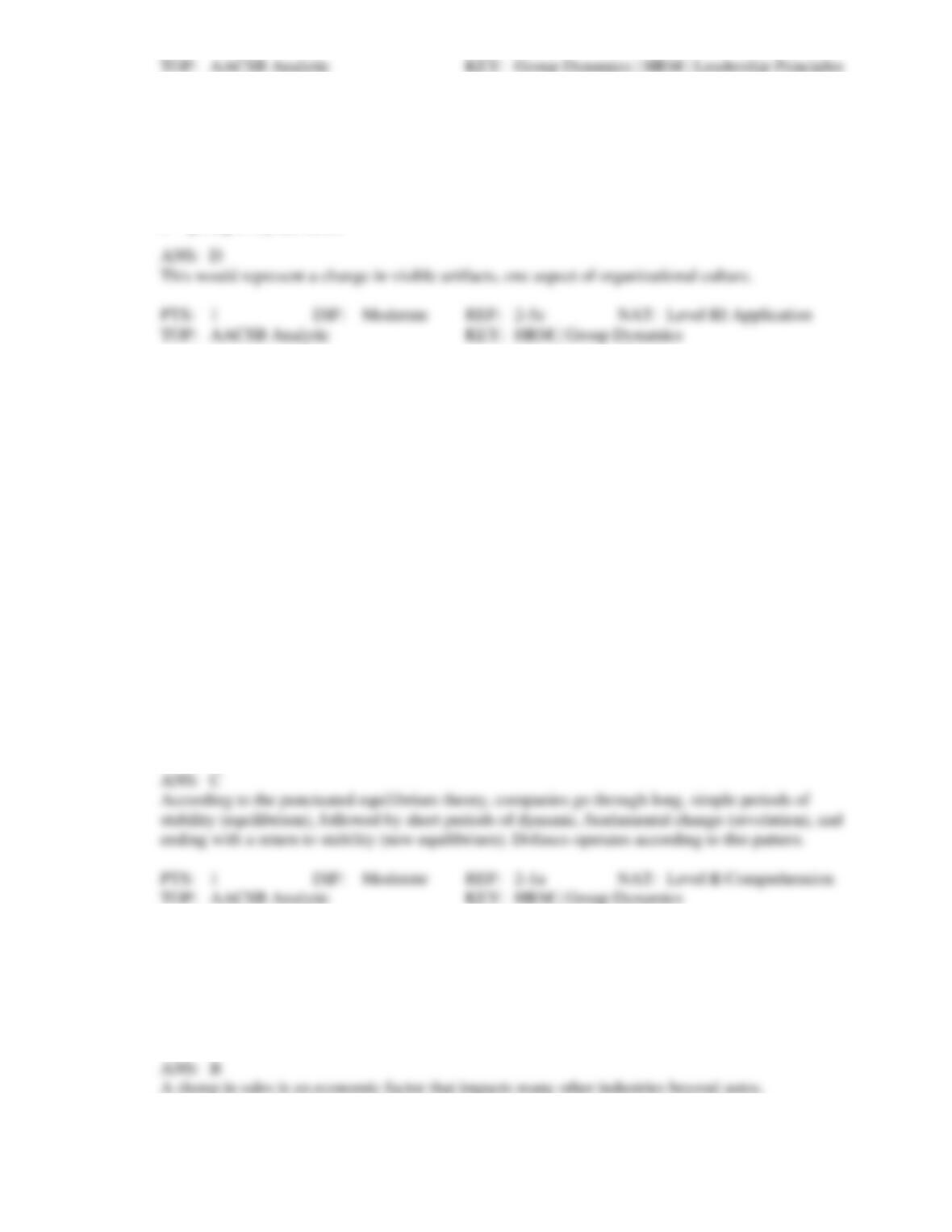 69.
Milsand Corp. used office cubicles for its employees. Employees were not allowed to personalize their
cubicles. If Milsand wanted to change its organizational culture, it could begin by ____.
creating a new human resources department
hiring a cultural ombudsman
adhering to affirmative action regulations
allowing employees to personalize their cubicles
Dofasco, Inc. is a different kind of steel company. Tiny by industry standards, the Canadian-based
company has just 8,500 employees and a market cap of $2.3 billion. Dofasco operates with a close eye
on the
triple bottom line
. In addition to tracking financial metrics, Dofasco also monitors its impact on
society and the environment. As a result, the company has outperformed many of its biggest
competitors. Despite a recent slump in the automobile industry, which accounted for 50 percent of its
business, Dofasco ran at 100 percent capacity and finished as one of the only integrated steelmakers in
all of North America to make a profit one year. Dofasco is also one of the only companies in the steel
industry without a union, and its employees like it that way.
Employee turnover at the company's main
operation is less than one percent annually. Part of its low turnover rate is due to the company's
concern about protecting its external environment. As the CEO of the company said, "One way to get
happy employees is
not to wreck their community in which they live."
70.
Refer to Dofasco. Dofasco operates according to the punctuated equilibrium theory. This means the
company ____.
incorporates both planning and control within its long-term strategy
operates with a virtually flat organizational structure
has periods of long stability punctuated by short periods of dynamic change
motivates its employees by maintaining a salary/wage equilibrium
emphasizes working in harmony with its environments
71.
Refer to Dofasco. The slump in the automobile industry would be part of Dofasco's ____ environment.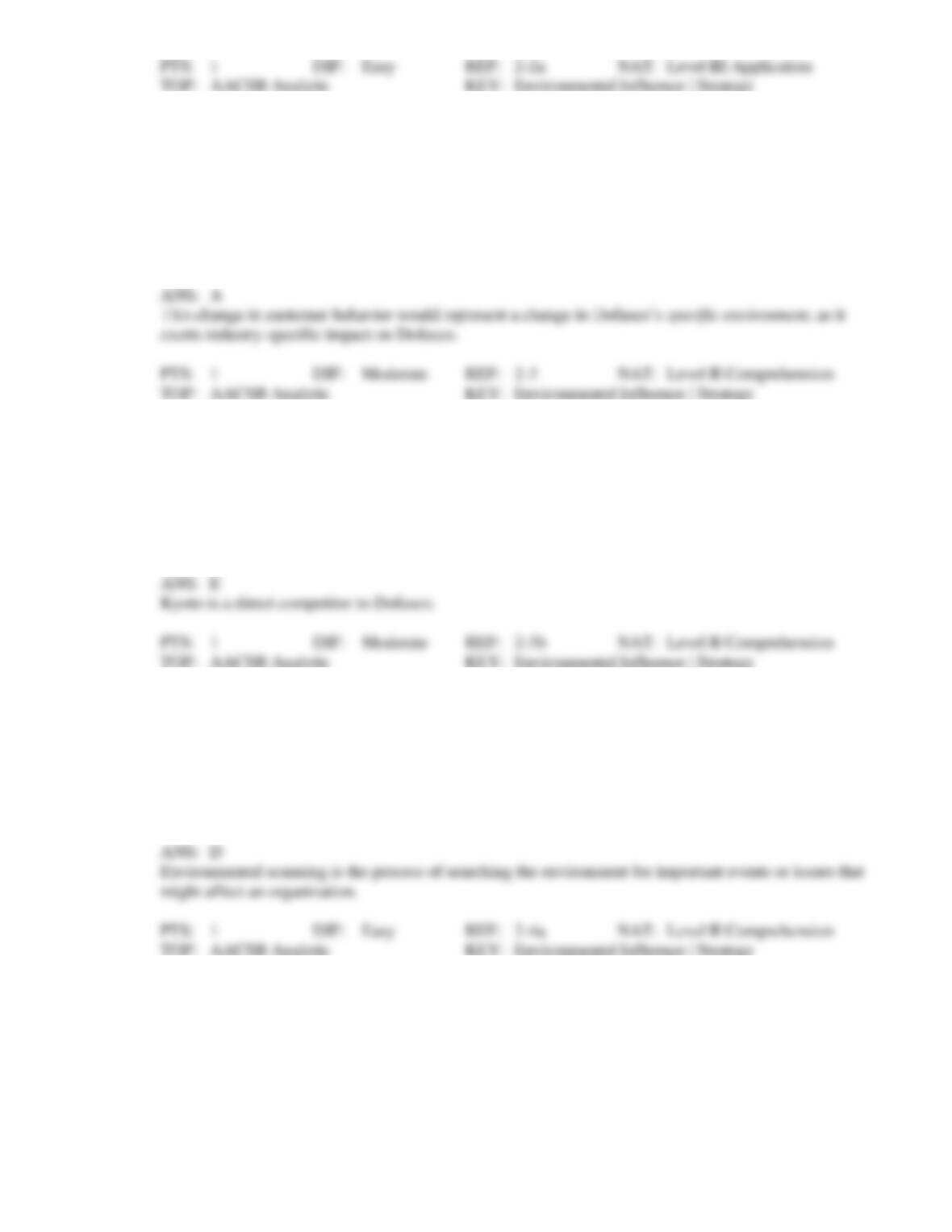 72.
Refer to Dofasco. The fact that Ford purchased less steel from Dofasco during the auto industry's
slump would be part of Dofasco's ____ environment because Ford Motor Company is one of its
customers.
73.
Refer to Dofasco. Sydney Steel Corporation is another steel producer in Canada. This company is part
of Dofasco's ____ component of its ____ environment.
74.
Refer to Dofasco. What technique would Dofasco most likely have used to keep apprised of
environmental changes that could impact how the company does business?
75.
Refer to Dofasco. The company's commitment to triple the bottom line and to keeping its employees
happy is indicative of Dofasco's ____.
environmental munificence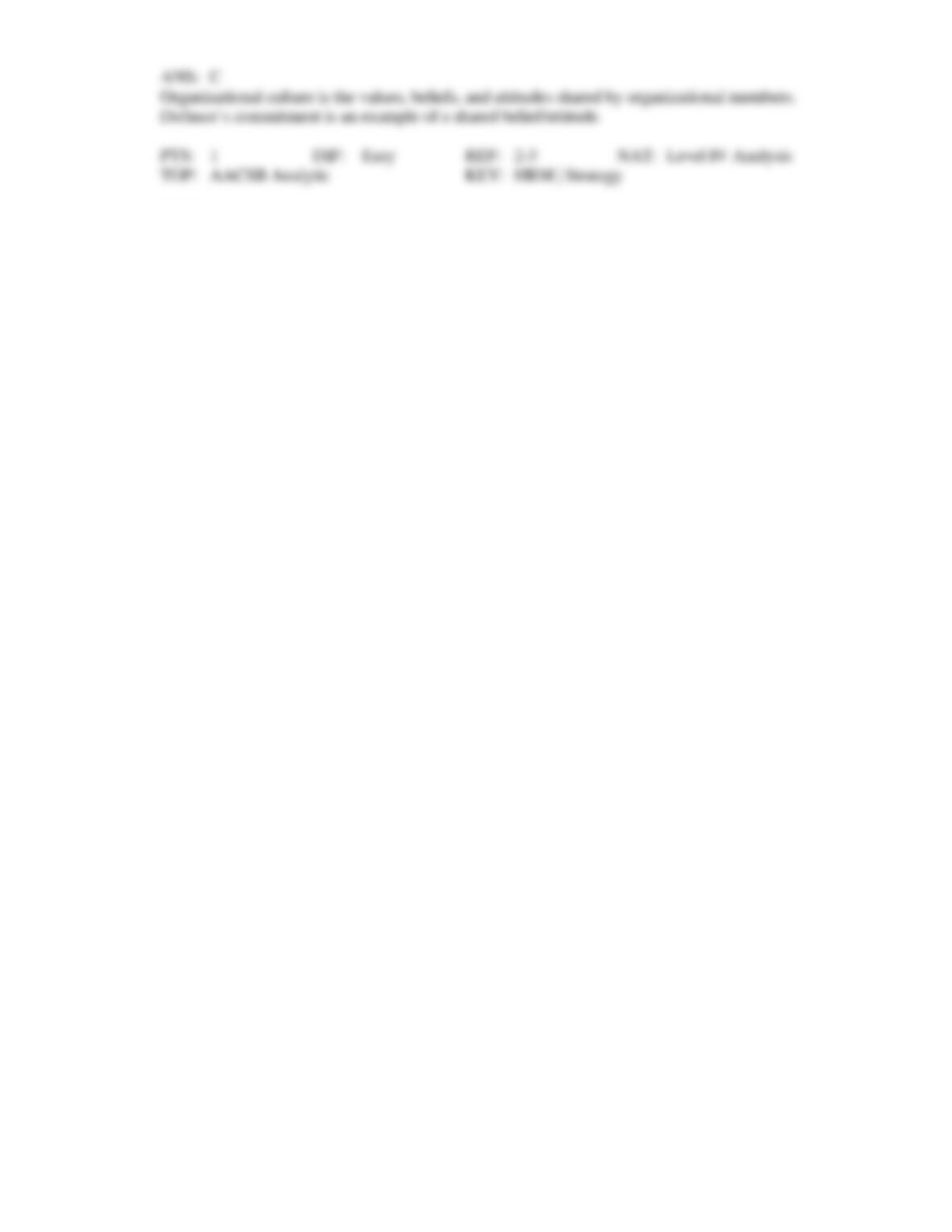 WWYD Waste Management
Waste Management, Inc., is the largest waste handling company in the world.
It generates 75% of its
profits from 273 landfills, which can hold 4.8 billion tons of trash. Since it only collects 110 million
tons a year, it has plenty of landfill capacity for years to come. However, corporations, cities, and
households are reducing the waste they generate
—
and the amount of trash that they pay Waste
Management to haul to its landfills. Subaru of America has a zero-landfill plant. Wal-Mart has also
recognized this dynamic environment and embraced the same goal. How can Waste Management take
advantage of the trend toward zero waste to grow company revenues?
Another significant change for Waste Management is its customers wanting landfill wastes to be
sorted for recycling and reuse. However, the high cost of collecting and sorting recyclable materials
means that Waste Management loses money when it recycles them. The company needs to meet
increased customer expectations while finding a way to earn a profit. Finally, advocacy groups, such
as the Sierra Club, regularly protest Waste Management's landfill practices, deeming them
irresponsible and harmful to the environment.
How should Waste Management respond to changes in its external environment? The first step is
to
recognize the trend and the impact it can or will have on your business. Waste Management
understands that societal and corporate attitudes have changed. The company cannot survive on
picking up and disposing waste, but rather on opportunities arising from the sustainability movement.
Waste Management can ensure that billions of dollars of recyclable materials don't end up as
worthless landfill by investing in materials recovery facilities that capture valuable materials or energy
in cost-efficient ways. However, the high cost of collecting and sorting recyclable materials means that
Waste Management loses money. The challenge for Waste Management is to focus on sustainability
services and be highly profitable. The answer is using and owning waste conversion technology and
purchasing companies with these technologies to make recycling highly profitable.
Finally, groups, such as the Sierra Club, regularly protest Waste Management's landfill practices,
but rather than just taking on critics and focus on its business, Waste Management views
environmental advocates as an opportunity.
Waste Management has taken the unique strategy of working directly with advocacy groups to
address criticisms of how it does business. It works with the Wildlife Habitat Council (WHC), a
nonprofit organization, to create tailored voluntary wildlife habitat enhancement and conservation
education programs. The WHC works with corporations to independently certify that their recovered
lands are suitable and sustainable for wildlife. To
achieve the WHC's certification with waste
-filled
landfills is no small task. But, in 2007, Waste Management's goal was to achieve WHC certification at
100 sites, which it did just three years after setting its goal, protecting more than 25,000 acres,
including grasslands where two threatened species, the bay checkerspot butterfly and the California
red-legged frog, now thrive.
76.
Refer to WWYD Waste Management. That Waste Management is, like the private and public
customers it serves, "going green" sho
ws that it recognizes its_______environment.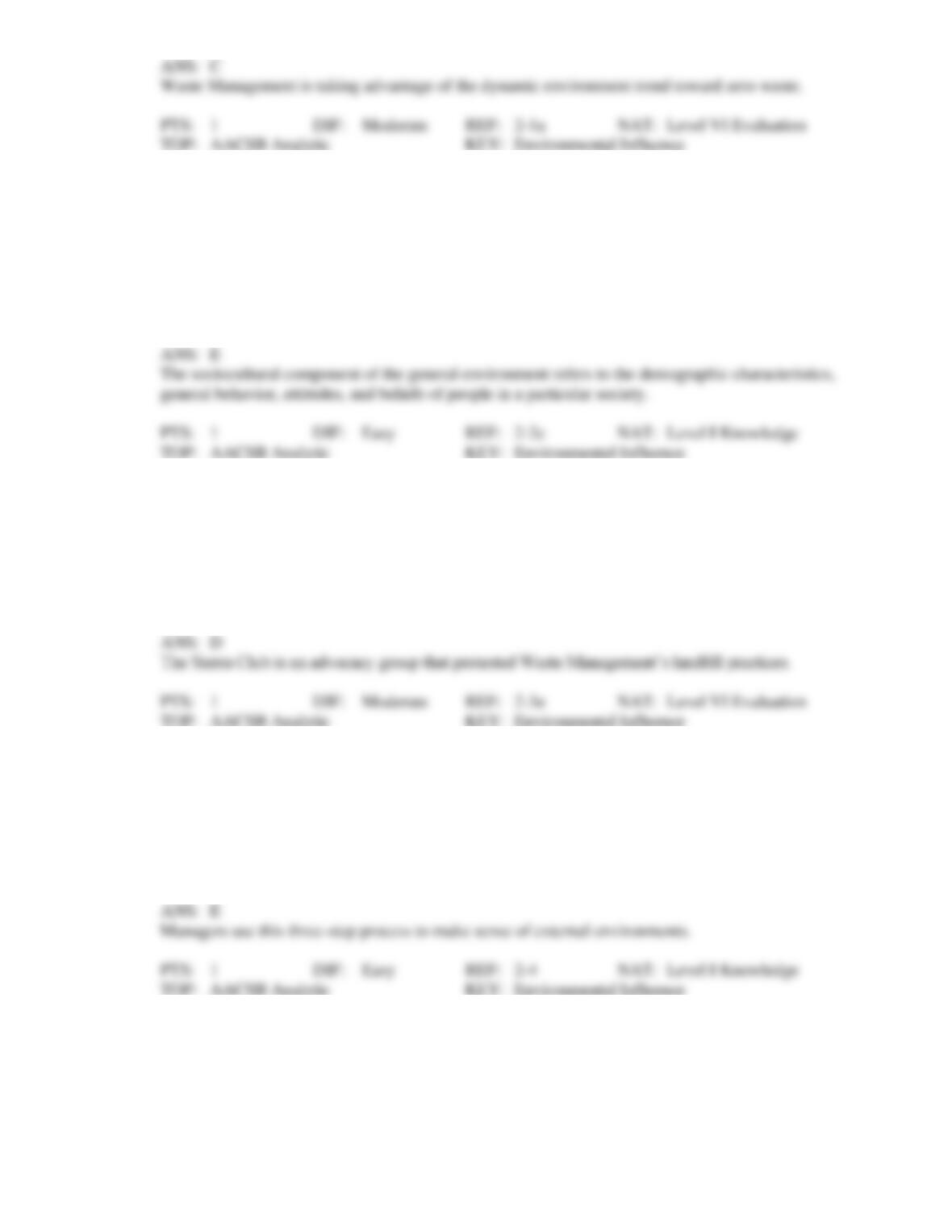 77.
Refer to WWYD Waste Management. Waste Management's coo

peration with the Wildlife Habitat
Council is an example of a company responding to the __________ component of the __________
environment.
78.
Refer to WWYD Waste Management. The Sierra Club is an example of a(n) __________ in the way it
__________ companies such as Waste Management.
advocacy regulator/governs
industry regulator/advocate
advocacy group/criticizes
79.
Refer to WWYD Waste Management. How does a company decision maker confront an
environmental trend such as the kind Waste Management sees?
by interpreting information
with environmental scanning
by acting on opportunities
Decision makers must do all of the choices in confronting trends.
80.
Refer to WWYD Waste Management. City governments and corporations have a commitment to
reducing waste. This is an example of a(n) __________ vis-à-vis Waste Management.
environment "going green"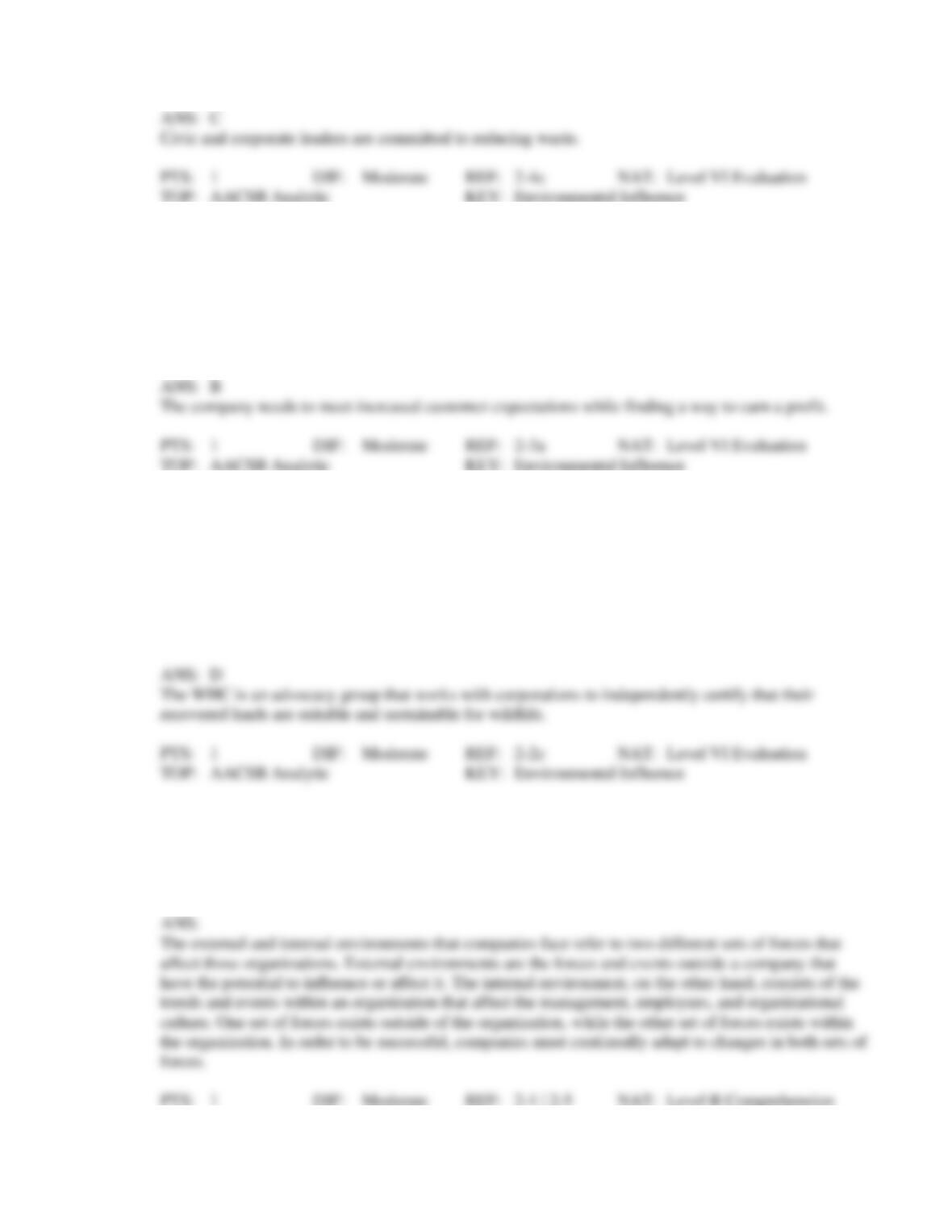 81.
Refer to WWYD Waste Management. The primary problem that Waste Management must focus on in
its recycling initiatives is:
being more "green" than its competitors
to act on environmental threats
to act on environmental opportunities
a lack of environmental scanning
82.
Refer to WWYD Waste Management. When the Wildlife Habitat Council (WHC) encourages
companies such as Waste Management to restore wildlife habitats for an endangered butterfly, what
general environment component is the company addressing?
1.
Briefly differentiate between the external and internal environments that companies face and explain
why these environments are important.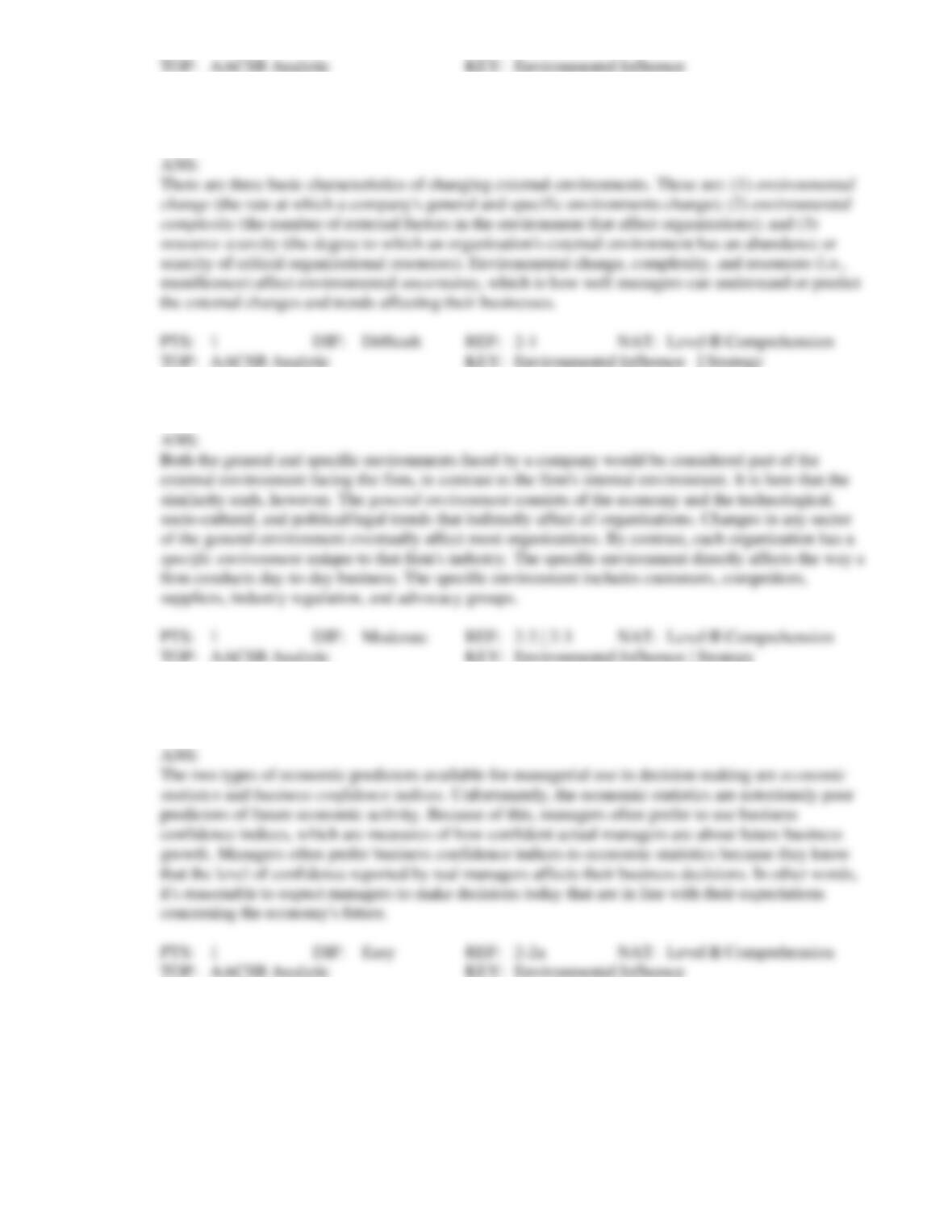 2.
Briefly define and explain the relationship between environmental change, complexity, uncertainty,
3.
Compare and contrast the general environment with the specific environment faced by a company.
4.
Briefly identify the two predictors of future economic activity that are available to managers for
decision making. Specify
which one manager's typically prefer.
5.
Identify and provide examples of the two important ways in which socio-cultural changes and trends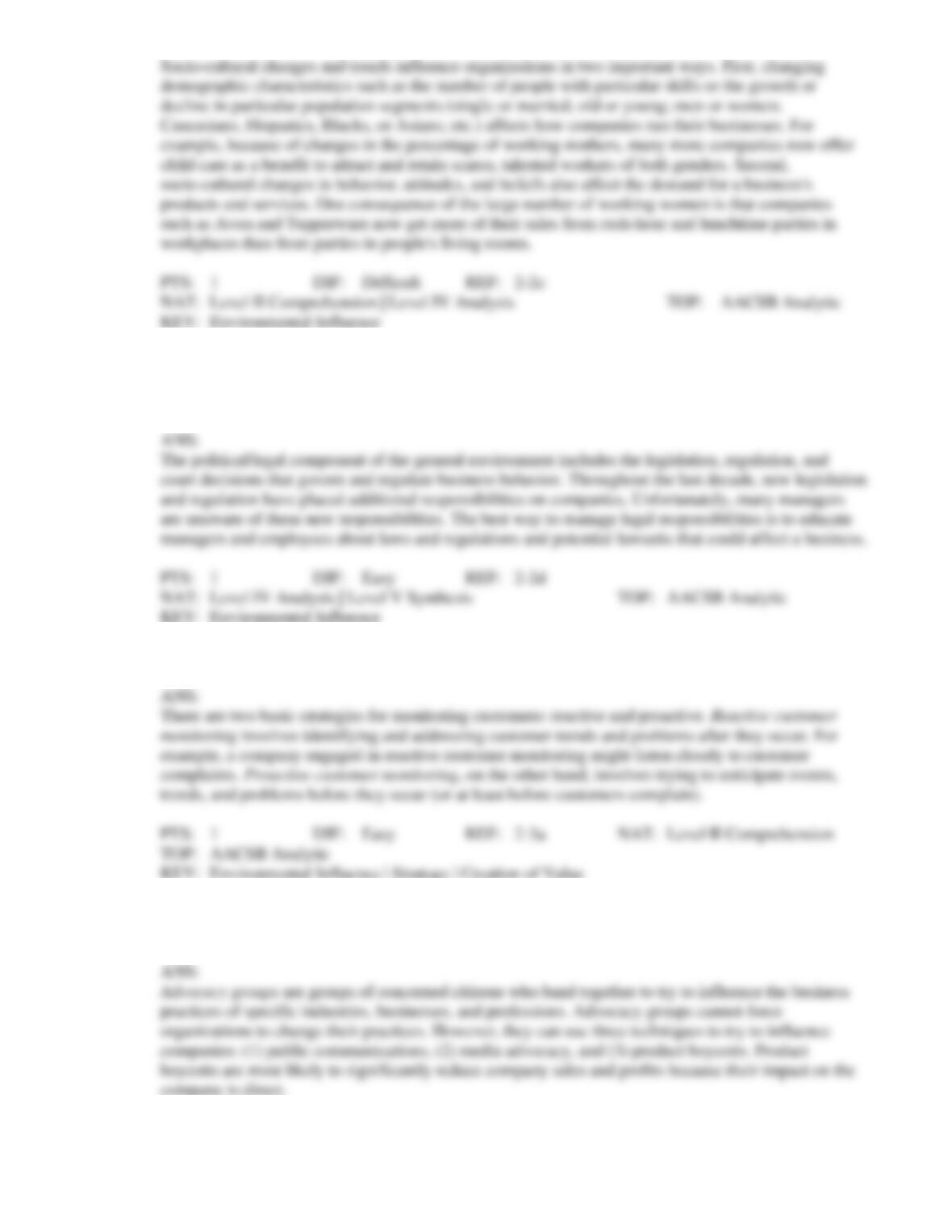 6.
Identify the major concern facing businesses from the perspective of the political/legal component of
the general environment. What is the most appropriate action businesses can take to manage their legal
7.
Briefly differentiate the two basic approaches used for monitoring customers.
8.
Define advocacy groups. List the three approaches to influencing businesses that advocacy groups are
likely to use. Specify which one of these three is most likely to impact company sales and profits.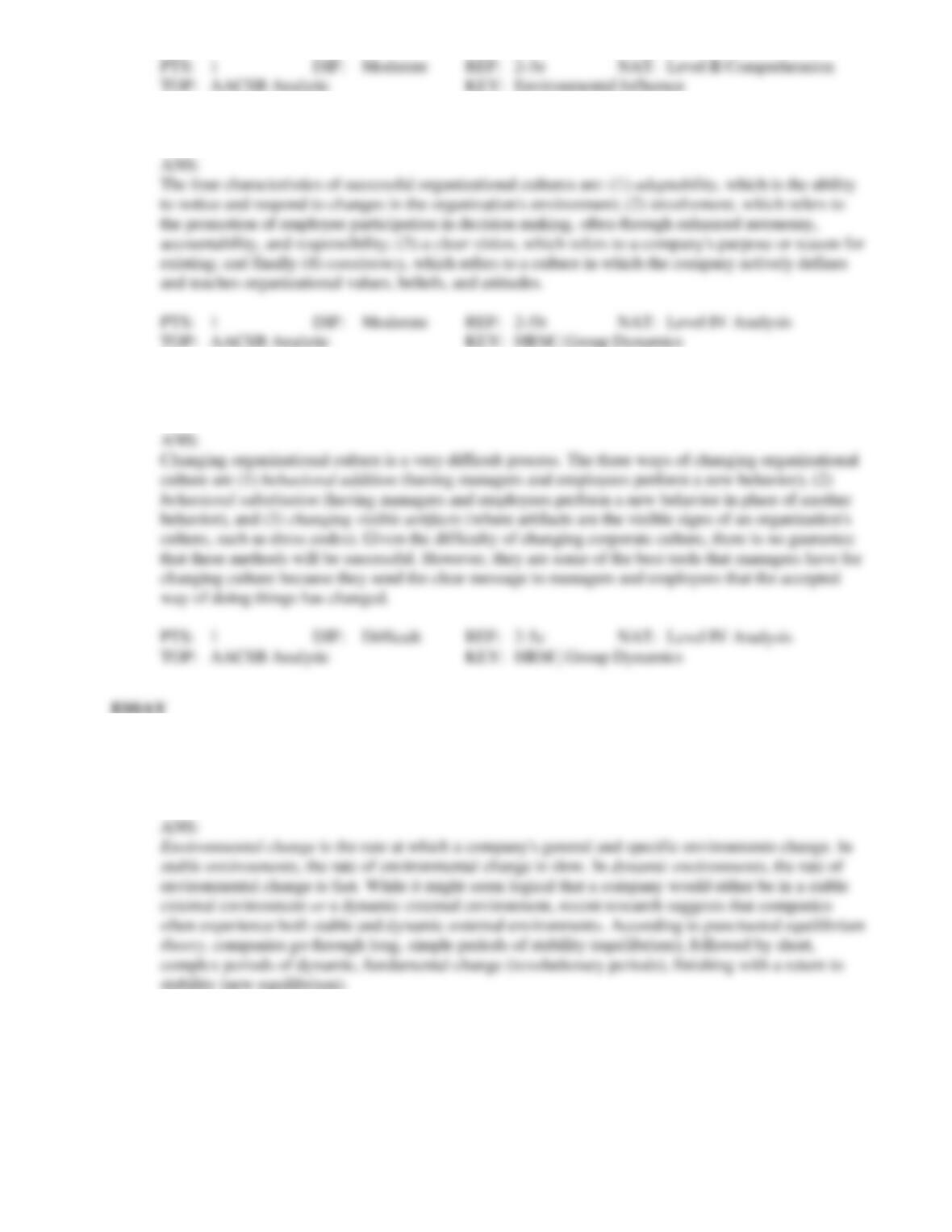 9.
List and briefly define the four characteristics of successful organizational cultures.
10.
Discuss how difficult is it to change an organizational culture. Then identify three approaches that can
be used to accomplish that goal.
1.
Describe environmental change and its relationship to punctuated equilibrium theory. Give an example
of an industry whose environments are characterized by the punctuated equilibrium model in recent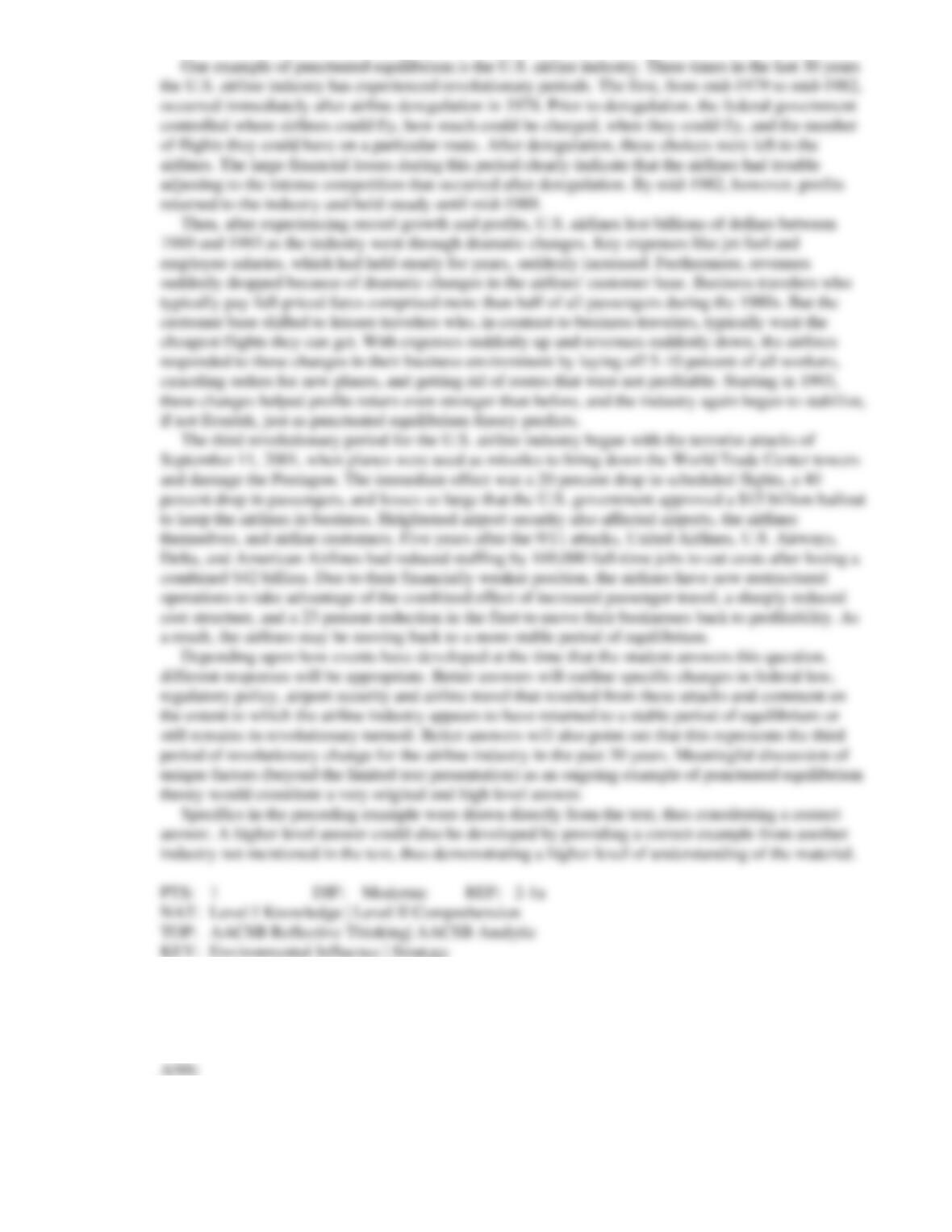 2.
Identify and discuss the implications of changes in the political/legal component of the general
environment facing organizations over the past decade. Give one example of a relevant recent change.
What is the best way for companies to manage their legal responsibilities?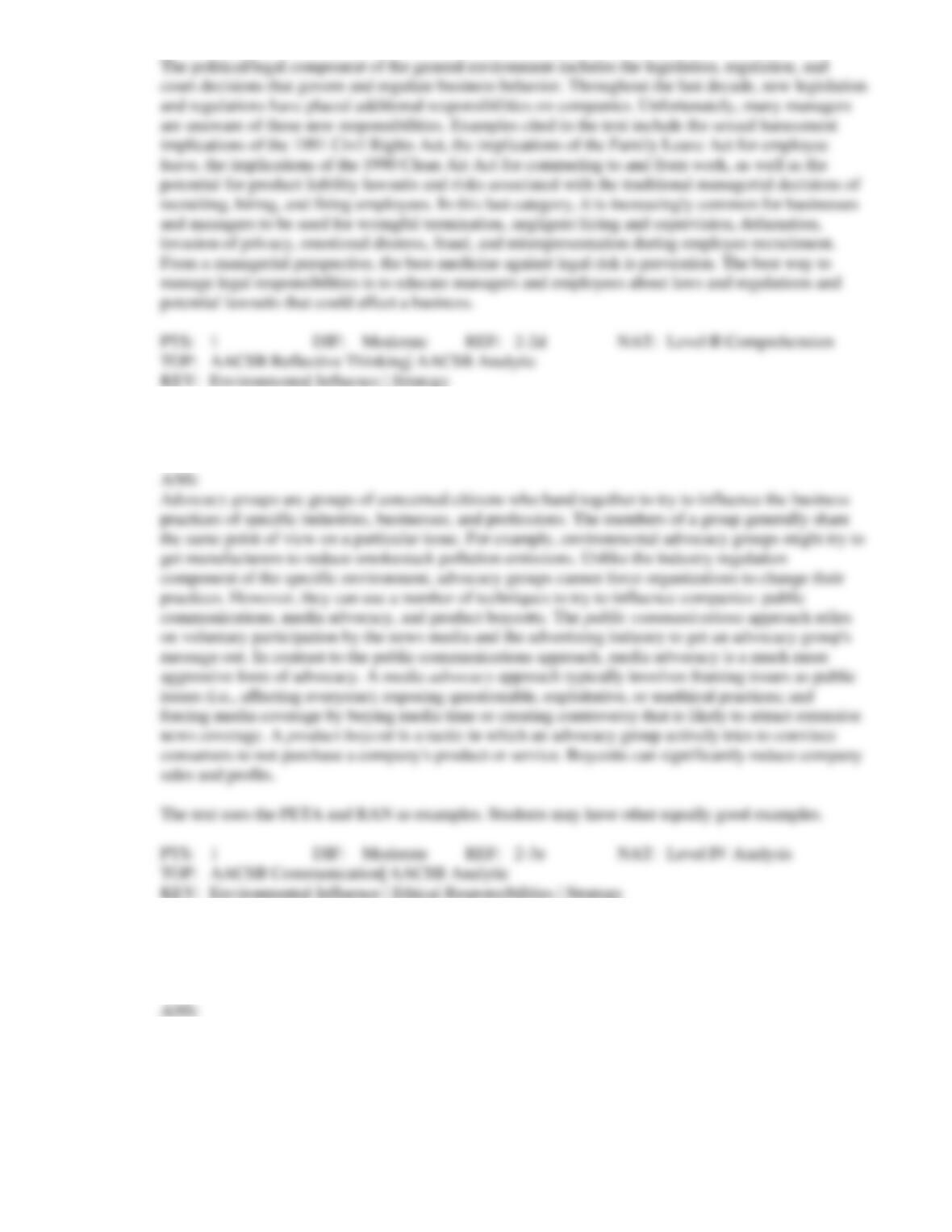 3.
Define advocacy groups. Explain the basic techniques that advocacy groups use to achieve their goals.
Pr
ovide one example of how advocacy techniques are used.
4.
Identify and explain the three-step process that managers use to make sense of changes in their
external environments. Explain how environmental scanning contributes to organizational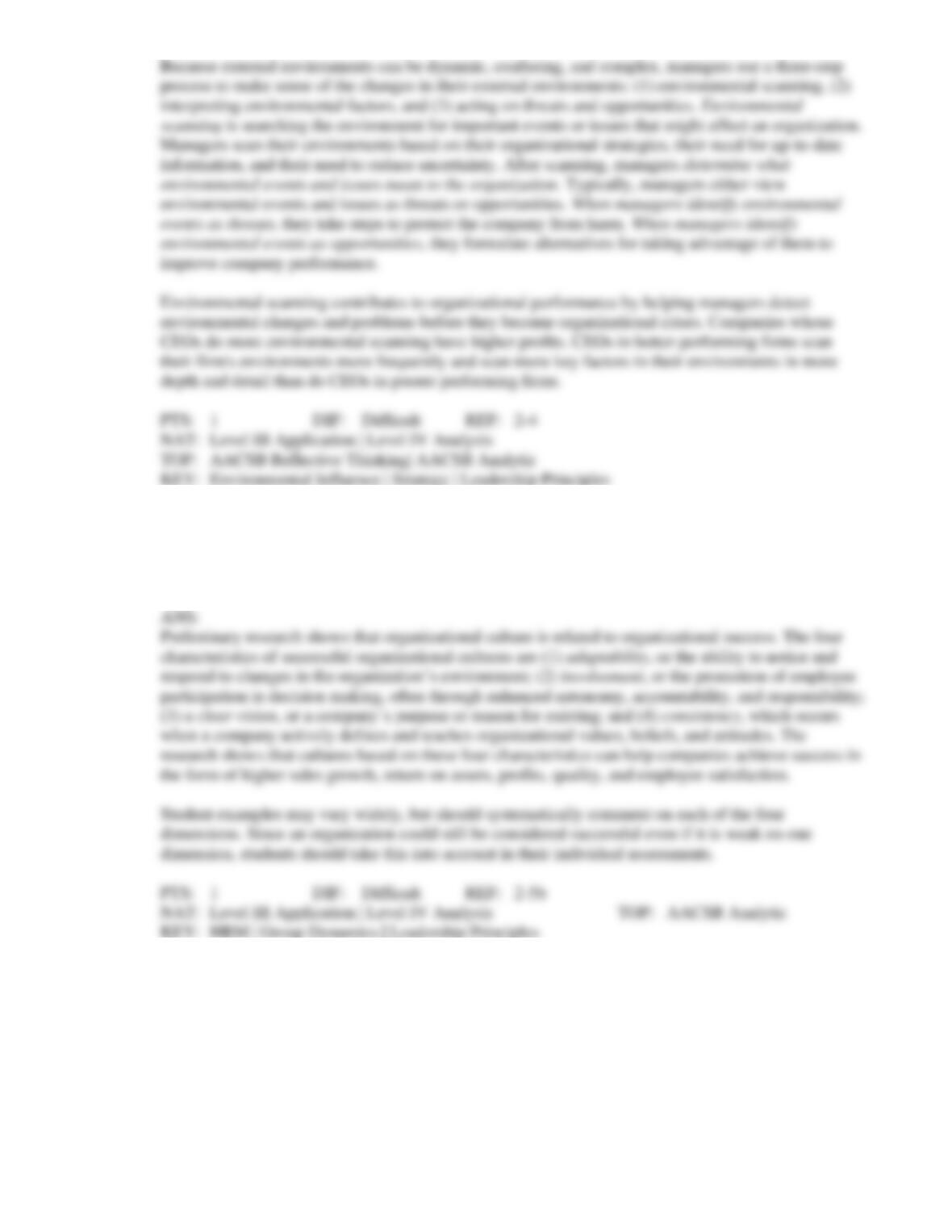 5.
List and describe the four characteristics of successful organizational cultures. Explain what is meant
by success in this context. Identify an organization that you are aware of that seems to have a
successful organizational culture. Characterize that organization on each of these four dimensions. Can
an organization still have a successful culture if it is weak on one of these dimensions?