Unlock document.
This document is partially blurred.
Unlock all pages and 1 million more documents.
Get Access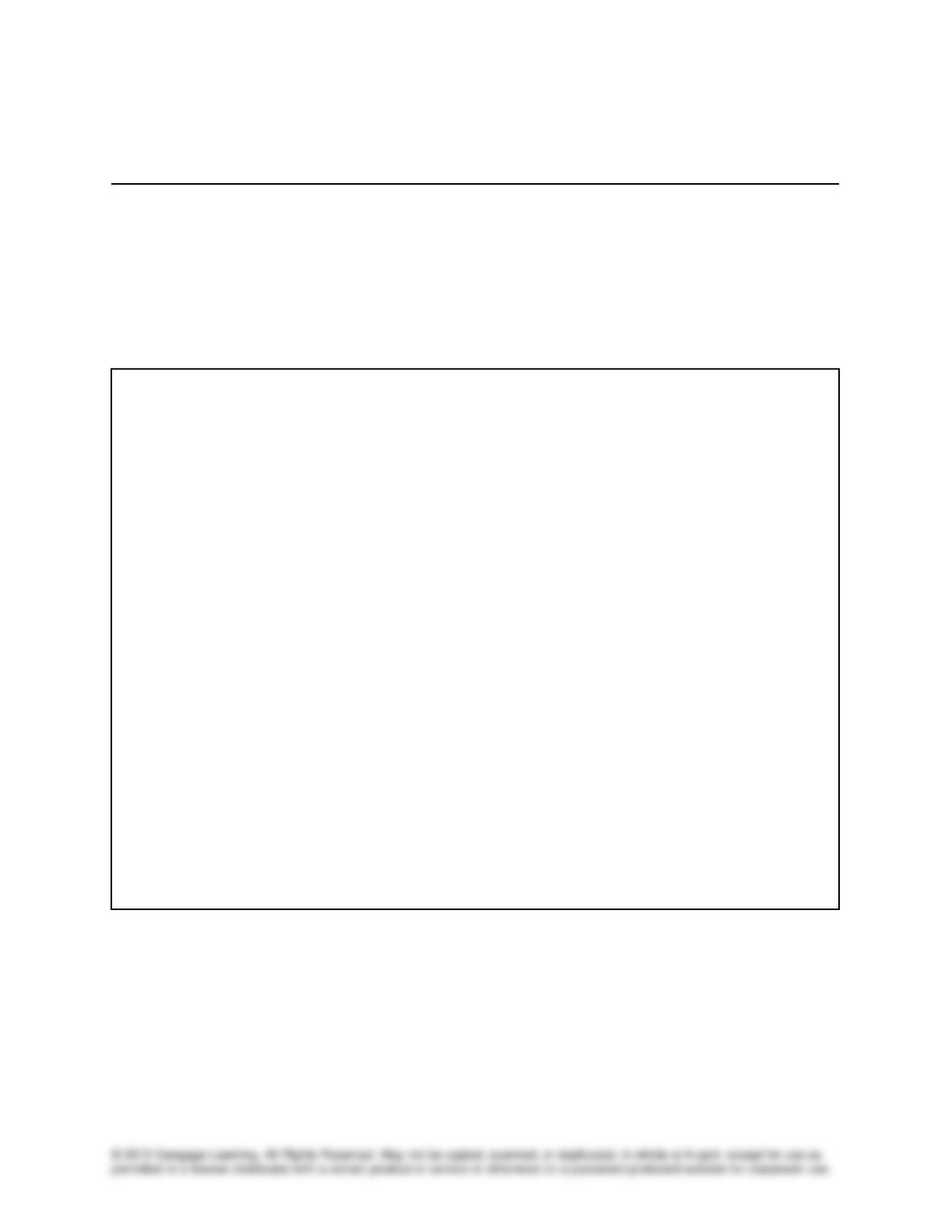 MODULE
54
: The Foreign Corrupt Practices Act and Bribes
Core Module Issues:
•
What is the Foreign Corrupt Practices Act?
•
In the absence of laws/regulations, are bribes acceptable?
Module Teaching Notes
This module requires a unique point of set up.
The scenario is set IN
THE
PAST,
in 1976. I made it a
"flashback"
setting so that it would pre
date
the
passage of the Foreign Corrupt Practices Act in 1977.
Since 1977, the FCPA has made bribe payments to government decision makers in foreign countries illegal.
(It remains legal to make "grease" payments to lower level officials once contracts have been awarded in the
first place to speed things up or "grease the wheels".)
And so, to make this a true ethics discussion, we have to get into the old time machine and travel into the
past, when companies could legally make bribes.
Our final video clip
["Germany" in the South

-

Western Digital Video Library "Business Ethics" series]
accompanies this module, and the actors really hit a home run. The quality of the acting approaches that of
a well made movie this time, in my opinion. (To access the DVL, log in to your Cengage Faculty Account at
login.cengage.com
, select "

Digital Video

Library Instant Access Code" when you add the Bredeson text to
your Bookshelf
,
and then click on the "Business Law Digital Video Library Online Access" link under
So, roll the clip, and don't neglect to emphasize that the conversation happens in 1976, and that the kind of
action described is not legal today but was perfectly legal back then.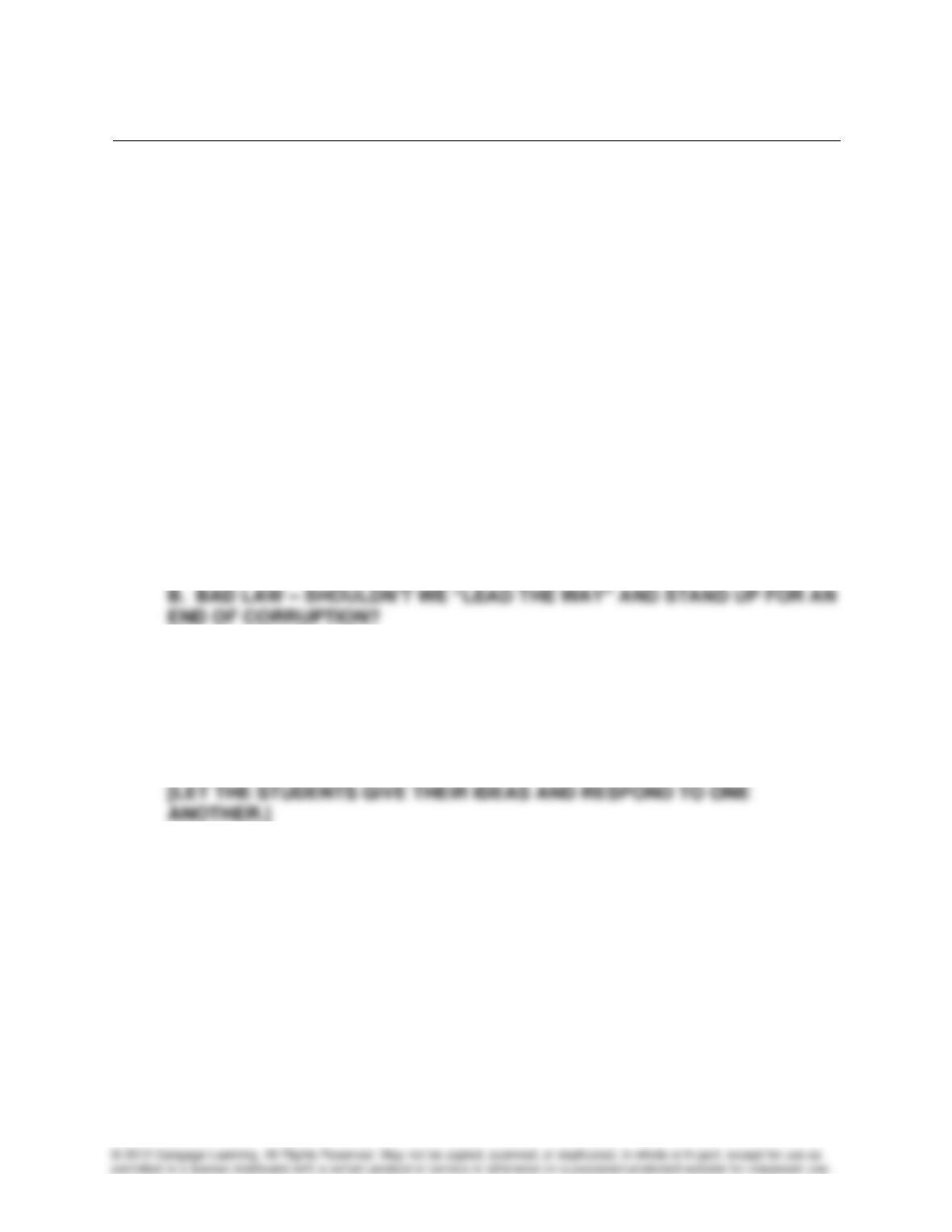 Discussion Points for Scenario Questions
1.
Should Dale allow Phil to draw the money and make the bribe payment that is, in the era
presented in this module, completely legal under U.S. law?
A.
YES

–

BUT ISN'T IT "BAD" TO PARTICIPATE IN THIS KIND OF
ACTIVITY?
B.
NO

–

WHAT ABOUT HIS WORKERS? AREN'T THEY IMPORTANT?
2.
Is the Foreign Corrupt Practices Act a good law? Should the United States try to "clean up
corruption" around the world, or does the law place U.S. companies at a competitive
disadvantage?
A.
GOOD LAW

–

DO YOU THINK U.S. COMPANIES DO IN FACT LOSE OUT
TO COMPANIES WITHOUT AN EQUIVALENT OF THE FCPA?
3.
Phil laid out several stakeholders who stand to lose if the bribe payment is not made. Are
there any stakeholders that would benefit if the bribe is not made? If so, who are they?
4.
Stakeholder ethics aside, is this one of those things that a company "just can't do"? If so,
why?
A.
CAN'T DO IT

–

WHY NOT? 5.
Speaking generally now, should the U.S. government place restrictions on how U.S.
companies may behave when they operate outside the United States? Should we stretch, for
example, environmental laws to U.S. operations in other countries? Discrimination laws?
Minimum wage laws?
A.
STRETCH MORE LAWS

–

WHICH ONES/WHAT TYPES OF LAWS?
B.
NO

–

IF WE DON'T, WHO WILL BRING ABOUT CHANGE?