Unlock document.
This document is partially blurred.
Unlock all pages and 1 million more documents.
Get Access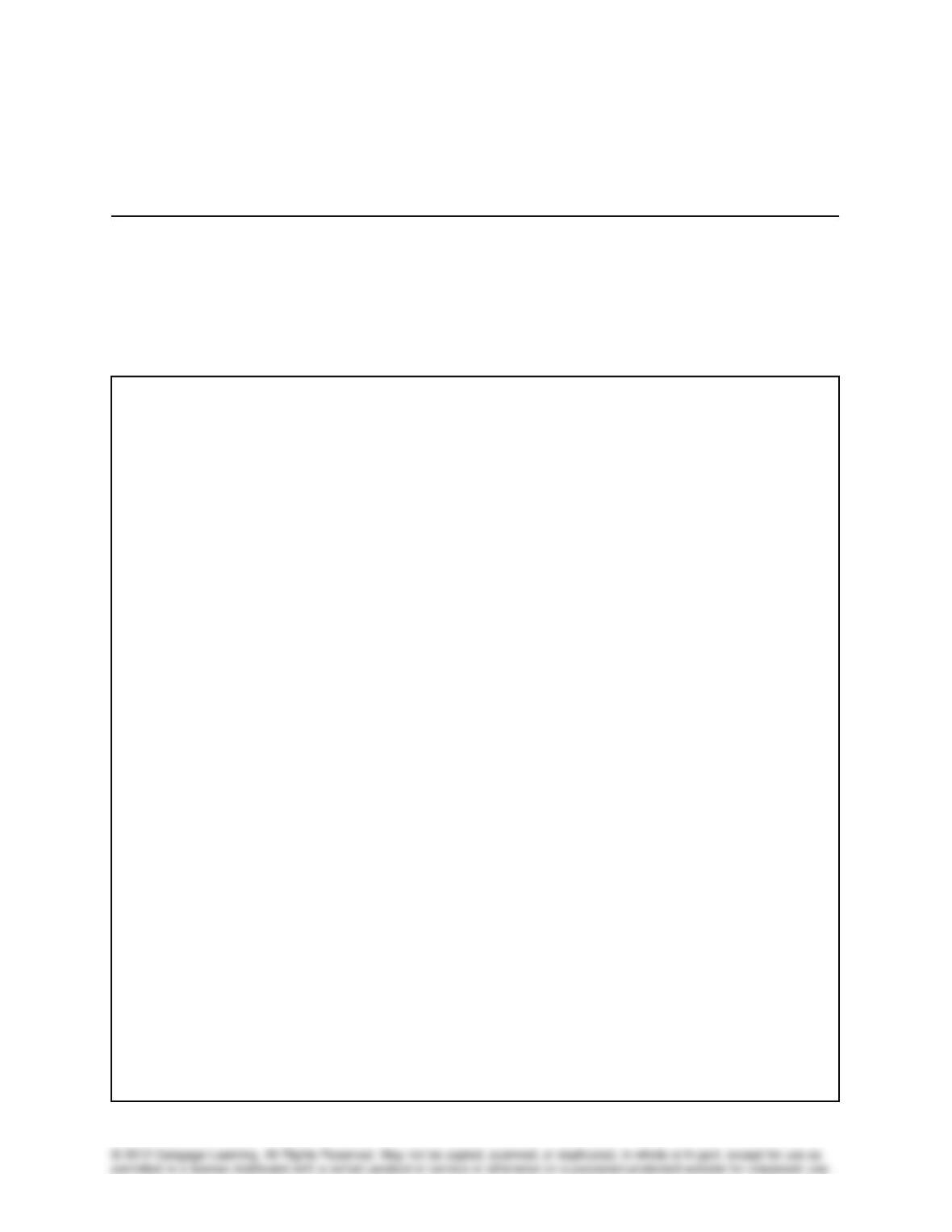 MODULE
51
:
"
Perfectly Good Items
"
: Wasteful Business
Core Module Issues:
•
When, if ever, is a company ethically obligated to reduce waste?
•
Does it matter what kind of waste is addressed?
Module Teaching Notes
This module concludes the environmental unit, and it is compliment to the #48. This time, we are
looking at general wastefulness rather than green building practices.
There are many circumstances in which companies find it cheaper to "just throw things away."
But is it right to do so? In particular, is it right when the items that may be thrown away would be
useful to someone?
What if the perfectly good items are edible?
Students seem to like to debate the example with the strawberries that I present in the textbook
with this module. Some seem adamant that food is "special", that hunger is a more critical than
usual issue, and that the farmers are morally obligated to put the food to use.
Others will defend the farmers and their property rights just as strongly.
"Why should they have to
allow people to claim their own crops on their own land?" some will ask.
Cash for clunkers is a recent topic at the time of this writing, although you may need to reacquaint
students with the program. In this case, the government actually encouraged throwing away
perfectly good cars. In point of fact, the cars HAD to be in running condition to qualify for the
government rebate.
Now, the program did tend to reduce the number of gas guzzlers on the road, but it did have this
wasteful appearance to some. Soliciting students' comments of the relative merits of improving air
quality and discouraging wastefulness might be interesting.
It might be a nice touch to add a local- or college-lever example from your neck of the woods in
wh
ich useable items are discarded. In the end, I'd like to at least make students aware of a broad range of circumstances in which
serviceable items are discarded. Some such circumstances may well be more justifiable than
others, but regardless, this is a topic that deserves attention.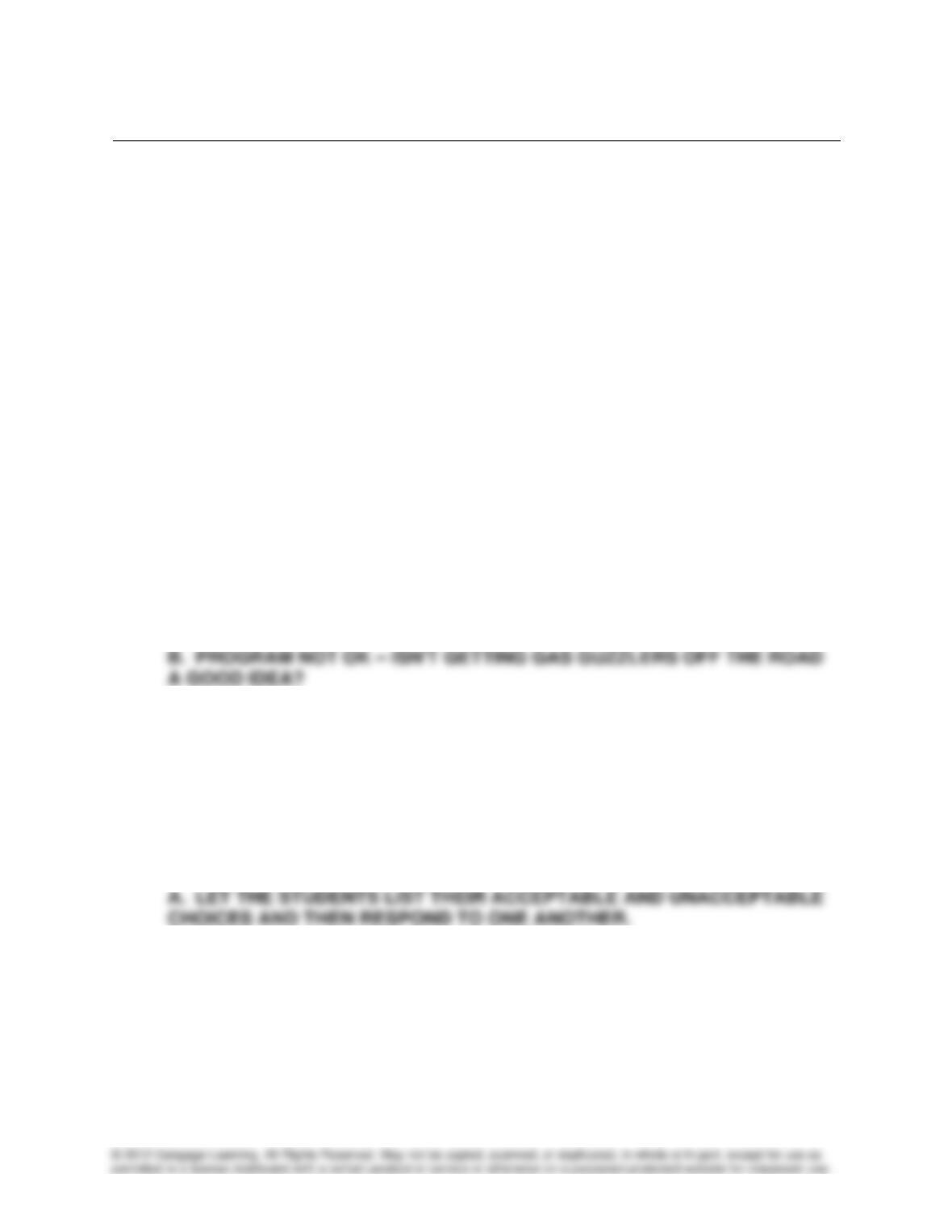 Discussion Points for Scenario Questions
1.
Evaluate the situation presented in the background material involving the strawberry farmers.
If a food bank offers to come to a farm with laborers and harvest all unwanted fruit, is a farmer
morally obligated to agree to the offer? Should it be a legal requirement when food is involved?
A.
MORALLY REQUIRED

–

WHY?
B.
SHOULD BE LEGALLY REQUIRED

–

WHY?
C.
NEITHER MORALLY NOR LEGALLY REQUIRED

–

WHY?
2.
Evaluate the second situation in the background material
—
the Cash for Clunkers program.
Set aside your feelings on the overall program and focus on the part of the law that required the
destruction of engines. Was it right to disable "perfectly good" motors? Would you have
preferred an alternative?
A.
PROGRAM OK

–

BUT SHOULD IT HAVE BEEN REQUIRED TO
ACTUALLY DISABLE THE TRADE INS?
3.
Moving to the scenarios, assume for the next three questions that the companies eventually
chose
not
to go through with the proposals. Did the software company act wrongfully? Why or
why not? Did the pharmaceutical company act wrongfully? Does the fact that the medicine might
have saved lives make the situation different from that of the software company? 4.
Did the last company act wrongfully in refusing the recycling program? Do you use such
bins yourself? If yes, how far out of your way would you go to find one?
A.
YES

–

HOW FAR WILL YOU CARRY AN EMPTY BOTTLE/CAN?
B.
NO

–

NEVER, OR INFREQUENTLY? WHY?
5.
Now, instead of having a cost of "no money and slight inconvenience," suppose that in all of
the fictional scenario cases, a small but identifiable cost had existed, say, 1/10 of 1 percent of the
company's revenue. (So, for example, if the software company has revenue of $20,000,000, the
costs of the software donation program would have amounted to $20,000.) With this fact
changed, would your answers to any part of the previous two questions change?
A.
NEW ANSWERS

–

WHAT ARE THEY NOW AND WHY?