Unlock document.
This document is partially blurred.
Unlock all pages and 1 million more documents.
Get Access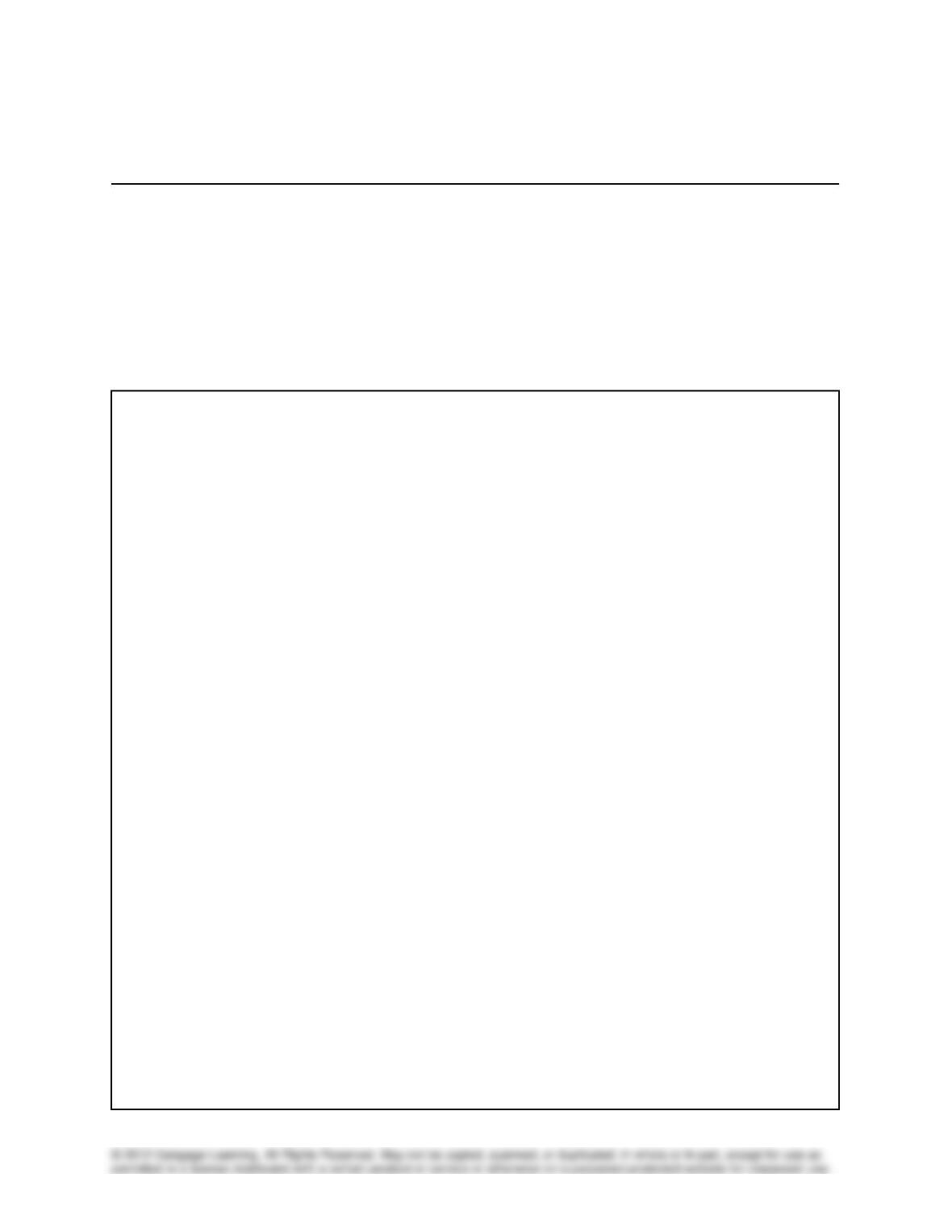 MODULE
45
: Store Cards, Search Engines, and Customer Data
Core Module Issues:
•
Should a company every sell customer data to other companies?
•
What if the company runs a search engine, and the data is a customer's
Module Teaching Notes
This module is, loosely, a compliment to the privacy-
at
-work modules earlier in the book. But this time, we
will
examine
whether
companies
should
forego
money
making
opportunities
to
protect
information
about
their customers.
Everyone knows that a phone number or an address given to one business may well be sold, and may well
lead to telemarketing calls or junk mail from lots of other businesses.
But many people fail to realize the amount of amount of customer data that is collected from many different
One interesting "opening
discussion" to have on this topic
is
whether
students
actually, to
an
extent,
like
companies sharing information about them.
For example, I am a fan of an obscure team that is not at all popular
–
the St. Louis Blues (hockey). It is
remarkable how many pop up
ads
–
many on websites I
visit
infrequently or have
never
visited
before
–
feature St. Louis Blues hoodies, tickets, and collectibles.
I'm not sure
what specific
mechanism has
spread
the word
far and
wide
that I
am a Blues
fan, but
something clearly has done so.
Some students
like marketing that is "accurately targeted"
–
they like it when companies know what

they
want and advertise desired, as opposed to random, products.
Others are distressed that their privacy is invaded.
The scenario focuses first on a store card that can track customers' purchases, and the characters debate
whether they should profit from gathering and then selling data.
The
scenario then
raises
the
issue
of customers' online
searches.
Some
students couldn't
care
less
whether their grocery store buys are tracked, but they suddenly become concerned about privacy when their
(perhaps embarrassing, in some cases) searches may be spread far and wide.
If you like, add a lecture topic or two that refers back to employee privacy issues, and ask whether customer or employee privacy is more important.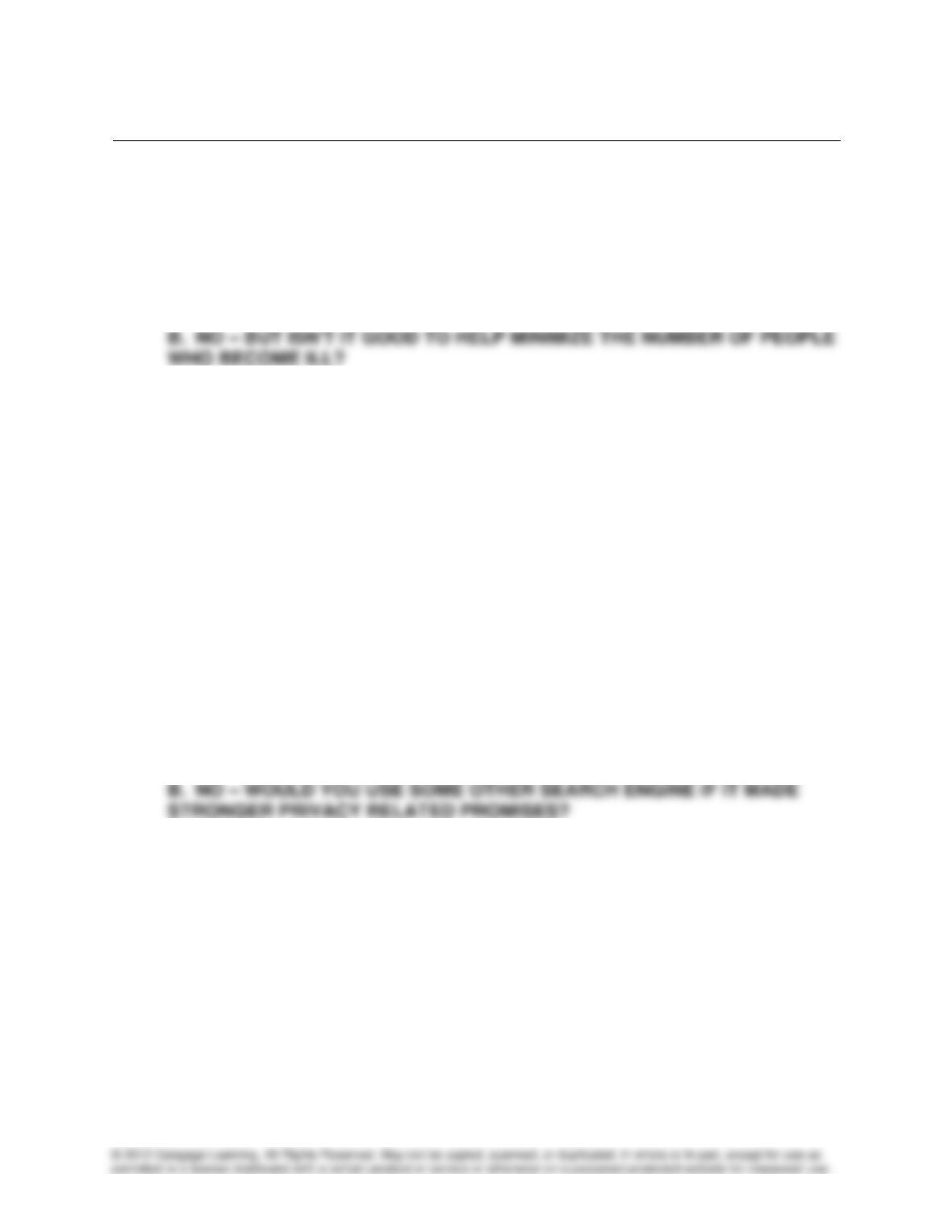 Discussion Points for Scenario Questions
1.
Did the CDC make appropriate use of store card data in the real salmonella case outlined at
the beginning of this module?
A.
YES

–

IS IT GENERALLY "OK" IF THE GOVERNMENT NEEDS DATA
FOR SOME SPECIFIC PURPOSE?
2.
Would you be comfortable with the CDC accessing store card data in a future case if it did
not ask permission of sick patients ahead of time?
A.
YES

–

WHAT IF NO ONE'S HEALTH WAS IMMEDIATELY THREATENED?
B.
NO

–

IS IT THE LACK OF NOTICE SPECIFICALLY, OR SOME OTHER
REASON?
3.
Should LightSpeed create a policy against ever voluntarily turning over customer data?
4.
Assume that the search engine you use most commonly released a list of all searches done by
all users to the government. Assume further that users' names were attached to each list. Would
you be at all uneasy? Would you be less likely to use that search engine in the future?
B.
NOT UNEASY

–
CO
ME, NOW, SURELY YOU HAVE SEARCHED FOR
SOMETHING EMBARASSING. 5.
The government aside, are you bothered by companies that sell your information to other
companies? Are you less likely to buy items and services from companies that spread around
your phone number, address, and other personal information?
A.
DON'T MIND

–

DO YOU GET A LOT OF JUNK MAIL /SPAM/
UNSOLICITED TELEMARKETING CALLS?