Unlock document.
This document is partially blurred.
Unlock all pages and 1 million more documents.
Get Access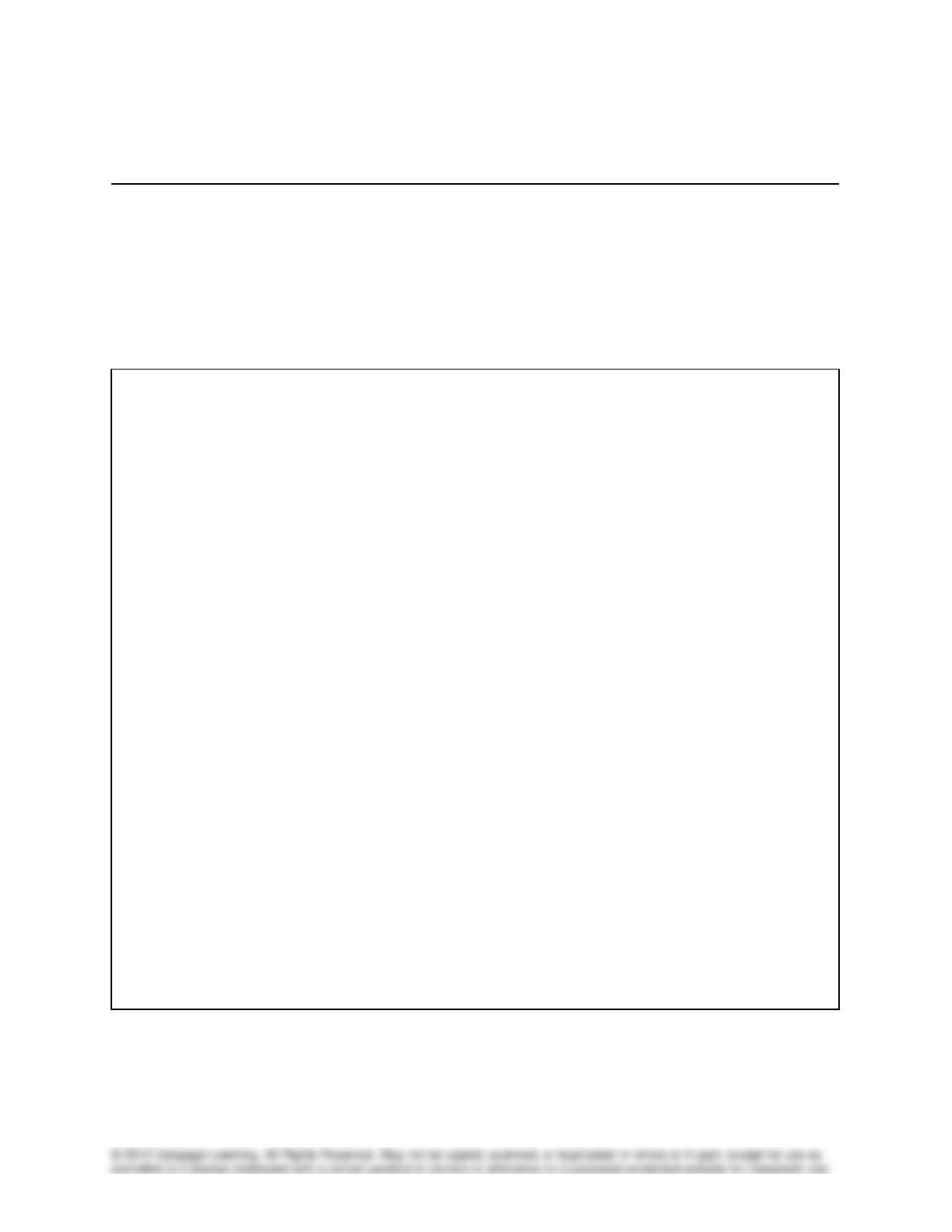 MODULE
38
: CEO Compensation
Core Module Issues:
•
At what point, if any, does executive compensation become excessive?
•
Does it matter whether a company is performing wel or poorly?
•
What, if anything, should be done about the issue?
Module Teaching Notes
This module
starts
a
new
unit
on compensation.
Here,
we
will
begin
by looking
at
the
best-paid people
among us. Although the primary focus is on CEOs, I am also interested in whether students are OK with
anyone making a stratospheric amount of money, and so some non-CEO examples make appearances in
the scenario as well.
If you like charts, then you
might cook up a graphic on the "multiplier effect". Many
who dislike extreme
executive
compensation
focus
on
the
multiplier
that
exists
between
a
typical
workers'
pay
and
a
typical
CEO's pay. The multiplier is much higher in the United States than it is in other developed nations.
In
Japan,
the
multiplier
is
about
11.
A
Japanese
CEO
makes
about
11
times
what
an
average
worker
makes. A nice rate of pay, to be sure, but 11 is a tame multiplier by global standards.
In the UK, the multiplier is 22. Even better.
But in the United States, the figure is close to 200.
This figure of 200 is heavily criticized in some quarters as indefensible.
Some defend executive salaries, and say that big paychecks are required to attract top talent, and that in
any case, it should remain up to a company's board of directors to set compensation.
The scenario in this unit also raises the issue of whether the rules ought to be any different for executives at
companies that receive government bailouts of various kinds.
There is no story this time
–
the scenario is merely a description of several different people who, for various
reasons, have a great deal of money. Discussion Points for Scenario Questions
1.
How justifiable are the large compensation packages for the CEOs discussed above?
Company

Completely Unreasonable



------------------

→

Completely Reasonable
Pharmaceuticals
1 ----- 2 ----- 3 ----- 4 ----- 5 ----- 6 ----- 7
Bank
1 ----- 2 ----- 3 ----- 4 ----- 5 ----- 6 ----- 7
Oil
1 ----- 2 ----- 3 ----- 4 ----- 5 ----- 6 ----- 7
Software
1 ----- 2 ----- 3 ----- 4 ----- 5 ----- 6 ----- 7
A.
WHICH IS THE MOST JUSTIFIABLE? WHY?
B.
WHICH IF THE LEAST JUSTIFIABLE? WHY?
2.
Is it reasonable for the government to regulate companies that have received TARP money?
If so, should the government go further and regulate the CEOs of all corporations? If not, should
the government never set legal maximums for salaries?
A.
TARP ONLY

–

WHAT IF A COMPANY GETS SMALL BREAKS FROM THE
GOVERNMENT?
B.
ALL CEOS

–

BUT DOESN'T THAT ENCOURAGE TALENTED PEOPLE TO
GO OUTSIDE THE COUNTRY?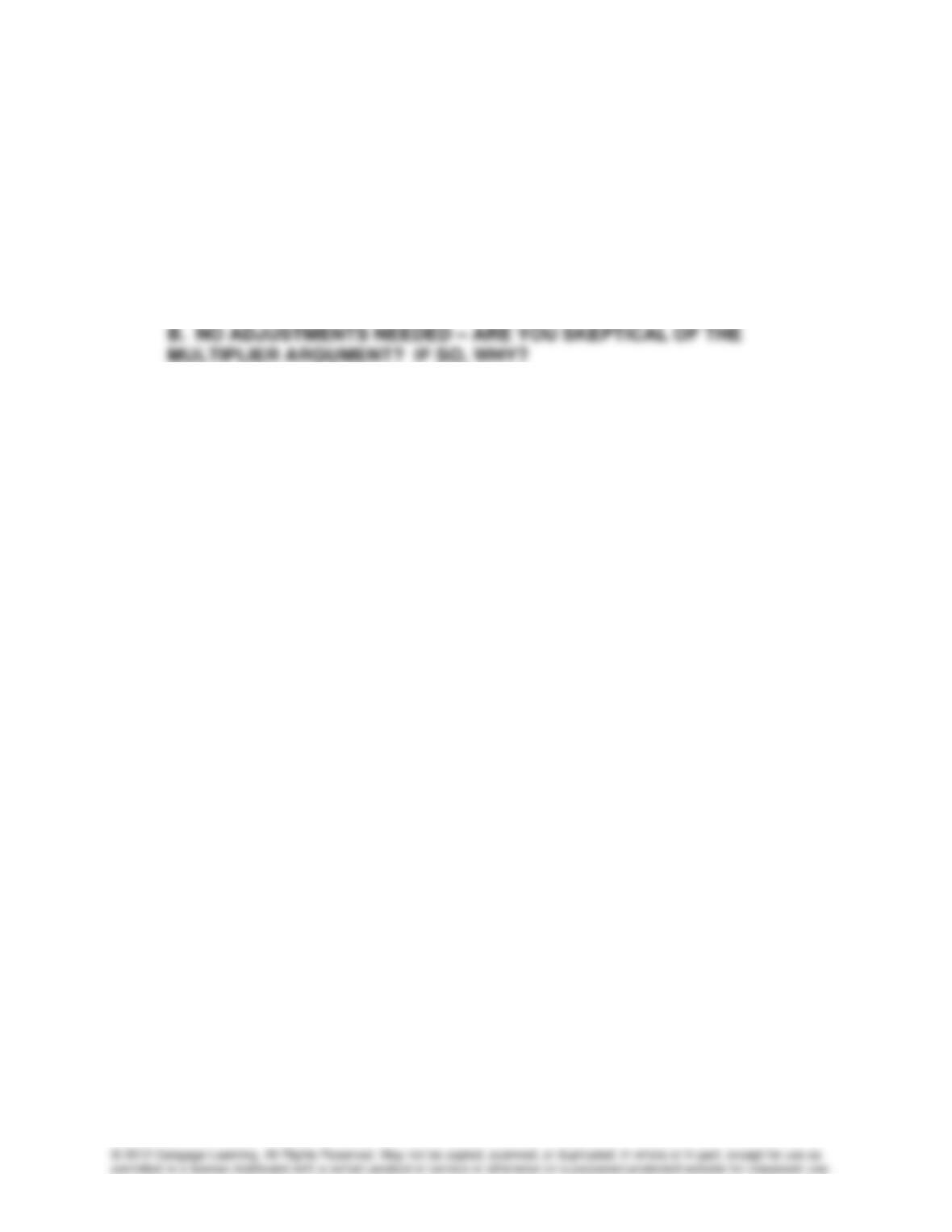 3.
Do you give any weight to the criticism that CEO salaries are too many multiples of the
salaries of average workers? Is Japan more reasonable with a multiplier of 11, for example, than
the United States is with a typical multiplier of 150
–
200? What should the multiplier be? Or is
this a nonsensical comparison?
A.
LOWER MULTIPLIER

–

AND HOW SHOULD THAT BE ACCOMPLISHED?
WITH A LAW?
4.
This module opened with Stephen King and David Beckham. Compare their $50 million to
the $50 million the CEOs in the scenario earned. On a gut level, do you find it any better or
worse when a celebrity or entertainer makes a large amount of money than when a CEO does the
same?
A.
MORE JUSTIFIED

–

WHY? BECAUSE THE CELEBS ARE INVOLVED
MORE DIRECTLY? SOME OTHER REASON?
B.
SAME

–

ARE BOTH JUSTIFIED OR UNJUSTIFIED?
5.
Now consider the $50 million that the non-CEOs received. If you were the king or queen and
had total authority, who would you allow to keep all of the $50 million, less regular income taxes
that everyone pays? Circle everyone who you think should be able to keep the entire $50 million,
and leave blank anyone on whom you would impose a "special extra tax."
Al Harris (inventor)
Jan Linus (stock market)
Franklin J. Moneypenny (inheritanc
e)
Betty Goodfortune (lottery)
[LET THE STUDENTS DESCRIBE WHO GETS THE SPECIAL TAX. THEY
OFTEN HAVE AMUSING THINGS TO SAY HERE.]