Unlock document.
This document is partially blurred.
Unlock all pages and 1 million more documents.
Get Access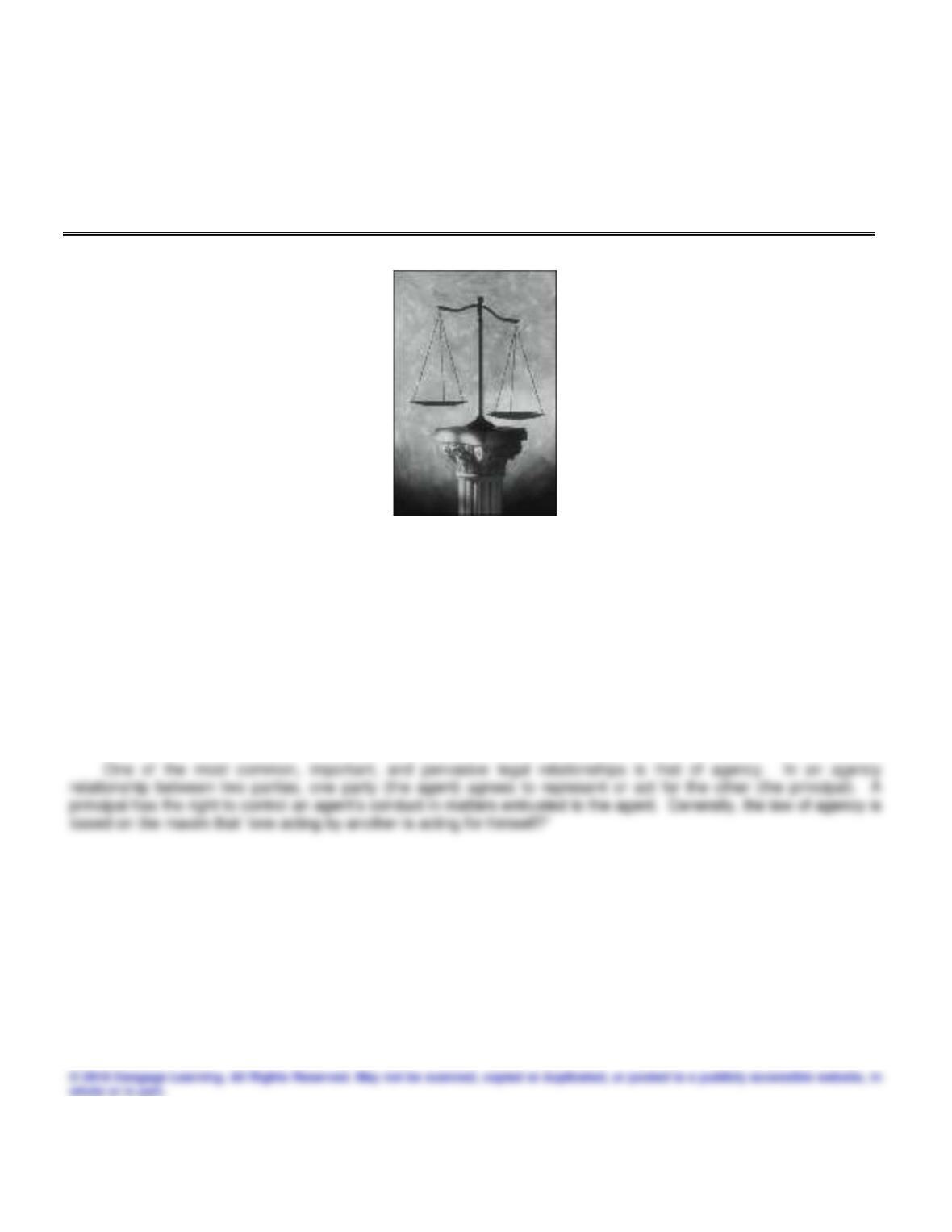 Agency Formation and Duties
Up to this point, most of the material has considered when a person may be liable for something that he or she
did. With this chapter, the text goes a step further to ask when and under what circumstances a person may make
another person liable. That is, when can the actions of an agent bind a principal? As importantly, when does the law
consider a person an agent?
An employee or an independent contractor may act in the capacity of an agent.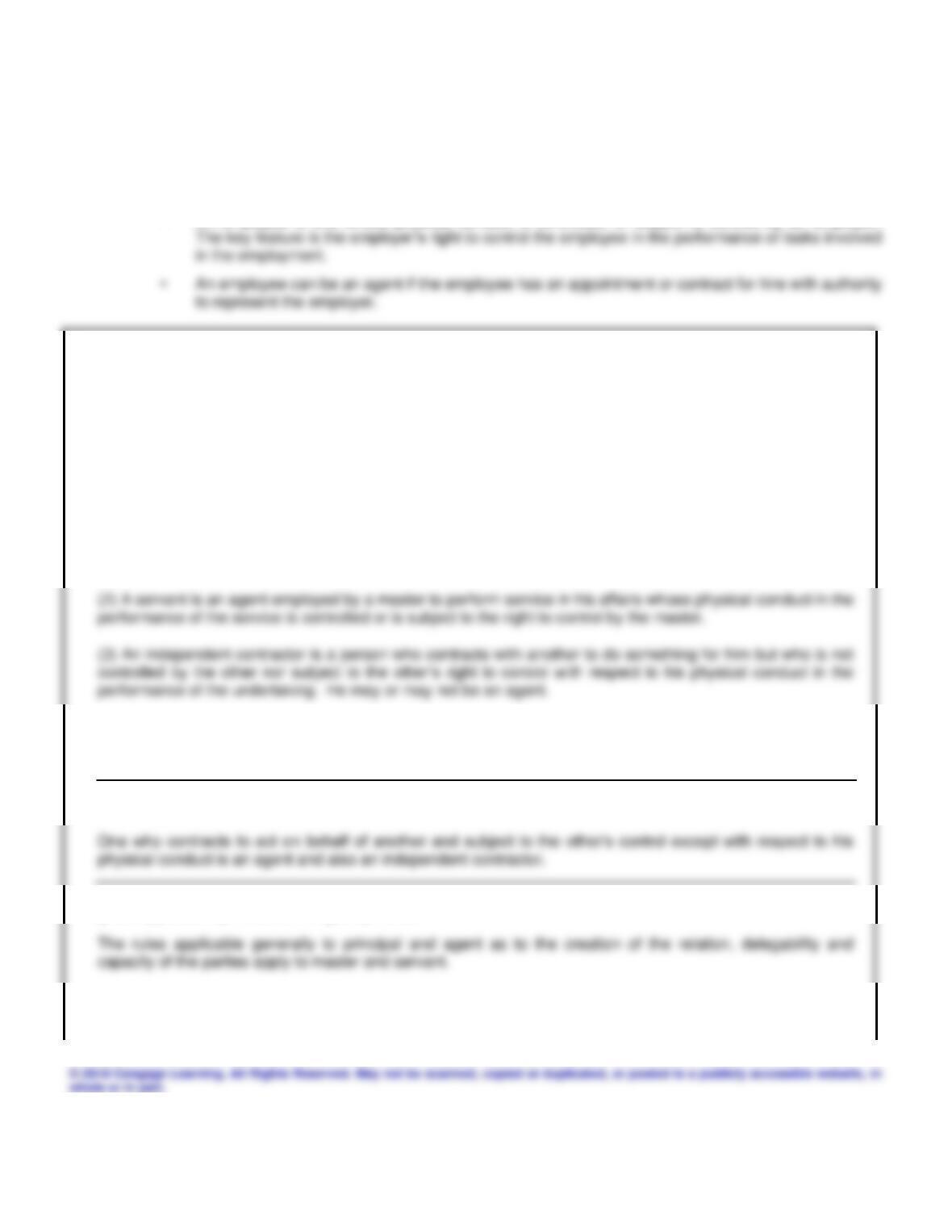 2
UNIT SEVEN: AGENCY AND EMPLOYMENT
A.
E

MPLOYER

-E

MPLOYEE

R

ELATIONSHIPS
•
An employee is one whose physical conduct is controlled, or subject to control, by an employer.
An employee can be an agent if the employee has an appointment or contact for hire with authority to
represent the employer.
According to the
Restatement (Second) of Agency
employees are always agents.
The
following
is
the
text
of
the
Restatement

(Second)

of

Agency,

Sections

2,

14N, and

25

with

selected
§ 2. Master; Servant; Independent Contractor
(1) A master is a principal who employs an agent to perform service in his affairs and who controls or has the
right to control the physical conduct of the other in the performance of the service.
a. Servants and non-servant agents. A master is a species of principal and a servant is a species of agent.
§ 14 N. Agent and Independent Contractor
§ 25. Applicability of General Agency Rules
a.
As stated in Section 2, a servant is an agent of a special kind, over whose physical acts the principal has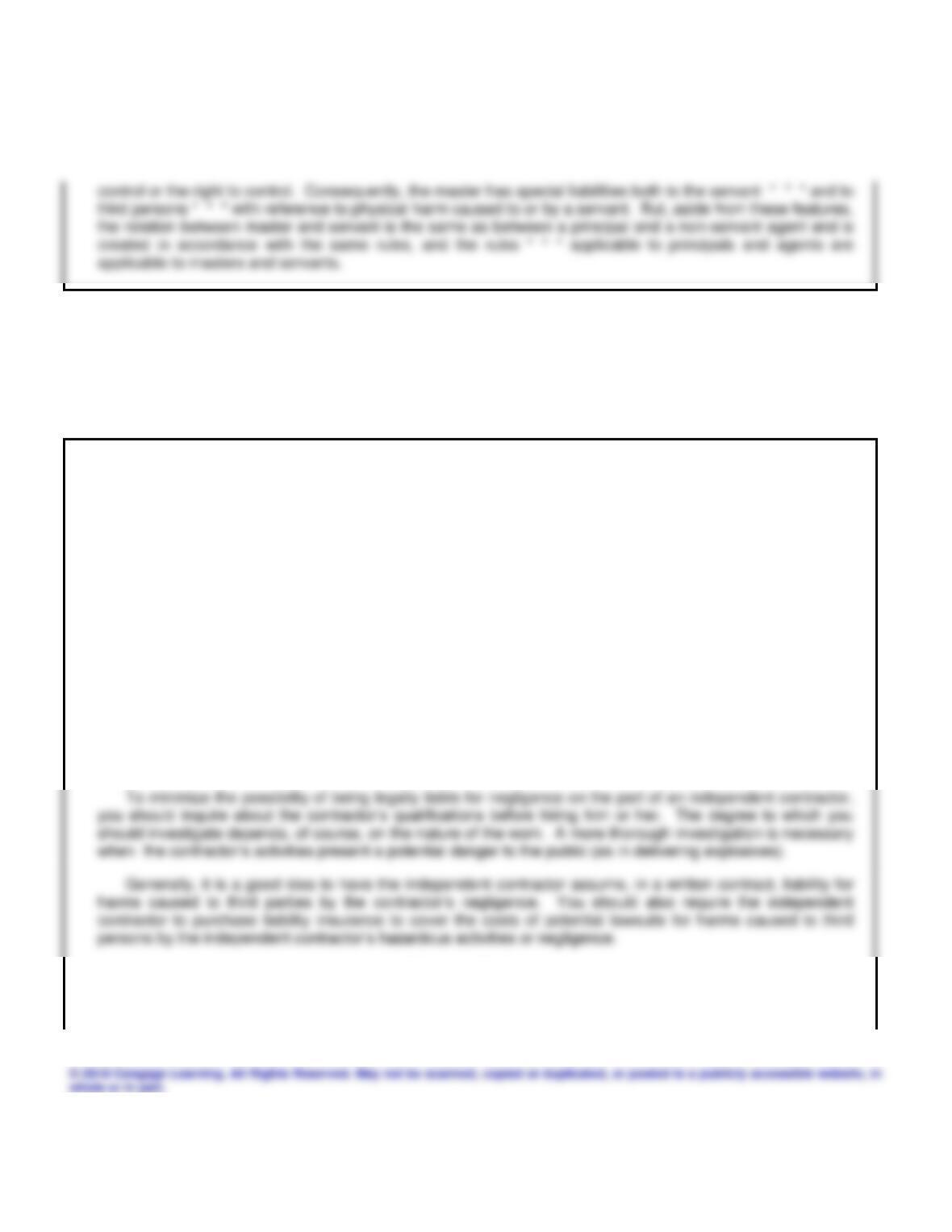 CHAPTER
32
:
AGENCY FORMATION AND DUTIES
3
B.

E

MPLOYER

-I

NDEPENDENT

C

ONTRACTOR

R

ELATIONSHIPS
•
Independent contractors are not employees, because the

person

for

whom they

have

agreed

to
per
form has no control over the physical conduct of their performance. Generally, the less control
an employer has over the work, the more likely that the worker is an independent contractor.
•
An independent contractor may or may not be an agent.
 
H

OW

C

AN AN

E

MPLOYER

U

SE
As an employer, you may at
some time consider hiring an independent contractor.
Hiring workers as
independent contractors instead of as employees may help you reduce both your potential tort liability and
M
INIMIZING
P
OTENTIAL
T
ORT
L
IABILITY
One reason for using an independent contractor is that doing so may reduce your susceptibility to tort
liability.
If,
however, an
independent
contractor's
words or
conduct leads
another
party to
be
lieve that the
independent contractor is your employee, you may not escape liability for the contrac
tor's tort.
Another reason for hiring independent contractors is that you need not pay or deduct Social Security and
unemployment taxes on their behalf. The independent contractor is the party responsible for paying these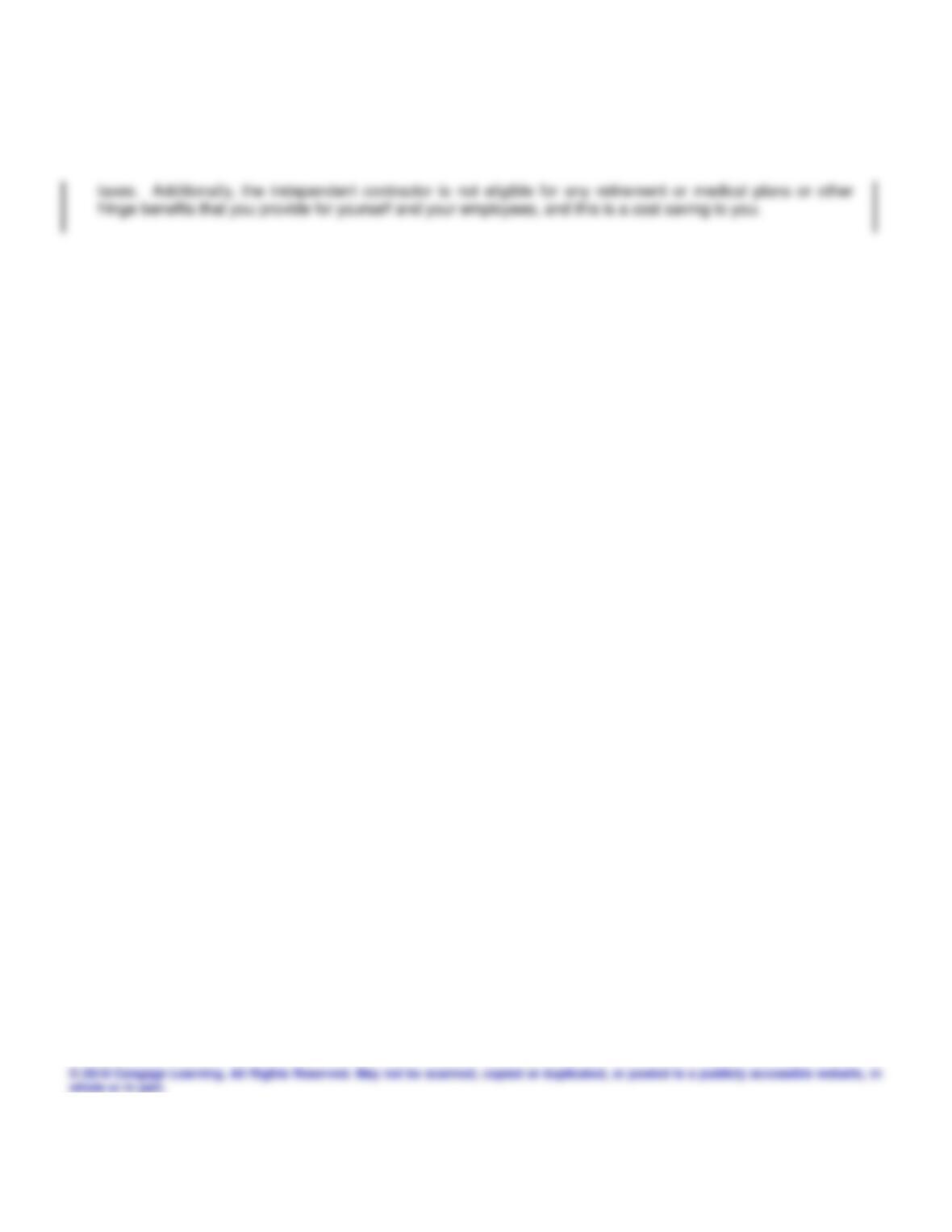 4
UNIT SEVEN: AGENCY AND EMPLOYMENT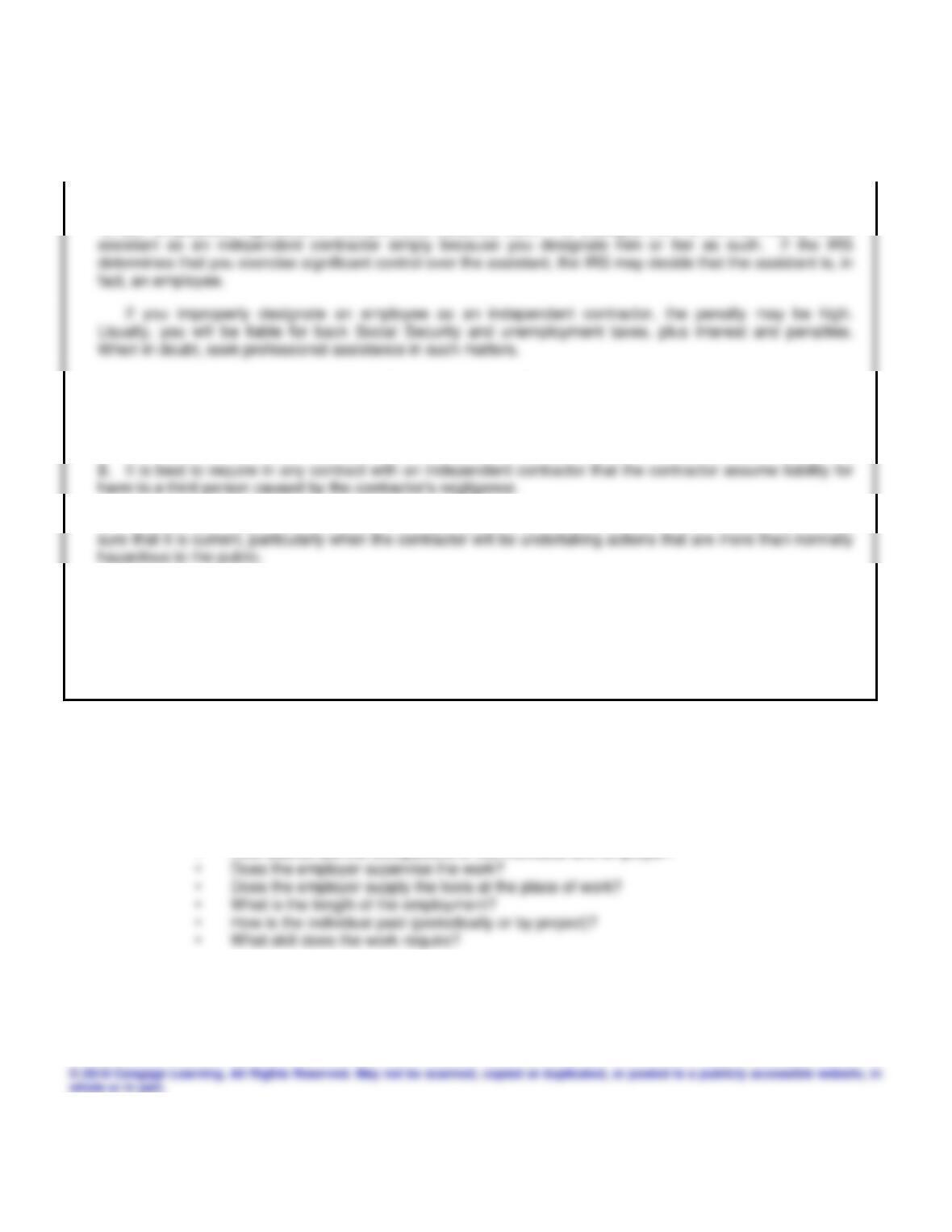 CHAPTER
32
:
AGENCY FORMATION AND DUTIES
5
A word of caution, though: simply designating a person as an independent contractor does not make her
or him one. Under Internal Revenue Service (IRS) rules, individuals will be treated as employees if they are
"in fact" employe
es, regardless of how you have classified them. For example, the IRS will not treat an office
C
HECKLIST FOR THE
E

MPLOYER
1.
Check the qualifications of any independent contractor you plan to use to reduce the possibility that you
might be legally liable for
the contractor's negligence.
3.
Require that independent contractors working for you carry liability insurance. Examine the policy to make
4.
Make sure that independent contractors do not represent themselves as your employees to the rest of the
5.
Regularly

inspect

the

work

of

the

independent

contractor

to

make

sure

that

it

is

being

performed

in
accordance with contract specifications. Such supervision on your part will not
change the worker's status as
an independent contractor.
C.

D

ETERMINATION OF

E

MPLOYEE

S

TATUS
Certain factors can determine whether a person is an employee or an independent contractor.
1.
Criteria Used by the Courts
To decide whether an individual is an employee or independent contractor, courts consider
—
•
How much control does the employer have over details of the work (most important factor)?
•
How distinct are the occupations of the individual and employer?
2.

Criteria Used by the IRS
The IRS considers chiefly the degree of control that an employer exercises over the work.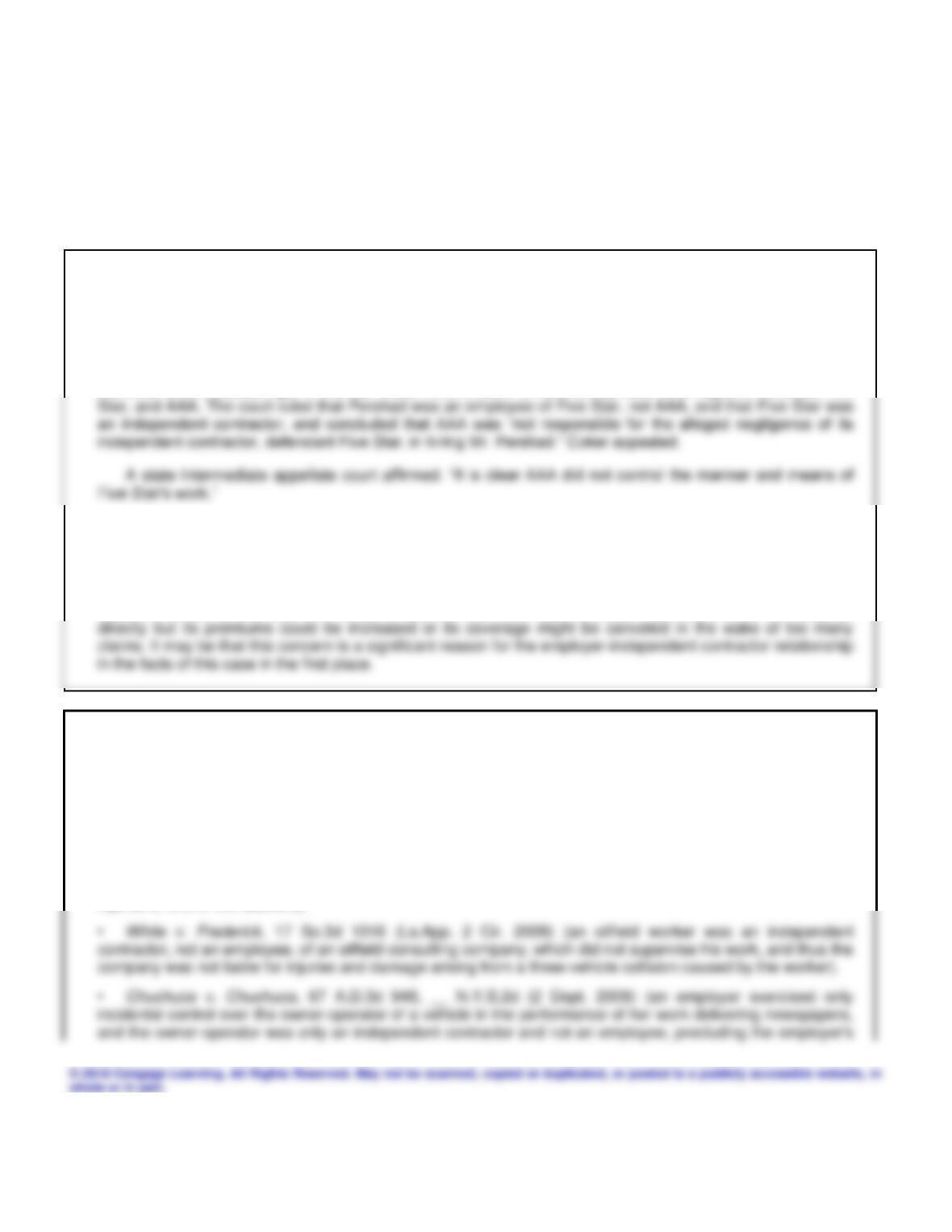 6
UNIT SEVEN: AGENCY AND EMPLOYMENT
3.
Employee Status and "Works for Hire"
An

employee's

work

of

intellectual

property

belongs

to

the

employer,

but

an

independent
contractor's similar effort is the employer's only
if the parties agreed to exchange the rights.
Case 32.1:
Coker v. Pershad
Terence Pershad, the driver of a tow truck for Five Star Auto Service, responded to a call to AAA North
Jersey, Inc. for road assistance by the driver of a car involved in an accident. Pershad got into a fight with
Nicholas Coker, a passenger in the car. Coker filed a suit in a New Jersey state court against Pershad, Five
..................................................................................................................................................
Why would AAA want to avoid liability for

Coker's

injuries?

AAA would want to avoid liability for the
injuries
because
of
the
cost.
It
is
likely,
of
course,
that
AAA
has
insurance
that
would
cover
the
expense
A
DDITIONAL
C

ASES
A
DDRESSING THIS
I

SSUE

—
Employer-Independent Contractor Relationships
Recent cases in which

the status of a worker as an employee or an independent contractor affected
the employer's liability for the worker's actions
include the following.
•
Guillaume v. Hall Farms, Inc.
914 N.E.2d 784

(

Ind.App.

2009)

(a harvesting contractor who supplied a
crew of farm laborers to a produce distributor was an "independent contractor" of the distributor, who did not
control
the
contractor
or
its
crew,
for
purposes
of
determining
(whether
the
distributor
was
liable
for
the
injuries of one of the laborers).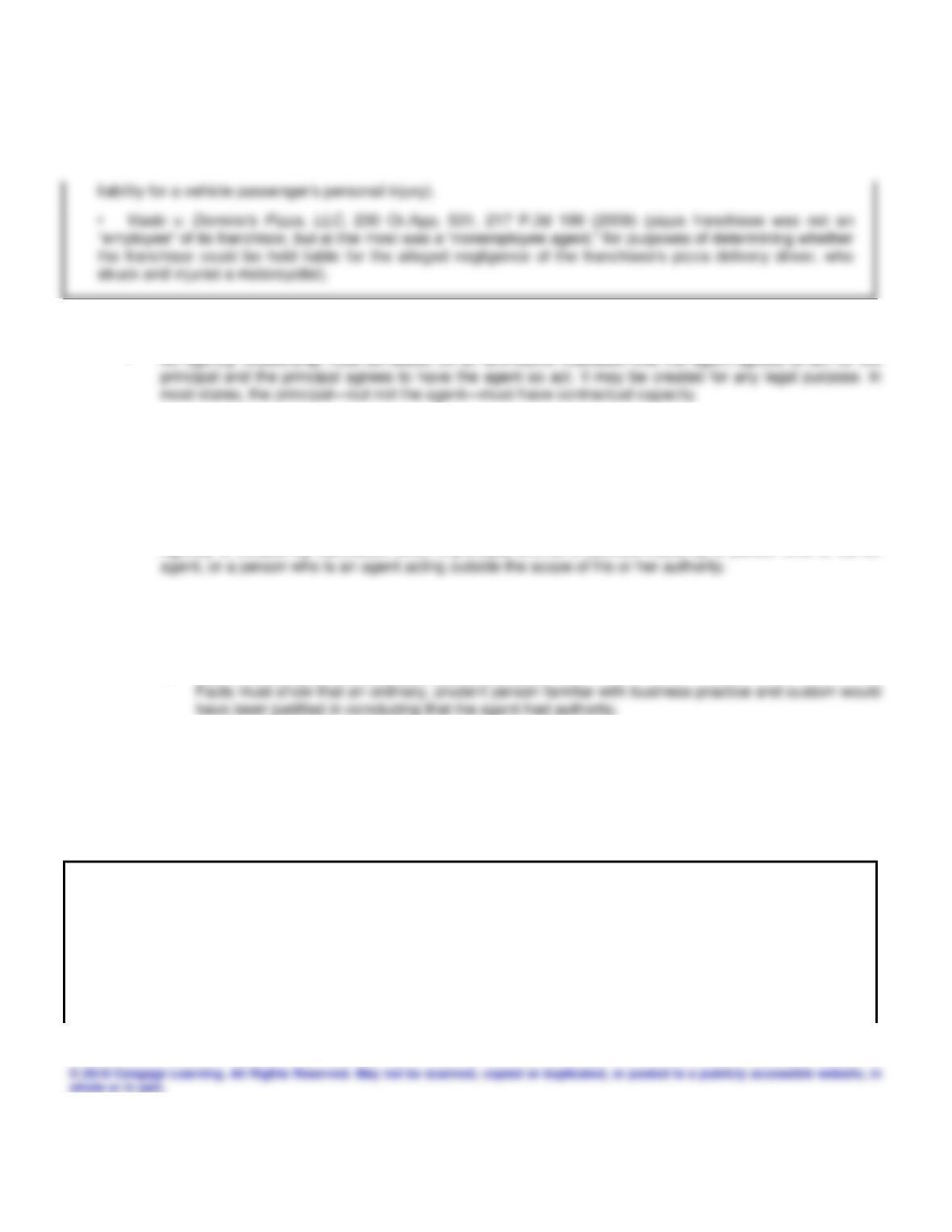 CHAPTER
32
:
AGENCY FORMATION AND DUTIES
7
II.
Formation of the Agency Relationship
•
An agency agreement need not be in writing.
Generally, no formalities are
required
to
create an
agency
relationship.
Agency can
be
implied from
conduct, or can be created by written contract or oral agreement.
B.
A

GENCY BY

R

ATIFICATION
Agency is created by ratification when a
principal affirms a contract made by a person who is not an
Agency
is
created
by
estoppel
when
a
principal
causes
a
third
person
to
believe
that
another
is
the
principal's agent, and the third person deals with the other.
1.
The Third Party's Reliance Must Be Reasonable
2.
Created by the Principal's Conduct
The deeds or statements of the principal create an agency by estoppel.
D.
A

GENCY BY

O

PE

RATION OF

L

AW
Agency
may be
created by
operation
of law.
The
text points
out that
courts
have
granted agents
emergency power under unusual circumstances and have held agency to arise in family relationships.
Agency by Operation of Law
For

businesses, some

state

statutes

make

state officials

(a

state's

secretary

of state)

the

businesses'
agents for service of process. This is an agency created by operation of law. Most states require a corporation
to
designate a registered agent for service of process
on the corporation. In some states, designation of
the registered agent
is by a separate instrument filed with the articles of
incorporation. New York requires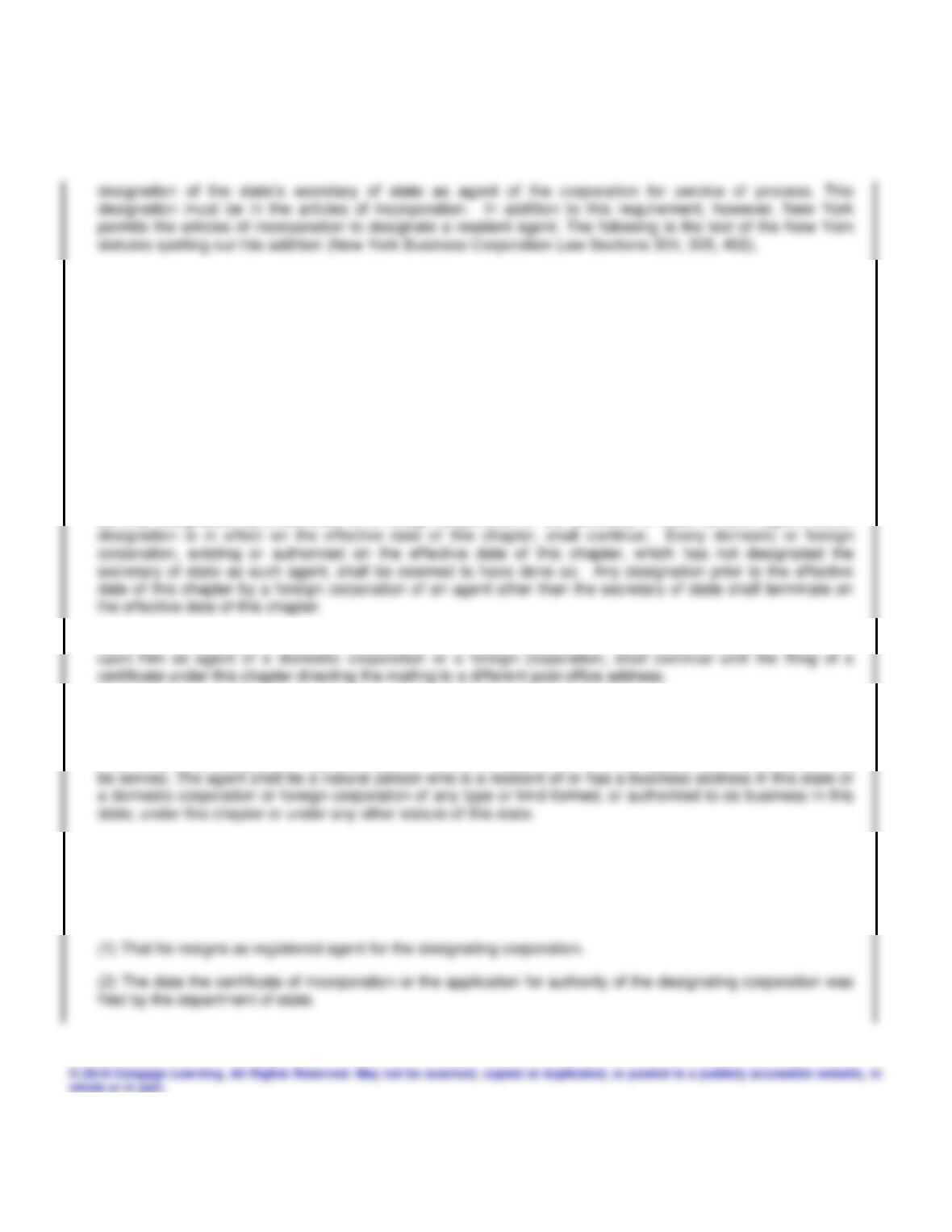 8
UNIT SEVEN: AGENCY AND EMPLOYMENT
MCKINNEY'S CONSOLIDATED LAWS OF NEW YORK ANNOTATED
CHAPTER 4 OF THE CONSOLIDATED LAWS
ARTICLE 3
—
CORPORATE NAME AND SERVICE OF PROCESS
§ 304. Statutory designation of secretary of state as agent for service of process
(a)
The
secretary
of
state
shall
be
the
agent
of
every
domestic
corporation
and
every
authorized
foreign
corporation upon whom process against the corporation may be served.
(b) No domestic or foreign corporation may be formed or authorized to do business in this state under this
chapter unless in its certificate of incorporation or application for authority it designates the sec
re
tary of state
(c) Any designation by a domestic or a foreign corporation of the secretary of state as such
agent, which
(d) Any designated post-office address to which the secretary of state shall mail a copy of process served
§ 305. Registered agent for service of process
(a) In addition to such designation of the secretary of state, every domestic corporation or authorized foreign
corporation may designate a registered agent in this state upon whom process against such corporation may
(b) Any such designation of a registered agent may be made, revoked or changed as provided in this chapter.
(c) A registered agent may resign as such agent. A certificate, entitled "Certificate of resignation of regis
tered
agent of ................. (name
of designating corporation) under section 305 of the Business Corporation Law",
shall be signed, verified by him and delivered to the department of state. It shall set forth:
CHAPTER
32
:
AGENCY FORMATION AND DUTIES
9
(3) That he has sent a copy of the certificate of resignation by registered mail to the designating cor
po

ra
tion at
the post office address on file in the department of state specified for the mailing of process or if such address
§ 402. Certificate of incorporation; contents
(a) A certificate, entitled
"Certificate of

incorporation of ............ (name of corporation) under section 402 of
the
Business
Corporation
Law",
shall
be
signed
by
each
incorporator,
with
his
name
and
ad
dress

stated
beneath or opposite his signature, acknowledged and delivered to the department of state. It shall set forth:
III.
Duties of Agents and Principals
An agency relationship is fiduciary.
A.
A

GENT

'

S

D

UTIES TO THE

P

RINCIPAL
An agent's duties are implied from the agency relationship whether or not the identity of the principal is
disclosed to a third party.
The degree of skill or care required of an agent is that expected of a reasonable person under
An
agent who
does
not
act
for
money
may
be
subject to
the
same
standards
of
care,
but
cannot be liable for breach of contract because there is no contract.
An
agent
cannot
represent two
principals
in
the
same
transaction
unless
both
know
of
the
dual
capacity and consent.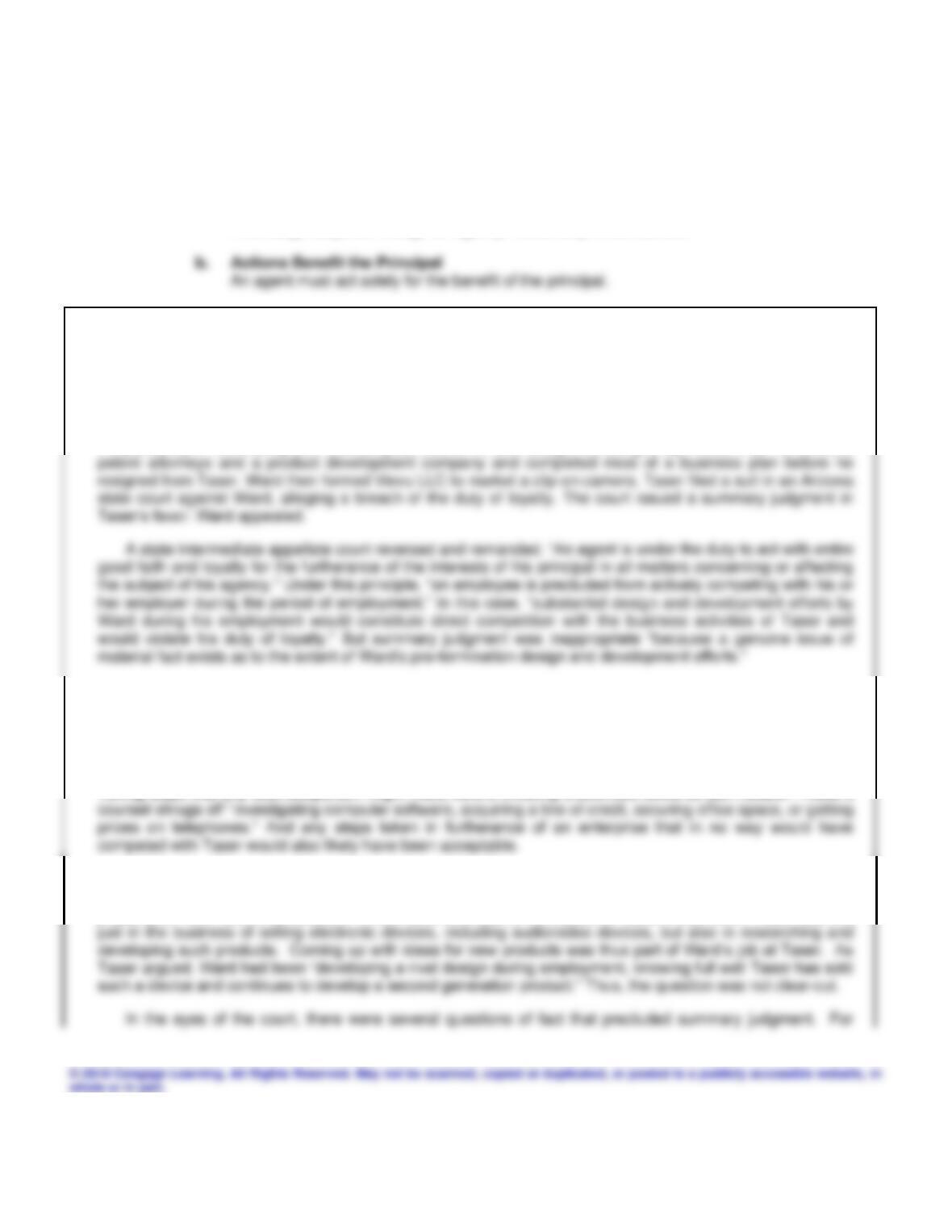 10
UNIT SEVEN: AGENCY AND EMPLOYMENT
a.
Maintain Confidentiality
Knowledge acquired through an agency relationship is confidential.
Case 32.2
:
Taser International, Inc. v. Ward
Taser International, Inc., develops and makes electronic control devices and accessories, including video
and audio recording devices. Steve Ward was Taser's vice president of marketing when he began to explore
the possibility of developing and marketing devices of his own design, including a clip-on camera. He talked to
..................................................................................................................................................
Short of

resigning his employment based

on no

more than a

desire to work

for himself, could
Ward have taken any steps towards starting his own firm without breaching his duty of loyalty?
Yes.
Taking steps that any businessperson might make before initiating a business could be permissible
—Taser's
Why was it unclear whether

Ward's pretermination actions constituted direct competition with his
employer or were mere planning activities?
The

court

found it

difficult

to

draw

the

line between

"mere
preparation" and "active competition" in this case because of the nature of Taser's business. Taser was not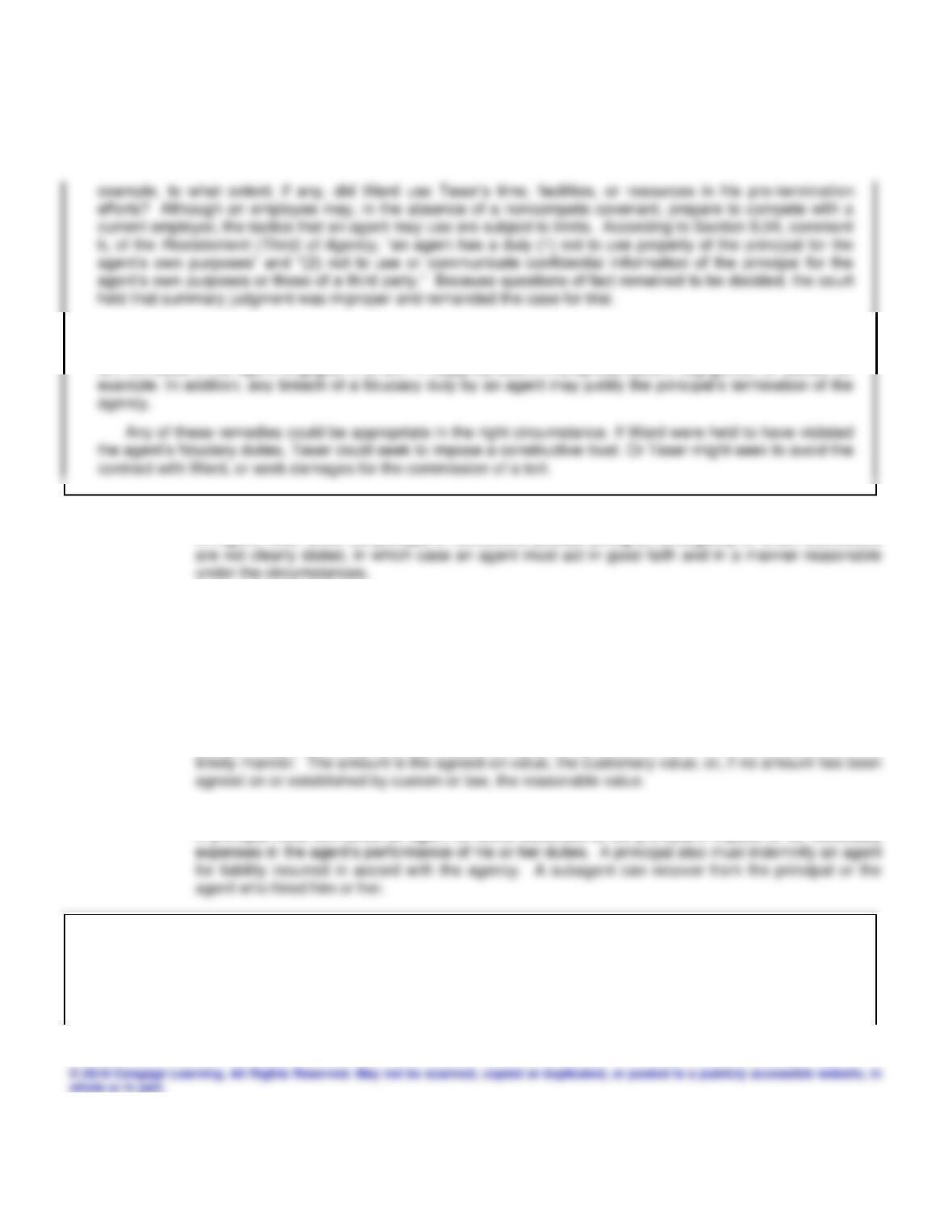 CHAPTER
32
:
AGENCY FORMATION AND DUTIES
11
If

the

judgment

in

the

case

of

remand

is

again

in

Taser's

favor,

what

might

be

an

appropriate
remedy?
A principal has contract remedies for an agent's breach of fiduciary duties. The principal als

o has
tort remedies if the agent engages in a tort
—
misappropriation, misrepresentation, negligence, or deceit, for
An agent must follow the principal's instructions (except during an emergency or when in

structions
An agent must account for all property and money received and paid out on behalf of the principal.
The agent should keep personal funds separate.
B.
P

RINCIPAL

'

S

D

UTIES TO THE

AGENT
A principal's duties may be express or ma

y be implied by law.
Except in a gratuitous agency, a principal must pay an agent for services rendered and to do so in a
2.
Reimbursement and Indemnification
A
principal must reimburse an agent for sums disbursed at the principal's request or for necessary
Case 32.3
:
NRT New England,

LLC

v.

Jones
Christopher Jones and Katherine Wiltshire were engaged to be married and seeking a new home. Jones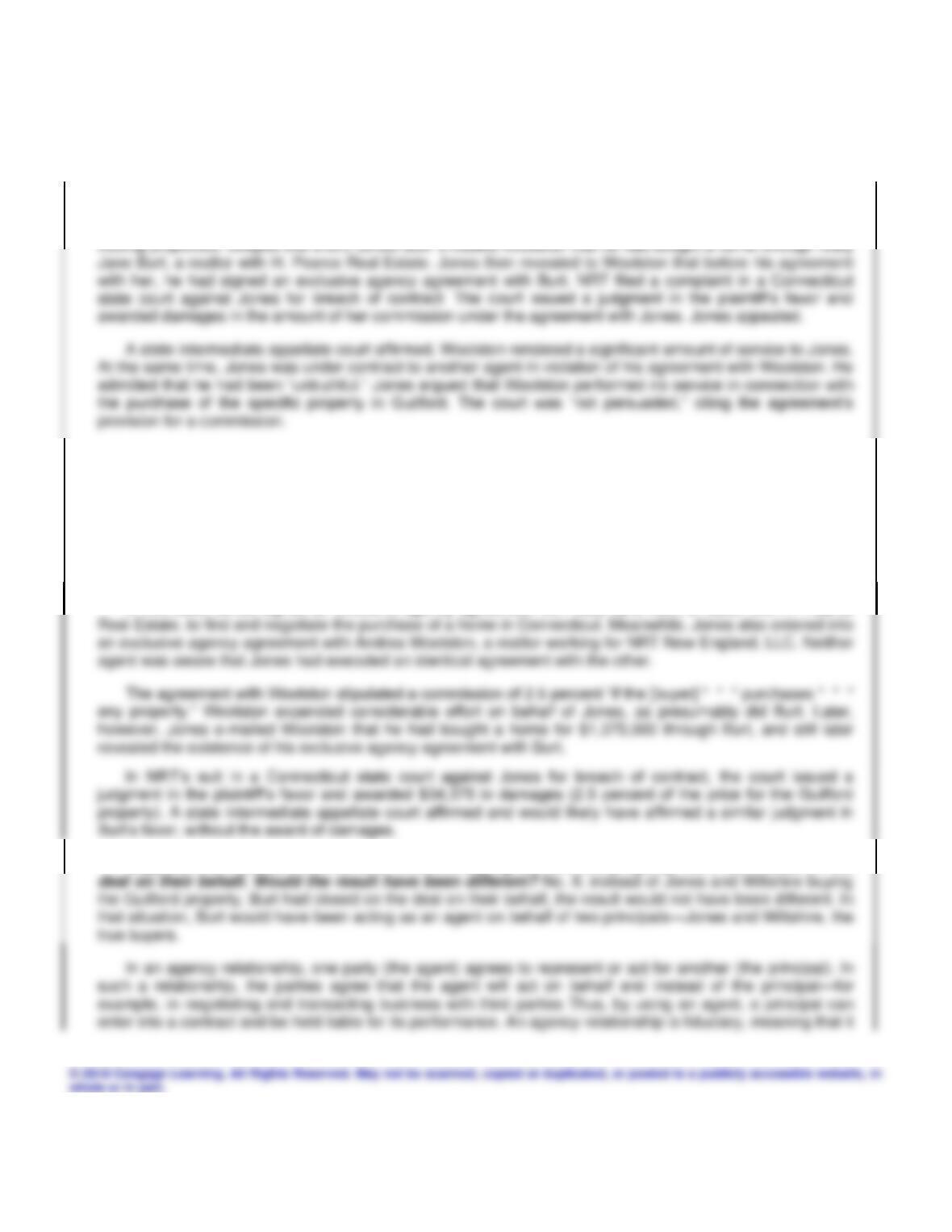 12
UNIT SEVEN: AGENCY AND EMPLOYMENT
signed an
agreement designating
Andrea Woolston, a
realtor working for NRT
New
England, LLC,
as
his
exclusive agent for finding and buying property. The agre
ement stipulated a commission "if the [buyer] *
*
*
purchases *
*
* any property." Woolston spent hundreds of hours, alone and with Jones, searching for and
..................................................................................................................................................
Could Burt successfully claim that Jones was in violation of the exclusive agency agreement he
had
executed
with
her?
Yes,

Burt

could

successfully

claim

that

Jones

was

in

violation

of

the

exclusive
agency agreement that he had executed with her. But because she had also closed the deal with Jones and
been paid her commission, per their agency agreement, there would be no damages to recover.
In this case, Jones signed an exclusive agency agreement with Mary Jane Burt, a realtor with H. Pearce
Suppose that instead of Jones and Wiltshire buying the Guilford property, Burt had closed on the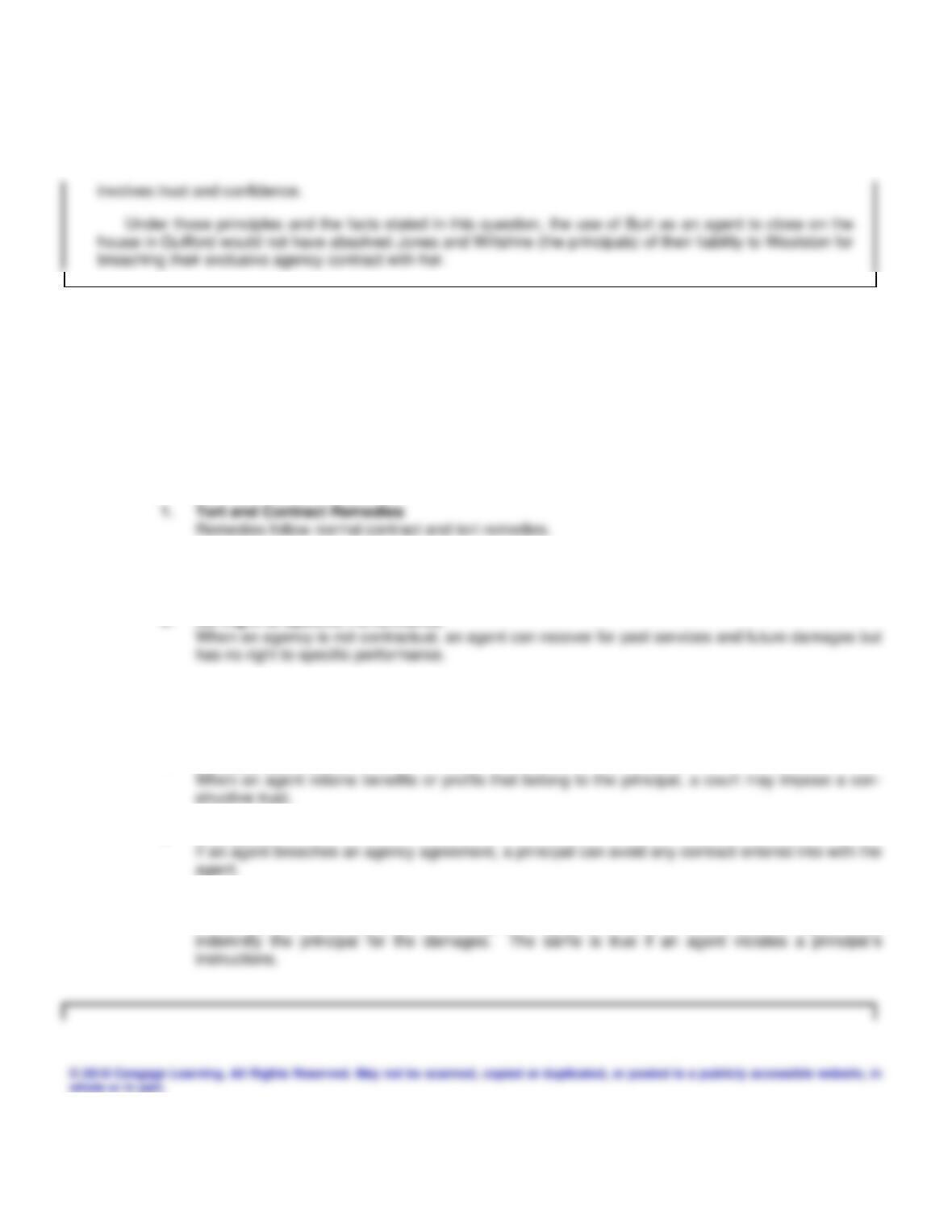 CHAPTER
32
:
AGENCY FORMATION AND DUTIES
13
A principal must cooperate with and assist an agent in performing his or her duties.
4.

Safe Working Conditions
A principal must provide safe premises, equipment, and conditions (and warn about unsafe areas).
IV.
Rights and Remedies of Agents and Principals
A.
A

GENT

'

S

R

IGHTS AND

R

EMEDIES AGAINST THE

P

RINCIPAL
For every duty of a principal, an agent has a cor
re
sponding right.
2.
Demand for an Accounting
An agent can withhold further performance and demand that a principal give an accounting.
3.
No Right to Specific Performance
B.
P

RINCIPAL

'

S

R

IGHTS AND

R

EMEDIES AGAINST THE

A

GENT
Remedies
follow
normal
contract
and
tort
remedies.
Actions
available
include
constructive
trust,
avoidance, and indemnification.
A third
party can sue a principal for an agent's negligent conduct, and some
times an agent must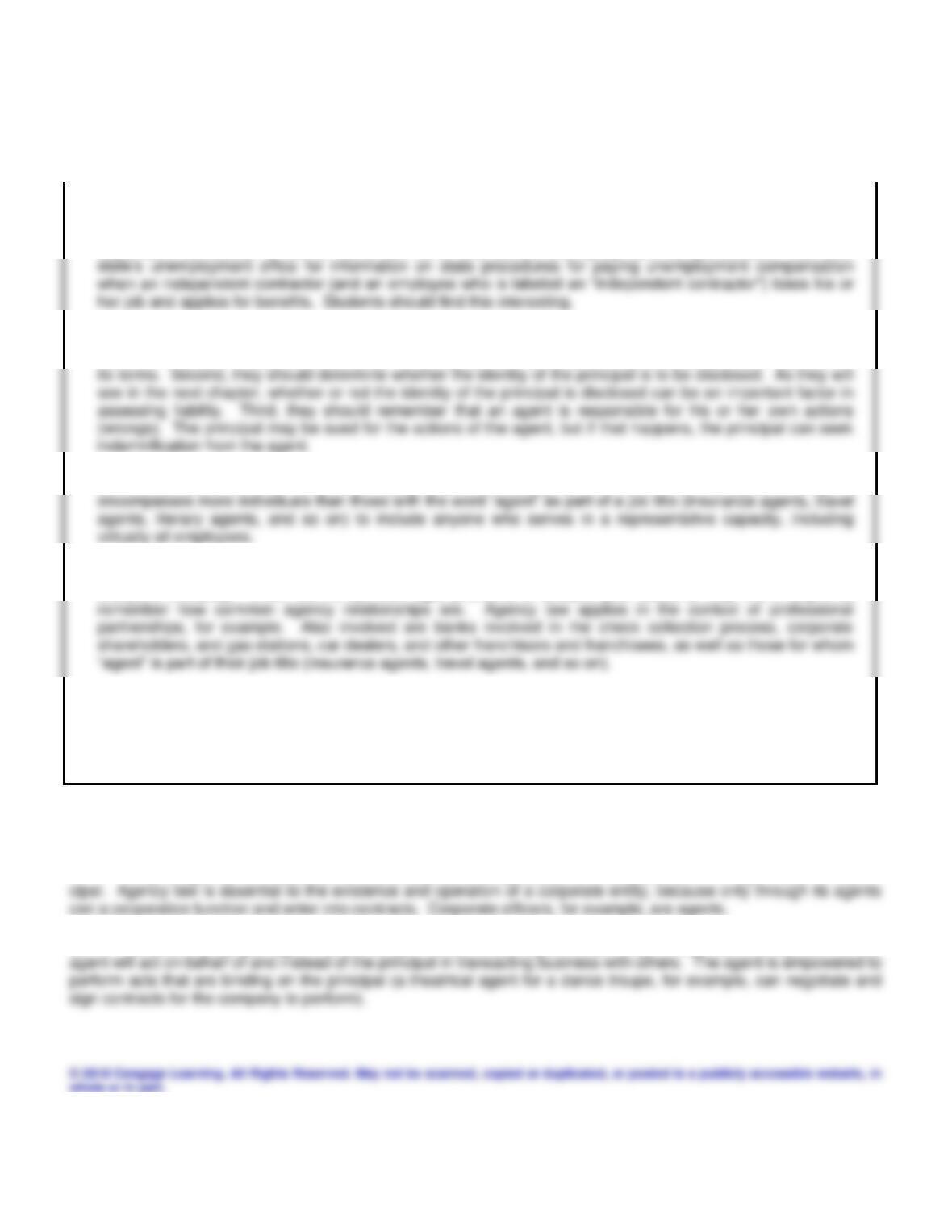 14
UNIT SEVEN: AGENCY AND EMPLOYMENT
1.
When an independent contractor is injured on the job, he or she is responsible for the loss.

When an in-
dependent contractor is out of work, can he or she collect unemployment compensation?
Call your
2.
When considering an agency problem, students may find it helpful to determine first whether the parties
are in an employer-employee relationship. To categorize the relationship, they should pay careful attention to
3.
It should be made clear, if it is not apparent from a reading of this chapter, that the legal term

"agent"
4.
You might explain that no area of the law is more pervasive than the law of agency, which affects virtually
everyone
everyday.
When
confronted
with
legal
problems
to
analyze
your
students
may
find
it
helpful
to
Does the speed of communication via the Internet play have any effect on the duties of principals
1.
Why is agency law essential to the existence and operation of a corporation?

An agent acts for a prin-
2.
What is a principal
–agent relationship?

In a principal

–

agent relationship, the parties have agreed that the
CHAPTER
32
:
AGENCY FORMATION AND DUTIES
15
3.
Define

an

employer
–employee

relationship.

The

details

of

an

employee's

conduct

in

employment

are
4.
What are some of the factors that can determine whether an individual is considered an employee or
an independent contractor?
The factors include: (1) the amount of control an employer exercises over the details of
5.
How is an agency relationship created?

An agency relationship can be created by oral agreement or by
written contract, or can be implied from conduct (a hotel's permitting an individual to park its guests' cars manifests
willingness that the individual do so, and the individual can infer authority to act as a valet, and as an agent for that
princi
pal's agent, and the third person deals

with the other.
6.
What are the policy reasons for holding a principal liable on a theory of agency by estoppel?

Equity is
7.
What are the general duties that agents and principals owe each other?
An agency relationship is fi

du

-
8.
What are an agent's rights and remedies against a principal?

For every duty of a principal, an agent has
a corresponding right (a right to be compensated, reimbursed, and indemnified and to work in a safe environment).
9.
What are a principal's rights and remedies against an agent?

A principal has general contract remedies
(and may terminate an agency relationship) for an agent's breach of fiduciary duties. A principal has tort remedies for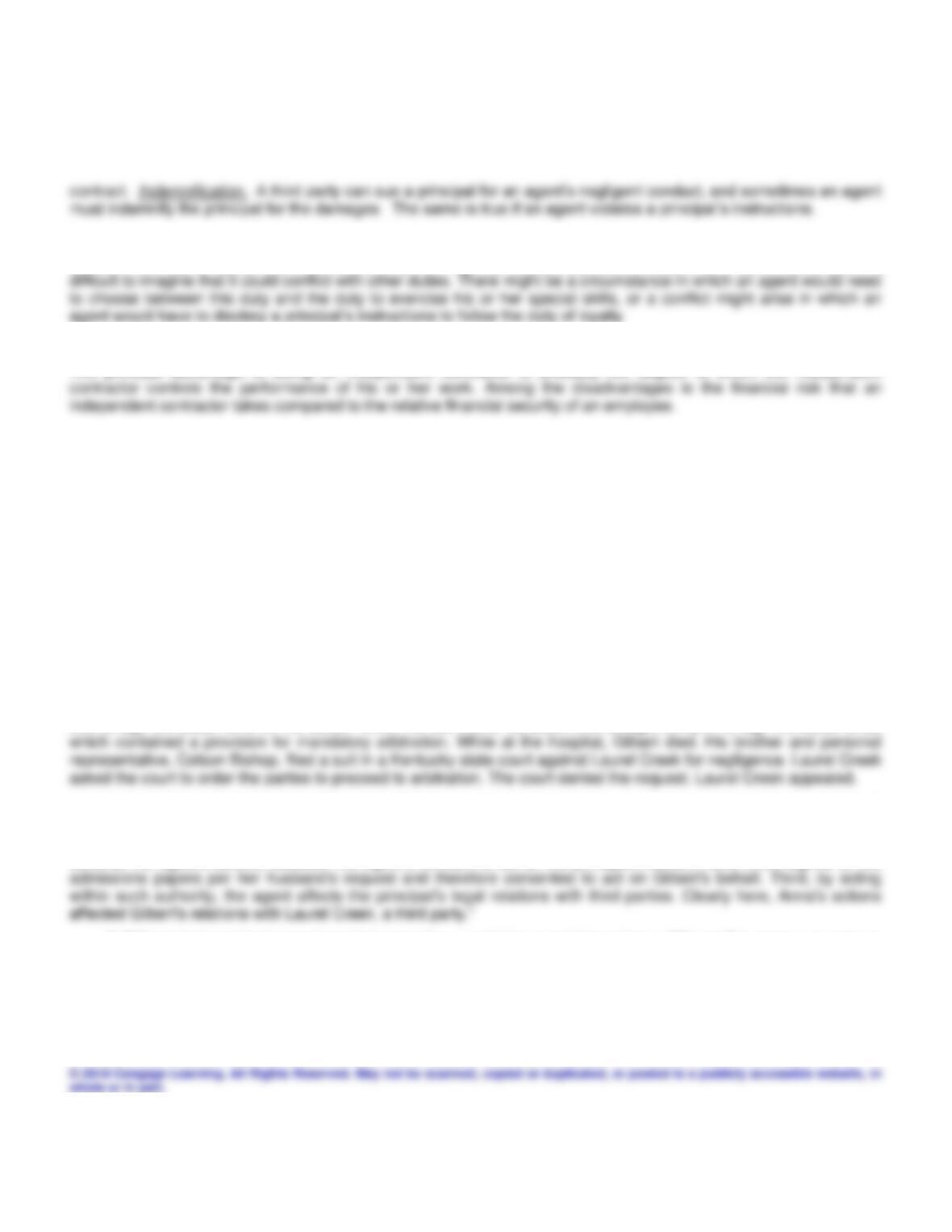 16
UNIT SEVEN: AGENCY AND EMPLOYMENT
10.
Are there situations in which the duty of loy

alty to one's employer could come into conflict with other
duties?
The duty of loyalty is a fundamental duty in an agency relationship (like the duty to act in good faith), and it is
11.
What are some advantages to being an independent contractor? What might be some disadvantages?
Th
e principal advantage of being an independent

contractor is probably the degree to which the independent
A
CTIVITY AND
R
ESEARCH
A
SSIGNMENT
Divide students into groups (four to five students per group) and have them compile lists of the jobs held by
members of the group. Ask them to discuss with each other the rights and responsibilities of each job to determine
whether the student is an agent and an employee or an independent contractor, or only an agent, an employee, or an
independent contractor. Have each group share its conclusions with the class. Discuss with the class the difference
between employees and independent contractors.
Are there students with jobs in which they are referred to as
"independent contractors," when in fact they are employees?
E
XPLANATION OF

A
S
ELECTED
F
OOTNOTE IN THE
T

EXT
Footnote 4:

Gilbert Bishop was admitted to Laurel Creek Health Care Center. He indicated to Laurel Creek
that he was physically incapable of signing admission documents but was of sound mental capacity and wanted his
wife to sign the documents on his behalf. When he told this to his sister, she brought Anna in to sign the documents,
In Laurel Creek Health Care Center v. Bishop, a

state intermediate appellate court reversed and remanded.
There are three steps to the creation of an agency relationship.
First, "the principal manifests assent to be affected by
the
agent's
action.
In
the
instant
case,
Gilbert
asked
that
Anna
come
to
the
hospital
to
sign
the
papers
for
him.
Second, the agent's actions establish the agent's consent to act on the principal's behalf. Here, Anna signed all the
contractual capacity to be a principal. Those who cannot legally enter into contracts directly cannot do so through an
agent.
A
lack
of
sound
mental
capacity
is
a
lack
of
mental
capacity.
In
that
circumstance, Gilbert
could
not
have
authorized
his
spouse
to
sign
admission
papers
on
his
behalf.
Thus
there
would
have
been
no
principal-agent
relationship. The hospital's policy was to have a person's spouse sign the papers if the person could not, however, so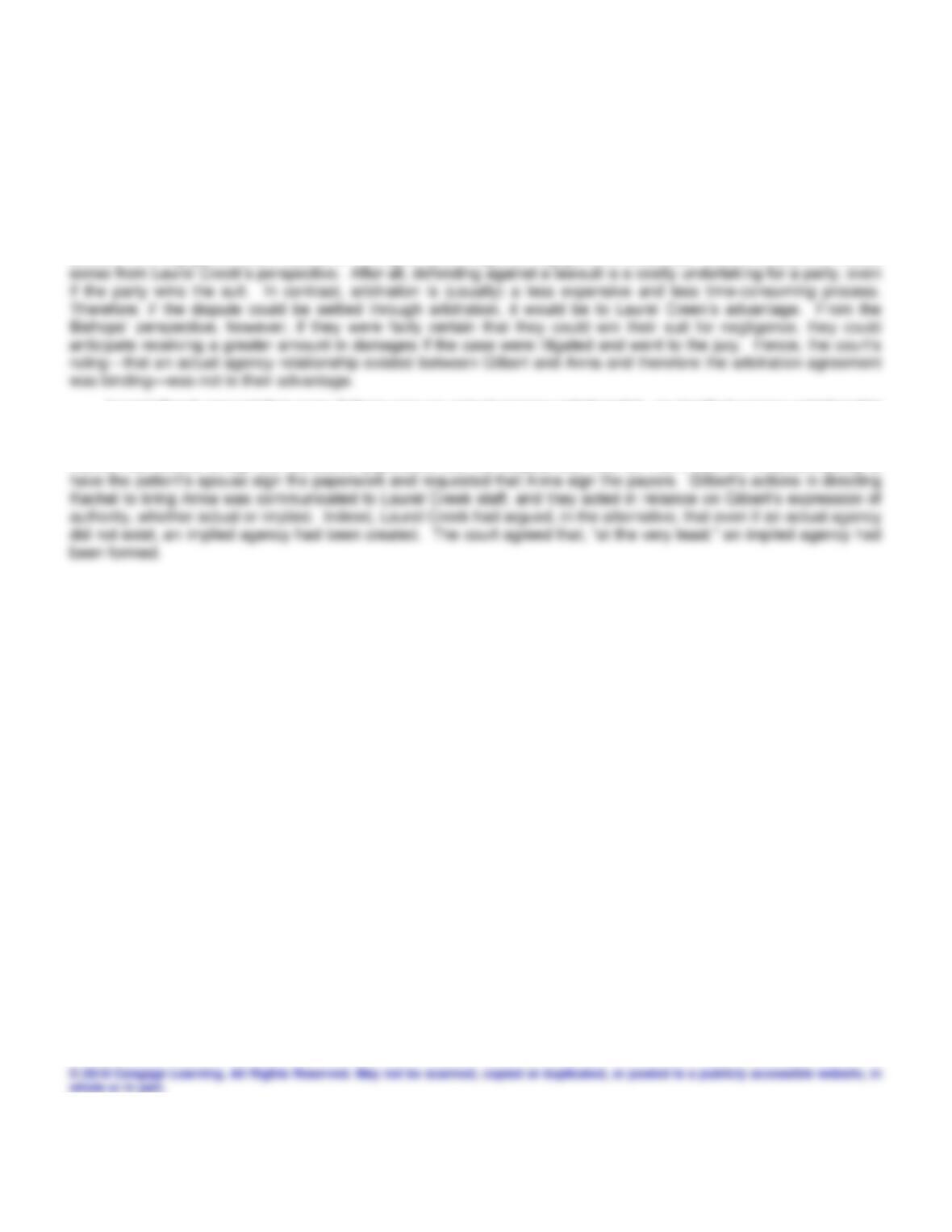 CHAPTER
32
:
AGENCY FORMATION AND DUTIES
17
that the lack of capacity might not have affected the ultimate result in this case. Only the legal arguments would have
been different.
Which party benefited from the court's ruling? Why
?
At the heart of this case was Laurel Creek's desire to
arbitrate the negligence claim instead of having to defend against negligence in a lawsuit. Economically, this makes
existed.
Is
this
argument
valid?
Why
or
why
not?
One

could

argue

that

the

statements

made

by

Gilbert

and
Rachel on Gilbert's admission to the hospital and the subsequent events evidenced the creation of an implied agency.
Rachel had offered to sign the admission paperwork, but the hospital staff told her that it was the hospita
l's policy to