Unlock document.
This document is partially blurred.
Unlock all pages and 1 million more documents.
Get Access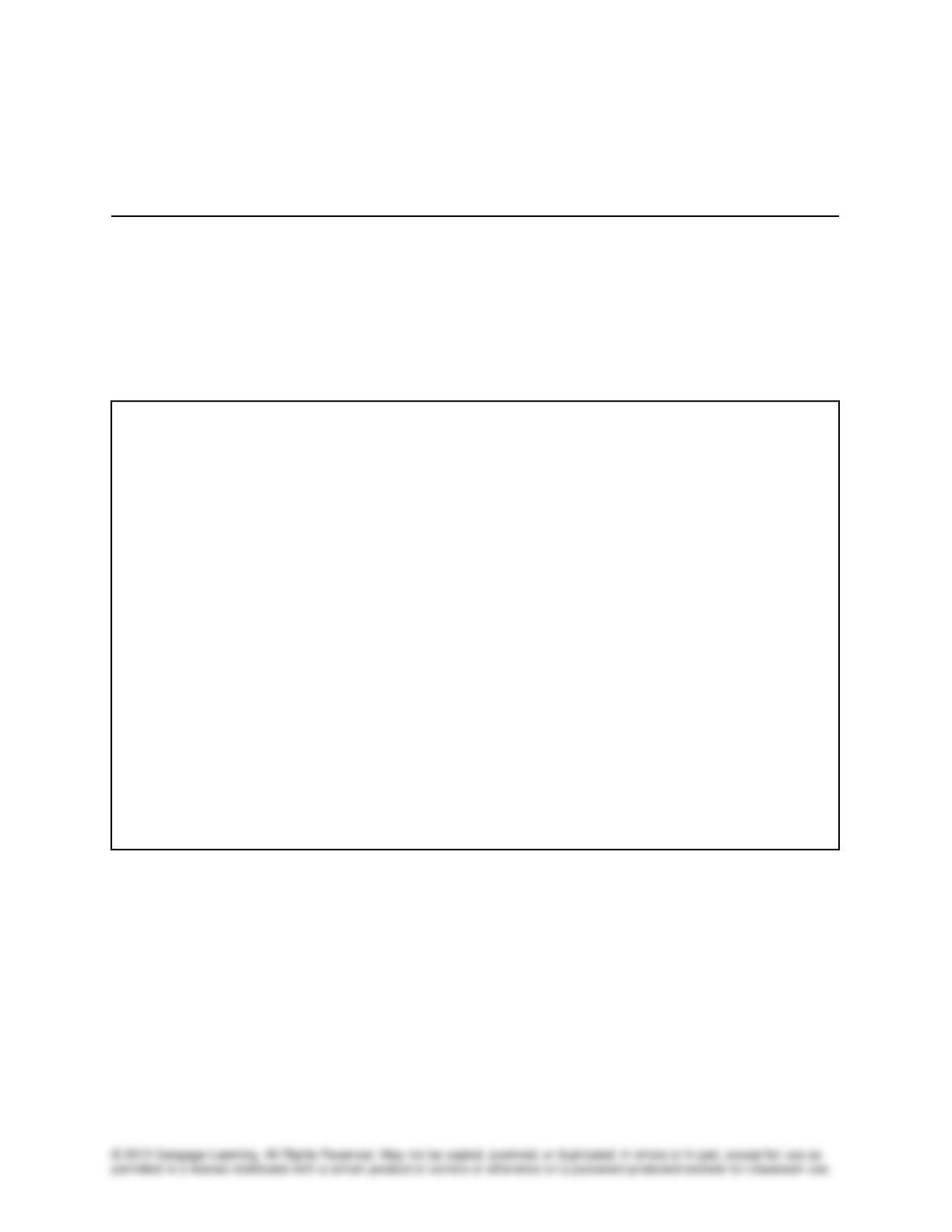 MODULE
28
: Employee Perspective: Sexual Harassment and
Core Module Issues:
•
Are employees ethically required to strictly adhere to dating restrictions
Module Teaching Notes
This module compliments the last one, and shifts the perspective to that of employees. There is little new
background information here, but there is a video clip
["
Lovestruck
" in the South

-Western Digital Video
Library "Business Ethics" series]
.
To access the DVL, log in to your Cengage Faculty Account at
login.cengage.com
, select "Digital Video Library Instant Access Code" when you add the Bredeson text to
your Bookshelf
,
and then click on the "Business Law Digital Video Library Online Access" link under
Before rolling the video and starting the discussion, remind students that at-will employees can be
terminated for ANY reason that is not specifically prohibited in law, and that there is no "freedom to date"
type law. So, companies are allowed to ban workplace dating and fire workers who violate such a policy.
My students tend to like the scenario in this module more than average. I think a lot of them can relate to it,
even if they have not had a similar
experience. Could they resist a super-hot coworker to comply with a
company policy? The discussion is usually fun.
Roll the clip and then discuss.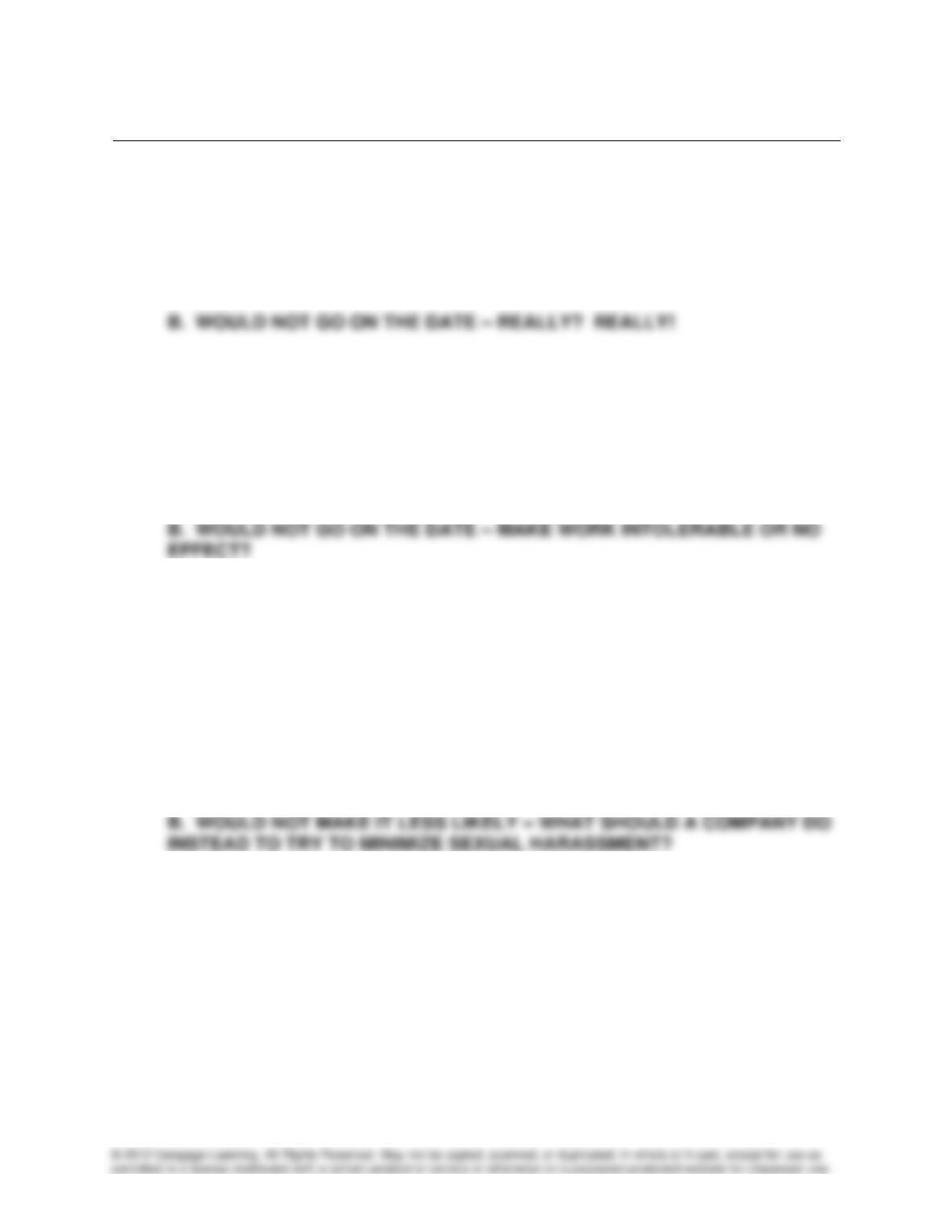 Discussion Points for Scenario Questions
1.
If you were in Mike's position (or Claire's position), would you find a way to go on the date,
or would you decide to cancel because of the company's policy?
A.
GO ON THE DATE

–

WOULD YOU FEAR CONSEQUENCES OR WOULD
YOU NOT BELIEVE THAT THE COMPANY WOULD REALY PUNISH YOU?
2.
If you would keep the date, would you try to talk to someone at the company and be made an
exception to the rule? Or would you try to hide the relationship? If you would break the date,
would that impact your ability to do a good job for the company?
A.
GO ON THE DATE

–

HIDE OR ASK THE COMPANY'S PERMISSION?
3.
A small but nontrivial number of companies have no-dating policies, and they are usually
justified as a tool that will reduce the chance of a sexual harassment lawsuit. The policies are
completely legal, and courts have backed up real companies that have fired workers for violating
them. In your opinion, are no-dating policies for coworkers reasonable? Do you think that they
would actually make sexual harassment less likely?
A.
WOULD MAKE HARASSMENT LESS LIKELY

–

BUT ARE ROMANTIC
INTERESTS AND SEXUAL HARASSMENT THE SAME THING? 4.
Some firms have

"
light
"
no-dating coworkers policies that ban supervisors from dating
subordinates altogether but allow other coworkers to date provided that both employees sign an
agreement before they become romantically involved. The agreements are usually awkwardly
worded documents that boil down to this idea:
"
I will hold the company legally blameless if
anything goes wrong with this relationship.
"
If you were in Mike and Claire's position at a
company with a
"
light

"
no-dating policy, would you feel comfortable signing such a document
before you went out with someone? If not, would you break the date, or just try to hide the date
from the company?
A.
WOULD SIGN THE DOCUMENT

–

ISN'T THAT KIND OF WEIRD? WOULD
YOU FEEL ODD ABOUT IT?
B.
WOULDN'T SIGN

–

WOULD YOU WORRY ABOUT CONSEQUENCES?
5.
Assume that your next job is with a company that has no particular policy on dating
coworkers. The majority of companies don't have such a thing. Would you be reluctant to
become involved with a coworker for some other reason, or does it make no difference if you
meet someone interesting at the office or anywhere else?