Unlock document.
This document is partially blurred.
Unlock all pages and 1 million more documents.
Get Access MODULE
22
: Layoffs in Good Economic Times
Core Module Issues:
•
When can a company ethically terminate workers who are performing
•
Is the answer different in good and bad economic times?
Module Teaching Notes
Since most workers are
"employees at will", companies can terminate positions at any time for almost any
reason.
Now,
of
course,
the
rule
is
not
absolute.
Workers
cannot
be
fired
because
of
race,
etc.
But
companies do not generally have to wait for someone to slip up before laying the worker off.
Some
organizations
"protect
jobs",
and
choose
to
retain
workers
unless
there
is
some
incident,
or
gross
incompetence. Other companies regularly purge worker.
I present the example of GE in the 80s in the textbook. GE rewarded top workers, and got rid of the bottom
10%, with great regularity. You may want to present complimentary corporate examples.
Students often want to comment on GE, and I'll allow a few minutes of class time for a discussion here.
The basic issue
presented
here is:
companies can fire mediocre/non-
"star"

workers,

but when

is it
reasonable
for
them
to
do
so.
The
scenario
presents
seven
workers
who
are
all
doing
"OK",
but
not
excellent, work. The characters are:
Brad
–
misses shifts with some regulari
ty
Carol
–
talks on the phone during the workday with regularity
Ellen
–
refuses weekend shifts
Fred
–
clumsy / damages merchandise
Gerald
–
poor at following instructions
None of them is a terrible employee, but the new store director wants to fire all of them. It is interesting to
see which workers the students have (or fail to have) sympathy for. Some will try to "split the difference"
and say that some workers should be "disciplined but not fired", but try to keep the discussion to a "fire / don't fire" type decision –
it tends to generate more and better class discussion.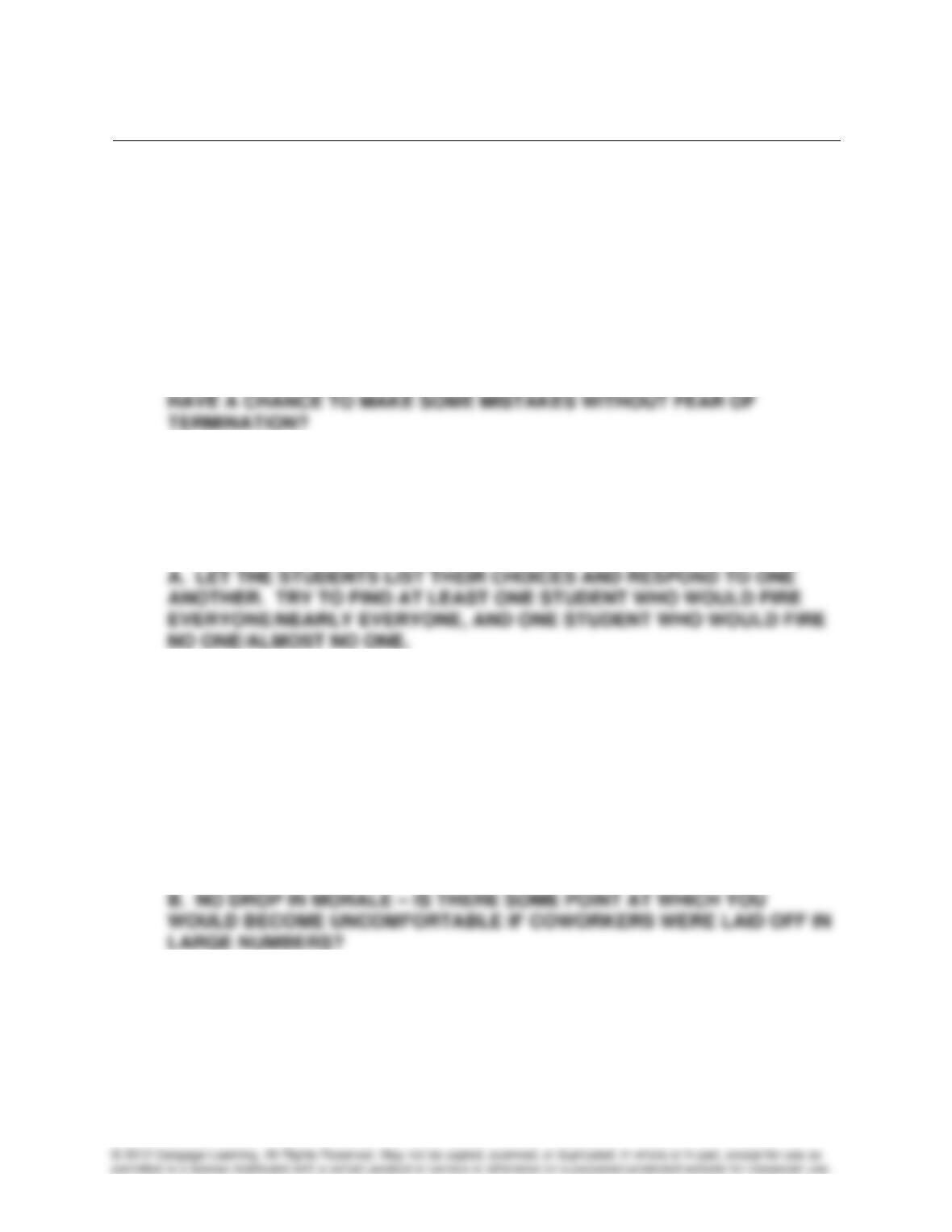 Discussion Points for Scenario Questions
1.
Discuss the general idea presented in this module. If a company is doing well, should
workers who are doing a reasonably good job be retained? Or should a
company's leaders
always seek to eliminate positions of marginal performers?
A.
RETAIN

–

BUT SHOULDN'T EXCELLENCE BE EXPECTED? MIGHTN'T
THERE BE BETTER WORKERS WHO COULD TAKE THE PLACE OF THE
MARGINAL WORKERS?
B.
FIRE

–

BUT WHAT ABOUT MINOR SLIP UPS? SHOULD A PERSON
2.
Of the seven employees described, which would you decide to terminate? Why?
3.
If all seven are laid off, would you anticipate a drop in morale among the remaining workers?
Or
would you expect the remaining employees to think, "Ah, they
weren't any good anyway,"
and not worry about it?
A.
DROP IN MORALE

–

IS THAT A REASON, BY ITSELF, TO RETAIN A
MARGINAL WORKER?
4.
Now discuss the seven employees described assuming that the grocery store is struggling. If
times are tough, which of the seven would you lay off?
5.
In previous generations, it was somewhat common for workers to spend entire careers at a
single company, and very common for them to spend careers at three companies or fewer. Is the
old model better? Would we be better off with more long-serving workers around? Or is the
newer model better, in which companies and workers feel less loyalty toward each other and job
changes are much more common?
A.
STABILITY BETTER

–

WHY?