Unlock document.
This document is partially blurred.
Unlock all pages and 1 million more documents.
Get Access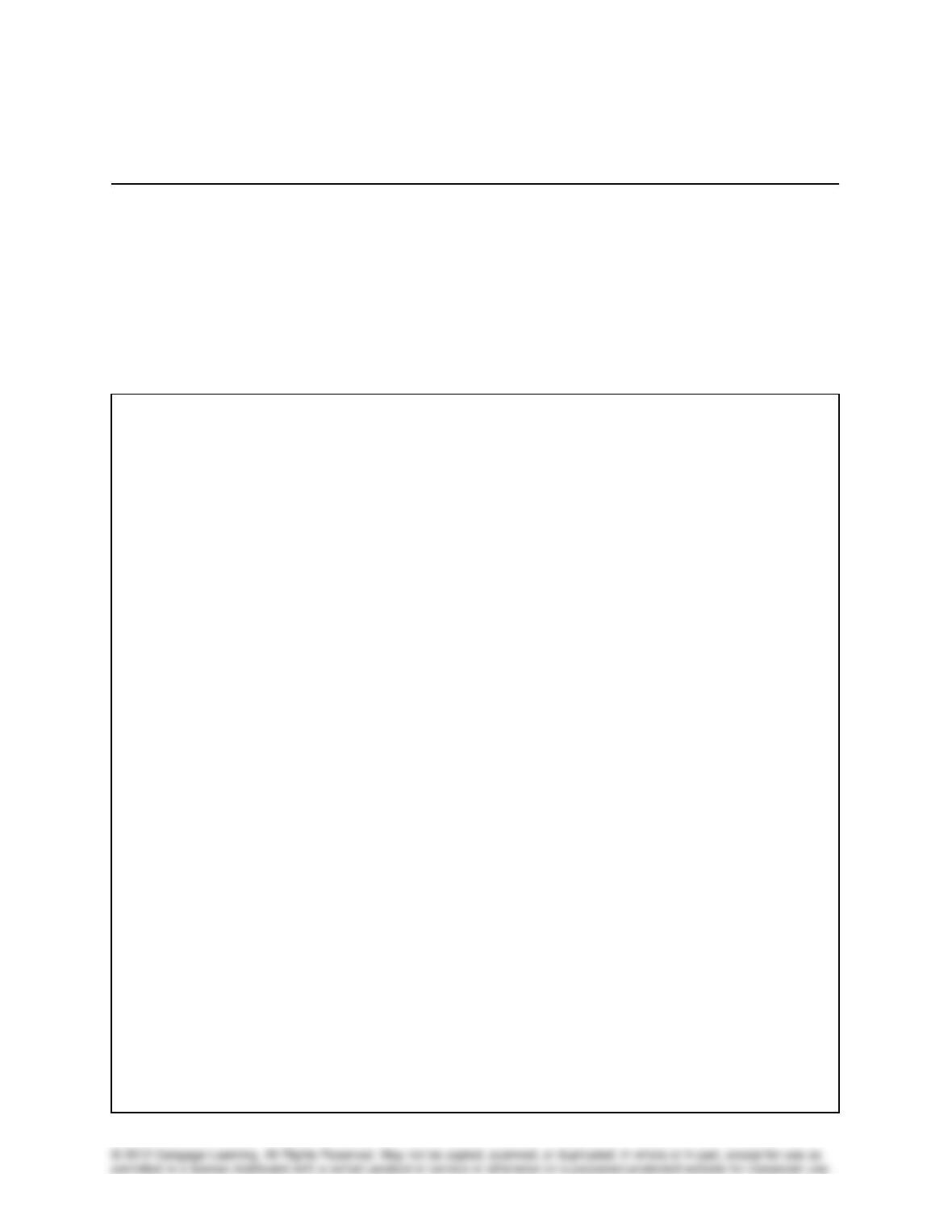 MODULE
14
: Using Fear to Sell
Core Module Issues:
•
Is it reasonable to "scare" customers into buying products and
•
If so, are there any limits? Any circumstances in which fear is not an
Module Teaching Notes
The last module featured "best case scenario" ads. This module features, in a sense, the opposite kind of
ads. Almost "worst case scenario" situations.
An interesting opening discussion for this class can follow the question: are you vulnerable to ads that try to
scare you? Do you ever buy things to prevent a "big problem".
A follow up question, of comments are few, can be: are you more likely to respond to an ad that will help
you save time, help you save money, have a good time, or avoid a big problem.
Sometimes multiple choice helps, particularly if you happen to have an 8:00 class.
The truth is that many advertisers try to scare us. They present their products and services as a solution to
a
big
problem.
Now,
the
big
problem
may
be
unlikely
(perhaps
VERY
unlikely),
but
nevertheless,
consumers respond to fear quite regularly.
The scenario in this module is very similar to the previous two.
An aside:
If you have enjoyed the previous two modules, then you should cover this one as well. But if you have
found class discussion lacking, or if you are not enjoying the material, there is no reason to cover this, or
any specific module in the book. I tried to make this textbook longer than I thought necessary to fill a typical
course. I think 45-
55 modules is probably enough to "fill the air time."
I hope that faculty members
will emphasize
the modules
that they find
interesting,
and
deemphasize the
others. No need to march mechanically from 1 to 2 to 3 until you run out of time on the last day of class,
unless you want to. I encourage you to skip ahead on occasion.
Everyone will have areas of personal interest. I think classes are dramatically better, regardless of topic,
when
the professor
is
interested in
the
topic.
Better to
cover
the
topics out
of
order
with
consistent
enthusiasm than to cover the topic in order with inconsistent enthusiasm.
At any rate, I like this module just fine. But if you read this or any other module and imagine that it would be difficult for you to work with, by all means leave it and assign another to your class.
End of aside
So, there are five imaginary ads in this scenario. Insurance
–
political
–
germ buster
–
toothpaste
–
and
burglar alarm. Some of the ads this time have statistics (which are not shown in the actual commercials)
which show the odds of a bad event happening.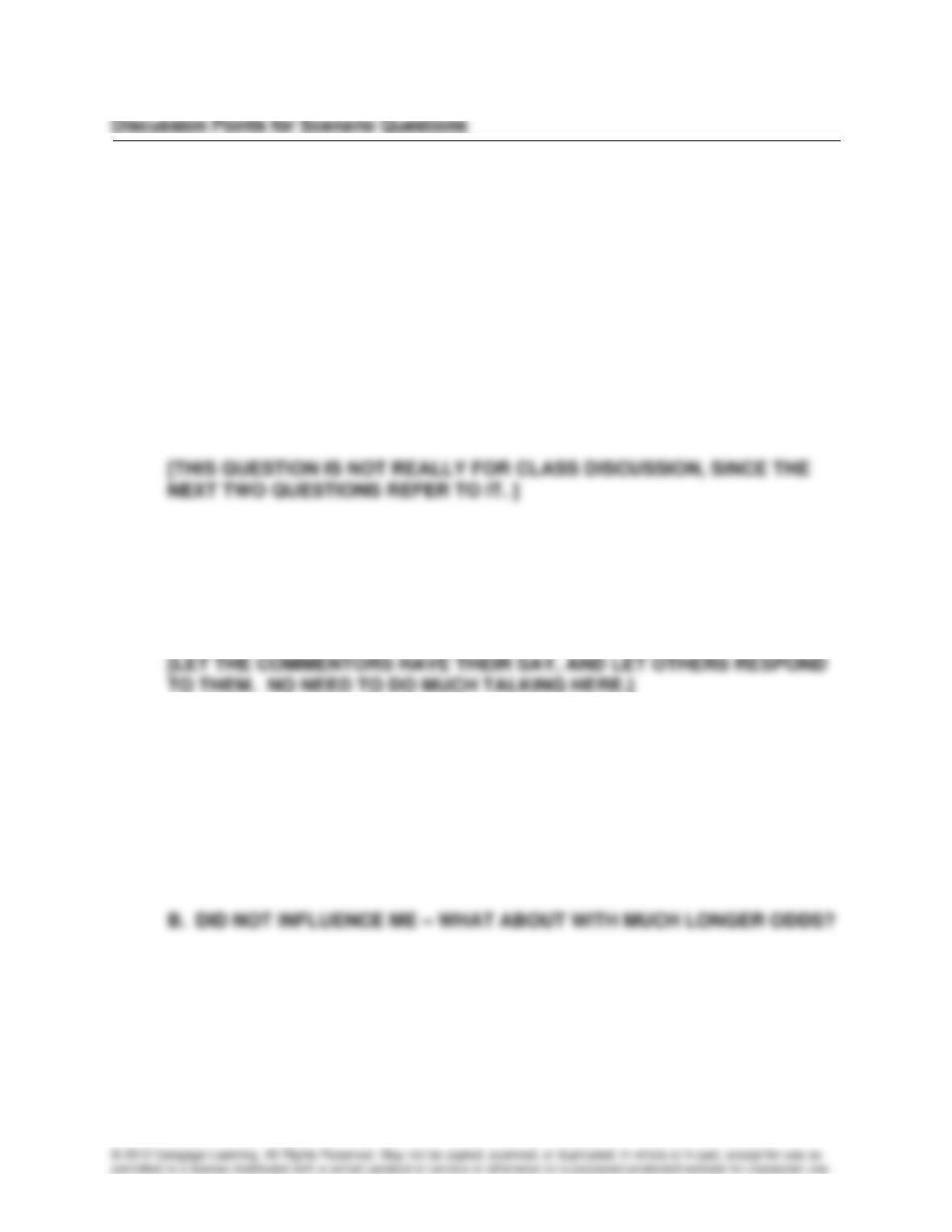 1.
Rank the five ads, from #1 (most unethical) to #5 (least unethical):
_____ Political attack ad
_____ Dust mite light
_____ Toothbrush
_____ Home security service
2.
Focus on your #1 and #2 rankings from question 1. What, specifically, do you find
questionable about these ads?
3.
Did any of the statistics in the scenario influence your assessment of the ads? If so, which
ones? If not, would even longer odds (of, say, 1,000,000-
to
-1) have influenced your rankings?
A.
INFLUENCED ME

–

WHY? DOES IT SEEM LIKE AN UNFAIR GAME?
4.
Should any of these ads be disallowed/made illegal, or are none of them that bad?
A.
ILLEGAL

–

WHICH ONES? DOESN'T THAT GO A LONG WAY? WHAT IF
THEY WERE MERELY REQUIRED TO GIVE CONSUMERS MORE
INFORMATION?
5.
Going back to an idea in the background section, do you think fear-based ads
create
fears in
the first place, or do they merely inform people about solutions for things that they are
already
[THIS REFERS BACK TO A QUESTION YOU MAY HAVE CHOSEN TO
PRESENT DURING YOUR SET UP FOR THE LAST MODULE. HAS
ANYONE'S OPINION CHANGED, IF YOU PRESENTED IT THEN?]
[IF THIS IS A "NEW QUESTION", THEN JUST LET THE STUDENTS TALK
AND GUIDE THE CONVERSATION.]