Unlock document.
This document is partially blurred.
Unlock all pages and 1 million more documents.
Get Access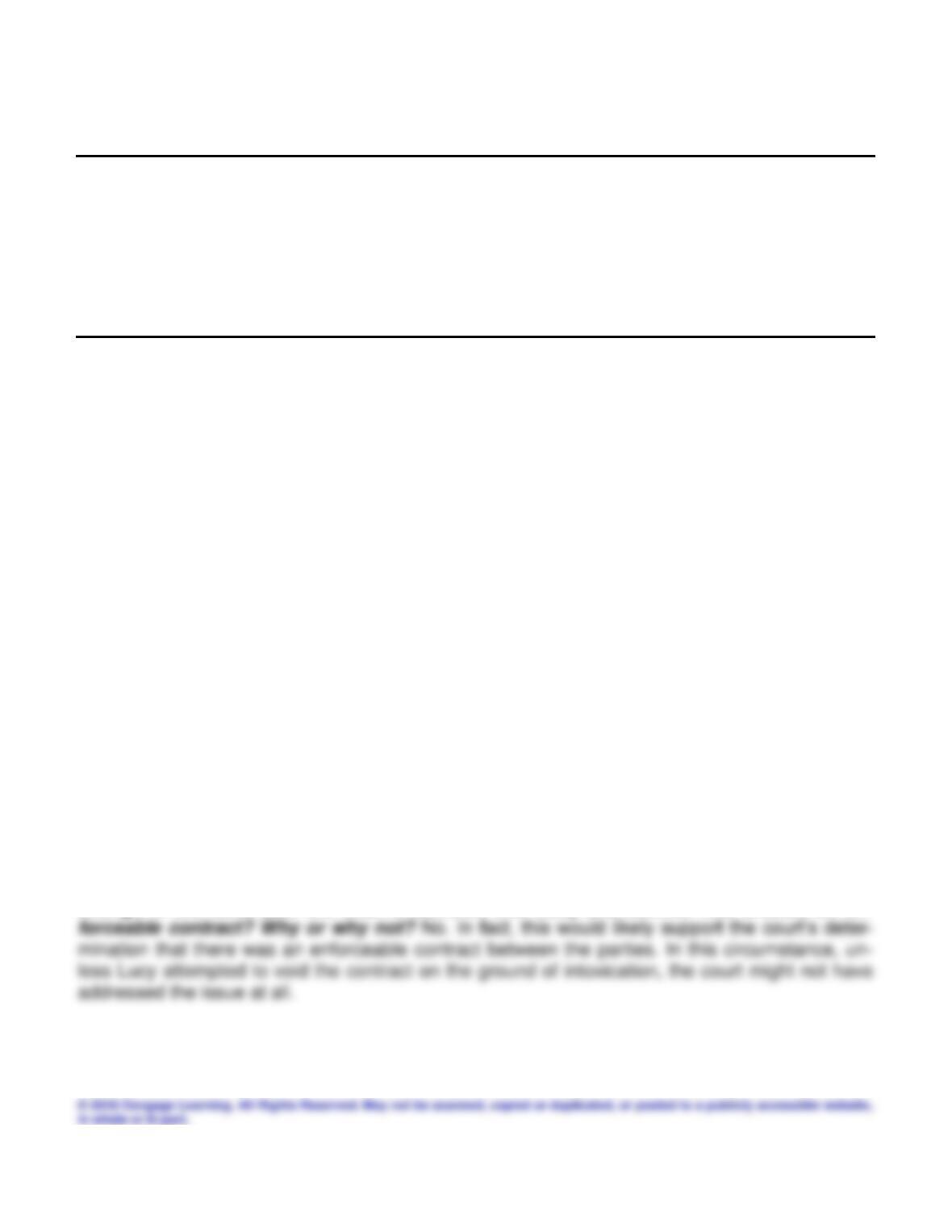 1
A
GREEMENT IN
TRADITIONAL AND

E-C

ONTRACTS
A
NSWER TO
CRITICAL THINKING

Q

UESTION
D
IGITAL
U
PDATE
—
C
RITICAL
T
HINKING
How can a company structure e-
mail negotiations to avoid "accidentally" forming a con-
tract
?

The company should make sure that all e-mail conversations explicitly indicate that they
are subject to any relevant conditions and that they are subject to further review and comment
by the senders' clients or colleagues. All negotiations via e
-mail should include appropriate dis-
claimers such as "This email is not an offer capable of acceptance." or "This e
-mail does not ev-
idence an intention to enter into an agreement." or "This e
-mail has no operative effect until a
definitive agreement is signed in writing by both
parties." Another possibility is to indicate that
"No party should act in reliance on this e
-mail until a definitive contract is signed in writing by
C
ASE
12

.1
—
C
RITICAL
T
HINKING
W
HAT
IF

THE

F

ACTS
W
ERE
D

IFFERENT

?
Suppose that the day after Lucy signed the purchase agreement for the farm, he decided
that he did not want it after all, and Zehmer sued Lucy to perform the contract. Would this
change in the facts alter the court's decision
that
Lucy and Zehmer had created an en-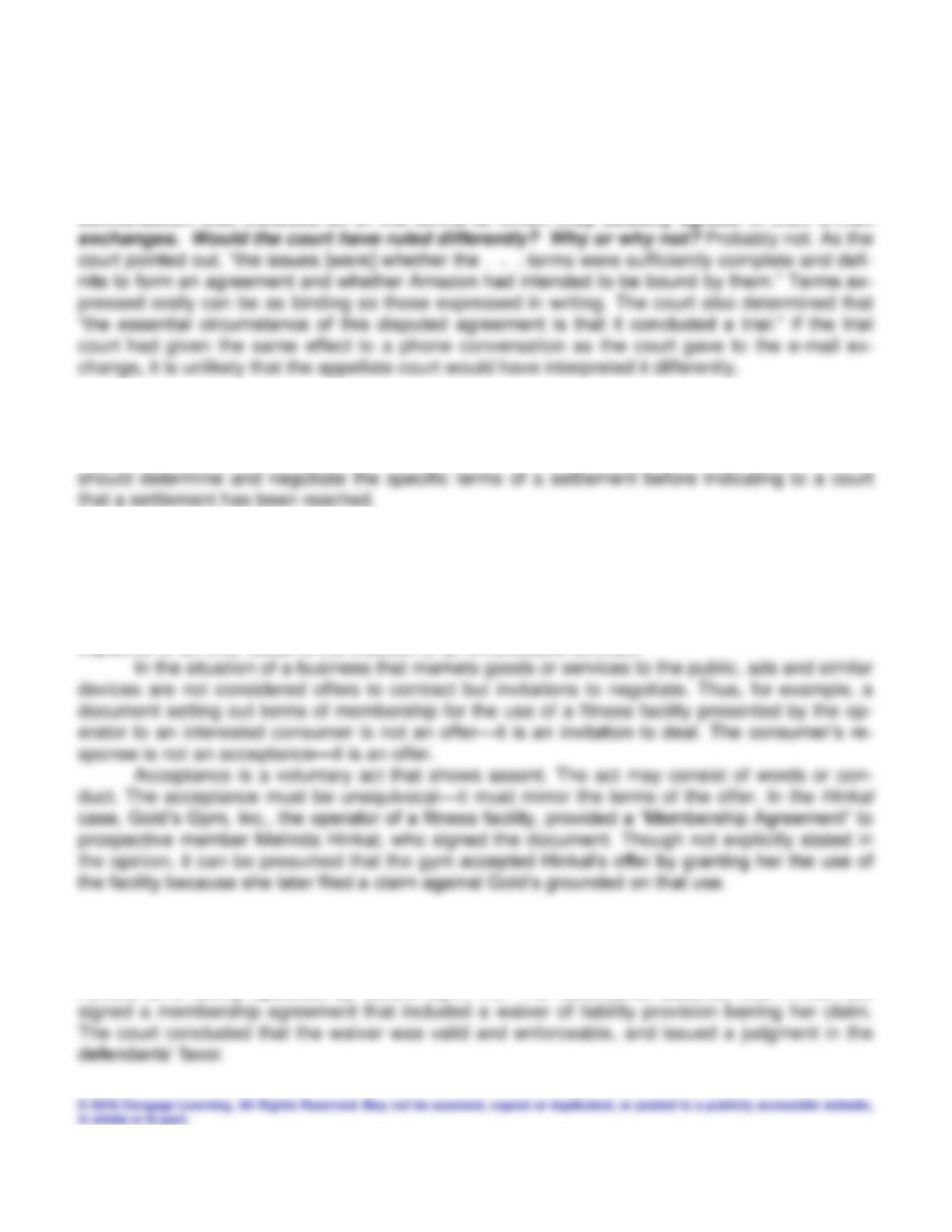 2
UNIT THREE: CONTRACTS AND E-CONTRACTS
C
ASE
12

.2
—
C
RITICAL
T
HINKING
W
HAT
I

F THE

F

ACTS
W
ERE
D

IFFERENT

?
Assume that, instead of exchanging e-mails, the attorneys for both sides had a phone
conversation that included all of the terms to which they actually agreed in their e-mail
What does the result in this case suggest that a businessperson should do before agree-
ing to a settlement of a legal dispute?
The result in this case suggests that a businessperson
C
ASE
12

.3
—
L
EGAL
R
EASONING
Q
UESTIONS
1.
What indicated that the terms in the agreement at issue in this case were accepted?
One of the elements for the formation of a valid contract is
agreement
—
mutual assent to the
terms
of
a
bargain.
Agreement
is
evidenced
by
an
offer
and
an
acceptance.
An
offeree's
ac-
ceptance of an offer leads to the creation of an enforceable contract.
2.
What were the appellant's arguments in support of her claim? Which of those conten-
tions did the court imply was irrelevant? Why?
Melinda Hinkal sought to recover for injuries
that
she
allegedly
sustained
while
exercising
under
the
supervision
of
personal
trainer
Gavin
Pardoe
at
a
facility
operated
by
Gold's
Gym,
Inc.
The
defendants
asserted
that
Hinkal
had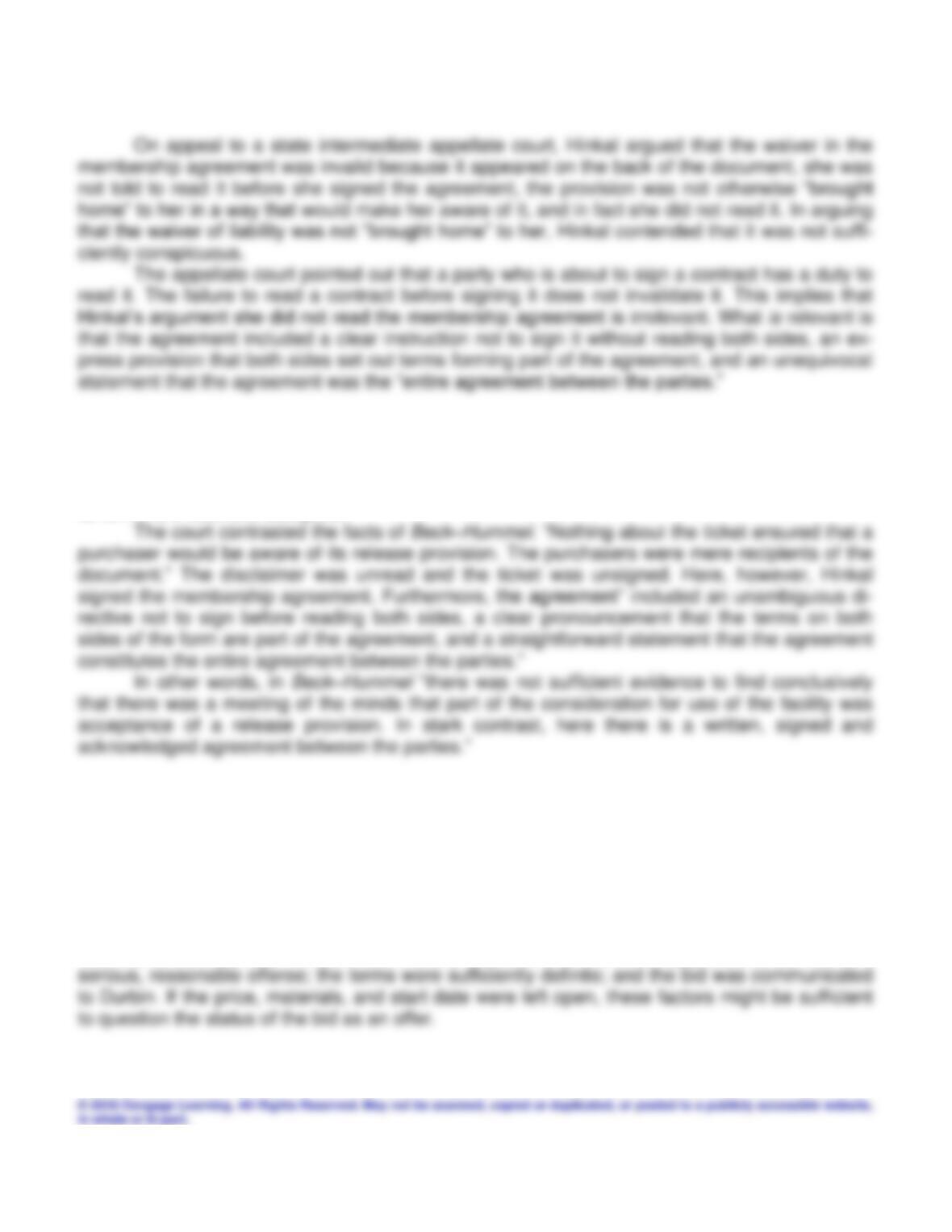 CHAPTER
12
: AGREEMENT IN TRADITIONAL AND E-CONTRACTS
3
3.
How did the court distinguish its conclusion in this case from its decision in Beck

–
Hummel
?

To support her claim, Hinkal cited

Beck

–

Hummel v. Ski Shawnee, Inc.,

a previous
case before the same appellate court. At issue in
Beck

–

Hummel
was a ski lift ticket that con-
tained a release of liability on its face but did not require a signature or an acknowledgment that
its terms are read and accepted.
ANSWERS TO

Q

UESTIONS IN THE

R

EVIEWING

F

EATURE
AT THE
E
ND OF THE
C
HAPTER
A bid can be an offer if it contains all of the requisite elements: a serious, objective intent on the
part of the offeror and an offer communicated to the offeree in certain, definite terms compre-
hensible to both parties. Amstel's bid met the requirements His intent appeared to be that of a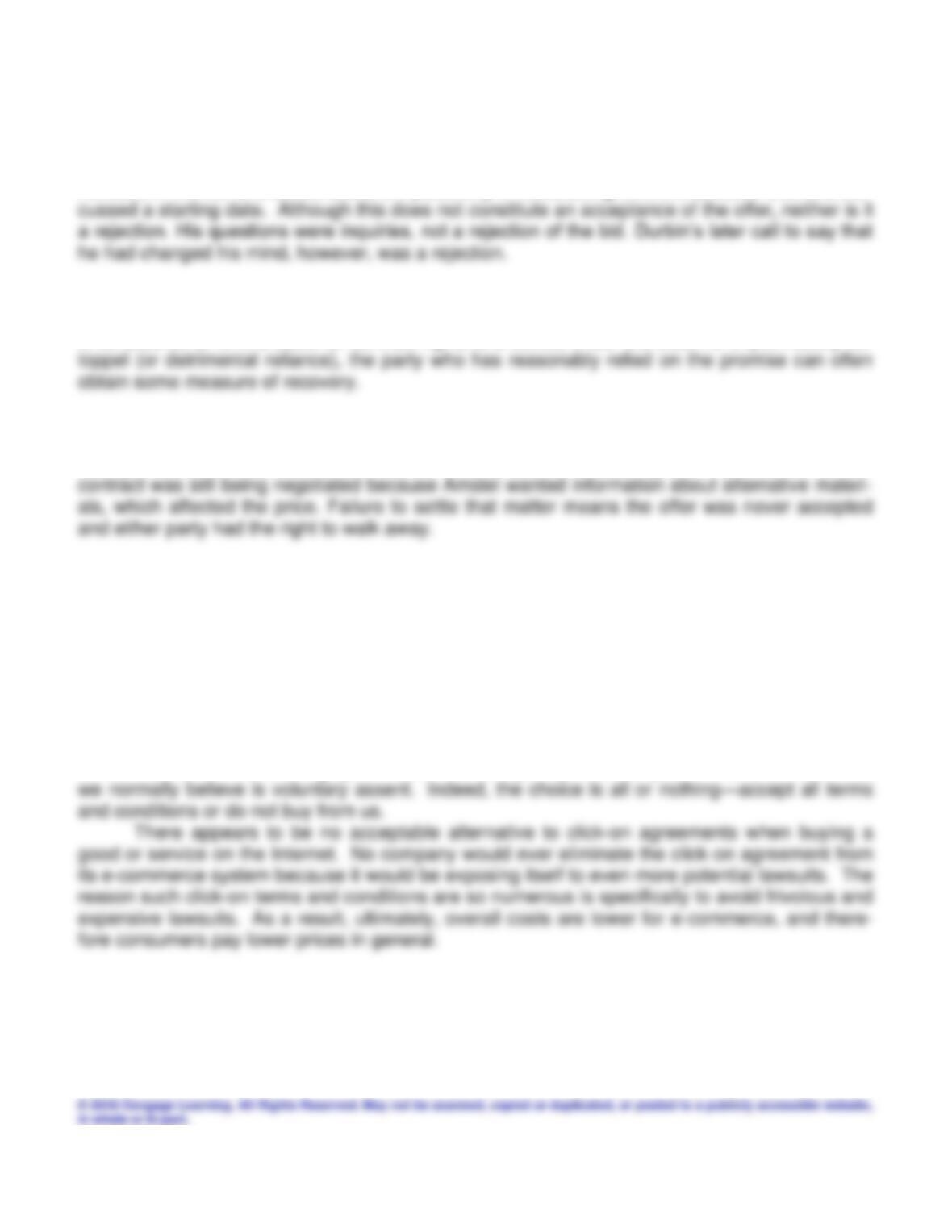 4
UNIT THREE: CONTRACTS AND E-CONTRACTS
To create a contract, an offer must be accepted unequivocally. Durbin questioned the materials
included in the bid and asked about the possibility of substituting different acoustic tiles and dis-
When individuals rely on promises, as Amstel would have done in this scenario, and the reliance
is considered to form a basis for contract rights and duties, under the doctrine of promissory es-
Yes, Durbin asked
about better
quality tiles; until that
issue was
settled, because it
likely
changed the price, a contract was never formed, so Durbin had the right to cancel the deal. The
ANSWER TO

D

EBATE

T

HIS

Q

UESTION IN THE

R

EVIEWING

F

EATURE
AT THE
E
ND OF THE
C
HAPTER
The terms and conditions in click-on agreements are so long and detailed that no
one ever reads the agreements
.
Therefore, the act of clicking "I agree." is not really an
acceptance
. The terms and

conditions included

in

click-on agreements

have

become

so

de-
tailed,
confusing,
and
most
importantly,
long,
that
no
one
would
ever
take
the
time
to
read
one. Knowing, though, that one is unable to purchase or license a product or service purchased
on the Internet without clicking "yes" means that everyone just clicks "yes."
That is far from what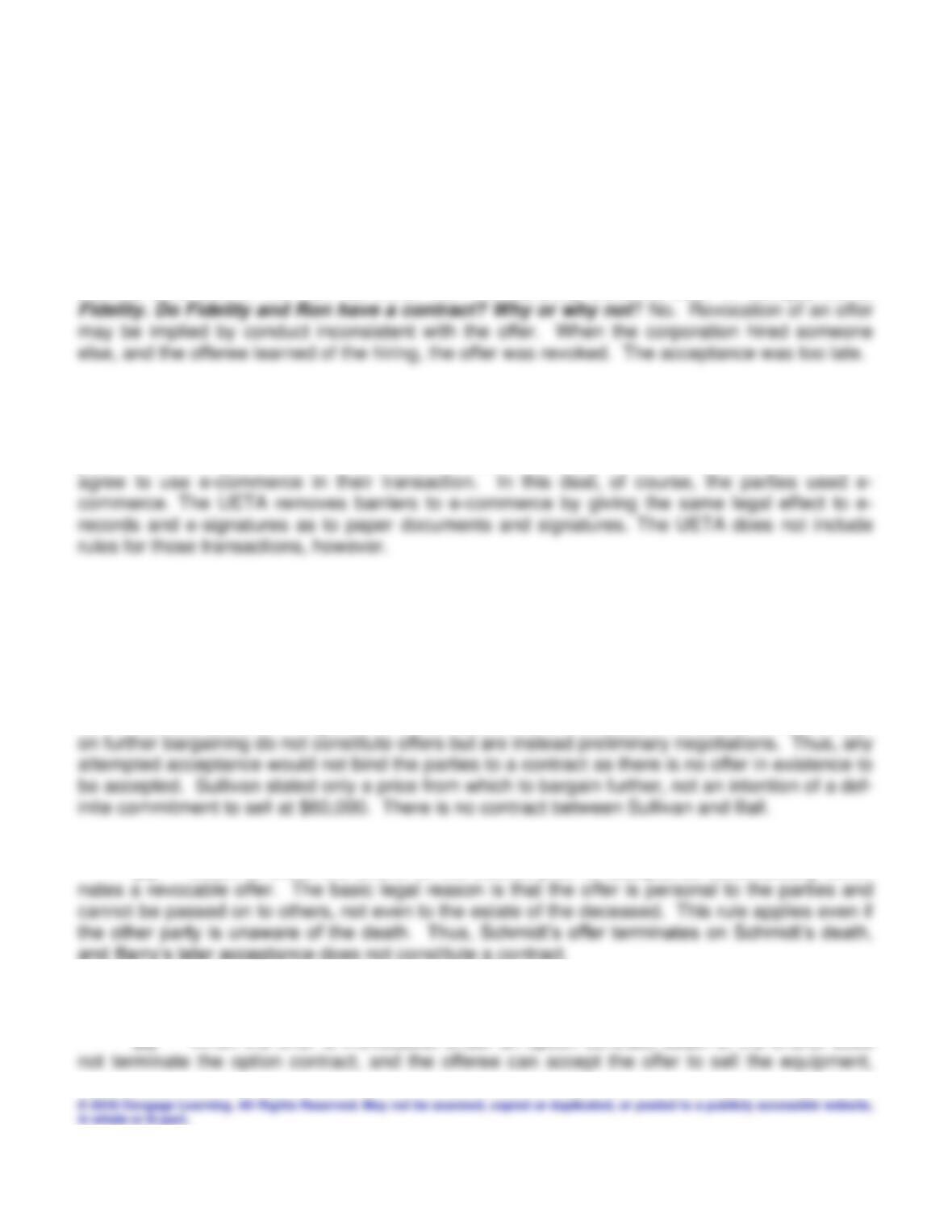 CHAPTER
12
: AGREEMENT IN TRADITIONAL AND E-CONTRACTS
5
A
NSWERS TO
I

SSUE

SPOTTERS
AT THE
E
ND OF THE
C
HAPTER
1A
.

Fidelity Corporation offers to hire Ron to replace Monica, who has given Fidelity a
month's notice to quit. Fidelity gives Ron a week to decide whether to accept. Two days
later, Monica signs an employment contract with Fidelity for another year. The next day,
Monica tells Ron of the new contract. Ron immediately sends a letter of acceptance to
2A
.

Applied Products, Inc., does business with Beltway Distributors, Inc., online. Under
the Uniform Electronic Transactions Act (UETA), what determines the effect of the elec-
tronic
documents evidencing the parties'

deal? Is a

party's

"signature"

necessary?

Ex-
plain
.

First,

it might

be

noted

that

the

UETA

does not

apply

unless

the

parties

to

a

contract
A

NSWERS TO

BUSINESS SCENARIOS
AT THE
E
ND OF THE
C
HAPTER
For an offer to exist, the offeror must show a definite intention to make and be bound by the of-
fer. Invitations to trade or negotiate or mere statements of intentions to enter into a contract up-
12
-2A. Offer and acceptance
(a)
Death of either the offeror or the offeree prior to acceptance automatically termi-
and Barry's later accep
tance does not constitute a contract.
(b)
An offer is automatically terminated by the destruction of the specific subject mat-
ter of the offer prior to acceptance. Thus, Barry's acceptance after the fir
e does not constitute a
contract.
(c)
When the offer is irrevocable, under an option contract, death of the offeror does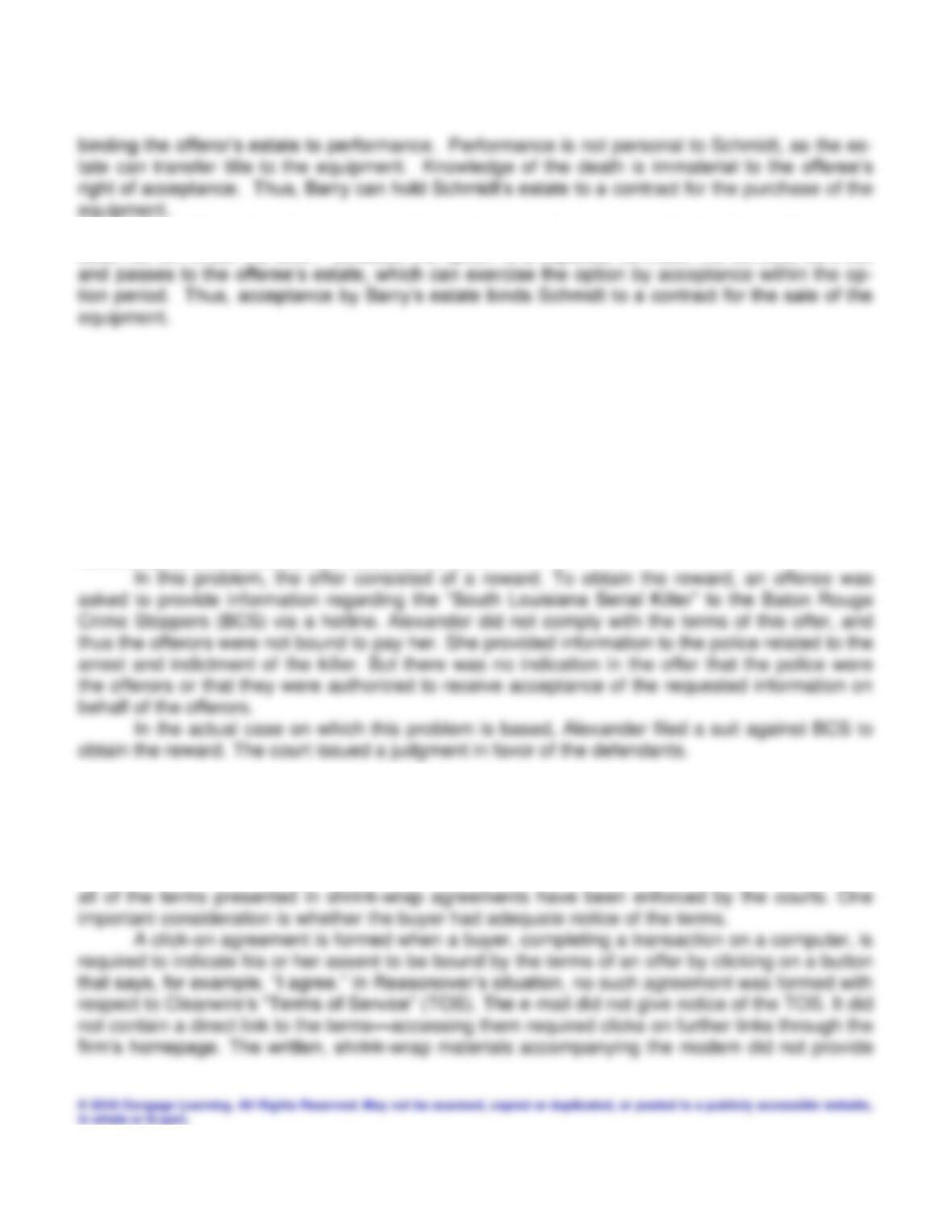 6
UNIT THREE: CONTRACTS AND E-CONTRACTS
(d)
When the offer is irrevocable, under an option contract, death of the offeree also
does not terminate the offer. Because the option is a separate contract, the contract survives
A

NSWERS TO

B

USINESS

CASE P

ROBLEMS
AT THE
E
ND OF THE
C
HAPTER
12
–3A.

S

POTLIGHT ON

C

RIME

S

TOPPERS

—

Communication
One
of the

requirements for an

effective offer is communication,

resulting in the offeree's
knowledge of the offer. One of the requirements for an effective acceptance is also communica-
tion
—
in most situations, the offeror must be notified of the acceptance. In a unilateral contract,
the full performance of some act is called for. If acceptance is evident, notification may be un-
necessary, unless of course the offeror asks for it.
12
–4A.

B

USINESS

C

ASE

P

ROBLEM WITH

S

AMPLE

A

NSWER

—

Online acceptances
No. A
shrink-wrap
agreement
is
an
agreement
whose
terms
are expressed
inside
the
box
in
which the goods are packaged. The party who opens the box may be in
fo
rmed that he or she
agrees to the terms by keeping whatever is in the box. In many cases, the courts have enforced
the terms of shrink-wrap agreements just as they enforce the terms of other contracts. But not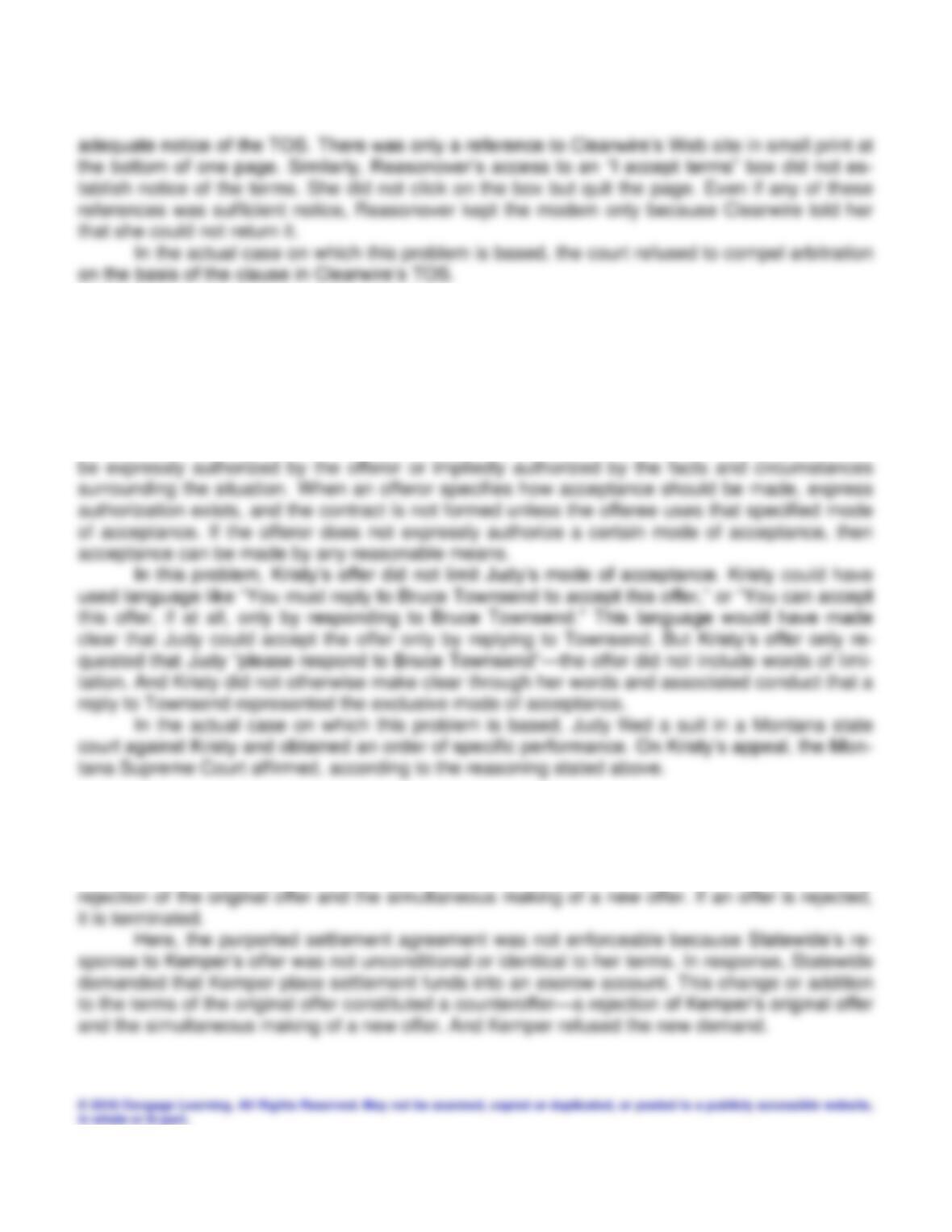 CHAPTER
12
: AGREEMENT IN TRADITIONAL AND E-CONTRACTS
7
Judy's
reply was effective, and Judy and Kristy had an enforceable binding contract
—Kristy's
offer did not limit its acceptance to one exclusive mode. Thus, Judy was entitled to an order of
specific performance.
Acceptance is a voluntary act by the offeree that shows assent (agreement) to the terms
of an offer.
The offeree's act may consist of words or conduct.

The acceptance must be une-
quivocal and must be communicated to the offeror. A means of communicating acceptance can
No,
Statewide
and
Kemper
did
not
have
an
enforceable
agreement.
Under
the
mirror
image
rule, the offeree's acceptance must match the offeror's offer exactly. If the acceptance changes
or adds to the terms of the original offer, it will be considered a counteroffer. A counteroffer is a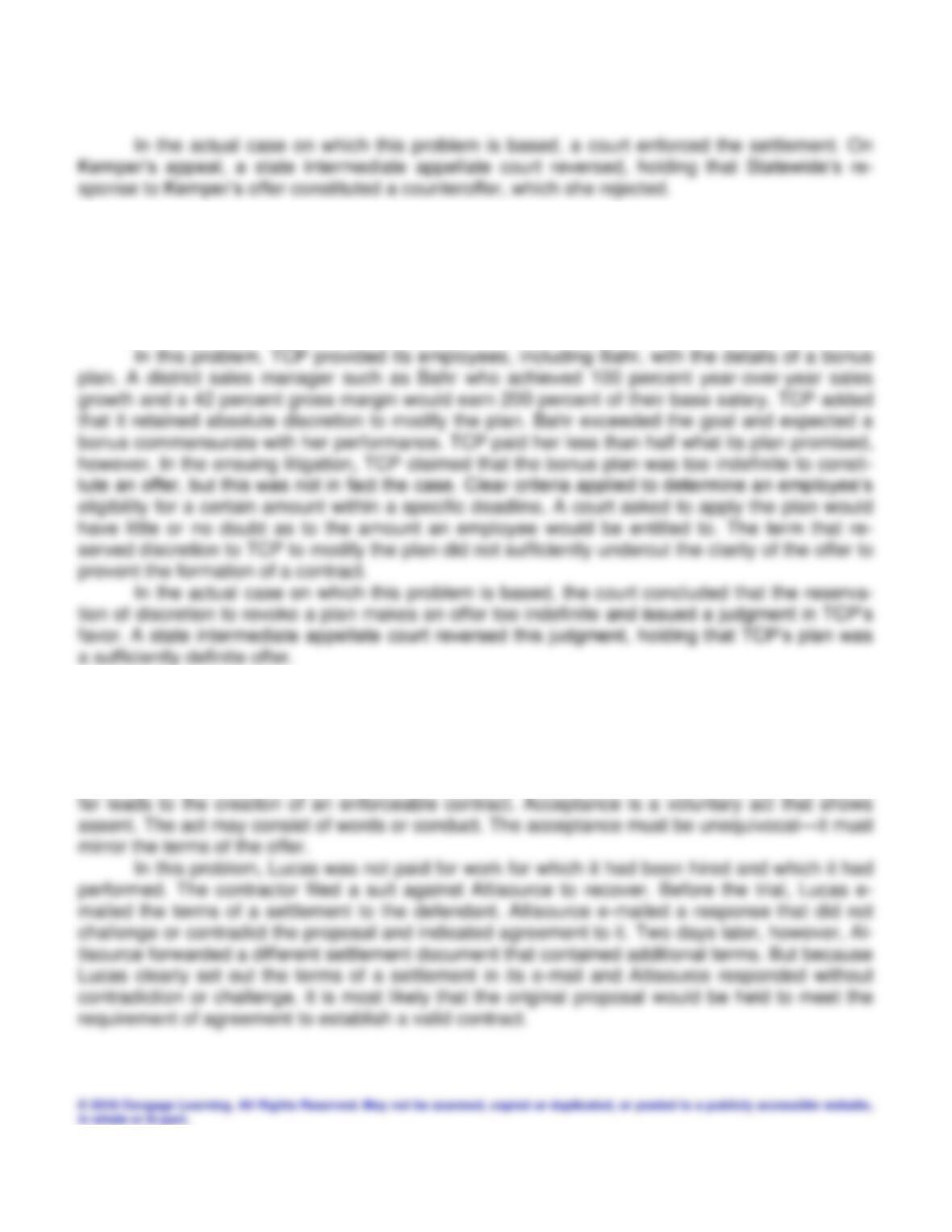 8
UNIT THREE: CONTRACTS AND E-CONTRACTS
12
–7A.

Requirements of the offer
No, TCP is
not
correct
—
the bonus
plan was
not
too
indefinite to be
an
offer. One of the
re-
quirements for an effective offer is that its terms must be reasonably definite
.
This is so a court
can determine
whether
a
breach
has
occurred
and
award
an appropriate
remedy. Generally,
these terms include an identification of the parties and the object or subject of the contract, the
consideration to be paid, and the time of performance.
The terms for a settlement that Lucas originally e-mailed to Altisource are most likely to be con-
sidered by a court to satisfy the element of agreement to establish a contract. One of the ele-
ments for the formation of a valid contract is agreement
—
mutual assent to the terms of a bar-
gain. Agreement is evidenced by an offer and an acceptance. An offeree's acceptance of an of-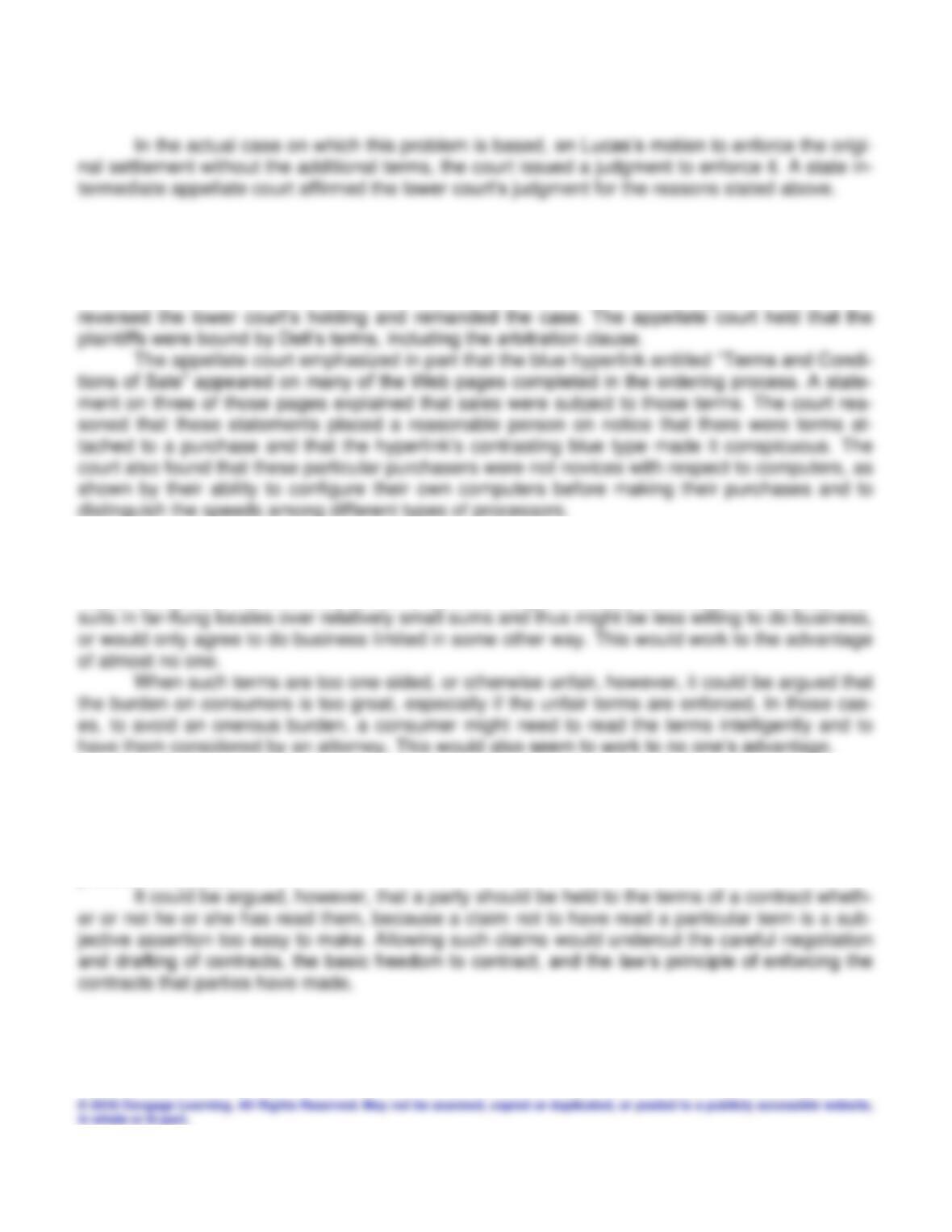 CHAPTER
12
: AGREEMENT IN TRADITIONAL AND E-CONTRACTS
9
12
-9

A.

A

Q

UESTION OF

E

THICS

—

E-contract disputes
(a)
The court held that the arbitration clause was not a part of the contract between
Dell and the plaintiffs, and that if the clause were a part of the contract, it would be unenforcea-
ble because it was unconscionable. Dell appealed to a state intermediate appellate court, which
distinguish the speeds among different types of processors.
(b)
Arguments

for

and

against

these

terms

are

discussed

in

the

text.

As

long

as
shrink-wrap, click-on,
and browse-wrap terms are fair
and
reasonable, it could be maintained
that they do not impose too great a burden on purchasers, even though most of whom are indi-
vidual consumers. Without such terms, a merchant might find itself embroiled in numerous law-
(c)
Sometimes,

it

is

asserted

that

most

buyers,

especially

individual consumers,

do
not read shrink-wrap, click-on, or browse-wrap terms. The law does provide ways to avoid these
terms for consumers who have been taken ad
vantage of by a clause in "fine print" or "legalese"
that the consumers may not have read and may not even have known about. These avenues
include protection against fraud, unconscionability, and adhesion contracts, as well as consumer
protection statutes.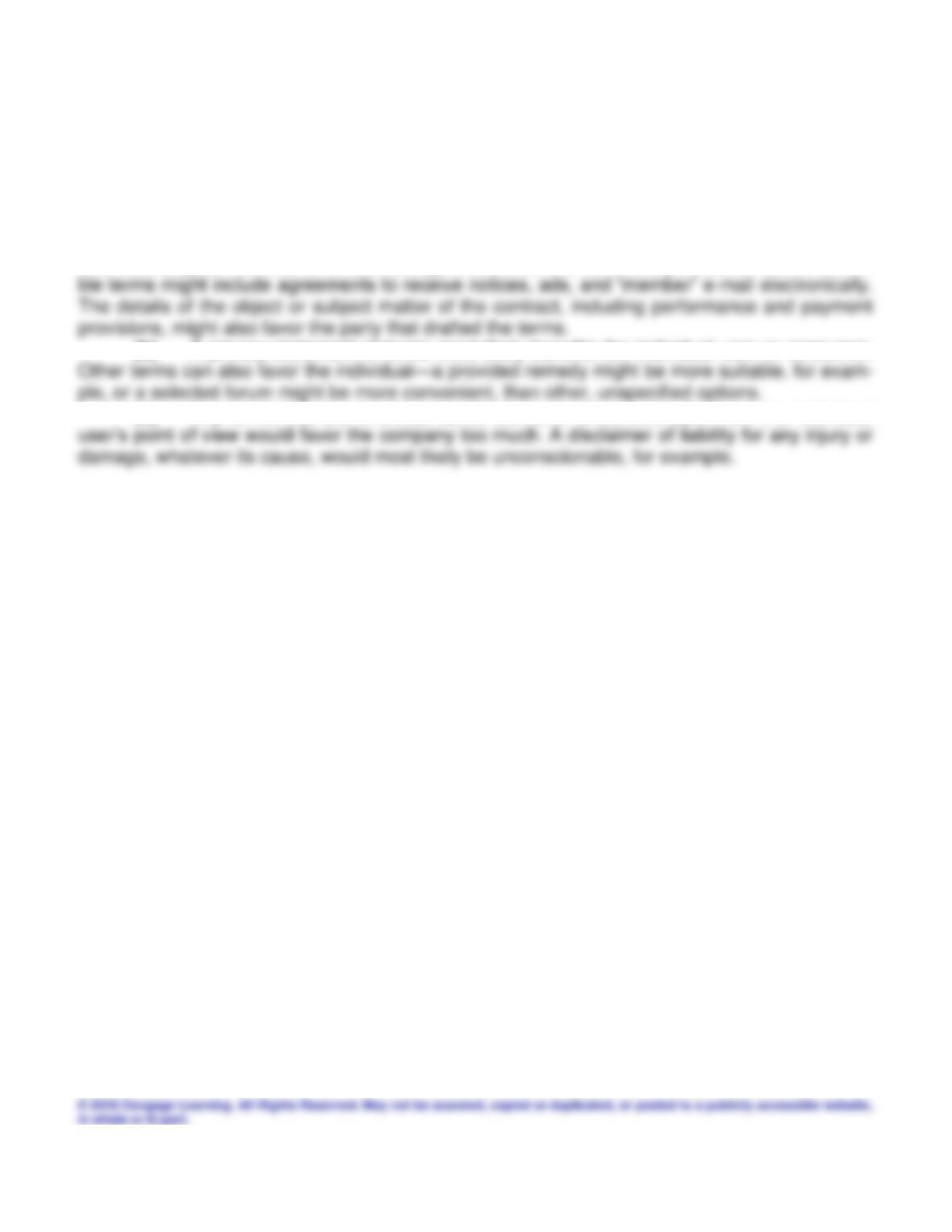 10
UNIT THREE: CONTRACTS AND E-CONTRACTS
A
NSWERS TO
L

EGAL
R
EASONING

G

ROUP

A

CTIVITY

Q

UESTIONS
AT THE
E
ND OF THE
C
HAPTER
(a)
Terms

that

most

likely

favor

the

business

that

created

them

include

forum-
selection, dispute-resolution, limited liability, disclaimer, and remedies provisions. Other favora-
(b)
A privacy statement of terms most likely benefits the individual user or consumer.
(c)
Any terms

that are onerous, burdensome, or unconscionable from the individual