Unlock document.
This document is partially blurred.
Unlock all pages and 1 million more documents.
Get Access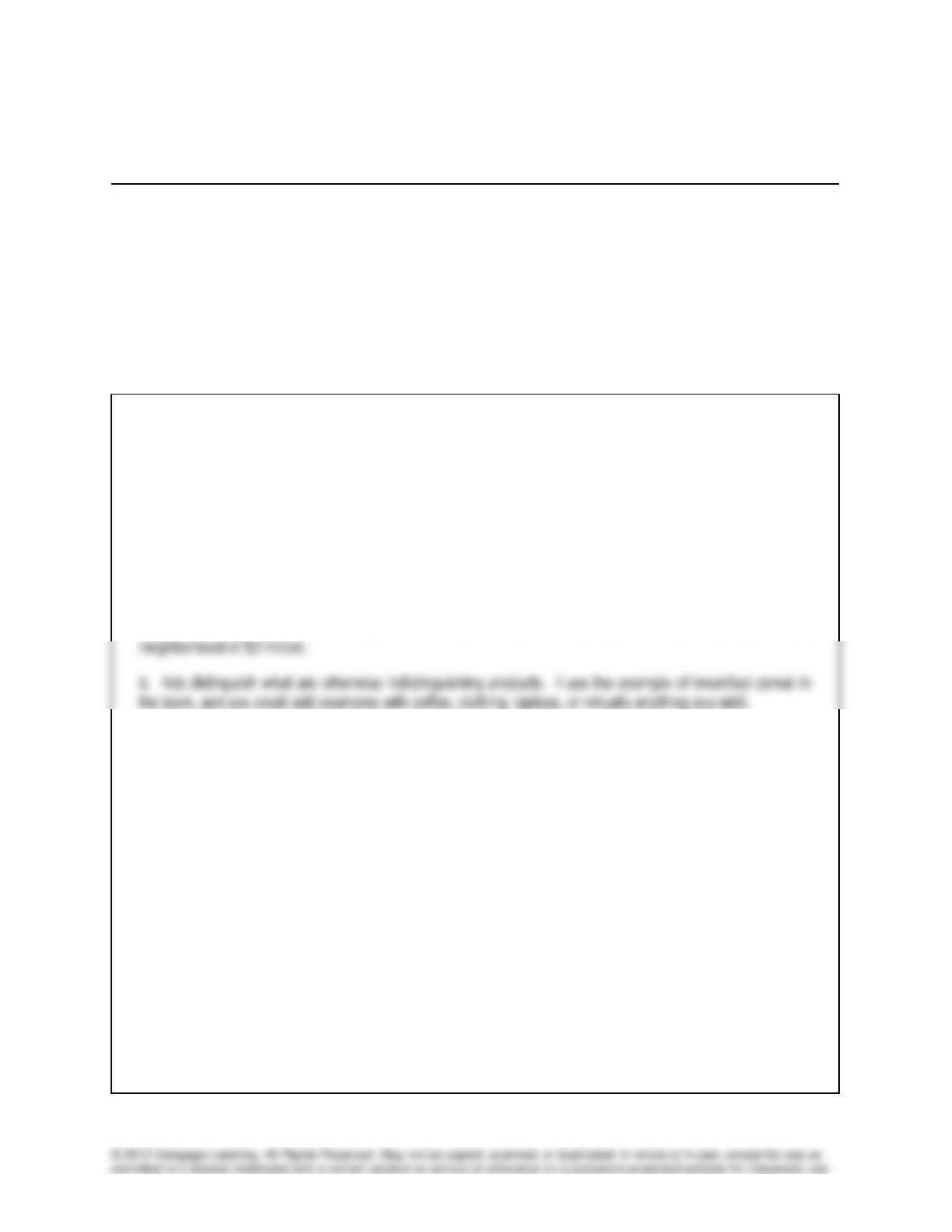 MODULE
12
:
"
Best Case Scenario
"
Ads
Core Module Issues:
•
Is it ethically acceptable for companies to use their all-time, most
successful client in advertisements?
•
If so, is a company obligated to also give information about more typical
Module Teaching Notes
This new unit will focus on several different common advertising techniques. I find that my students like the
material, perhaps because it involves
"familiar territory". We are so bombarded by ads –
almost no one can
escape seeing the things in this unit on an almost daily basis
Use your "introductory lecture" time on this his first module too make a couple of expanded points.
1. Advertising works
a.
If
it
didn't,
companies
wouldn't
spend
billions
on
it.
A
30
second
Super
Bowl
ad
alone
costs
in
the
2.
The
government
can't
go
much
further
than
it
currently
does
in
restricting
ads
because
of
the
First
Amendment.
a. Free speech rights do allow for a ban on false and misleading ads, and restrictions on ads for dangerous
products (like cigarettes).
b. But other kinds of ads, though perhaps misleading, are protected by the First Amendment. In point of
fact, the Supreme Court seems more protective of free speech rights for organizations.
c. If you are a business law type, you might use this opportunity to cover the Citizens' United case, which to
me was the most significant of 2010. Otherwise, no particular need.
The first scenario deals with what I think of as "best case scenario" ads. A lot of companies put a "Jared
from Subway" type in front of the camera. The person really did lose 200 pounds, or survive great danger,
of find great financial gain, by using a product or service as he or she describes. But, most everyone else
using the product or service does not enjoy results nearly so favorable.
When these ads are run, they rarely feature information about average results. They may flash, very quickly and in small font, something like "results atypical".
Is there anything wrong with this practice? It is not fraud, legally speaking, so long as the pitchman is telling
a truthful story.
Briefly recap the four ads featured in the scenario: diet plan, car satellite valet service, lottery winner, and
online college. Then on to the discussion questions.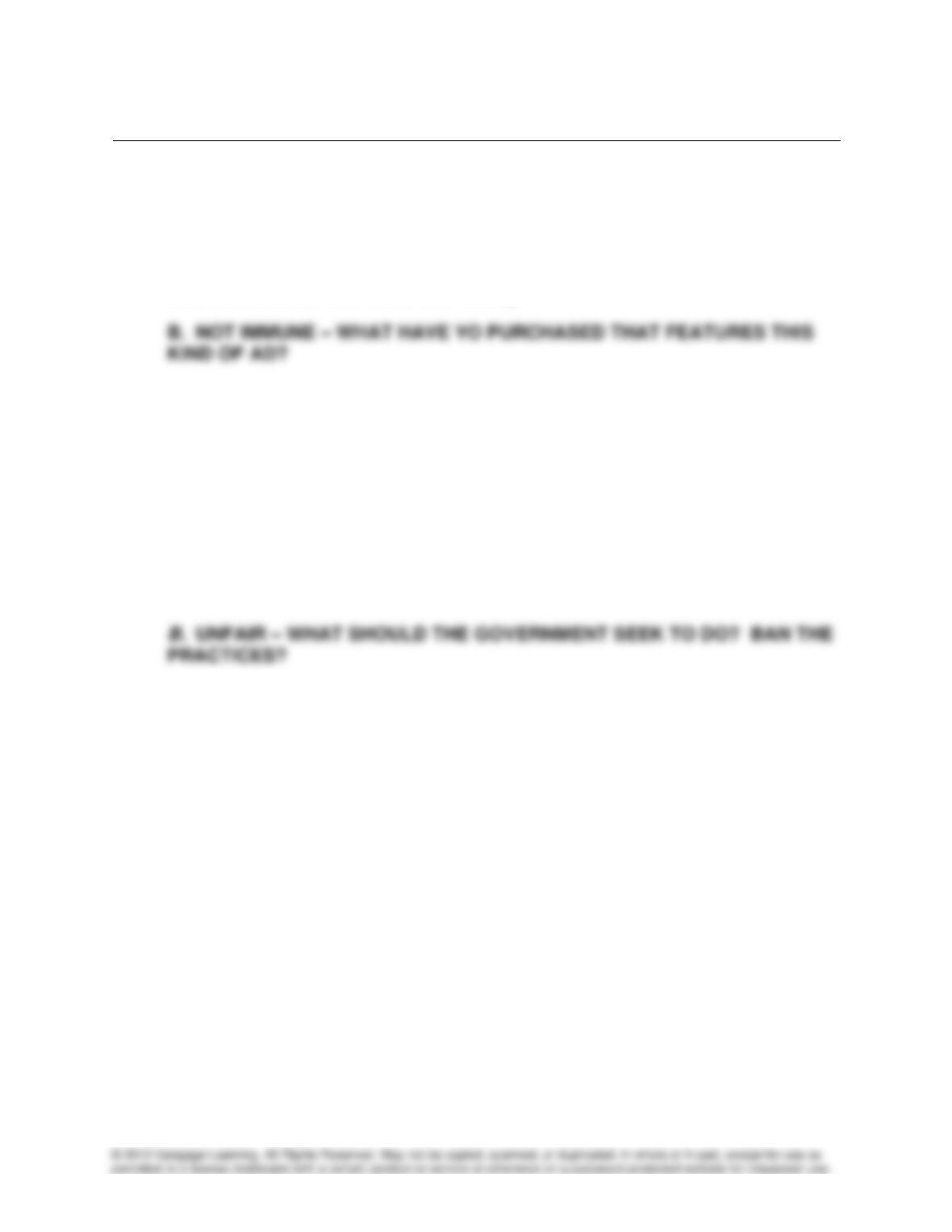 Discussion Points for Scenario Questions
1.
To what degree are you influenced by best case scenario ads? Do you feel "immune to
A.
IMMUNE

–

OH, COME NOW. YOU'VE NEVER PURCHASED SOMETHING
BASED ON THIS KIND OF AD. [LET OTHER STUDENTS OFFER
SUGGESTIONS, THEY USUALLY WILL]
2.
To what degree do you think other people are influenced by best case scenario ads? Are the
ads "fair," or do they manipulate some people? Should the government do more to protect
viewers?
A.
FAIR

–

ARE THERE ANY GROUPS

–

KIDS, THE ELDERLY, ETC, THAT
SHOULD BE PROTECTED
3.
Should there at least be a requirement that additional information be shown about things like
overall odds of winning the lottery, average starting salaries for Sonomour College graduates,
and so forth?
A.
YES

–

WHAT, SPECIFICALLY, SHOULD BE DISPLAYED? FOR HOW
LONG? HOW LARGE?
B.
NO

–

WHY NOT? NO ADDITIONAL COST TO PRODUCE THE AD? ISN'T
MORE INFORMAITON GOOD?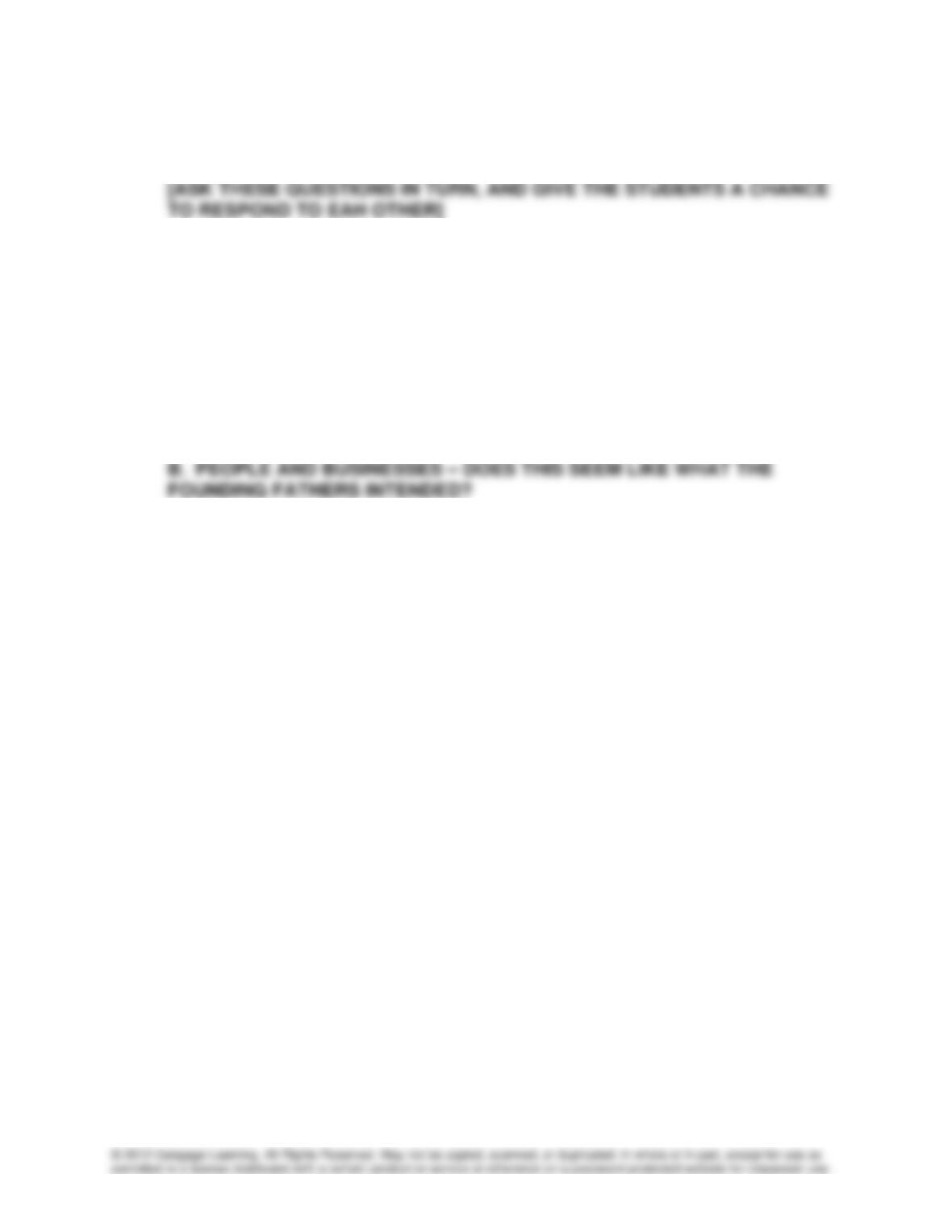 4.
Which of the four ads is the most acceptable? Which is least acceptable?
5.
Should businesses have constitutional free speech rights in the first place, or should
constitutional liberties apply only to individuals?
A.
ONLY PEOPLE

–

BUT AREN'T COMPANIES JUST COLLECTIONS OF
PEOPLE?