Unlock document.
This document is partially blurred.
Unlock all pages and 1 million more documents.
Get Access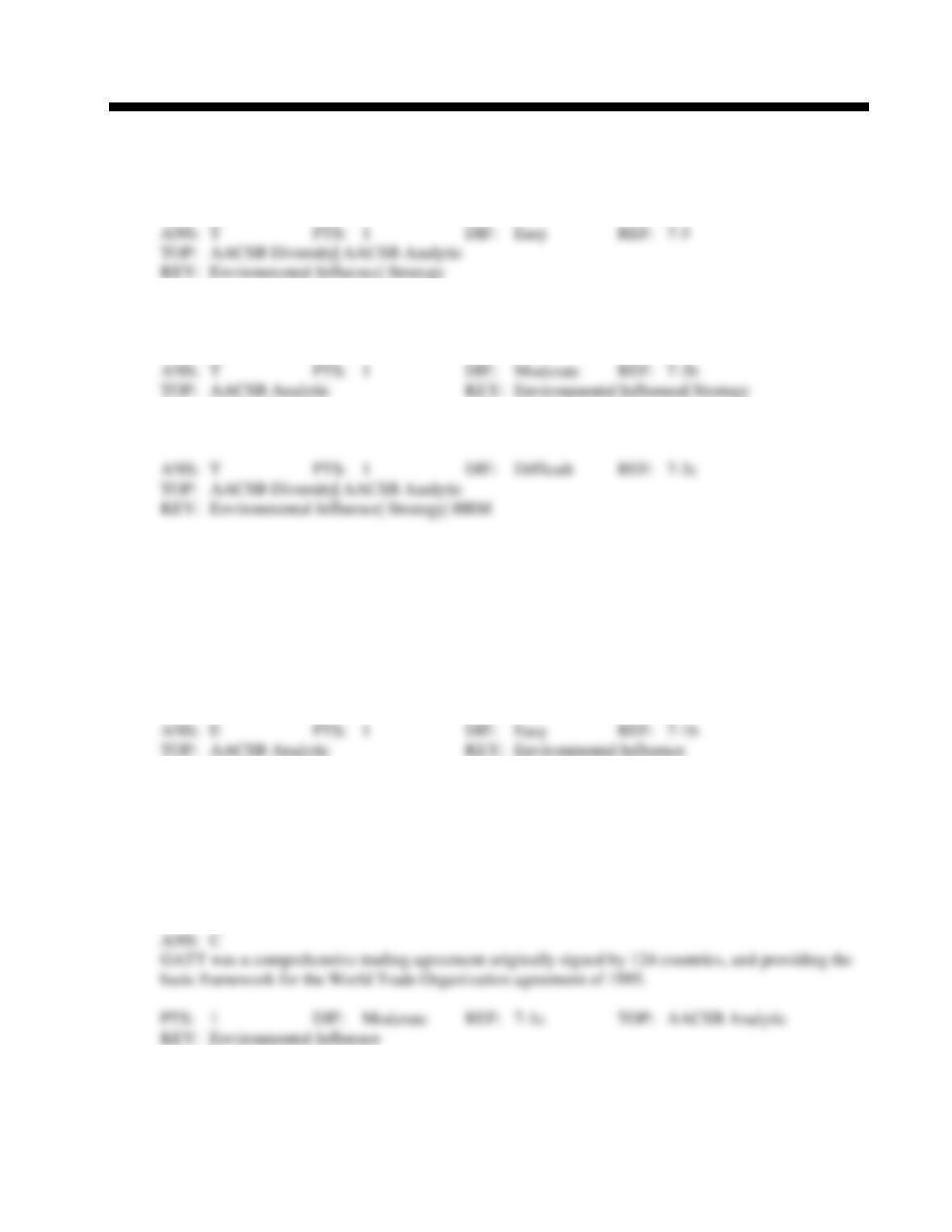 Course Post-Assessment CH 07
Williams Effective Management 6e
1.
Historically, companies have generally followed the phase model of globalization.
2.
The biggest disadvantage associated with licensing is that the licensor gives up control over the quality
of the good or service sold by the foreign licensee.
3.
Global joint ventures can be difficult to manage because they represent a merging of four cultures.
1.
The two general kinds of trade barriers are:
government import standards and industry import standards
qualitative and quantitative barriers
voluntary and involuntary barriers
nationalistic and geocentric barriers
tariff barriers and nontariff barriers
2.
The trade agreement that represented the most significant change to the regulations governing global
trade during the 1990s was the:
Maastricht Treaty of Europe
North American Free Trade Agreement
General Agreement on Tariffs and Trade
Asian Free Trade Arrangement
3.
One of the major questions that a company must typically answer once it has decided to go global is:
How many additional employees will the company need?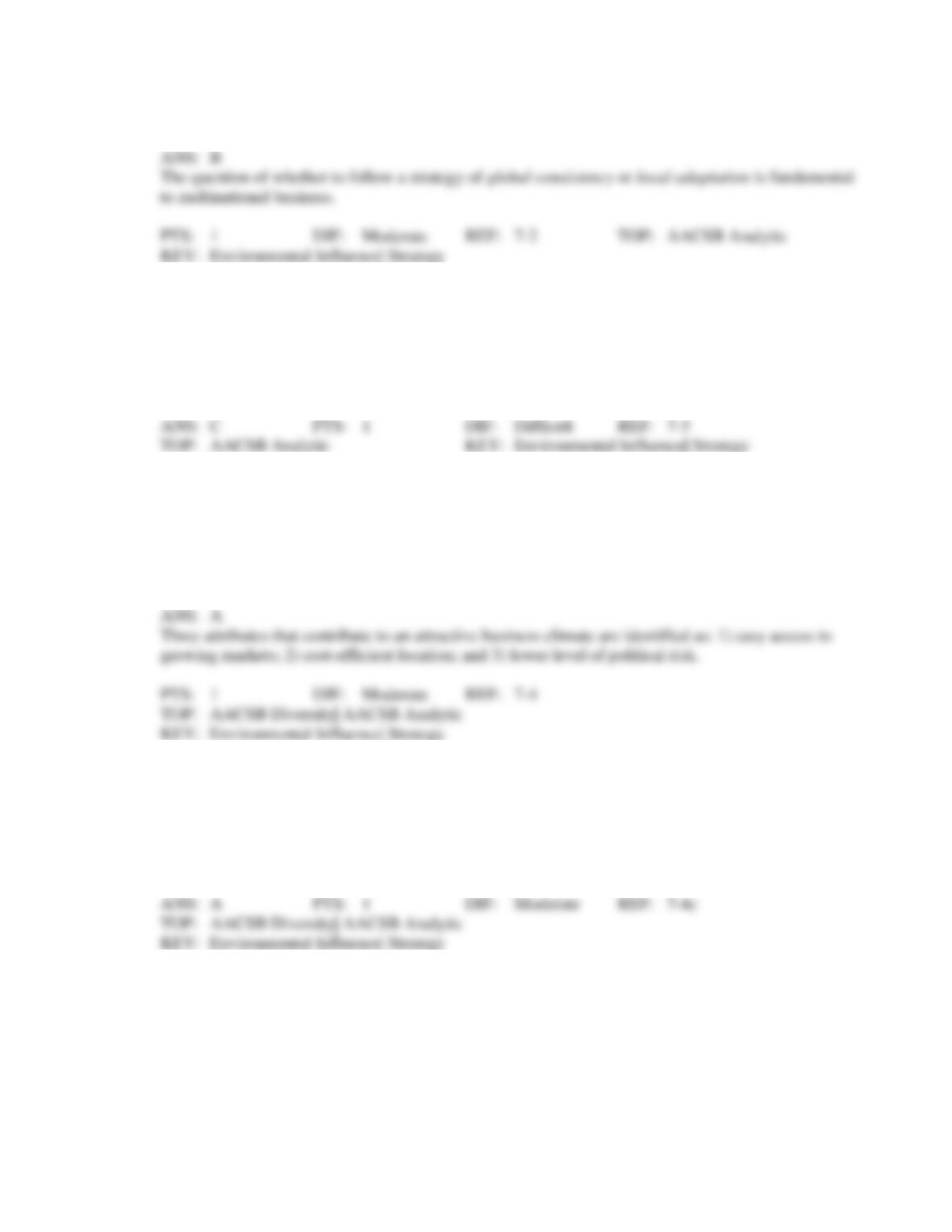 To what extent should the company standardize or adapt business procedures?
To what extent should a company abide by global or regional trade agreements?
Will the organization's mission statement need to be changed?
How many new shareholders will be influenced by global activities?
4.
Which of the following represents the correct sequence for the phase model of globalization?
exporting; wholly-owned affiliates; cooperative contracts; strategic alliances
exporting; cooperative contracts; wholly-owned affiliates; strategic alliances
exporting; cooperative contracts; strategic alliances; wholly-owned affiliates
exporting; strategic alliances; cooperative contracts; wholly-owned affiliates
home country sales; exporting; job ventures; strategic alliances, and direct investment
5.
A country or region that has an attractive business climate for companies that want to go global has:
easy access to growing markets
experienced marketplace metamorphosis
eliminated all political risks
6.
What are the two types of political risk that affect companies conducting global business?
political uncertainty and policy uncertainty
policy uncertainty and expropriation potential
cultural strength and political risks
infrastructure dynamism and political uncertainty
nationalism and economic uncertainty
7.
What are the strategies that can be used to minimize or adapt to the political risk inherent to global
business?
protectionist, avoidance, and offensive strategies
creative, cooperative, and defensive strategies
cooperative, customary, and nationalistic strategies
avoidance, protectionist, and guerrilla strategies
control, avoidance, and cooperative strategies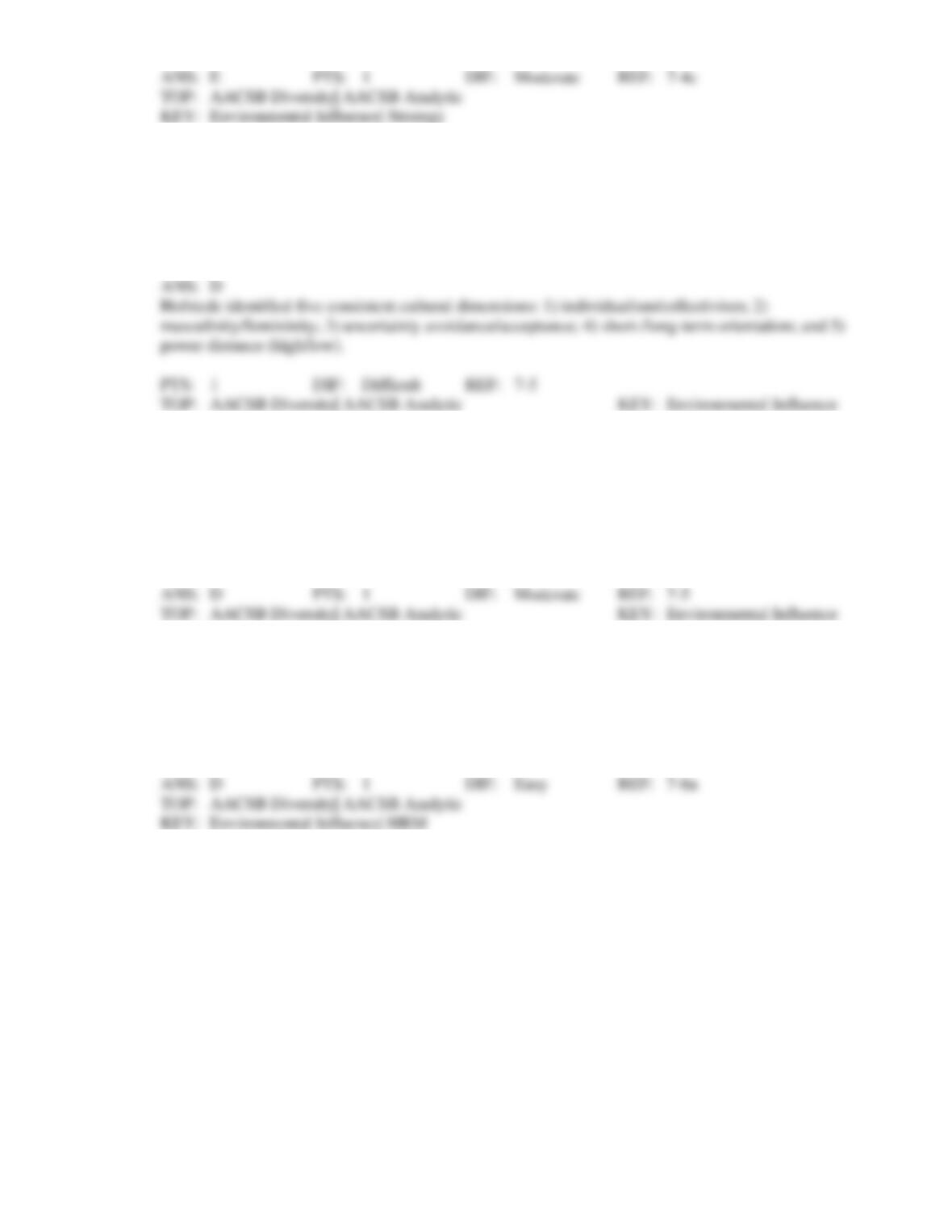 8.
Hofstede's research has shown there are:
no cultural differences among nations in which Spanish is the national language
two distinct methods for dealing with cultural differences
--
adaptation and continuation
direct relationships existing between type of infrastructures and growth potenti
al
five consistent dimensions of cultural differences across countries
four factors upon which a company should base its decision to globalize
9.
The term ____ is used by Hofstede to describe the degree to which people in a country are
uncomfortable with unstructured, ambiguous, unpredictable situations.
short-term/long-term orientation
10.
The purpose of predeparture language and cross-cultural training is to:
cater to employees who require affective learning
encourage job specialization
reduce the uncertainty for those becoming expatriates
avoid legal problems in the future