Unlock document.
This document is partially blurred.
Unlock all pages and 1 million more documents.
Get Access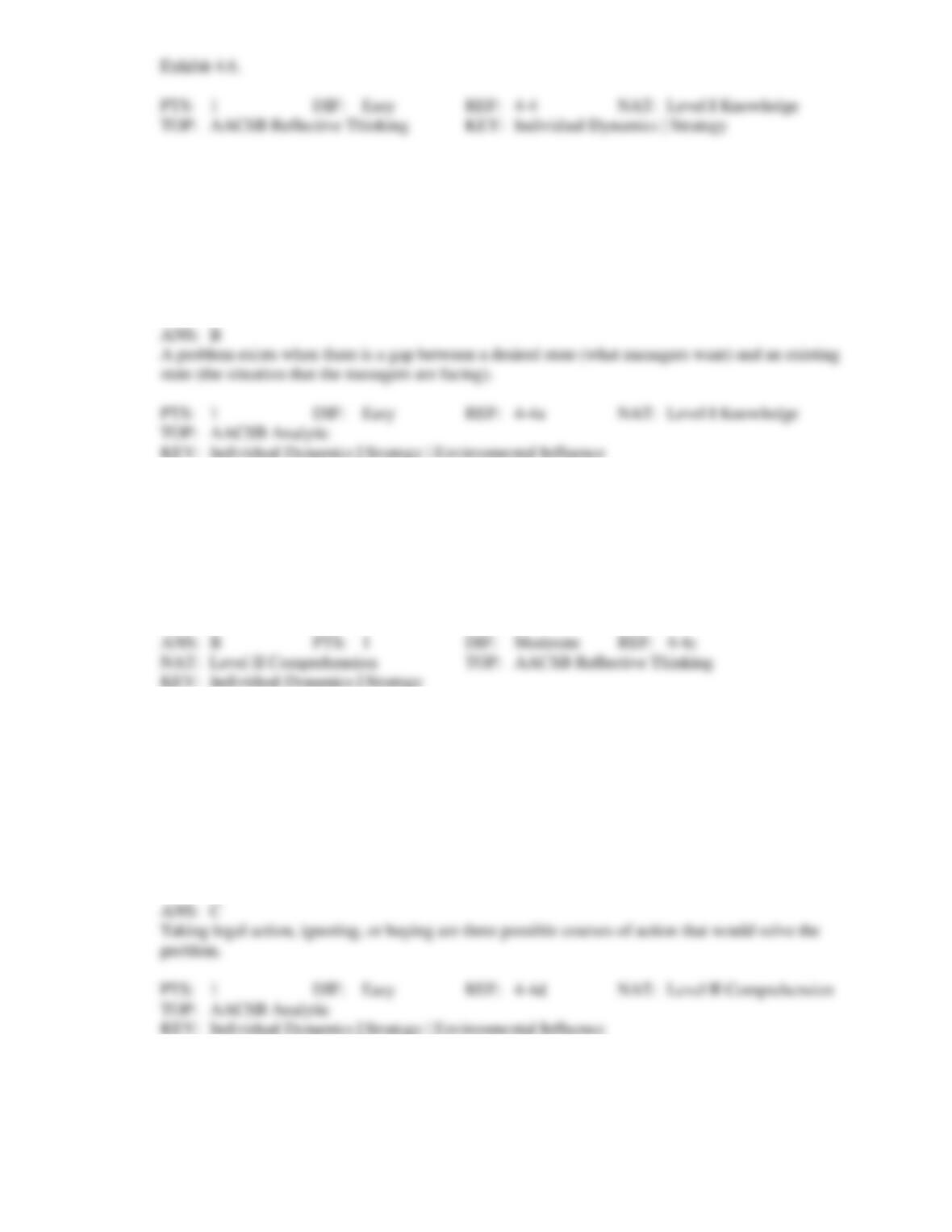 56.
In the 1960s, Coca-Cola executives in Atlanta learned there was a bottler in the Colombian jungle that
was bottling pirated Coke in dumped bottles. The company recognized this unauthorized bottler as a(n)
____.
57.
One method of weighing decision criteria uses ____, which is a process where each decision is
compared directly to every other criterion.
comparative ranking scales
58.
In the 1960s, Coca-Cola executives in Atlanta learned there was a bottler in the Colombian jungle that
was bottling pirated Coke in dumped bottles. Coke decided in the ____ stage of the rational
decision-making process that it had to either
bring some sort of legal action against the unauthorized
bottler, ignore it, or buy it.
generation of alternative courses of action
identification of decision criteria
finding the optimal solution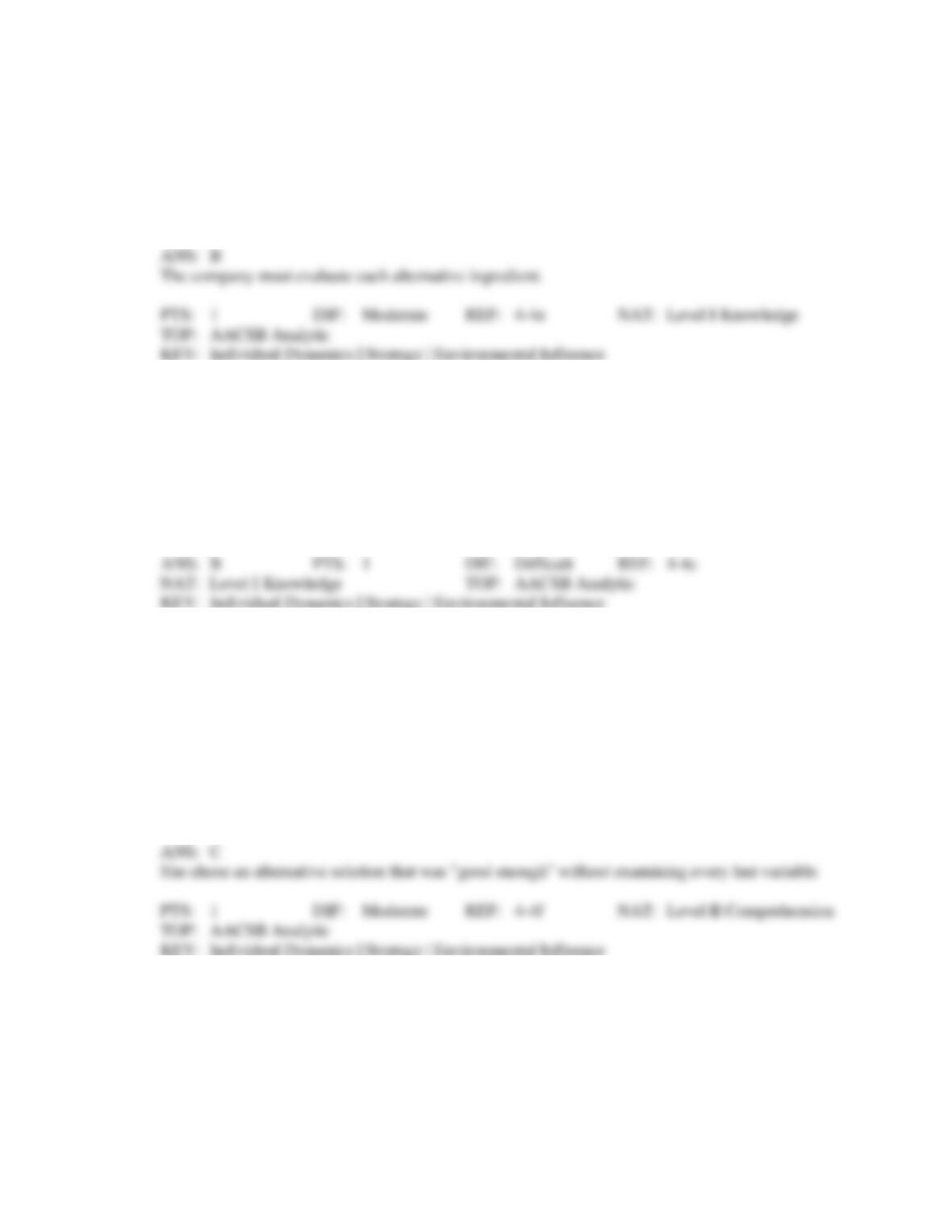 59.
As a company that manufactures janitorial cleaning supplies tries to develop more environmentally
-friendly products that can clean as well as its current ones, the company's manager must select among
alternatives derived from oranges, parsley, lemon, or a combination of these ingredients. This is the
____ step in the rational decision-making model.
generate alternative courses of action
evaluate each alternative
compute the optimal decision
satisfice each alternative
60.
When Coca-Cola discovered it had an unauthorized bottler selling Coke in the Colombian jungle, it
used the rational decision making process to find a solution. What do you know about the stage in
which Coke evaluated its possible courses of action?
Coke found this stage to be the least expensive of all the stages.
Coke found this stage to be the most time-consuming of all the stages.
This stage was the last stage in the process for Coca-Cola.
The stage required Coke use complex mathematical models.
None of these statements accurately describe this stage.
61.
Marie-Helene de Taillac is a well-known European designer of understated, very delicate jewelry.
Once she determined that further growth was impossible without changing how she distributed he
r
product, she decided to open her own retail outlet to sell her products rather than letting department
stores sell it. Since she made the decision without really examining how much the costs involved in
implementing her decision, she has engaged in ____ behavior.
62.
____ occurs when managers choose an alternative that is good enough, rather than the best possible
alternative.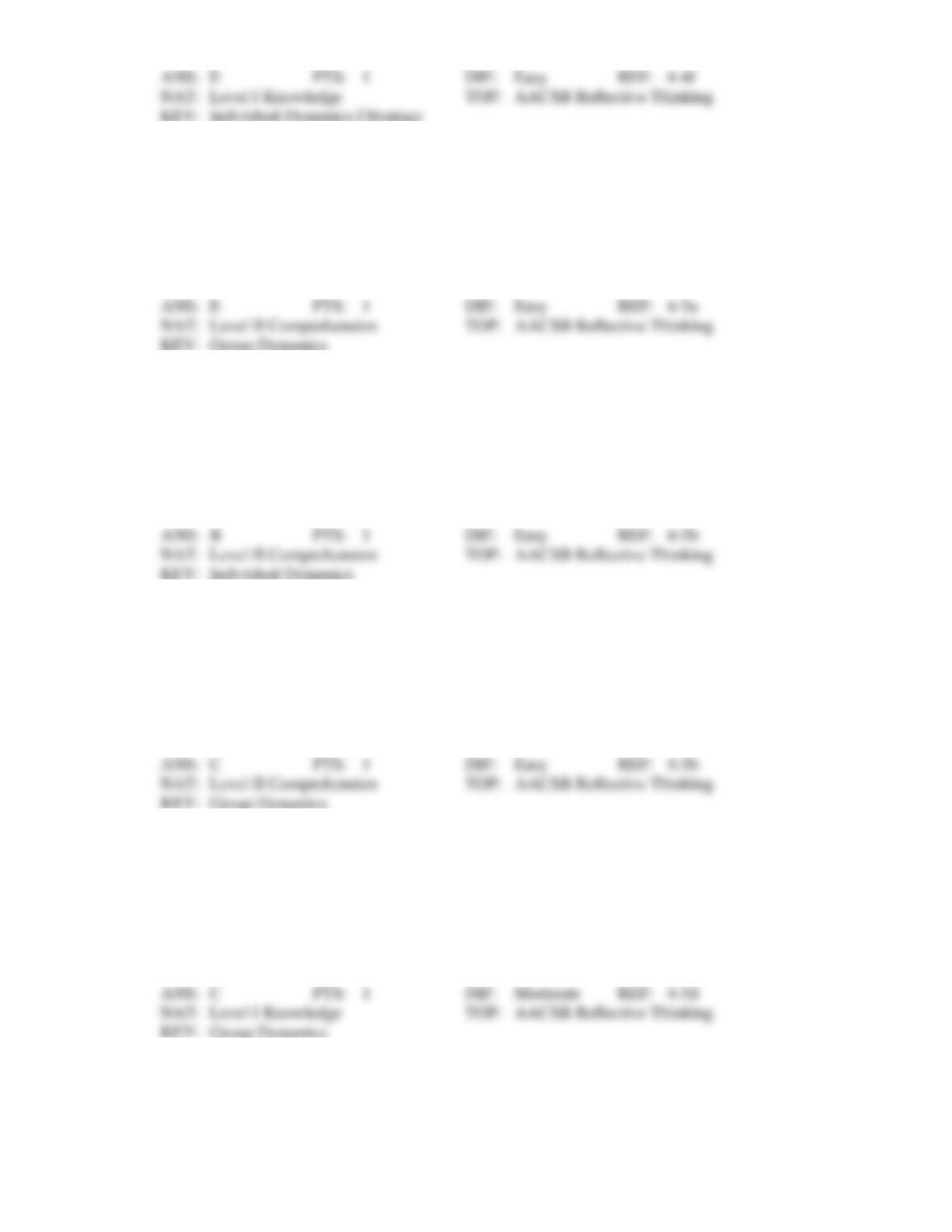 63.
Groupthink occurs in ____.
newly formed groups whose members were arbitrarily selected and who are assigned to
make programmed decisions
groups in which members have dissimilar backgrounds
standing committees whose members are under no pressure to agree
groups whose members are elected to serve as figureheads
highly cohesive groups where there is a great deal of pressure to agree with each other
64.
____ is the emotional reaction that can occur when disagreements become personal rather than
professional.
Organizational disharmony
65.
The ____ approach to decision-making is a method in which an individual or a subgroup is assigned
the role of a critic.
66.
The ____ is a decision-making method in which a panel of experts responds to questions and to each
other until an agreement is reached on how a specific issue should be handled.
dialectical inquiry technique
electronic brainstorming technique
67.
The nominal group technique improves group decision making by ____.
requiring the selection of co-leaders to prevent member dominance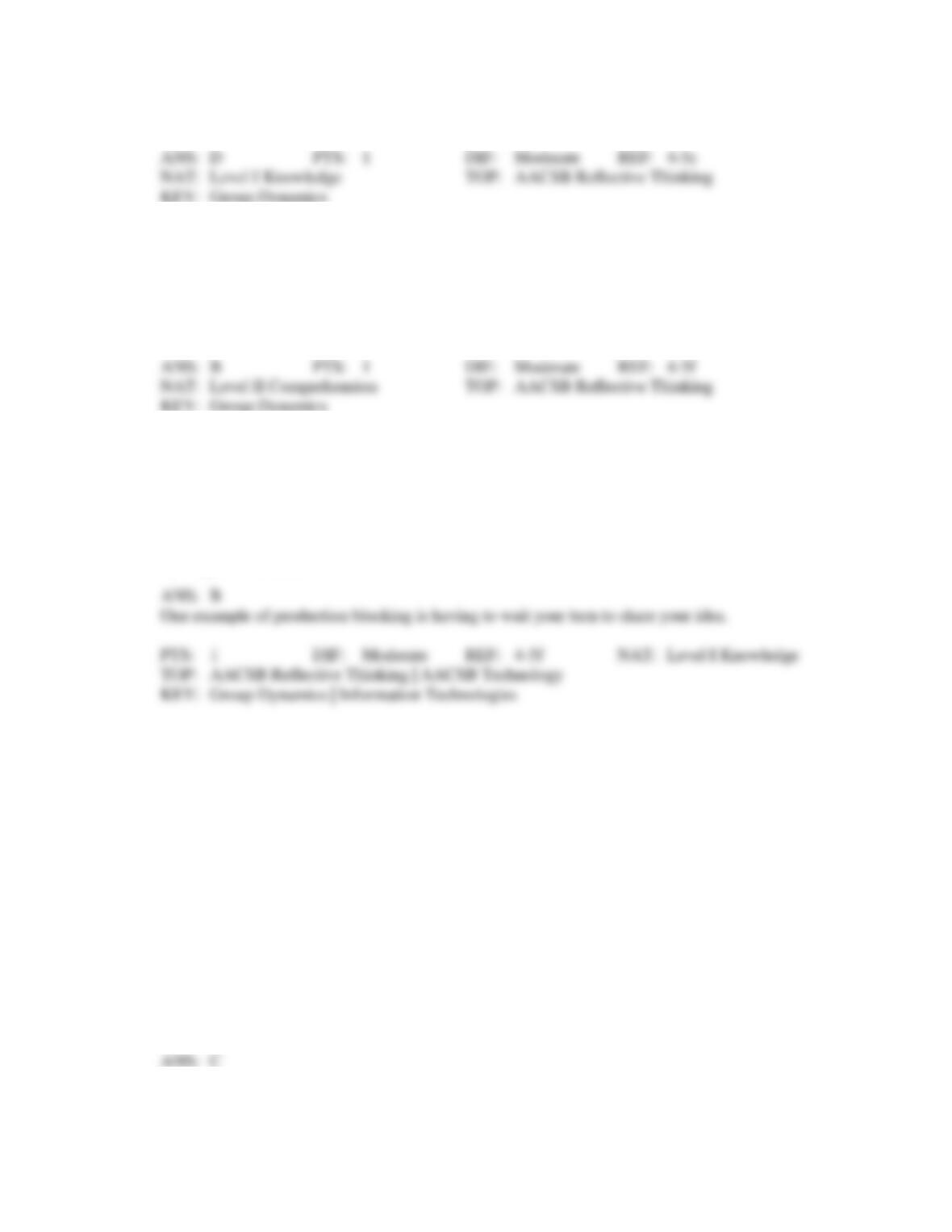 providing predetermined group norms
eliminating group cohesiveness
decreasing a-type conflict
encouraging all members to have an equal voice in the decision making process
68.
Which of the following is NOT one of the rules for effective brainstorming?
The more ideas, the better.
Select an open-minded group leader.
All ideas are acceptable.
Criticism is not allowed.
Use other members'
ideas to come up with more ideas.
69.
Which of the following is a disadvantage of face-

to

-face brainstorming that is overcome by electronic
brainstorming?
Krispy Kreme
Krispy Kreme is a relatively small doughnut seller. It has only 792 stores while Dunkin Donuts has
over 7,125 outlets in the United States and Canada. In spite of its size, Krispy Kreme has been
described by many as "the hottest brand in America." The company's
success in an environment
which has made success difficult for many food operations is due in large part to the long-term vision
of its top management and its establishment and achievement of S.M.A.R.T. goals. The company
originated in Winston-Salem, North Carolina, in the mid-1930s when Vernon Rudolph bought a secret
recipe for yeast doughnuts from a French pastry cook. Rudolph ran the company until he died in 1973
without naming a successor, which caused the company problems for the next decade.
70.
Refer to Krispy Kreme. How does Krispy Kreme benefit from planning?
Planning makes persistence unnecessary.
Planning allows managers to direct their employees to "do their best."
Planning gives direction to managers and employees.
Planning eliminates the need for task strategies.
Planning would provide all of these benefits to Krispy Kreme.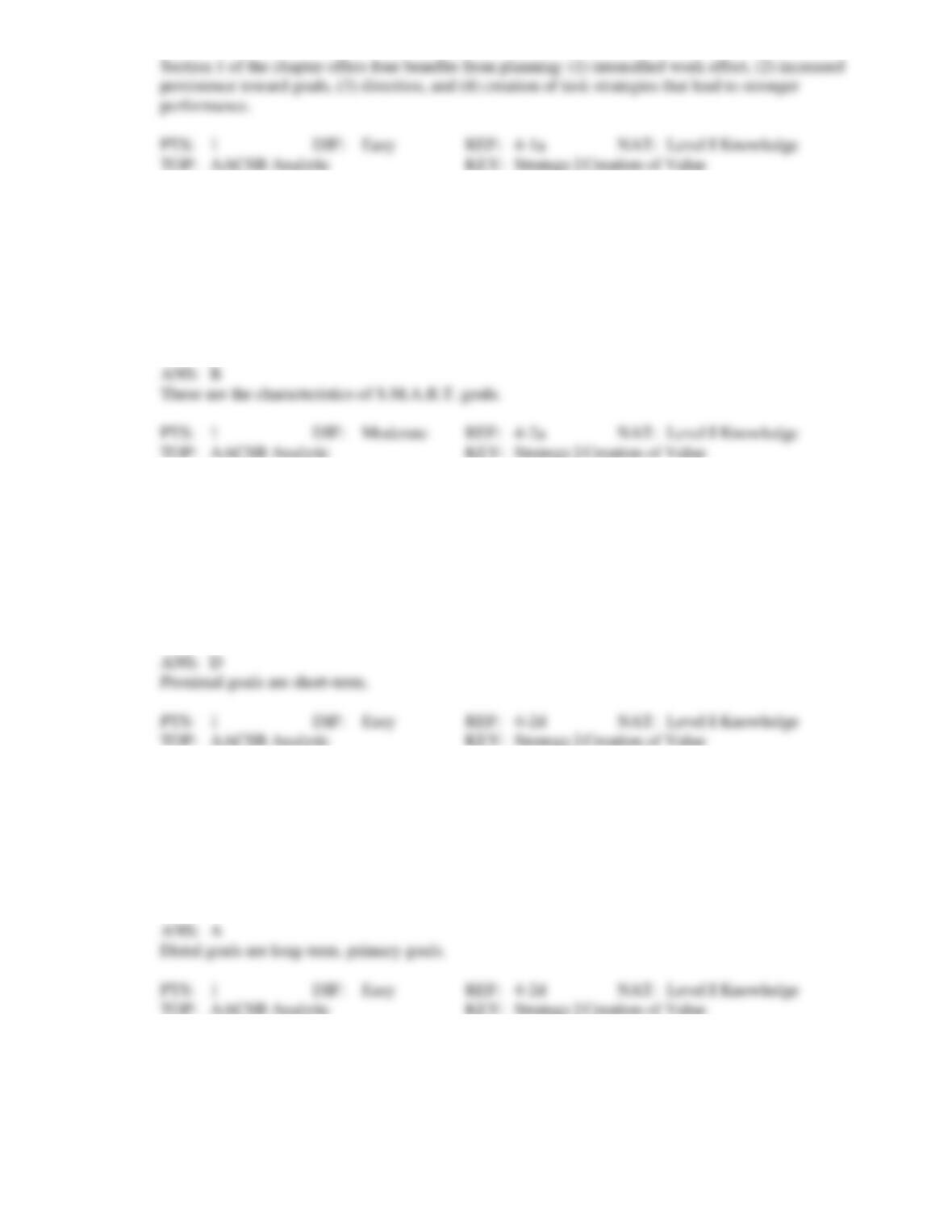 71.
Refer to Krispy Kreme. Krispy Kreme's goal to open double the number of Krispy Kreme stores in
British Columbia, where it already has a well-established reputation, by 2015 would be an example of
a S.M.A.R.T. goal because it is ____.
specific, marketable, and temporal
specific, measurable, attainable, realistic, and timely
service-oriented, manageable, achievable, and time-oriented
standardized, measurable, actionable, response-driven, and temporal
selective, marketable, achievable, and real-time-oriented
72.
Refer to Krispy Kreme. The company's goal to open six new Krispy Kreme stores in the next six
months in British Columbia where it already has a well-established reputation would be an example of
a(n) ____ goal.
73.
Refer to Krispy Kreme. The company's goal to never reveal its secret recipe to anyone outside the
company is an example of a(n) ____ goal.
74.
Refer to Krispy Kreme. Which of the following would be an example of an operational plan for Krispy
Kreme?
to open a new plant for making doughnut mix outside the U.S.
to change the color of the "walking KK" logo of the company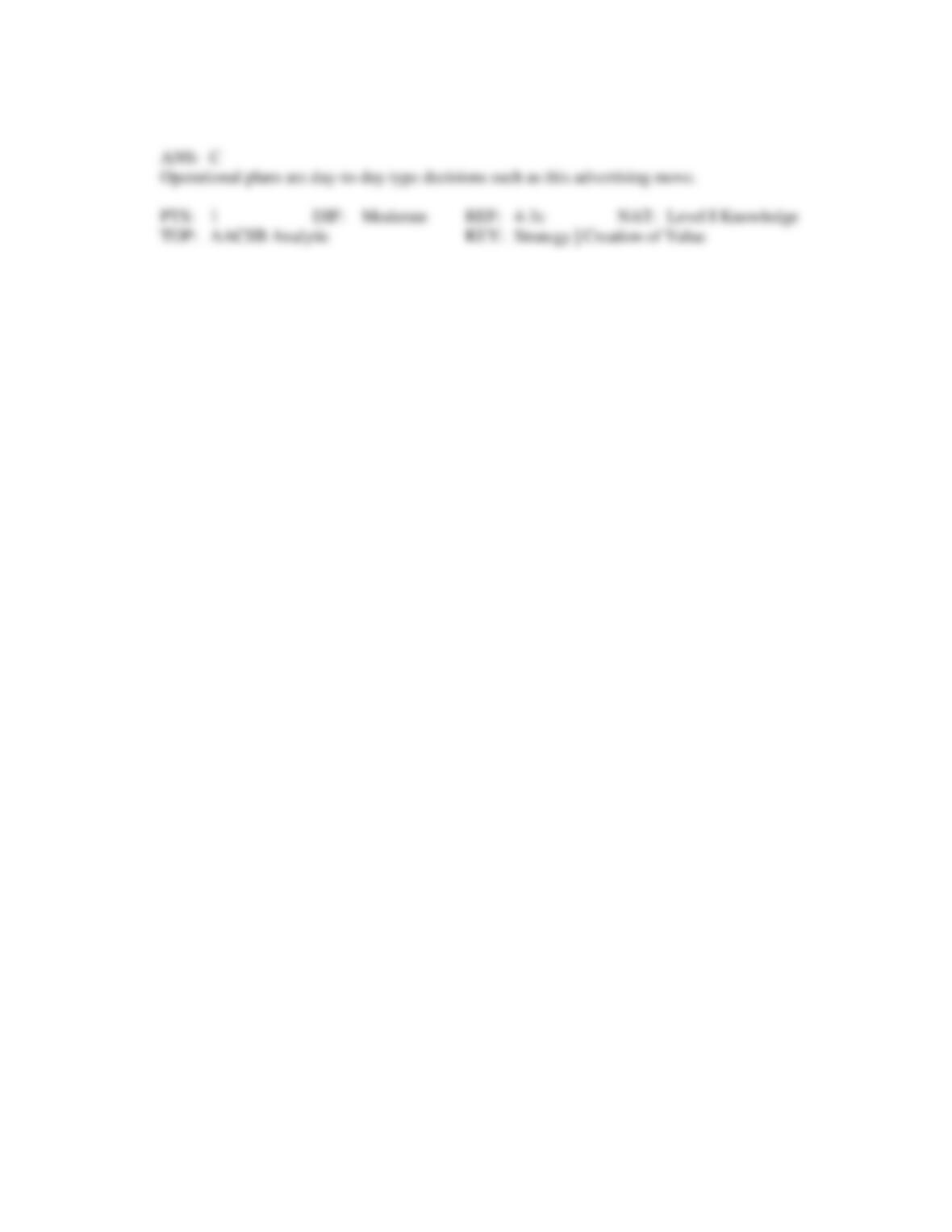 to turn on the HOT DOUGHNUTS NOW sign whenever fresh doughnuts came off the
line
to hire a new human relations vice-
president to oversee all of the company's operations
to modify the doughnut mix recipe so that less expensive ingredients can be used
D.G. Yuengling & Son
With beer sales dropping around the world, you should be ecstatic that sales of Yuengling (pronounced
Ying-Ling) beer are up 225 percent in the last six years. But as you walk through the caves and tunnels
of Yuengling's Eagle Brewery, carved into Sharp Mo
untain in 1831 to maintain a perfect 50-degree
temperature for storing beer, you see not only the history of America's oldest brewery everywhere you
turn, but also chipped paint, rusting pipes, and an aging plant that can't keep up with the growing
demand
for Yuengling beer. So far, thanks to hard work, dedicated workers, and some luck, you've
doubled your production capacity from 250,000 to 500,000 barrels of beer a year, but if you push for
more, the old brewery will break.
Yet with sales up so dramatically, the company faces a problem. Says CEO and owner Dick
Yuengling, "We are sold out of beer. We run the risk of losing our customer base because we don't
have any product on the shelves." Shortages are so bad that the advertising
budget has been cut
from $3 to $2 a barrel. Yuengling explains, "You can't fuel the fire when we can't
get them beer anyway." With production stuck at 500,000 barrels a year, Yuengling beer has become
harder to find even as it has become more popular. Sales representative Dia
ne Adams said, "It was a
little hairy. People were up in arms." So, rather than sacrifice sales in its home market of Pennsylvania,
where Yuengling has its largest market share (10 percent), the company has temporarily stopped
shipping beer to distributors
in Maine, Massachusetts, and Rhode Island. Since that strategy won't help
Yuengling grow outside Pennsylvania, you still face the question of how to permanently increase beer
production to meet the growing demand.
You've identified five options. The
first is to add new storage and finishing tanks to Eagle
Brewery to increase production capacity by 10 percent to 550,000 barrels a year. Though doable, this
is only a short-term solution. Second, you could outsource production to another company. This would
be more cost-effective, but would Yuengling beer produced in non-Yuengling factories taste different?
For a specialty beer, this could be a substantial risk. Still, outsourcing would be affordable, and
Yuengling has done it before, outsourcing productio
n of its Black and Tan beer to Pabst Blue Ribbon's
brewery in Lehigh, Pennsylvania, until Pabst closed that facility four years ago. The third option is to
buy another brewery, but there aren't many for sale and those that are would be expensive and requir
e
significant upgrades. For example, it would cost $13 million to buy and $5 million to fix Stroh's 1.5
million-
barrel brewery in Tampa, Florida, which is far from Yuengling's northeastern markets.
A fourth option is to build a new factory capable of producing 1.2 million barrels per year, but
that would cost $50 million and take three years. The fifth and final option is simply to do nothing.
The company is already very profitable, has low overhead costs, and is very efficient. In other words,
by doing nothing the company could still make a lot of money without incurring the risks inherent in
the other options. And risk is a real consideration because everyone in the company remembers that
Yuengling was losing money just a few years ago.
75.
Refer to Yuengling. In the first stage of the planning process for Yuengling, it should have ____.
developed an effective action plan that would satisfy all of its customers
identified its problem as the fact that demand for its beer exceeds its ability to supply it
developed several alternative methods for supply its beer to customers
developed goal commitment to customer satisfaction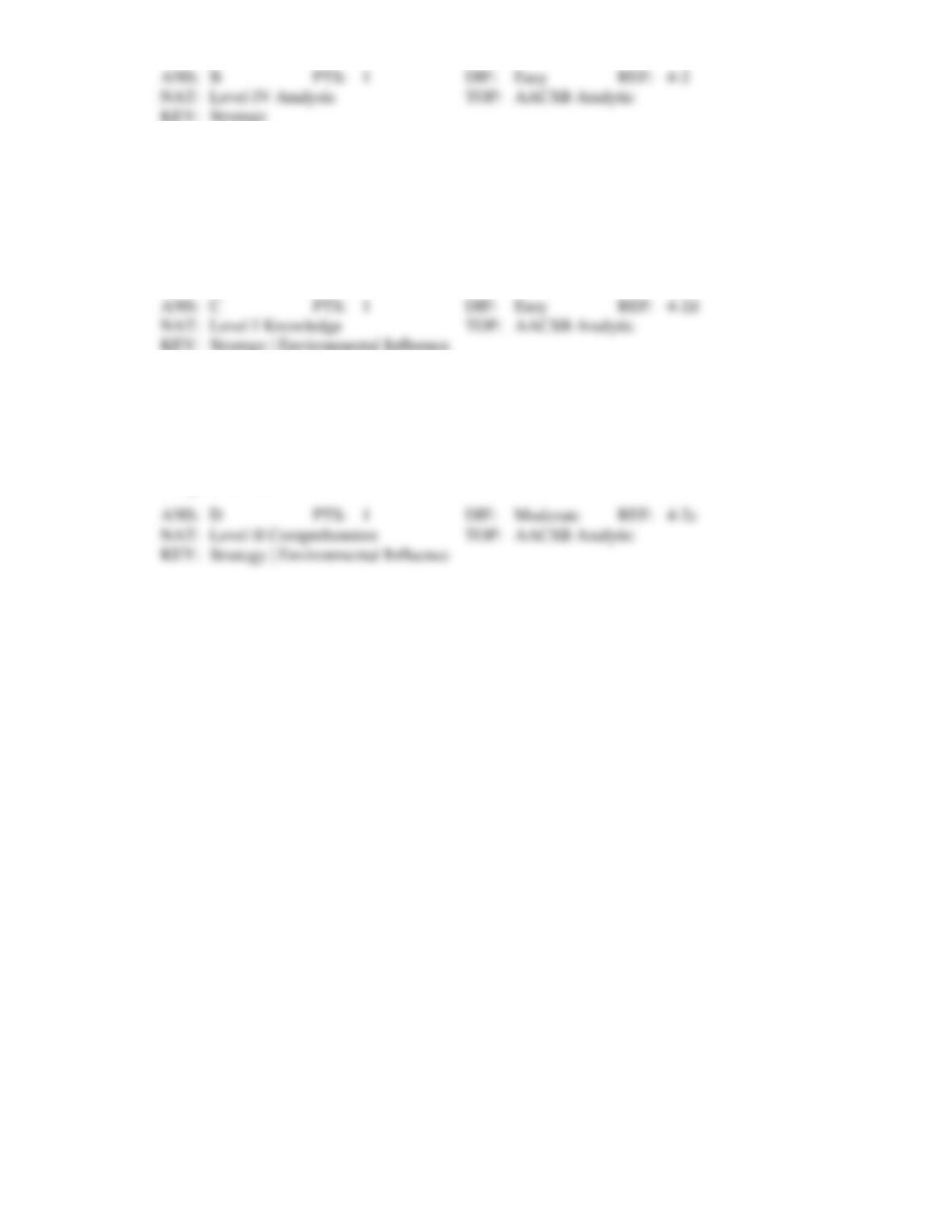 76.
Refer to Yuengling. Yuengling's objective to pay off its loan for a new $50 million brewery within five
years was an example of a ____ goal.
77.
Refer to Yuengling. What type of planning allowed Yuengling to purchase the Stroh's brewery?
The DuPont Corporation, founded in 1802, was a manufacturer of blasting powder in its first 100
years.
In its second 100 years,
it became one of the world's leading chemical companies, producing
products such as Teflon, Lucite, and Kevlar. DuPont's last 25 years, however, have not been as
successful. While profitable, DuPont's product and financial performance ranks just 16
th
out of 19
comparison companies. During the recent world financial crisis, sales dropped by 20 percent, 6,500
employees lost their jobs, and the company's annual budget was cut by $1 billion.
DuPont's CEO Ellen Kullman's first step in restoring the company's p
restige and performance
was to focus on the company's reason for existing. DuPont's long
-
time vision was, "Better things for
better living … through chemistry." However, Kullman focused on DuPont's scientific and
engineering capability and declared that Du
Pont was in the "innovation and science" business.
Consistent with that direction, Kullman decided to pay $6.3 billion to acquire Danisco, a Danish
biotechnology company that uses industrial enzymes to make ethanol, food, animal feed, and textiles.
From a
market standpoint, acquiring Danisco makes DuPont the world's largest manufacturer of food
additives and the second largest producer of the enzymes used to make biofuels.
While CEO Ellen Kullman and her predecessor, Charles Holliday, Jr., changed DuPont
's
repositioned the company from being a "chemical company" to being a "science company" to being an
"innovation and science" company, that change was pushed across the company.
More specifically,
while DuPont was now in the business of "innovation and science," it would be in that business across
five "growth platforms," agriculture and nutrition (Pioneer seeds), coatings and color technologies
(automobile finishes), electronic and communication technologies (solar panels), performance
materials (resins and laminated glass), and safety and protection (fibers and materials used in body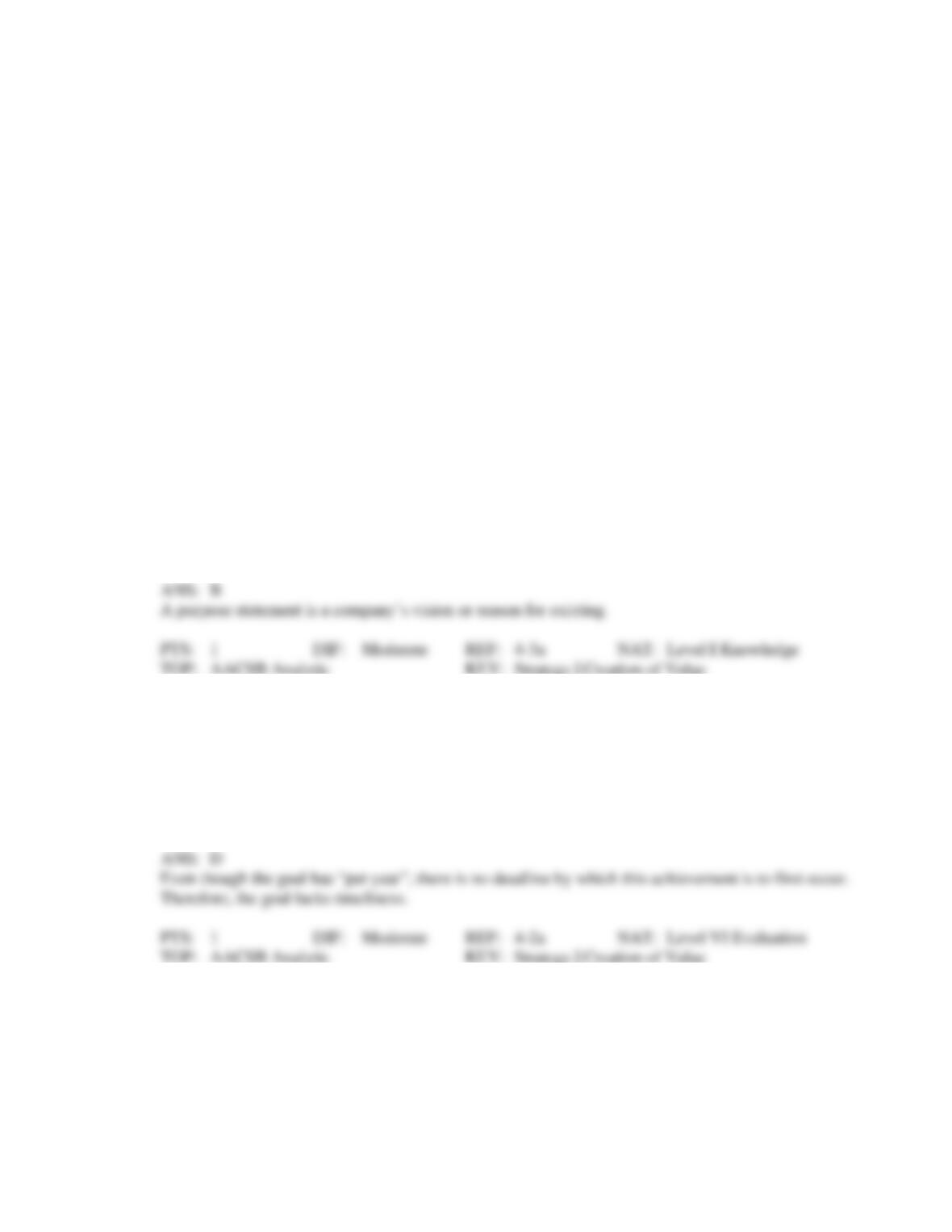 The set of businesses in each growth platform was then charged with achieving specific growth
goals, for example, to decrease the amount of time it takes to bring new products to market in order to
increase revenues from new products. Thomas Connelly, DuPont's chief innovation officer, says, "My
rallying cry is launch hard and ramp fast." Nine years ago, new products accounted for just 22 percent
of revenues.
Progress on new product development time has been impressive, however, as roughly 40
percent of DuPont's revenues now come from products introduced in the last five years. That isn't
enough for CEO Kullman who says, "We are challenging our teams
over the next few years to move
brand-
new products into the 50 percent range."
Kullman's top goal is for DuPont to increase its earnings per share by 20 percent per year. In most
companies, this would be a super aggressive goal, but achieving this goal would return the company to
price-
earnings ratios that it was earning five years ago. So while this is an aggressive annual goal, it's
also modest in the sense that it is returning DuPont to a previously achieved level of earnings.
While CEO Kullman's top go
al is to increase earnings per share by 20 percent per year, those
goals will be translated into seven specific segments of the company: agriculture and nutrition;
electronics and communications; performance coatings; performance materials; safety and protection;
performance chemicals; and pharmaceuticals. Translating the overall goal into specific sections of the
company avoids a key planning pitfall. For managers and employees, overall company goals,
particularly in large companies like DuPont, can seem distant and unobtainable.
78.
Refer to WWYD DuPont. When Kullman repositioned the company to be an innovation and science
company, she was altering DuPont's:
79.
Refer to WWYD DuPont. Kullman's goal to increase earnings per share by 20 percent per year most
lacks:
80.
Refer to WWYD DuPont. As DuPont's new CEO, your planning fails when:
Planners are not part of the implementation.
The plans do not motivate workers.
The plan is too abstract.
The plan becomes too rigid.
All of the choices are reasons plans fail.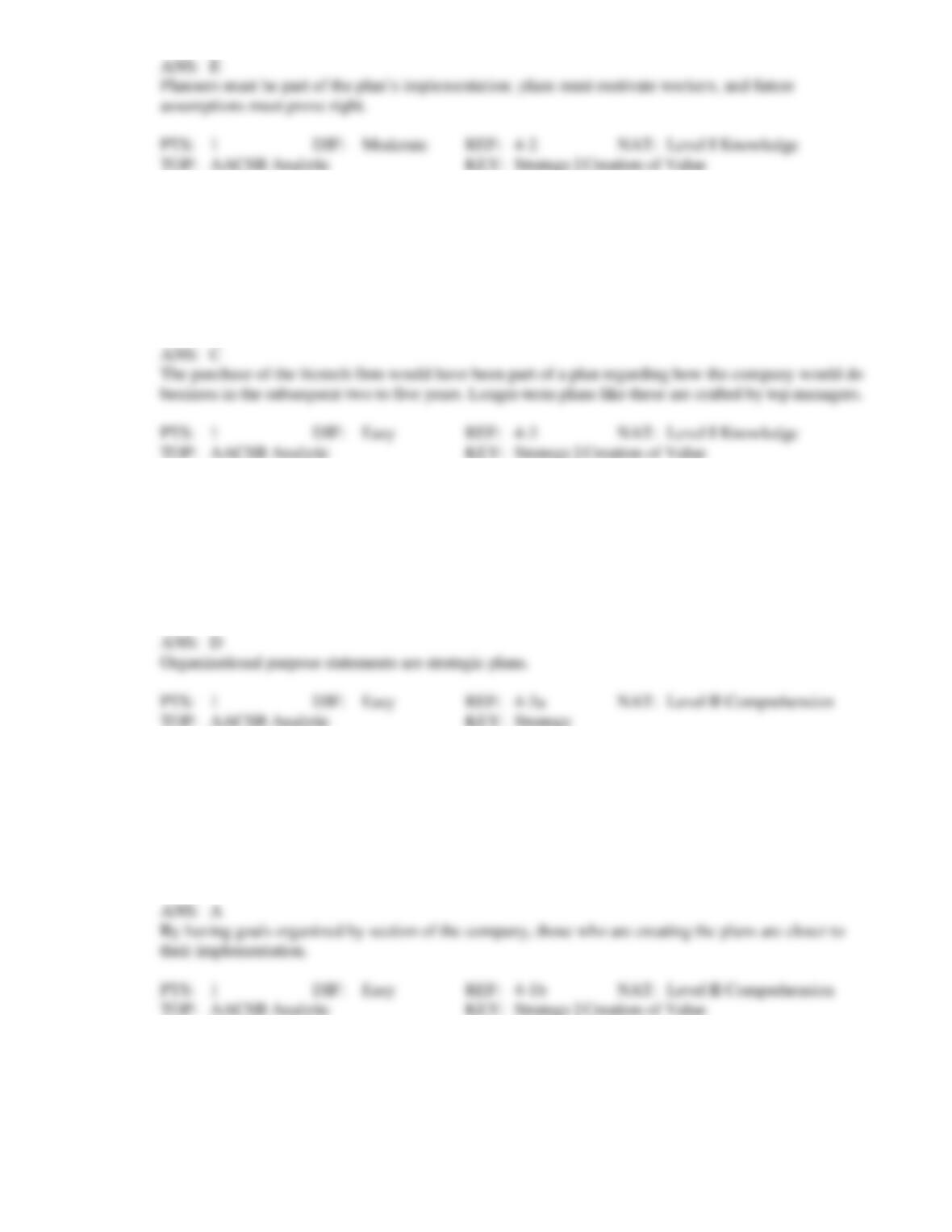 81.
Refer to WWYD DuPont. The purchase of the Danish biotechnology company by DuPont would have
been part of a(n)_____plan crafted by corporate leadership.
82.
Refer to WWYD DuPont. By focusing on the company's purpose, Kullman was engaging in planning
at the____level.
83.
Refer to WWYD DuPont. Translating the overall goal into specific sections of the company avoids the
84.
Refer to WWYD DuPont. The growth goals are likely to have strong goal commitment in part because
they:
were set participatively with all employees
have top management support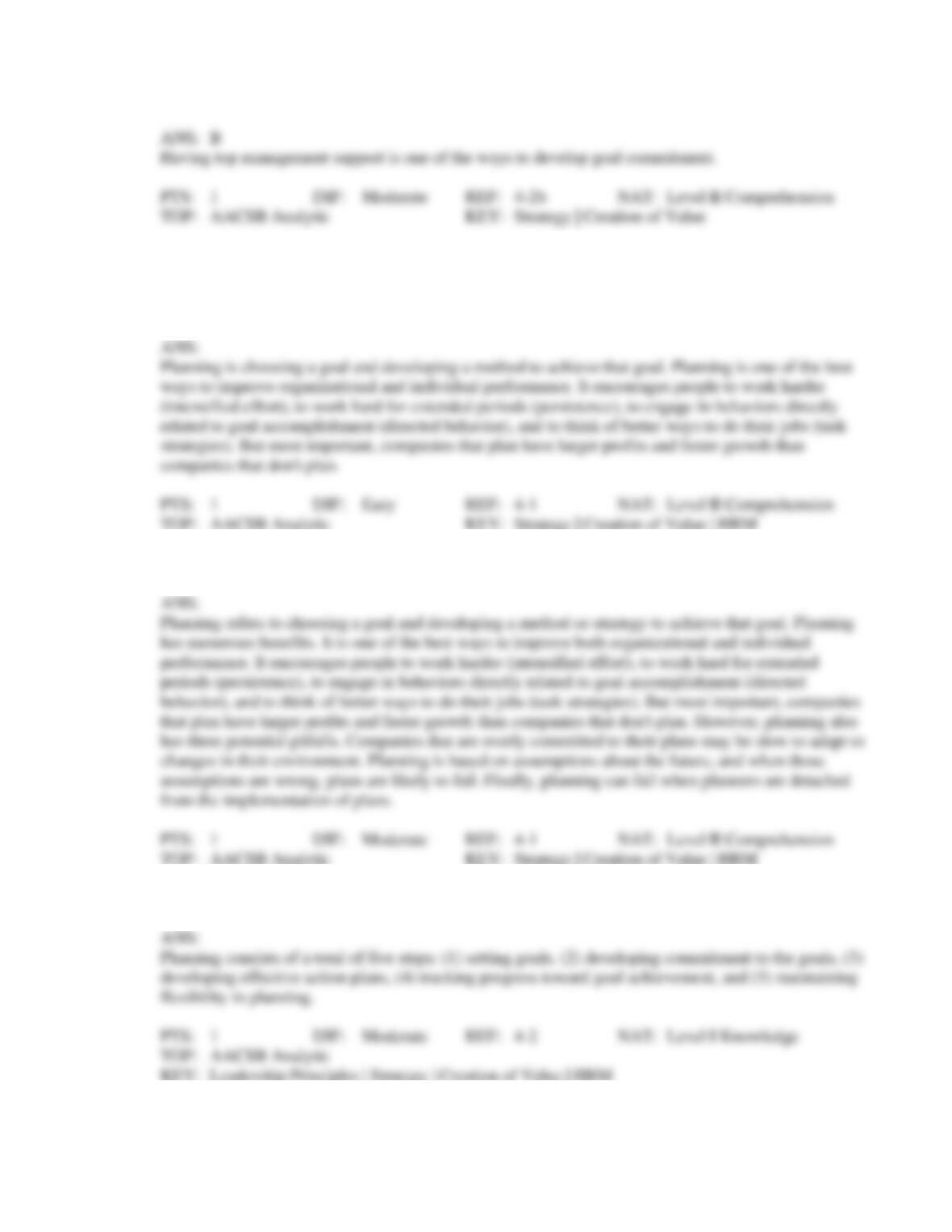 kept the goals private inside the company
planners are not detached
1.
What is planning and what are its benefits?
2.
Briefly describe the benefits and pitfalls of planning.
3.
List the steps in effective planning.
4.
Identify and explain the purpose of the S.M.A.R.T. guidelines.
5.
Identify three ways of increasing goal commitment. Which one is most commonly used by managers?
6.
Briefly identify and explain the two accepted methods of tracking progress toward goal achievement.
7.
Identify the four basic steps in the management by objectives process.
8.
List and briefly describe the three kinds of operational plans.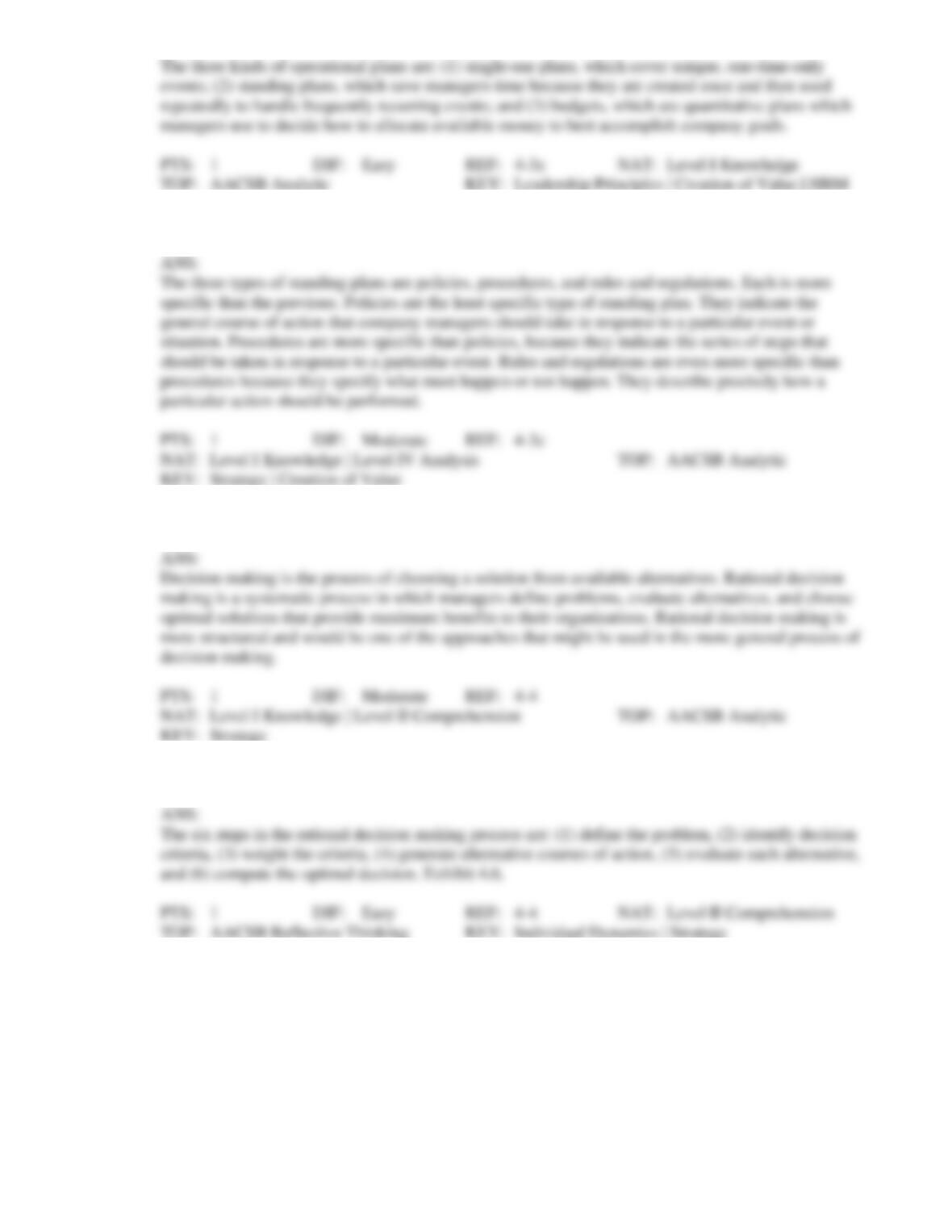 9.
List and briefly describe the three kinds of standing plans. Comment on their relative specificity.
10.
Define the terms decision making and rational decision making. Briefly differentiate between them.
11.
List the six steps in the rational decision making process.
12.
Briefly explain what decision criteria are. Identify two approaches that may be used to weight these
13.
Briefly identify the two types of conflict that may spontaneously occur in situations of group decision
making. Comment on the probable effectiveness of group decisions given each type of conflict.
1.
Describe a planning effort that you are acquainted with (either through reading or personal
experience), and explain how both the benefits and pitfalls of planning described in the chapter were
manifest in your case. Comment on the extent to which your case seems to substantiate or refute the
claims made in the text for the benefits and pitfalls of planning.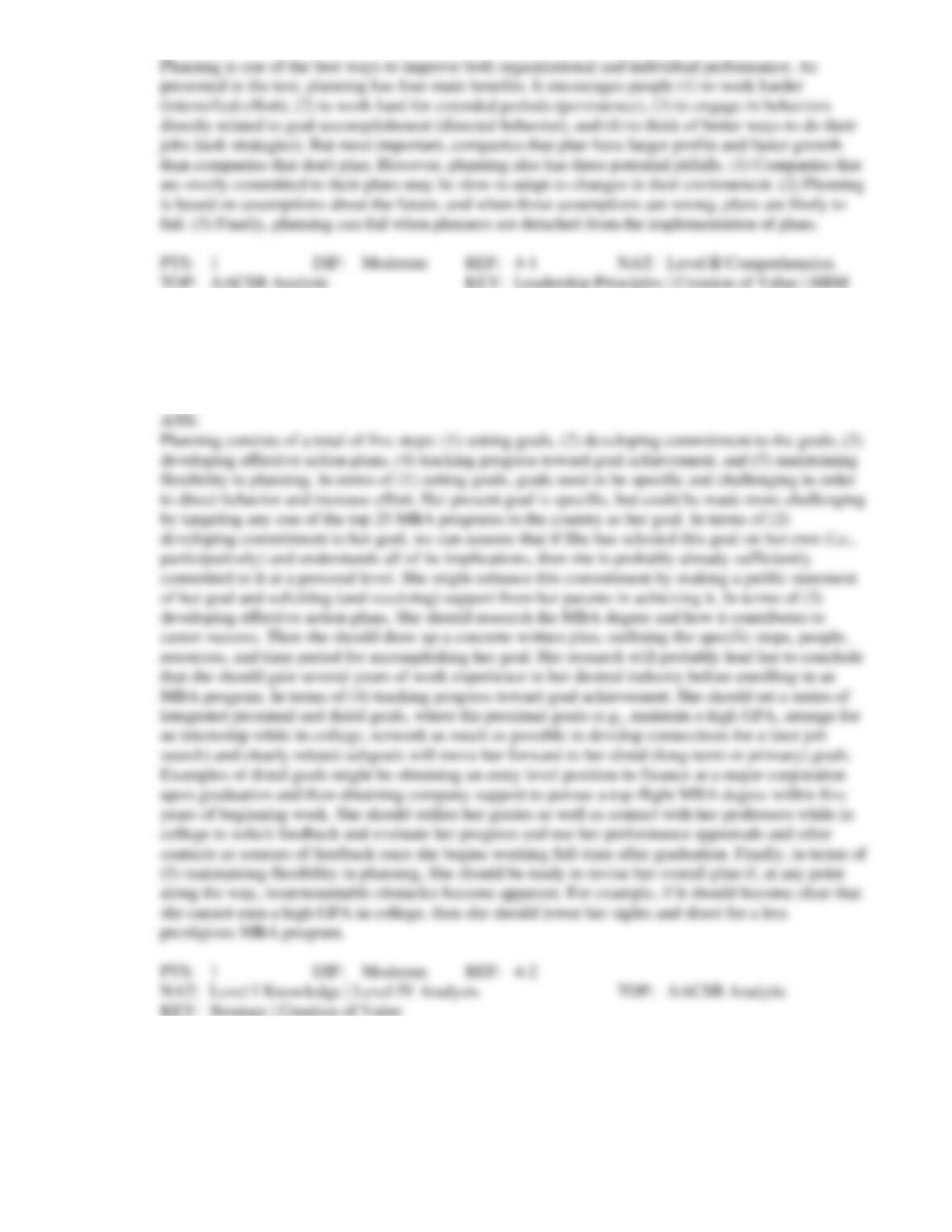 2.
A daughter of a well-known financier is currently in her first year of college but has decided that she
definitely wants to earn an MBA as soon as possible after earning her four-year college degree.
Outline the five steps in effective planning and use these planning guidelines to develop an appropriate
3.
How can organizations maintain flexibility as they plan? Explain how the method for maintaining
flexibility is different from traditional planning.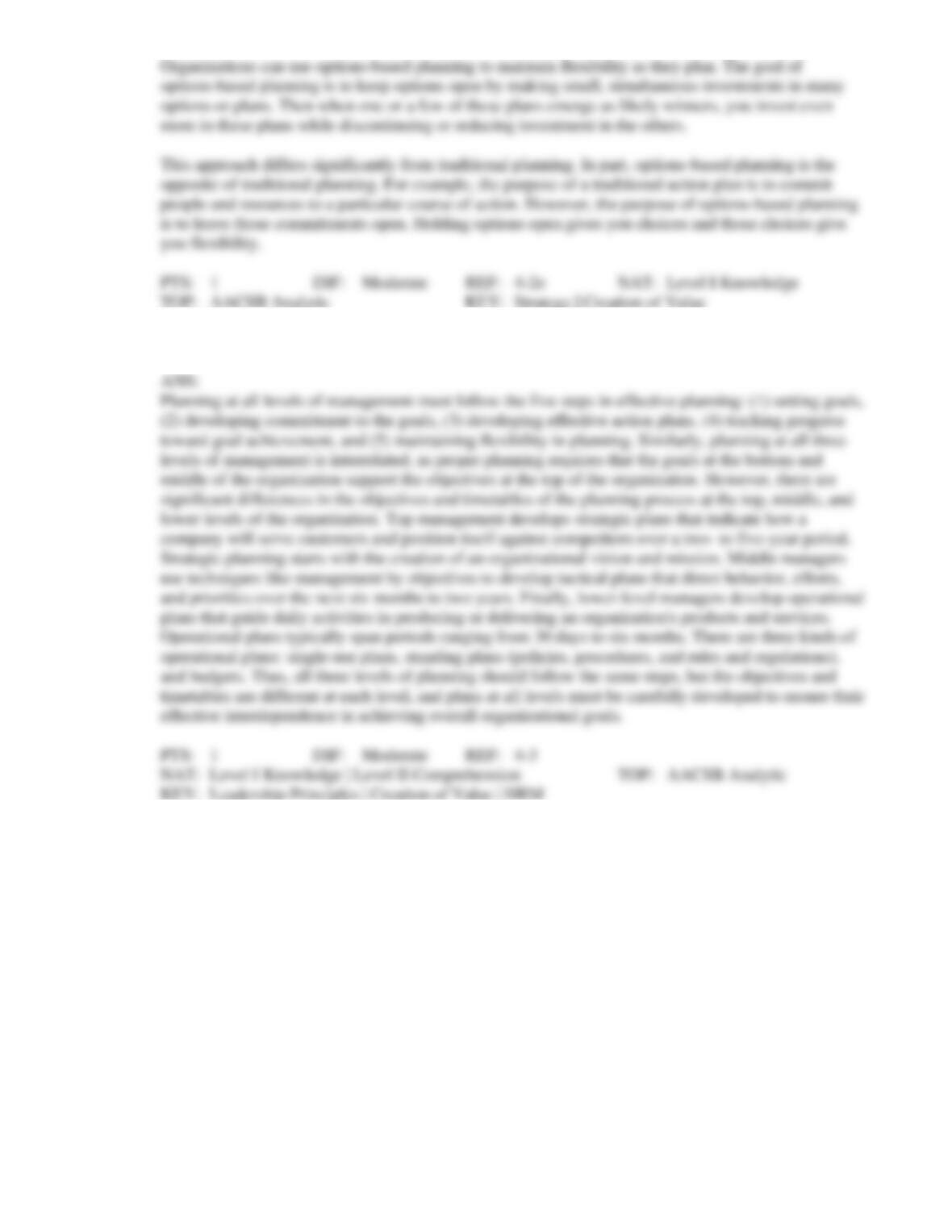 4.
Compare and contrast the planning done at the top, middle, and bottom levels of an organization.
5.
Describe the management by objectives (MBO) process. Which type of manager would be responsible
for MBO? What is the probable value of MBO to managers?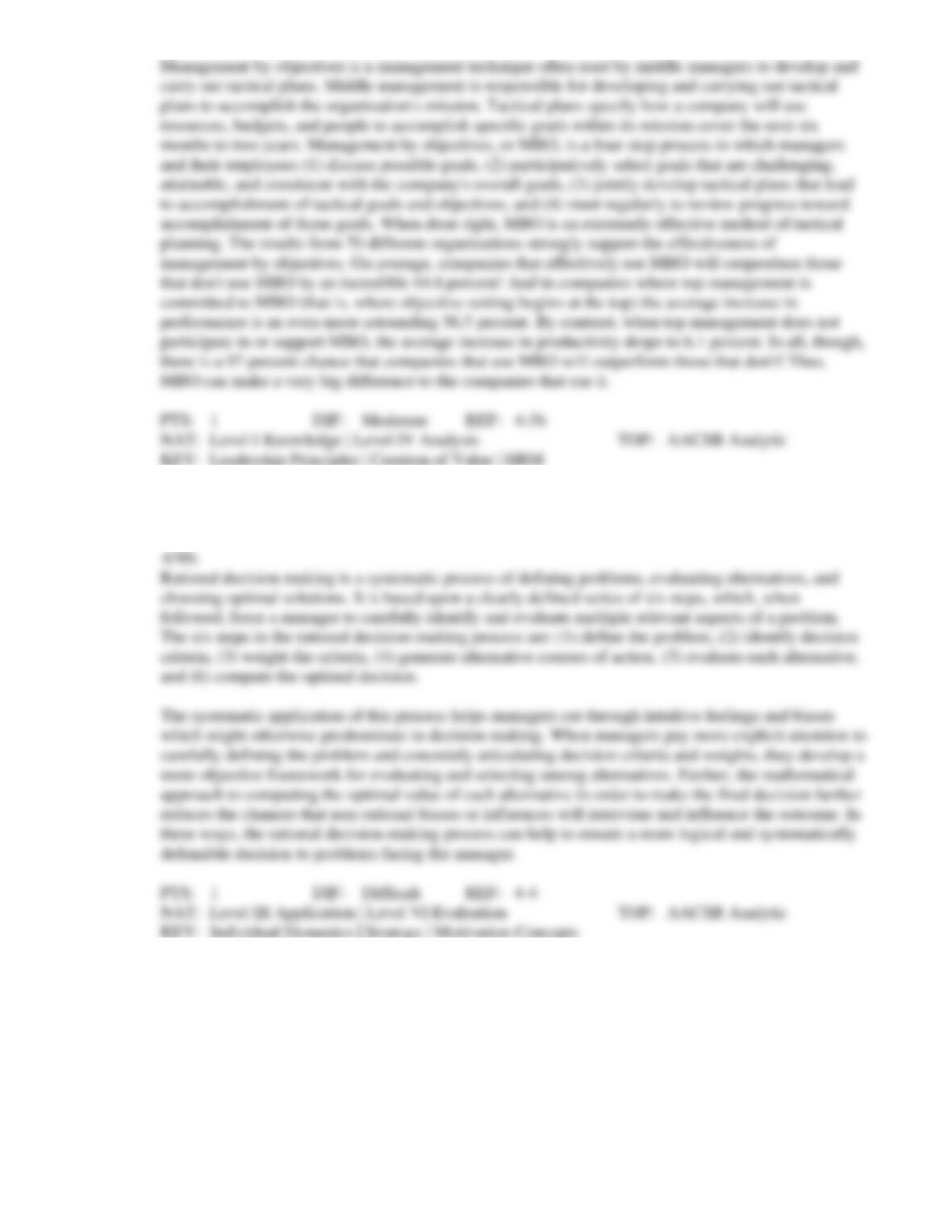 6.
Explain how the rational decision-making process may help to overcome predispositions and biases
that a manager has in a given decision making situation.
7.
Define the two types of conflict that may spontaneously occur in situations of group decision making.
List and explain the approaches to structured conflict that may help to enhance the quality of group
decisions. Be sure to comment on the research results which evaluate their effectiveness.