Unlock document.
This document is partially blurred.
Unlock all pages and 1 million more documents.
Get Access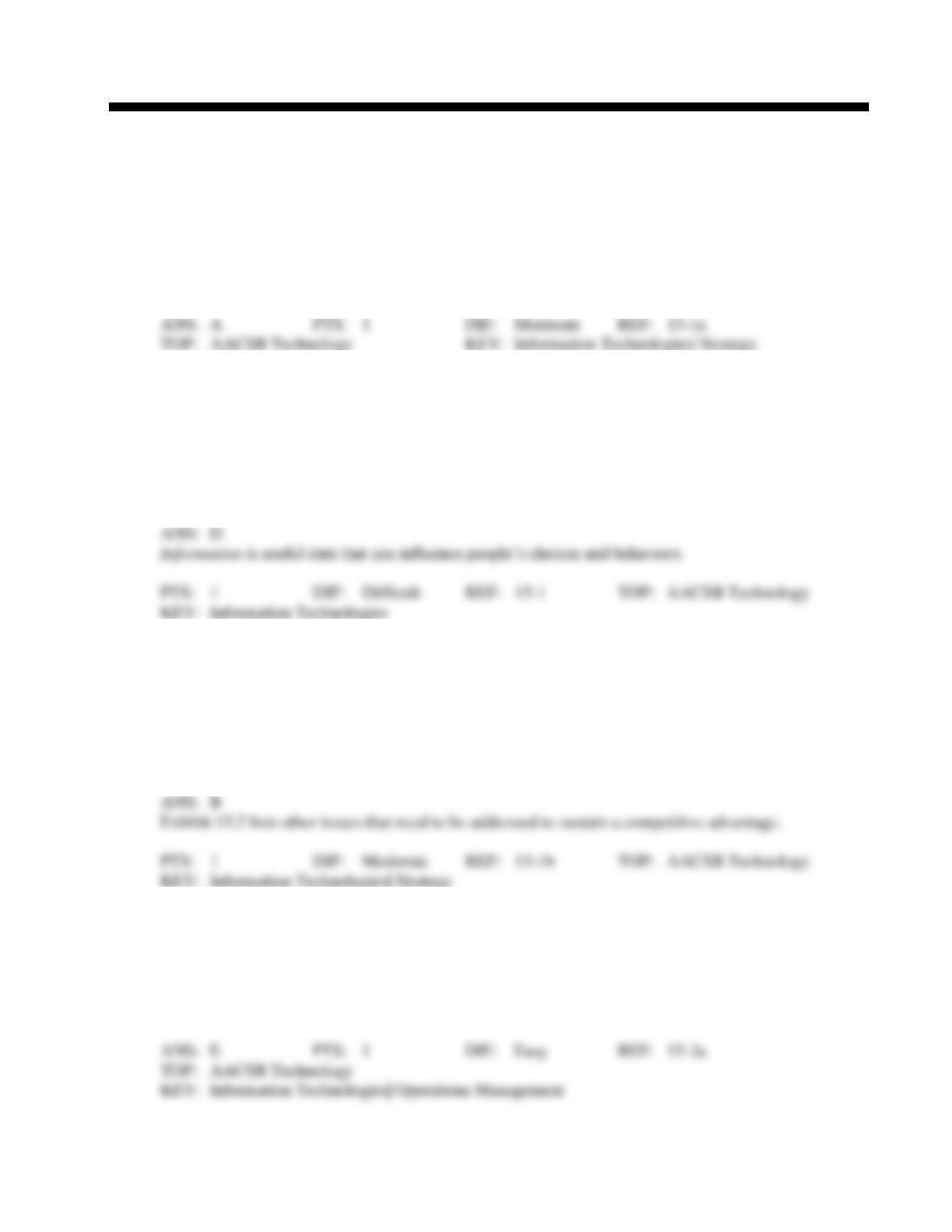 Course Pre-Assessment CH 15
Williams Effective Management 6e
1.
Why is information strategically important for organizations?
Information can be used to obtain first-mover advantage.
Information is derived from perceived knowledge, which limits its availability.
Information cannot be used as a medium of exchange.
Information creates suboptimization opportunities.
All of these are examples of why information is strategically important for organizations.
2.
A table showing the order frequencies as well as the average dollar value of the orders of different
segments of a catalog retailer's market would be an example of:
3.
The key to sustaining competitive advantage is:
faster computers with more memory
using information technology to continuously improve and support the core functions of a
business
the ability of the managers to delegate
how important the company's culture perceives conceptual skills
4.
The two basic methods of capturing information are:
systematic and unsystematic
continuous and intermittent
functional and hierarchical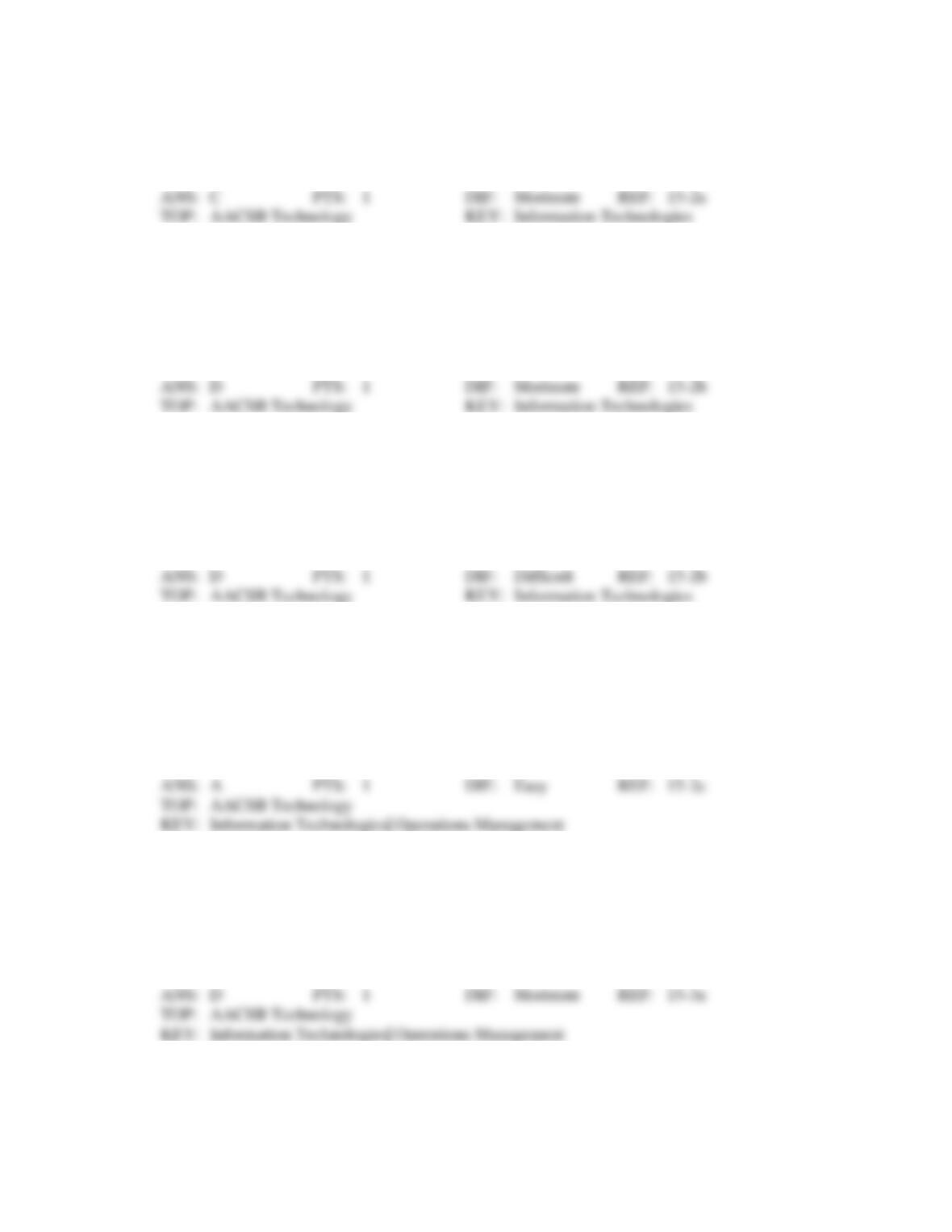 5.
In the process of capturing information, ASCII text is generated by:
optical character recognition software
automated, electronic capture of data
process of hypothesis testing in large databases
process of verifying known relationships in large amounts of data
process of discovering unknown patterns and relationships in large amounts of data
method used to identify and eliminate perishable data
result from the use of internal data mining
are a statistical technique used for trend analysis
are used to create samples for statistical analyses
occur when three or more database elements occur together in a significant way
are accurately described by all of these
8.
Two critical steps are required to make sure that data can be accessed by authorized users and no one
else. They are:
authentication and authorization
authorization and empowerment
delegation and empowerment
encryption and empowerment
authentication and encryption
9.
The goal of an executive information system (EIS) is to:
replace the need for intuition in decision making
create a link among authorized data and network users
protect organizational data from hackers
provide accurate, complete, relevant, and timely information to managers
10.
A(n) ____ is a private company network that allows employees to easily access, share, and publish
information using Internet software.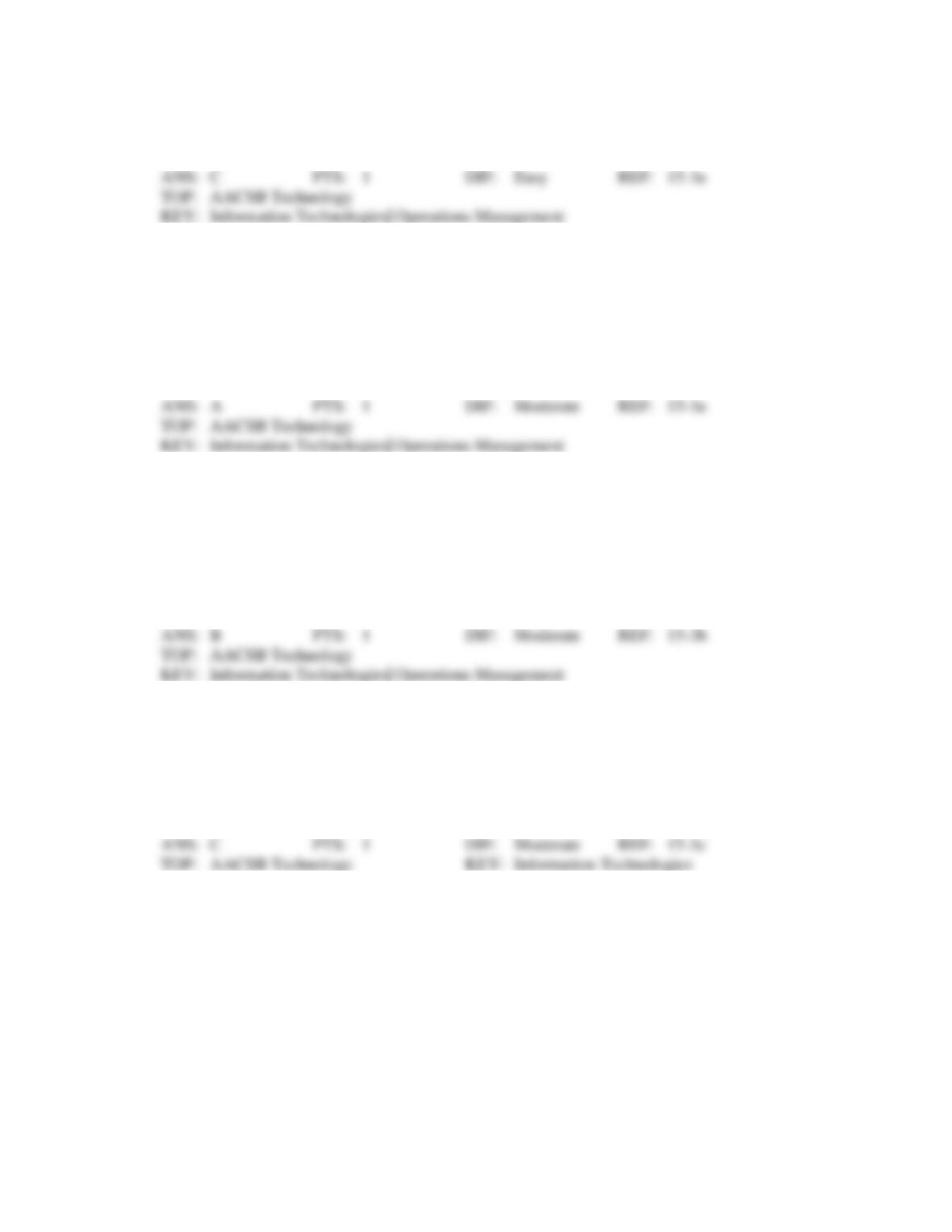 private company network (PCN)
electronic data sharing system
11.
A(n) ____ uses internal and external sources of data to provide managers and executives the
information they need to monitor and analyze organizational performance.
executive information system
managerial information service
environmental information system
12.
____ is the direct electronic transmission of purchase and ordering information from one company's
computer system to another company's computer system.
Electronic data interchange
13.
Which of the following statements about knowledge is true?
Data and information are the same as knowledge.
Knowledge resides in information.
Knowledge is the understanding that one gains from information.
Knowledge is easier to acquire than data and information.
All of these statements about knowledge are true.