Unlock document.
This document is partially blurred.
Unlock all pages and 1 million more documents.
Get Access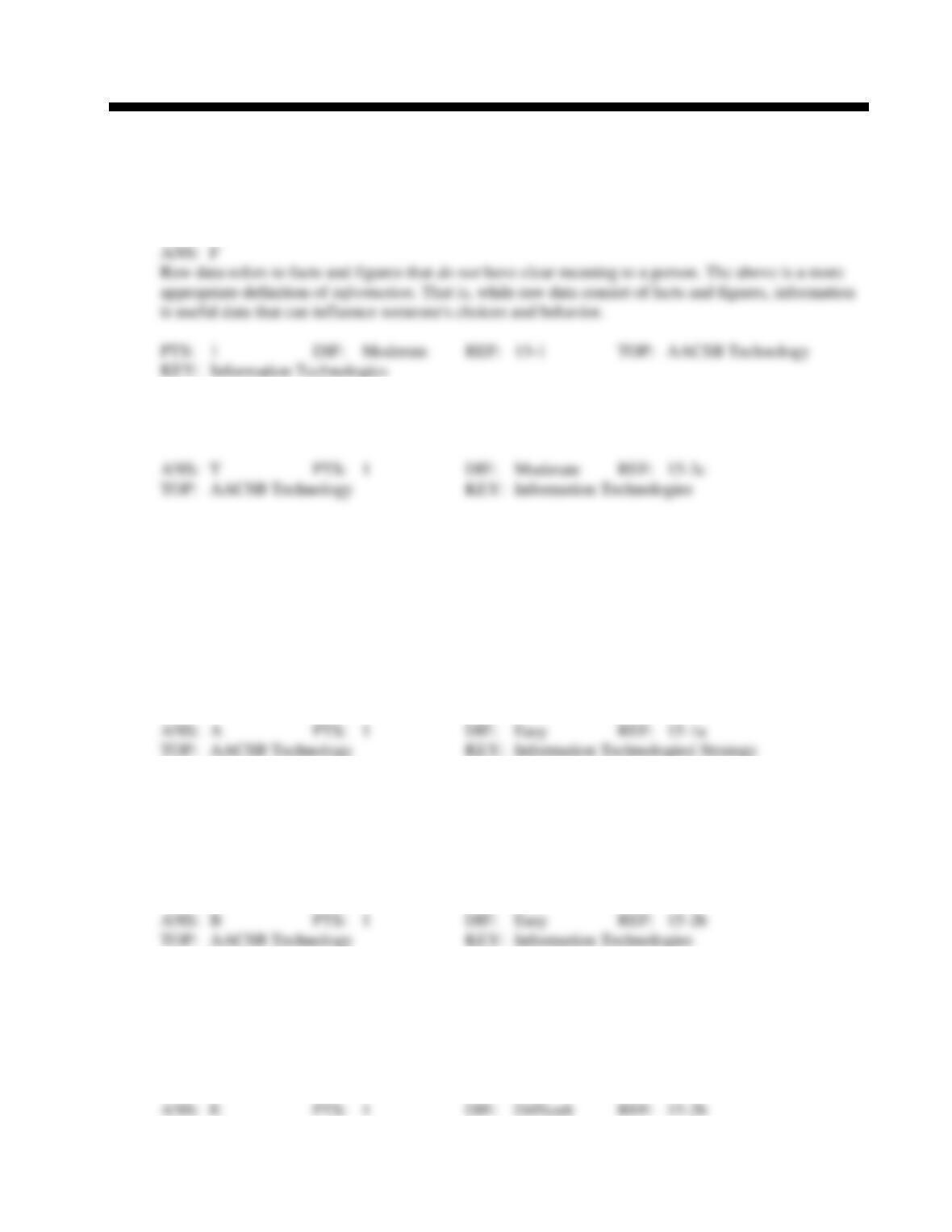 Course Post-Assessment CH 15
Williams Effective Management 6e
1.
Raw data contain useful information that communicate a clear and readily understandable message to
the person for which the data were gathered.
2.
Most expert systems work by using a collection of "if-then" rules to sort through information and
recommend a course of action.
1.
The first company to use new information technology to substantially lower costs or differentiate
products or services often gains:
2.
____ is the process of discovering unknown patterns and relationships in large amounts of data.
3.
Unsupervised data mining is particularly good at identifying:
association or affinity patterns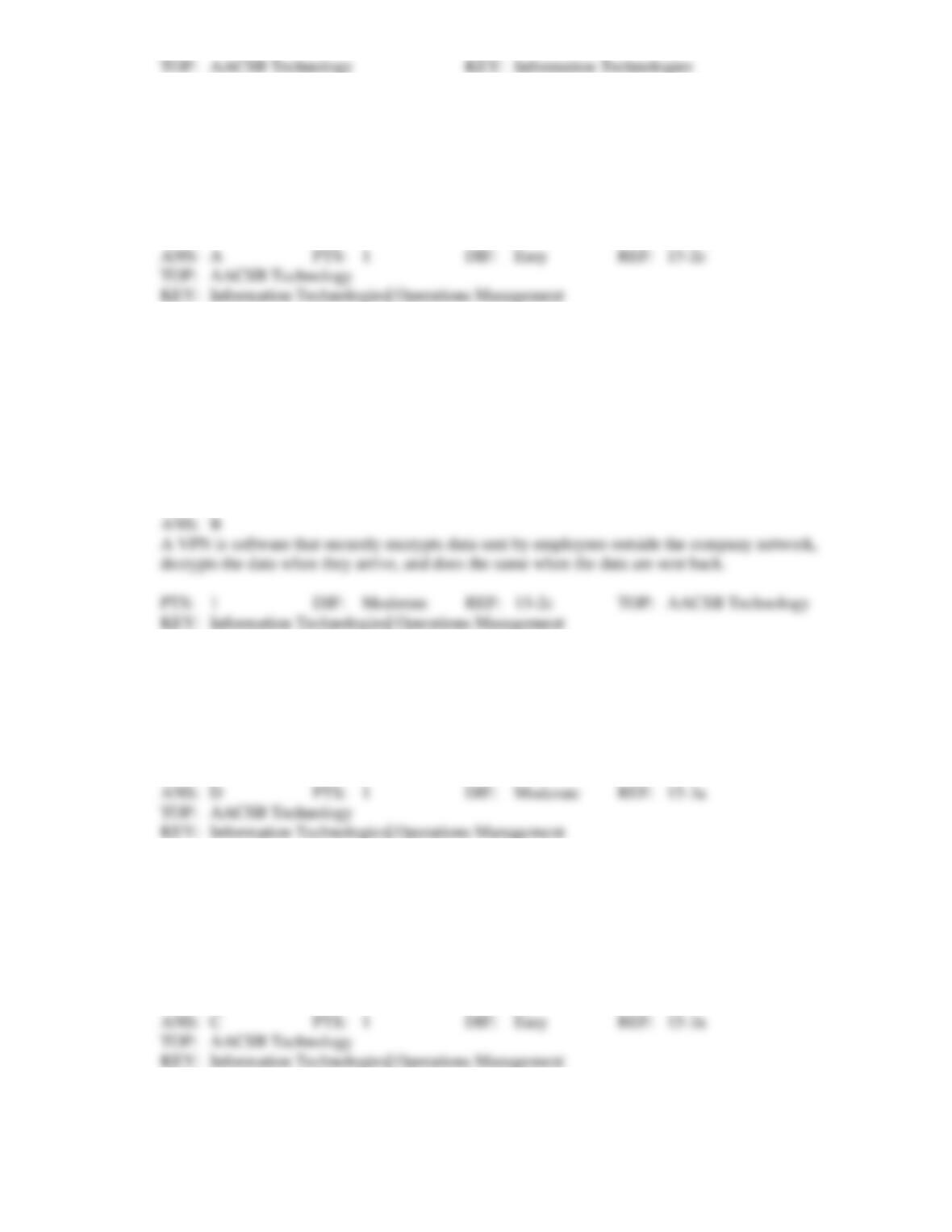 4.
Two critical steps are required to make sure that data can be accessed by authorized users and no one
else. They are:
authentication and authorization
authorization and empowerment
delegation and empowerment
encryption and empowerment
authentication and encryption
5.
Although firewalls can protect personal computers and network services connected to the corporate
network, people away from their offices who interact with their company networks via the Internet
face a safety risk. Which of the following technologies has proven to be an inexpensive solution to this
problem?
safe software for logic (SSL) encryption
6.
The goal of an executive information system (EIS) is to:
replace the need for intuition in decision making
create a link among authorized data and network users
protect organizational data from hackers
provide accurate, complete, relevant, and timely information to managers
7.
A(n) ____ is a private company network that allows employees to easily access, share, and publish
information using Internet software.
private company network (PCN)
electronic data sharing system
8.
Why do the large majority of companies now use intranets?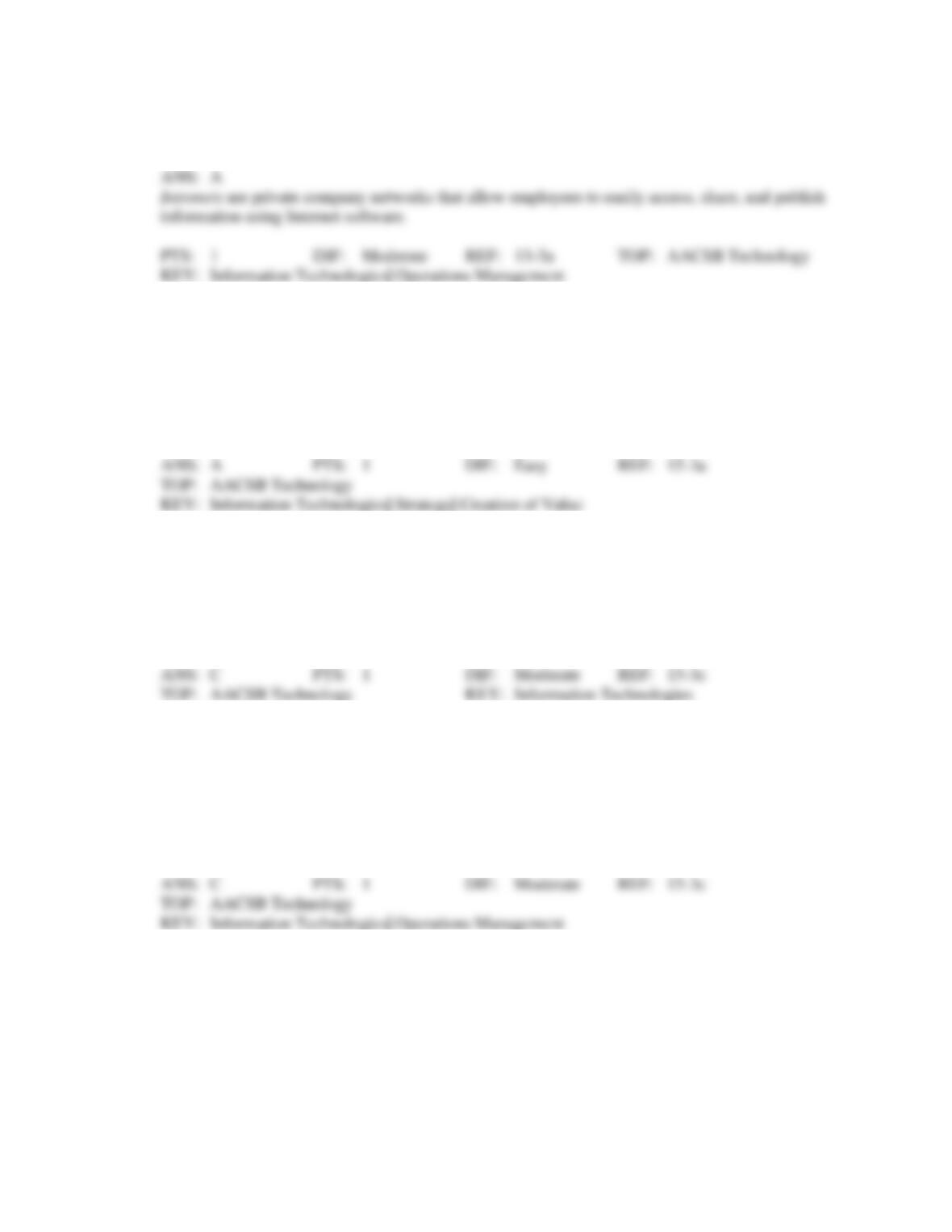 Intranets are inexpensive.
Experts on how to install and use intranets are common since the crash of the dot.coms.
Intranets are not Web-based.
Intranets do not use HTML.
All of these are explanations for the popularity of intranets.
9.
Companies that use electronic data interchange, extranets, and the Internet to gain a competitive
advantage have experienced:
worsening customer service
10.
Which of the following statements about knowledge is true?
Data and information are the same as knowledge.
Knowledge resides in information.
Knowledge is the understanding that one gains from information.
Knowledge is easier to acquire than data and information.
All of these statements about knowledge are true.
11.
Unlike an executive information system, a decision support system (DSS):
speeds up and simplifies the acquisition of information
helps managers understand problems and potential solutions by acquiring and analyzing
information with sophisticated models
can be used to replace all managerial decision making
removes decision-making bottlenecks by creating a problem organization table