Unlock document.
This document is partially blurred.
Unlock all pages and 1 million more documents.
Get Access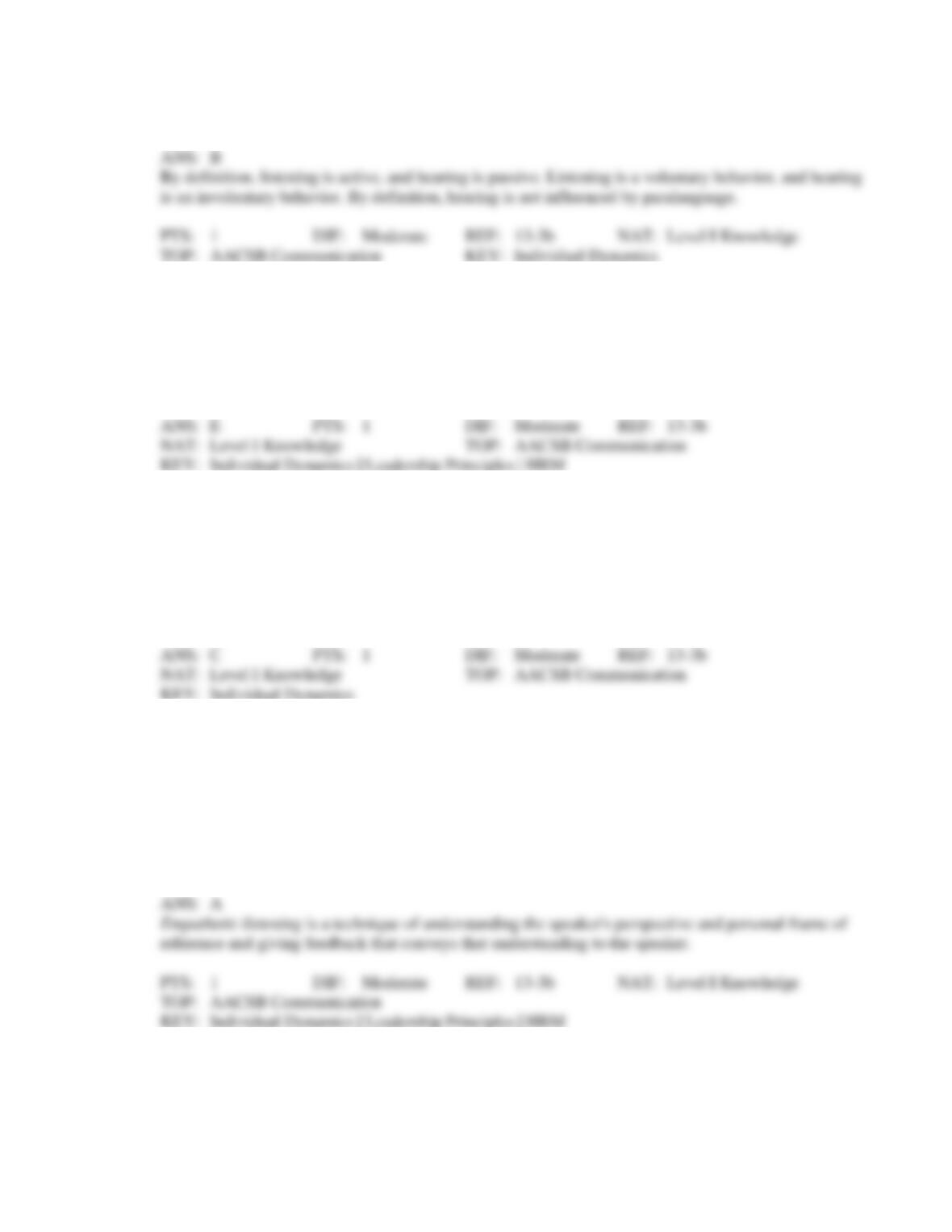 Hearing and listening both require paralanguage during communication transmission.
By definition, listening is passive, and hearing is active.
Listening is an involuntary behavior, and hearing is a voluntary behavior.
63.
Which of the following statements about listening is true?
Most managers retain about 25 percent of what they hear.
Listening is a voluntary behavior.
Managers with better listening skills are more likely to be promoted.
Managers with better listening skills are rated as better managers by their employ
ees.
All of these statements about listening are true.
64.
____ is a technique of assuming half the responsibility for successful communication by actively
giving the speaker nonjudgmental feedback that shows you've accurately heard what he or she said.
Synergistic communication
65.
When one plant was closed due to a merger, employees were forced to move to another and take
substantial cuts in their hourly wage. Managers should engaged in ____ as employees described the
forced changes in their lifestyles.
66.
____ is a technique of understanding the speaker's perspective and personal frame of reference and
giving feedback that conveys that understanding to the speaker.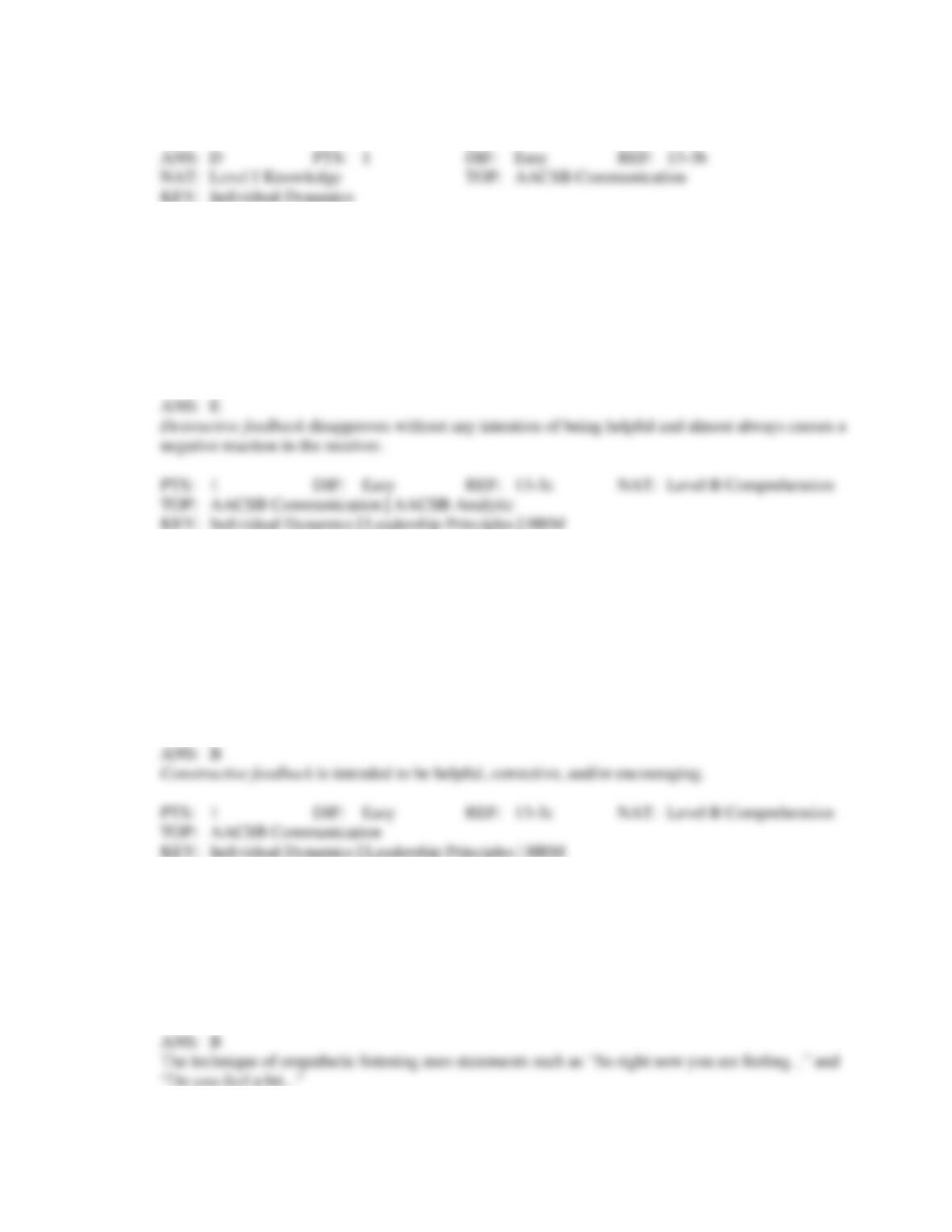 Nonconfrontational listening
67.
A manager, hired to make the company profitable, made sweeping changes in the company.

This
manager was guilty of belittling the efforts of his managers and making them feel incompetent. In
other words, he engaged in ____.
68.
Rubylyn is a very enthusiastic person who has been hired to work as the personal assistant for an event
planner. At first, Rubylyn was driving her supervisor to distraction because she was always
interrupting him and asking him if he wanted anything. After some ____ with the event planner,
Rubylyn better understood what her job entailed and became a valued employee.
69.
In empathetic listening, ____ is important because it demonstrates that you understand the speaker's
emotions.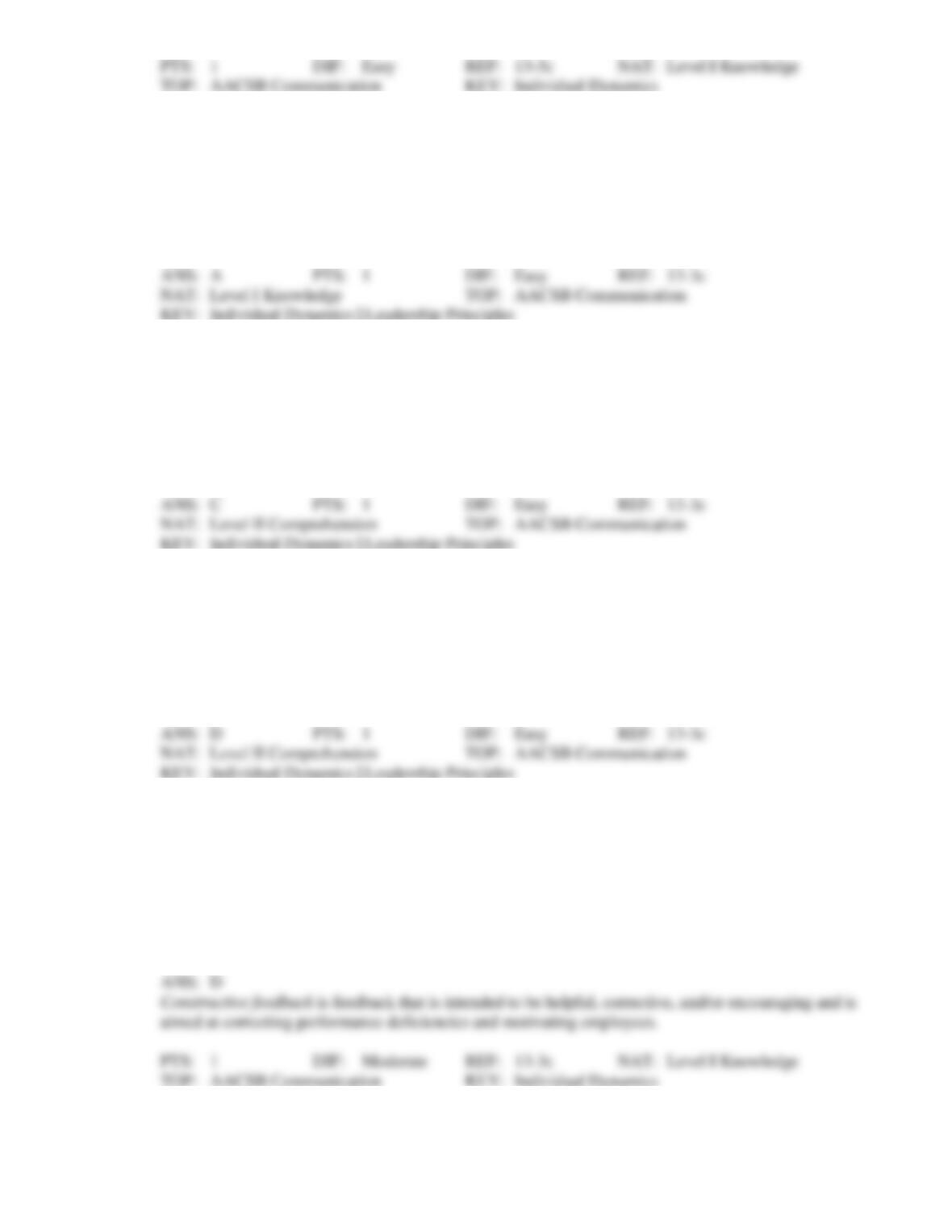 70.
The first thing that managers need to recognize when communicating feedback one-

on

-one to
employees is that feedback can be ____.
constructive or destructive
bureaucratic or participative
formalized or unformalized
71.
____ is feedback that is disapproving without any intention of being helpful and almost always causes
a negative or defensive reaction in the recipient.
72.
____ is feedback that is intended to be helpful, corrective, and/or encouraging and is aimed at
correcting performance deficiencies and motivating employees.
73.
A company decided to solicit ____ from the company's best customers. From the information
gathered, the company learned that it needed to modify its invoice form and that the sales staff needed
to engage in more follow up.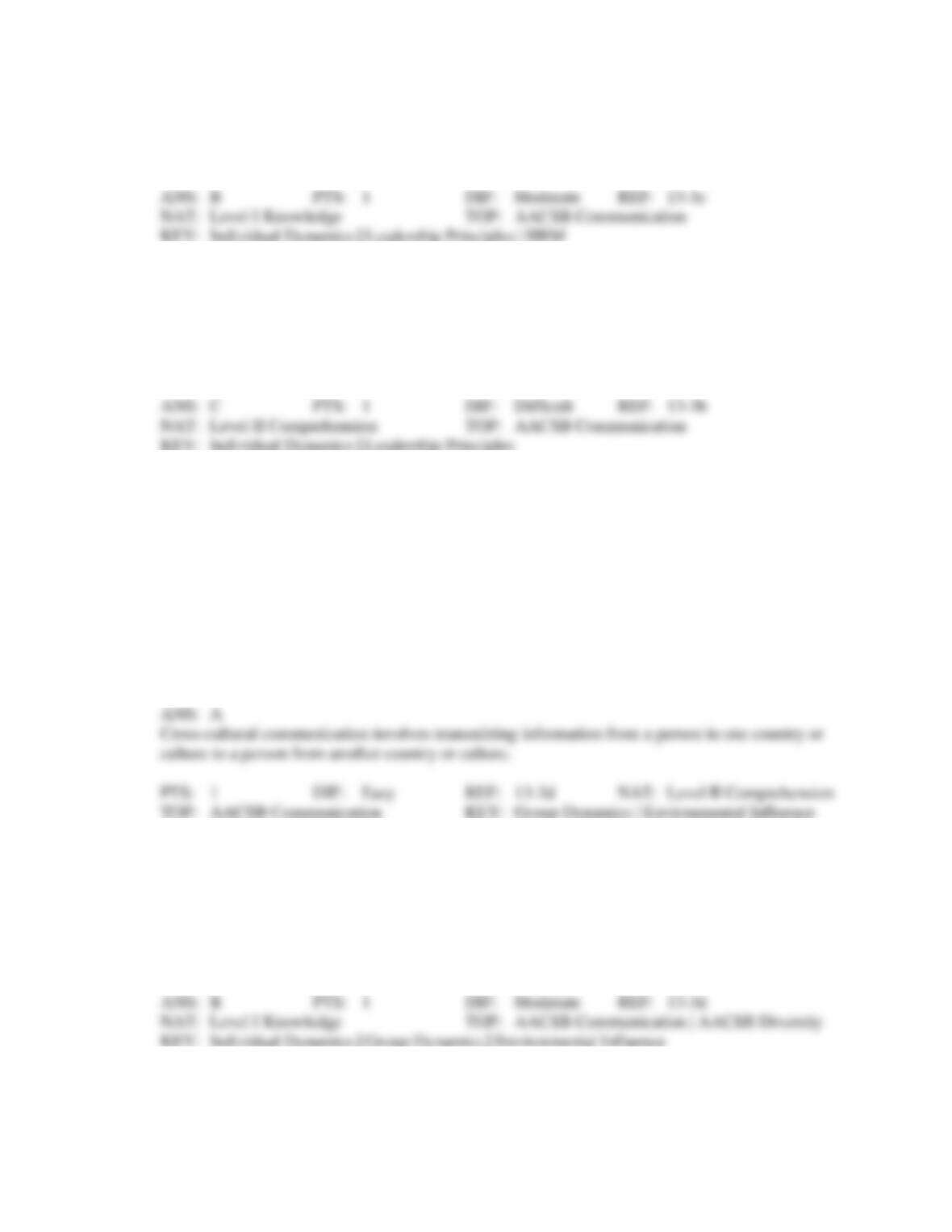 74.
Feedback is more likely to be destructive than constructive when it is ____.
influenced by situational contexts
focused on specific behaviors
75.
The last step of empathetic listening requires managers to ____.
summarize what the speaker has said
respond with feelings and then facts
engage in problem identification
paraphrase what has been said
76.
Until last year, Dutch-based Ahold, the world's fourth-biggest food retail and food service group by
sales, owned and operated U.S. Foodservice, a catering company.
With 27,000 employees and 70
distribution centers throughout the United States, U.S. Foodservice delivers food to retailers as large as
McDonald's Corporation and as small as neighborhood delis.
One of the major problems between the
two companies and one of the reasons why Ahold finally sold U.S. Foodservice was _____, which
prevented the two companies from communicating with each other in an effective manner.
cross-cultural communication
the absence of a formal grapevine
affective communication benchmarking
77.
According to the text, in order to increase the chances of effective cross-cultural communication,
managers need to be familiar with:
differences in educational systems in various cultures
cultural attitudes toward retention
78.
In ____ cultures, people are much more likely to display emotions when communicating.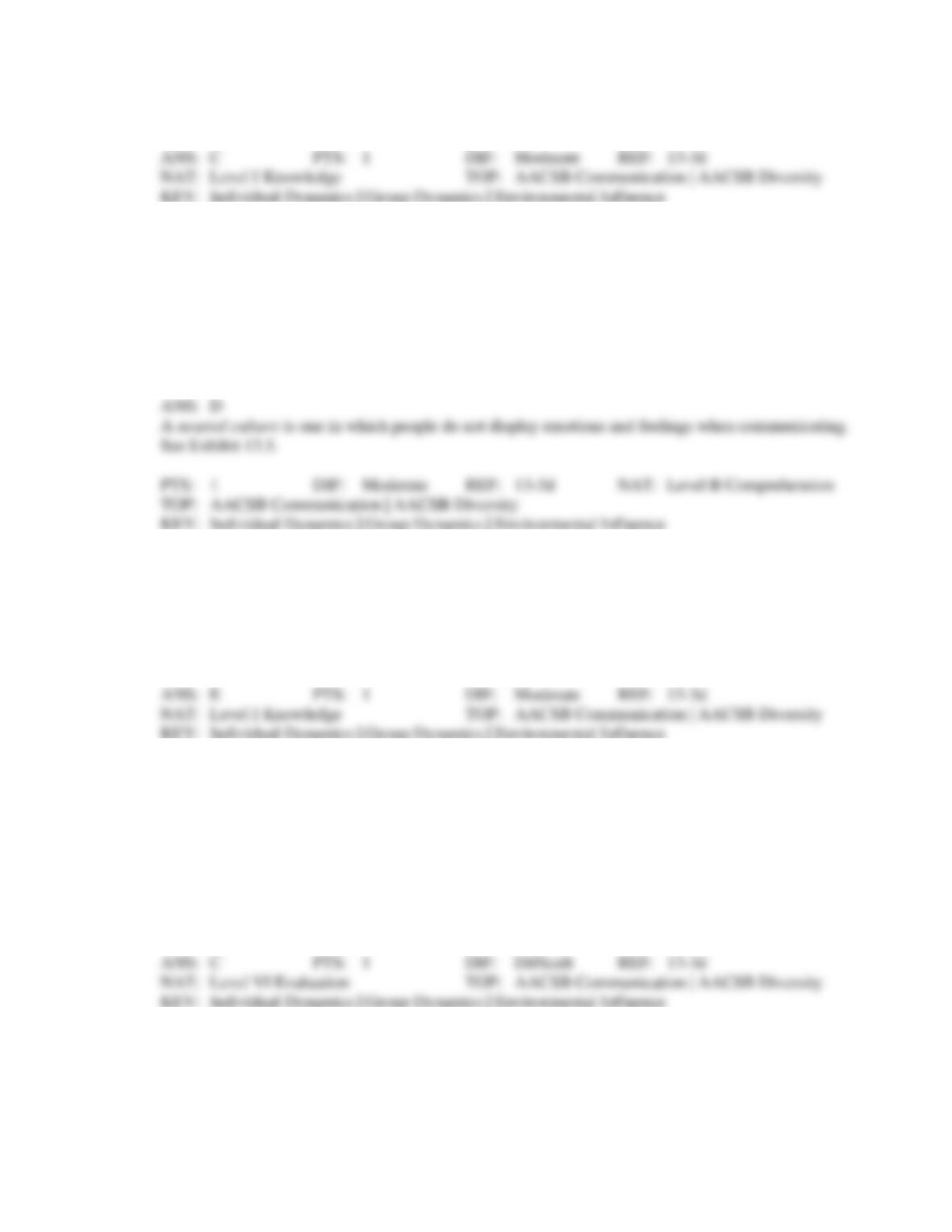 79.
A description of Chinese employees by a British antiques exporter operating in 19

th

century Hong
Kong states, "My employees have round placid faces from which it is impossible to read what they are
thinking." In terms of cross
-cultural communication, the exporter was seeing a(n) ____ culture.
80.
In __________ cultures, people exhibit little or no emotion during communications.
81.
Managers should know and use the address terms that people in a given culture use to address each
other in the workplace to increase the chances for successful cross-cultural communication. Doing this
will tend to ____ on the part of the person from the other culture who is being addressed (or
spoken to).
82.
In ____ cultures, people don't reveal what t

hey are thinking or feeling.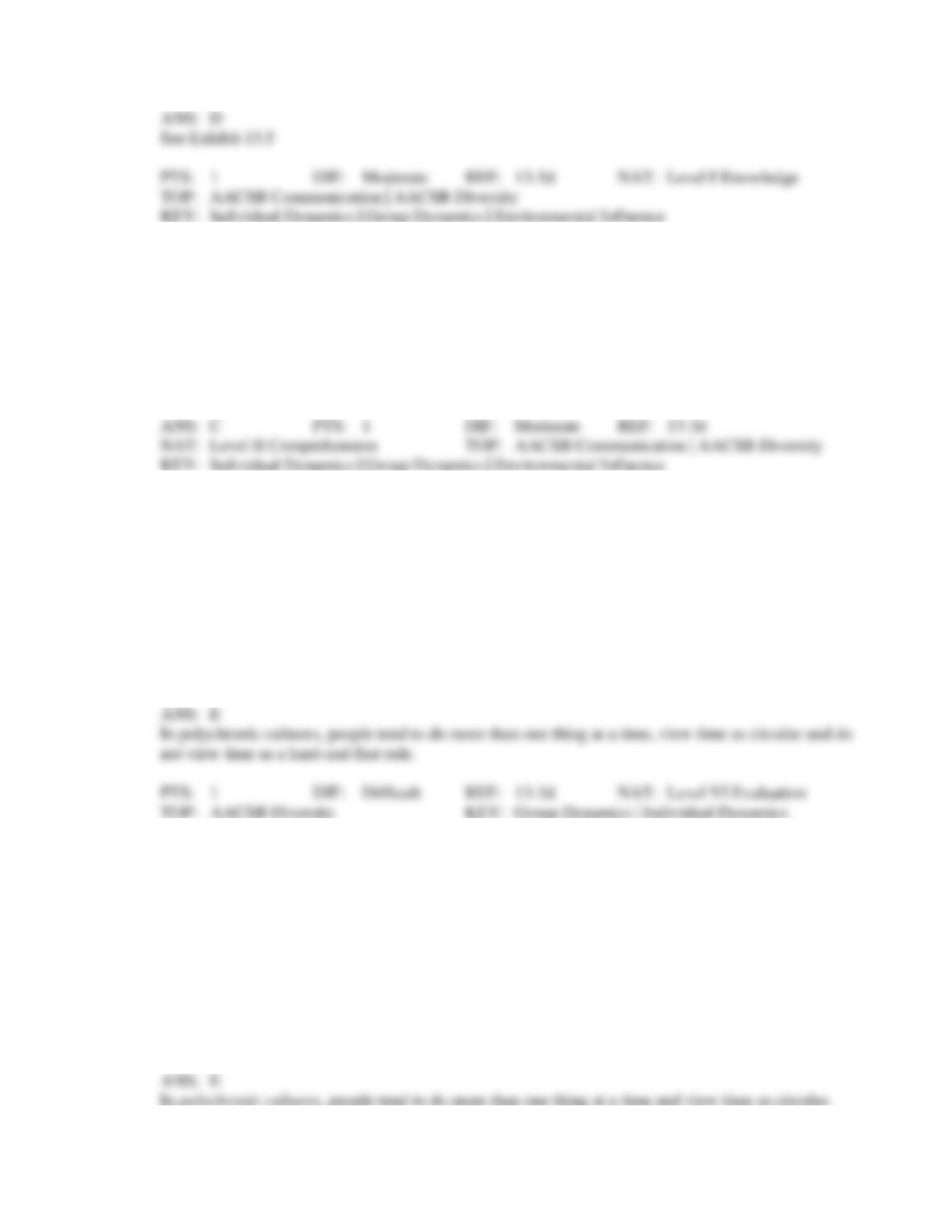 83.
The United States and Canada tend to be fairly monochronic while Mexico tends to be polychronic.
Some cultures mix both styles, such as the Japanese, who are monochronic when it comes to work, and
polychronic in social situations. These two statements are discussing how different cultures:
use facial expressions in communications
influence the proxemics of communication
express different attitudes toward time
84.
Call-center training institutes are springing up all over in bigger cities in India, helping young people,
for a fee, to
de

-Indianize
themselves.
During one lesson at one of the Indian institutes, the instructor
was overheard saying, "Americans and the British are very specific with their times. When they say
one minute, they mean one minute. When they say two minutes, they mean two minutes."
The
instructor was referring to the fact that the Americans and the British do not have _____ cultures.
85.
One risk of imposing an American work order on employees from other cultural backgrounds is a
mutual misunderstanding of each other's concepts of
time
. Indian workers value a gradual and cyclical
sense of time that equally includes work, family, sociability, community, and religion. This runs
counter to the fast-paced, hyper-rapid, "cutting corners to get things done" approach to work and life
that a U.S. employer may expect of recruits. This description indicates that the Indian culture is a ____
culture.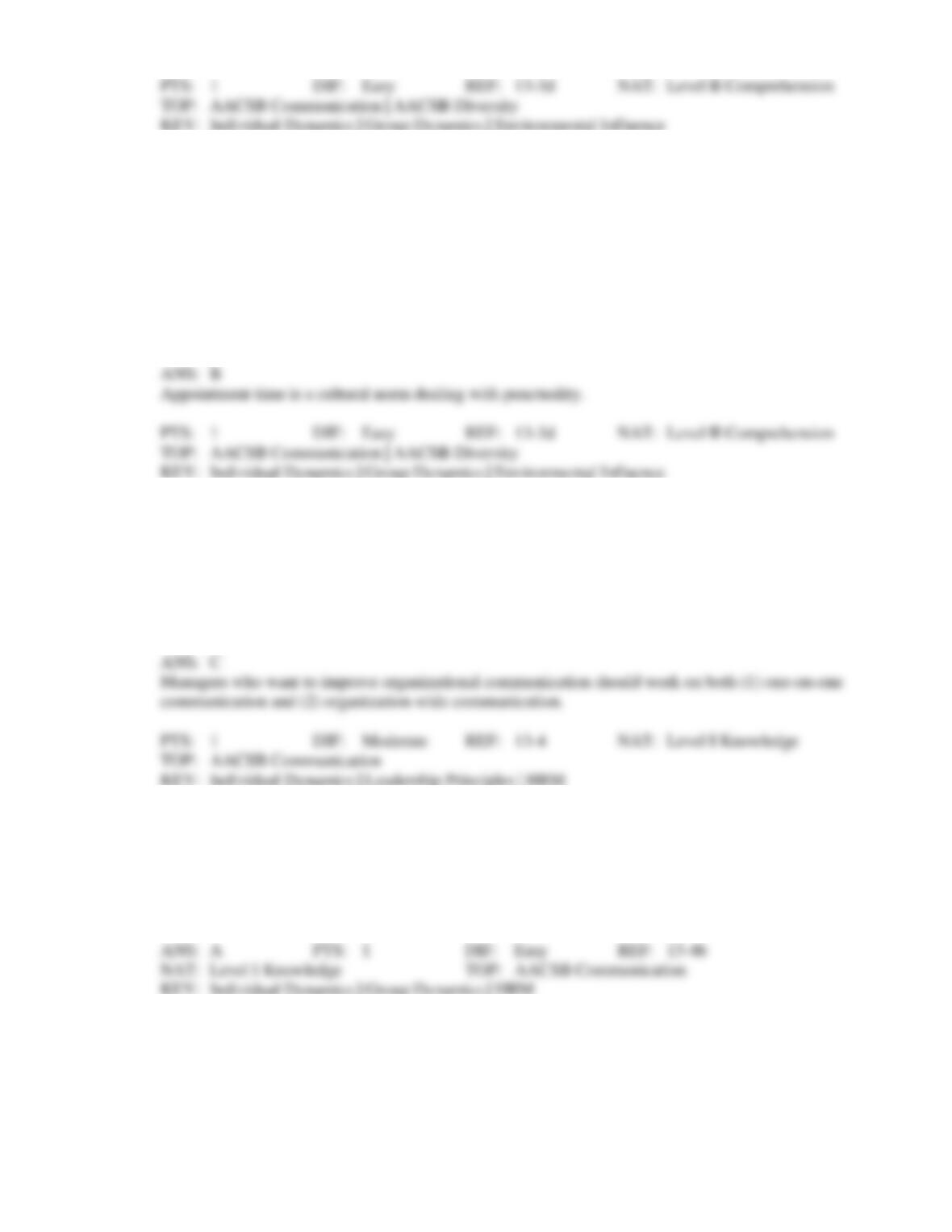 86.
In China, you may have an appointment with a client at noon. It is almost customary for you to show
up after the appointment time. If you show up at 1 o'clock, or after, they probably will not think twice
about your absence. If this same practice were to happen in the United States, you would probably
have little chance of doing business because of it. This reflects the Chinese culture's view of ____
time.
87.
Which of the following is one of the primary tasks faced by managers who want to improve
organizational communication?
managing small group communication
managing organization-wide communication
eliminating the grapevine
maintaining vertical communication channels
88.
____ is the withholding of information about organizational problems or issues by employees.
89.
A recent study found that only 29 percent of first-level supervisors thought that their organization
encouraged their employees to express their opinions openly. This means that the overwhelming
majority of these supervisors engage in ____.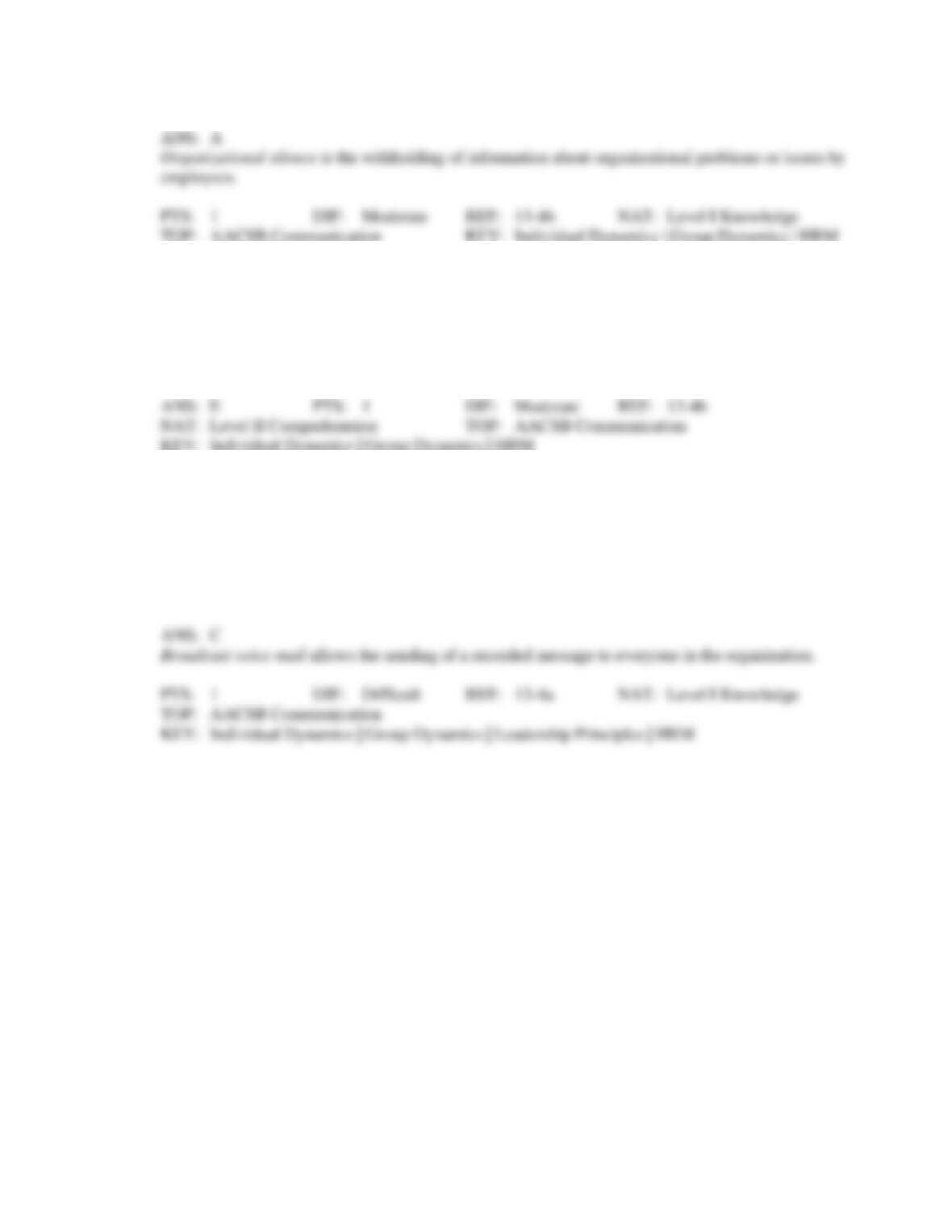 90.
Organizational silence occurs when ____.
an organization is about to engage in a leveraged buyout
an organization refuses to answer customer complaints
employees are advised to not discuss company issues with the news media
organizations shut down efforts to conduct grapevine communications
employees believe that telling managers about problems will not make a difference
91.
Which of the following gives top managers a quick, convenient way to address their work forces via
oral communication?
televised speeches and meetings
videotaped speeches and meetings
Urban Legends
The concept of "urban legends" (a story that appears mysteriously and spreads spontaneously in
various forms and is usually false posted on the Internet) and Internet scams are a real problem for
some businesses. Gerber Baby Foods was flooded with 1 million letters and 80,000 phone calls from
parents responding to an e-mail about a phony class-action lawsuit. Another urban legend about Costa
Rican flesh-eating bacteria that affected banana shipments cost that industry more than $30 million.
Procter & Gamble had to deal with claims that its Febreeze product contained Agent Orange, a
dangerous chemical. Many companies choose to ignore these myths created by angry customers or
rabble-rousers, but experts believe this is the worst possible action to take. Companies should instead
do everything possible to reassure its customers.
92.
Refer to Urban Legends. ____, or personality-, psychology-, and experience-based differences,
determine how consumers respond to Internet scams.
Motivational instrumentality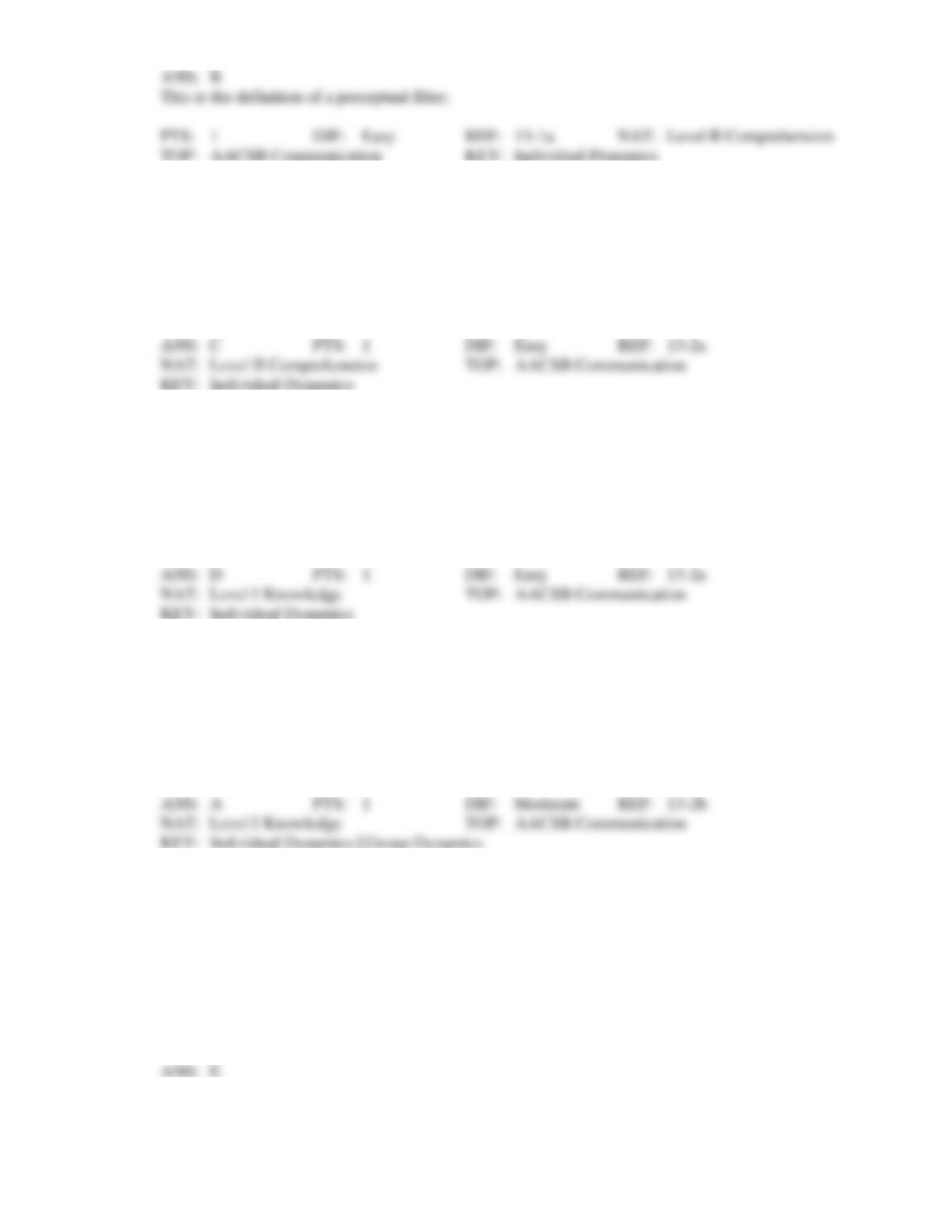 93.
Refer to Urban Legends. The angry P&G consumer who started the rumor about Febreeze would have
used ____ to create the initial e-mail message.
94.
Refer to Urban Legends. E-mail users who received the e-

mail about P&G's Febreeze would have
used ____ to understand the message.
95.
Refer to Urban Legends. Top managers who encouraged subordinates to do everything in their power
to assure customers that Internet myths about their companies were false engaged in ____.
96.
Refer to Urban Legends. When an employee at Coca-Cola received an e-mail that contended half a
rat's body had been found in a bottle of one of its competitor'
s products, the employee forwarded the
e-mail to everyone who worked in the Atlanta office. What kind of a grapevine communications
network did this Coke employee use?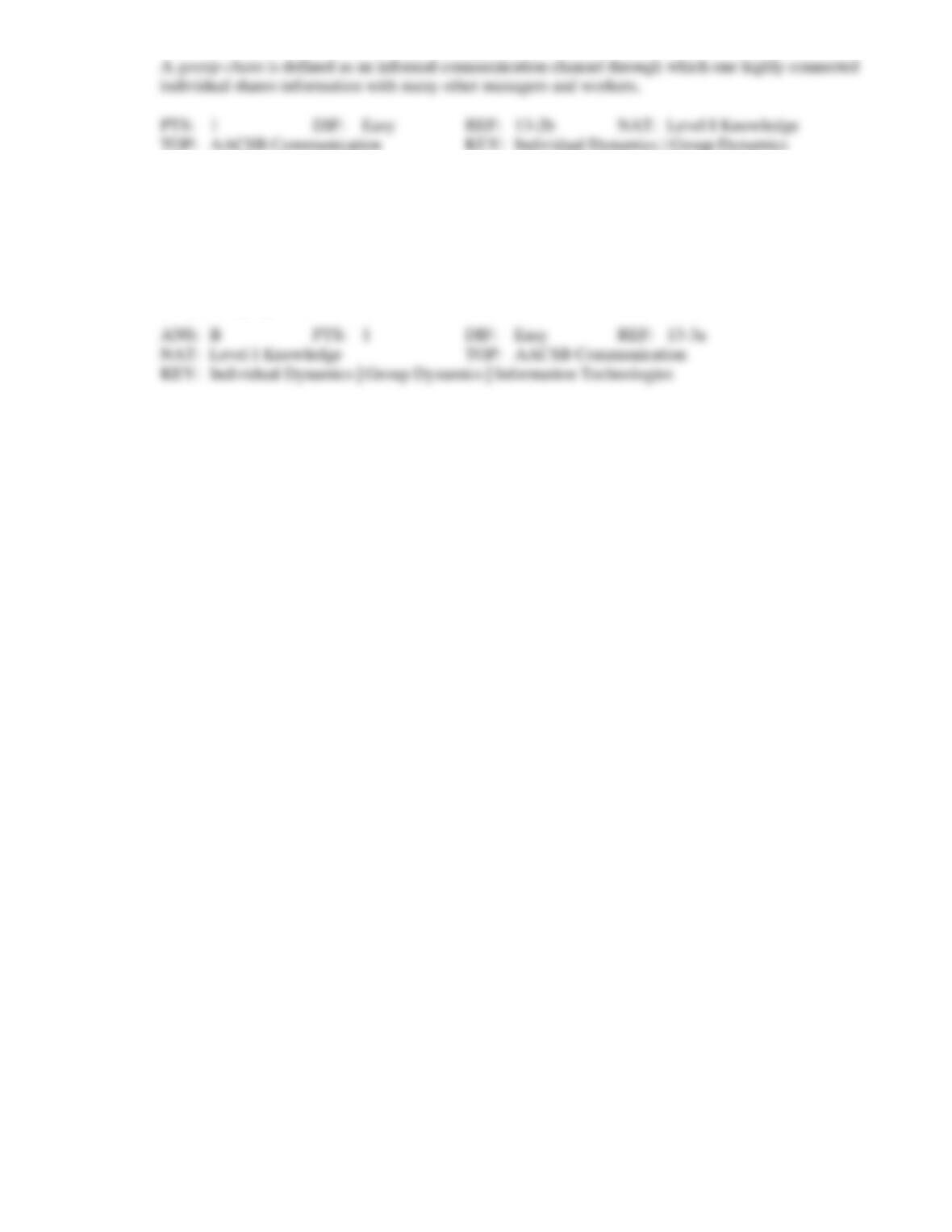 97.
Refer to Urban Legends. Many urban legends are transmitted through the Internet, which could be
described as a(n) ____.
JetBlue Airways has had tremendous success by offering direct flights, low fares, wider leather seats,
satellite TV in every seat and great customer service. Modeled after Southwest Airlines, JetBlue has
the lowest costs in the industry at 6.4 cents per passenger mile. But as its new planes age, its costs will
rise, as will the wages it pays its pilots, flight attendants, and mechanics. With only two successful new
airlines in the last 25 years, the challenge for JetBlue will be to continue its success as it ambitiously
grows from 73 planes and 6,500 employees to 290 planes and 25,000 employees over the next five
years. Key to meeting those goals is solid communication.
As companies like JetBlue grow, managers must be good one-
on
-one communicators but must
also learn how to communicate effectively with a larger number of people throughout an organization.
This is why JetBlue's senior managers speak with every new class of employees
as they come through
JetBlue's structured orientation process. On the first day of orientation, they teach the new hires about
JetBlue's brand and show them how JetBlue earns its money and the role each employee plays in the
process.
Another part of J
etBlue's strategy to communicate and reinforce its organizational culture is a
program called Principles of Leadership (POL). POL is a five-day training program completely taught
by JetBlue's managers from all levels of the company from the very top to the
very bottom. As they
teach, JetBlue's managers share real world stories that illustrate ways in which company managers and
employees have practiced or violated the five principles of JetBlue's culture. In general, these stories
demonstrate when it is proper and improper to break company rules to serve customers. For example, a
JetBlue pilot once bought several dozen McDonald's Happy Meals for the kids on his plane. While
this was a violation of company spending guidelines, buying those Happy Meals adhered
to JetBlue's
cultural principle of "Doing the right thing," because the plane was stuck on the ground without food,
and the kids on board were hungry.
But effective leaders don't just communicate to others; they also make themselves accessible so
that they can hear what others, particularly customers and employees, are feeling and thinking about
their organization. At JetBlue, the senior managers uses frequent informal meetings and surprise visits
to listen to customers and employees. On an almost daily basis, senior management can be found on a
JetBlue flight talking to customers. Senior management will typically use the plane's public address
system to introduce themselves and say that they want to hear any feedback, good or bad, that
passengers have about the airline. Passengers frequently offer advice on where JetBlue should offer
new routes and service, but they also complain about the food, meaning the lack of it (just cookies,
snacks, and biscotti). Most importantly, the culture of senior management is to listen, write down
thoughts and customer comments and turn this information into the organizational to-
do's once the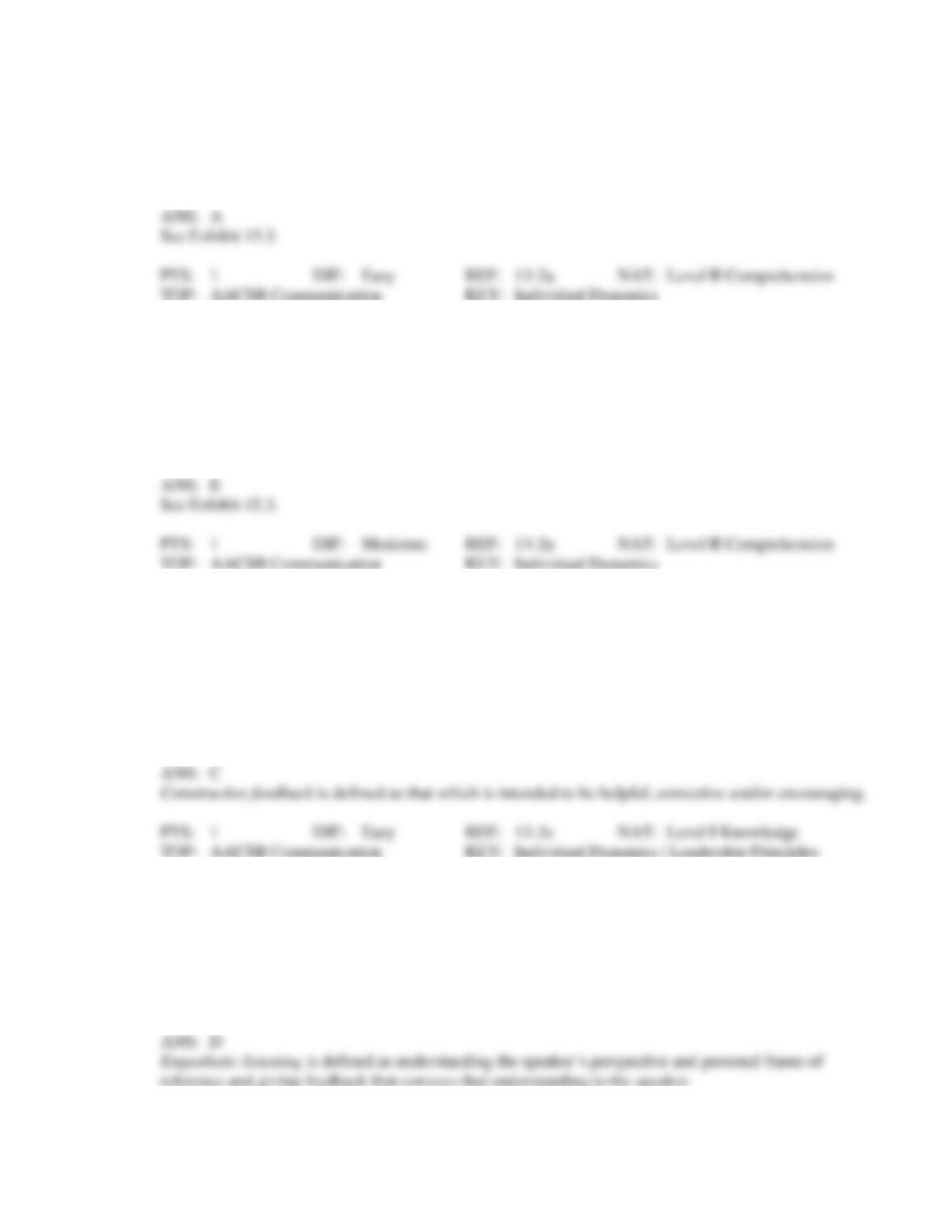 98.
Refer to JetBlue. What step of the communication process is involved when the CEO writes down
customers' comments on cocktail napkins?
99.
Refer to JetBlue. What step of the communication process is involved when managers turn the CEO's
notes written on the cocktail napkins into to-do lists?
100.
Refer to JetBlue. When senior management uses the plane's public address system

to introduce
themselves and say that they want to hear any feedback, good or bad, that customers or employees
have about the airline, they are looking for ____ feedback.
101.
Refer to JetBlue. The JetBlue pilot who bought several dozen McDonald's Happy Meals engaged in
____. 102.
Refer to JetBlue. JetBlue'

s orientation for new employees would be an example of ____
communication.
103.
Refer to JetBlue. JetBlue Airline's senior management officials speak with every new class of
employees as they come through JetBlue's structured orientation pro
cess. The orientation course is an
example of ____ communication.
WWYD Google
Founded in 1998, Google just had its most dominant year ever, with its search market share rising and
revenues jumping 25 percent. Still, Microsoft's Bing search engine and Facebook, which passed
Google as the most popular Web site in the world, pose threats as people desire more personalized and
social media-related search information. Searches for local information, such as restaurant reviews or
directions, are 20 percent of all Google searches and half of all mobile or smartphone searches. Google
trails Apple and Amazon in the number of publishers that use its software, devices, and online stores to
sell electronic versions of newspapers, magazines, books, music, TV shows, and movies. Finally,
Google's Chrome Web browser (13% market share) competes with Microsoft's Internet Explorer
(55%), Mozilla's Firefox (22%), and Apple's Safari (7%).
In this environment, cofounder Larry Page, who had been Google's CEO for three years at
startup, returned to the CEO position. An admitted introvert, Page is taking steps to combat paralyzing
bureaucracy and change how Google communicates as it begins to diversify and face intense
As Google grew, CEO Larry Page became frustrated with the difficulty that product managers
and engineers had trying to launch new products and services. Page would give midlevel engineers
approval to make changes to improve Google's search engine, but Google's internal processes took
weeks before the changes were even considered or approved by other parts of the management
One of the ways in which Page hopes to jumpstart decision making at Google is through a
commitment to improving communications. When Google was a startup, access to founders and top
managers was easy to come by because Google was small.
Furthermore, until it reached 10,000
employees, Google relied heavily on self-designing and self-managing teams that would coalesce
around interesting product ideas and then develop them on their own. While chaotic, this worked well
until Google tripled in size.