Unlock document.
This document is partially blurred.
Unlock all pages and 1 million more documents.
Get Access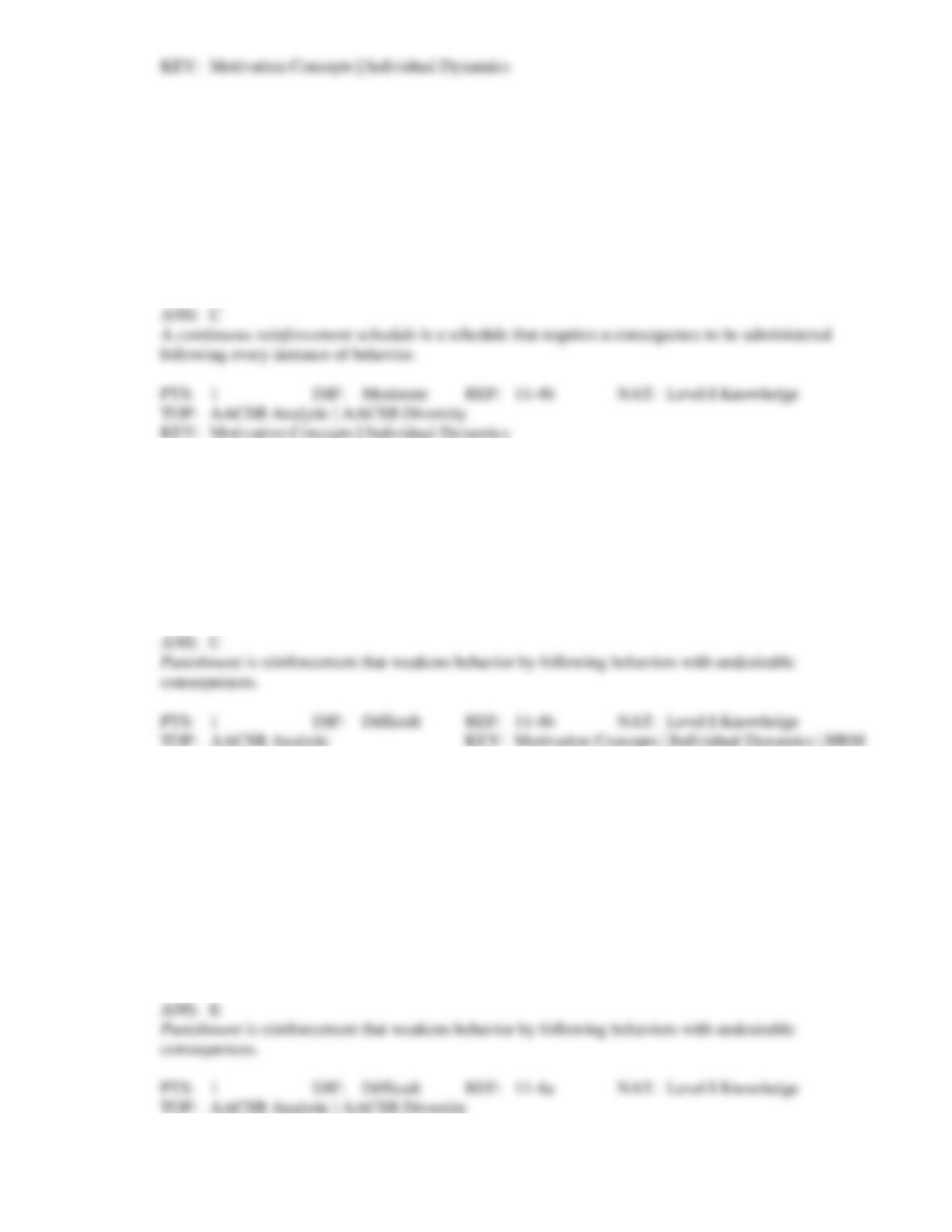 67.
France has 14 million smokers. More importantly, smokers in France are closely associated with the
French culture. To reduce the number of smokers in the nation, the French government has increased
the costs of cigarettes to a price twenty times greater than that charged in any other nation in the
European Union. In terms of reinforcement theory, what kind of a reinforcement schedule is being
used?
68.
A manufacturer of modular housing gives each employee a monthly $300 bonus if he or she is neither
absent nor late to work for the entire month. There are no excused absences. The loss of a bonus by a
parent with an emergency hospitalization of a child is an example of the use of ____.
intermittent reinforcement
69.
France has 14 million smokers. More importantly, smokers in France are closely associated with the
French culture. To reduce the number of smokers in the nation, the French government has increased
the costs of cigarettes to a price twenty times greater than that charged in any other nation in the
European Union. In terms of reinforcement theory, the French government is trying to use ____ to get
people to quit smoking by making cigarettes less affordable and by reducing the discretionary income
(or possibly the disposable income) of people who continue smoking.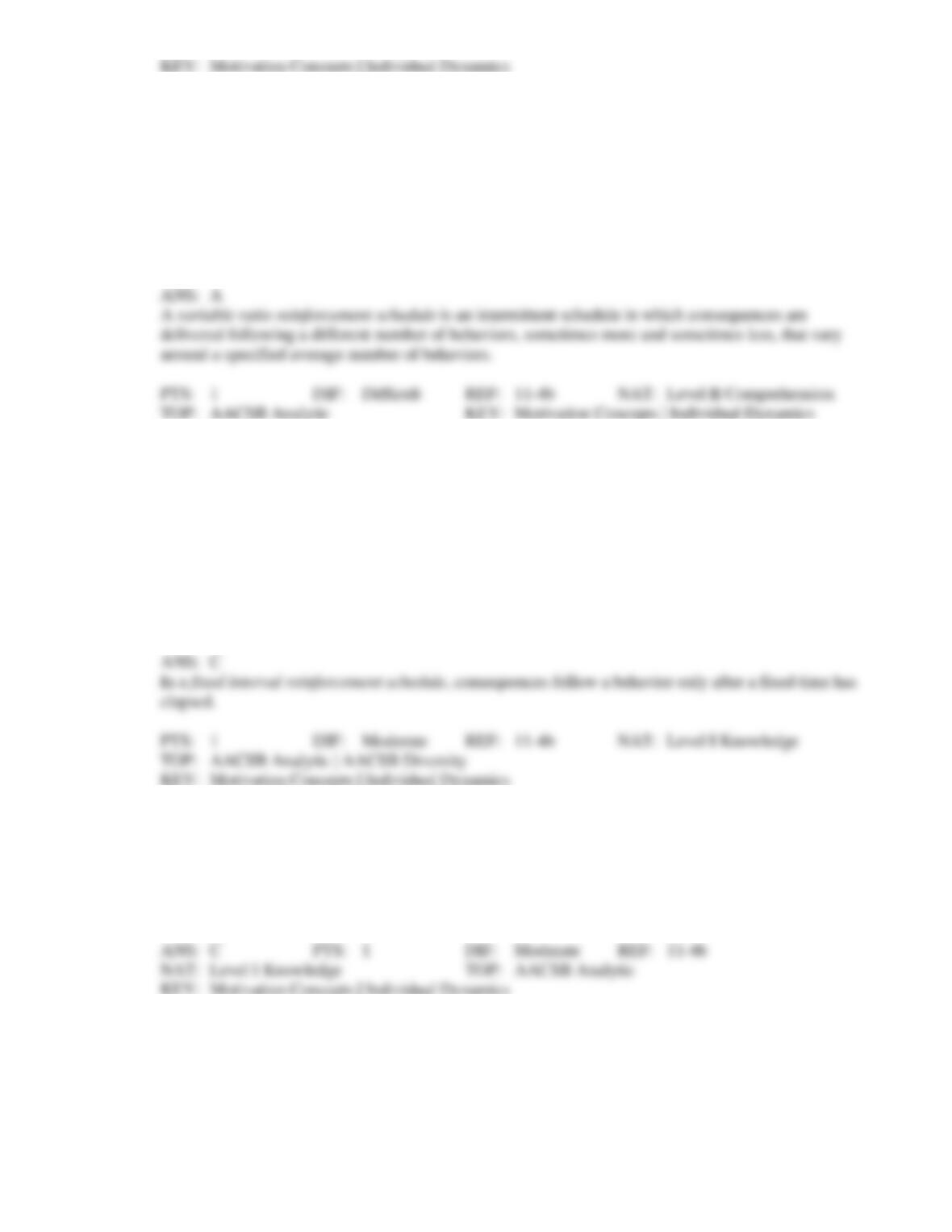 70.
The number of people who play high-stakes poker is increasing as a result of a number of cable
television shows featuring professional poker players vying for $100,000 pots. In terms of
reinforcement theory, what kind of a reinforcement schedule motivates the behavior of these card
players?
71.
Traffic accidents, most of which are caused by excessive speed, cost Australia $15 billion per year.
The Australian government is thinking of using cameras to catch speeders. Government officials plan
to put cameras at various locations for four weeks and then the cameras will be moved. Plans are to put
the cameras back to their original location every fourth month. What kind of reinforcement schedule
will be used?
72.
Which of the following is a category of reinforcement schedules?
73.
In a(n) ____ reinforcement schedule, a consequence follows every instance of a behavior.
74.
In a(n) ____ reinforcement schedule, consequences follow a behavior only after a fixed time has
elapsed.
75.
In a(n) ____ reinforcement schedule, consequences are delivered following a specific number of
behaviors.
76.
In a(n) ____ reinforcement schedule, consequences follow a behavior after different times, some
shorter and some longer, that vary around a specified average time.
77.
When it comes to reinforcing behavior in organizational settings, a(n) ____ reinforcement schedule
tends to produce weaker results than the other types of reinforcement schedules.
fixed or variable interval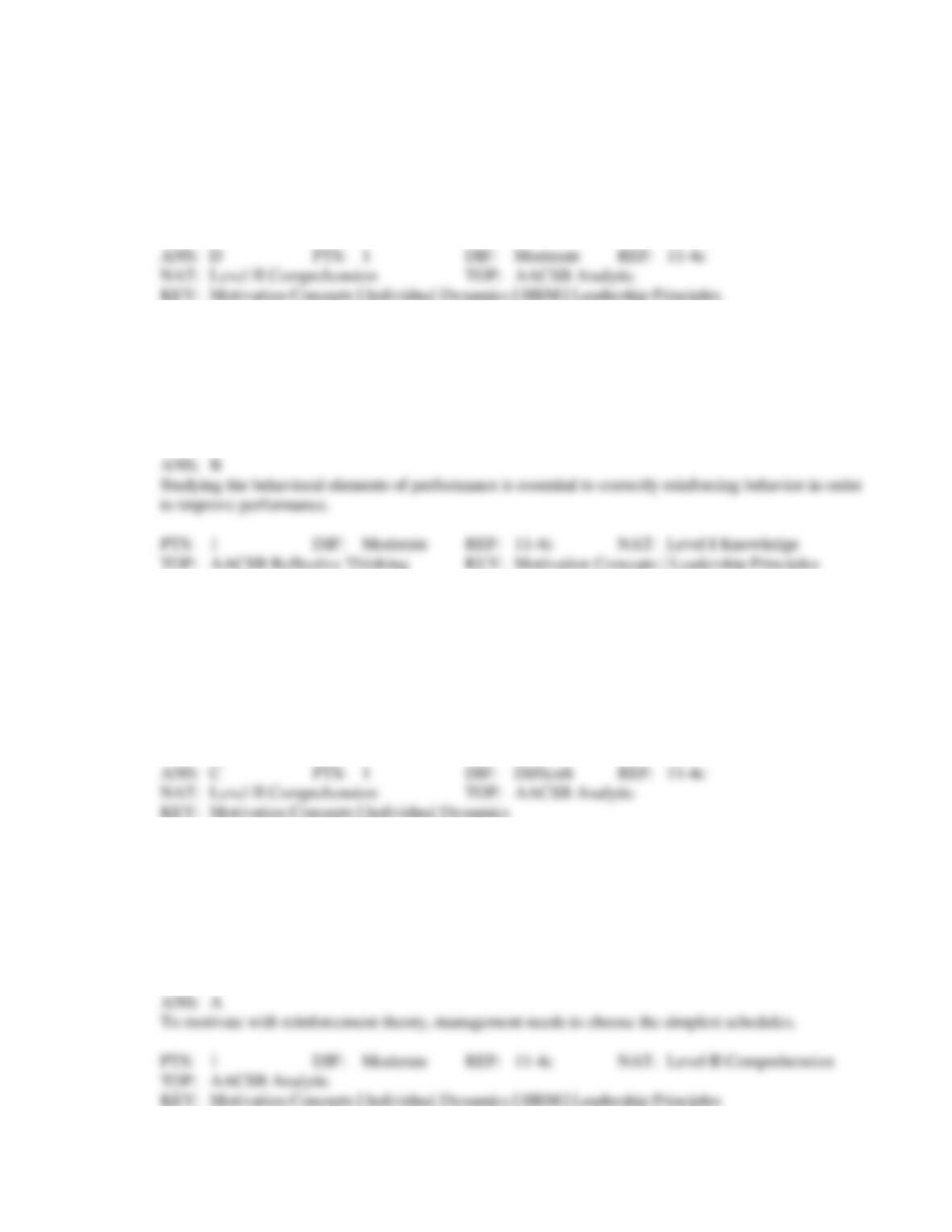 78.
Linda Stein is the manager of an ad agency. Recently her employees have shown an unwillingness to
work as a team. Linda has decided to use reinforcement to encourage more team cohesiveness. What
advice can you give her on how to motivate with reinforcement theory?
Avoid intermittent reinforcement scheduling.
Administer punishment on an intermittent schedule.
Choose a complicated reinforcement schedule so the employees will be surprised when
rewarded.
Don't reinforce the wrong behaviors.
Reinforcement theory will always produce the desired results.
79.
A manager who wants to use reinforcement theory to motivate workers should first ____.
evaluate critical behavior
identify critical performance-related behavior
analyze motivational cues
measure the value of existing extrinsic and intrinsic rewards
intervene using a change agent
80.
For punishment to work (i.e., to weaken the frequency of undesirable behaviors without creating a
backlash), the punishment must be strong enough to stop the undesired behavior and must be
administered ____.
consistently, contingently, and quickly
81.
In terms of simplicity and effectiveness, which of the following reinforcement schedules may be the
best choice for managers?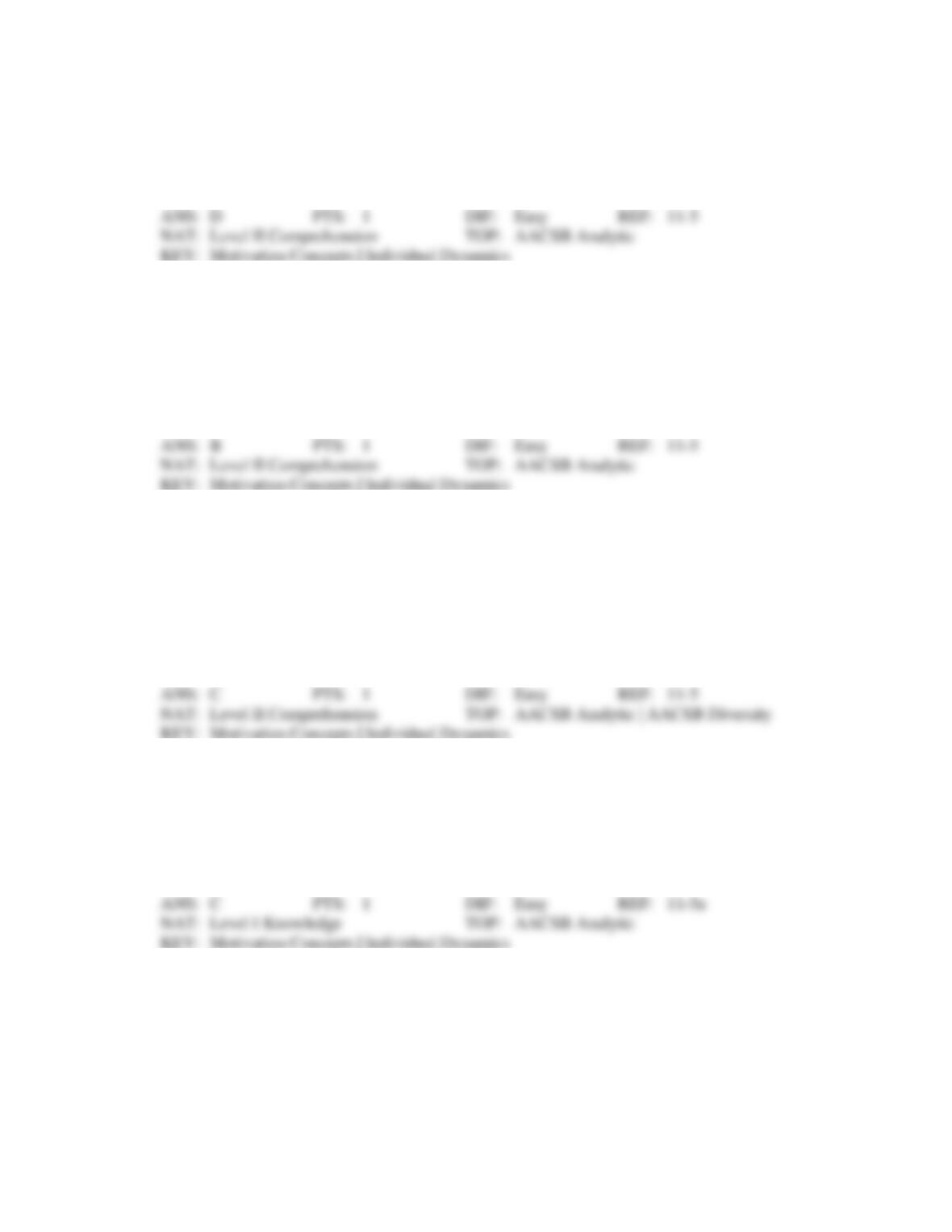 82.
A ____ is a target, objective, or result.
83.
____ says that people will be motivated to the extent to which they accept specific, challenging goals
and receive feedback that indicates their progress toward goal achievement.
The theory of instrumentality
84.
France has 14 million smokers. More importantly, smokers in France are closely associated with the
French culture. So when the French government waged a war against smoking, it set as its ____ to
reduce smoking by 30 percent by the end of the decade.
85.
____ is the extent to which people consciously understand and agree to goals.
86.
According to Don Vlcek, a former Domino's Pizza vice president, "To achieve results, you've got to
properly define the goal
—
and that's not always easy. Vague goals are worthless. But 'increase
productivity by 12 percent within three weeks'
—that is a clear, useful goal." Vlcek is discussing ____.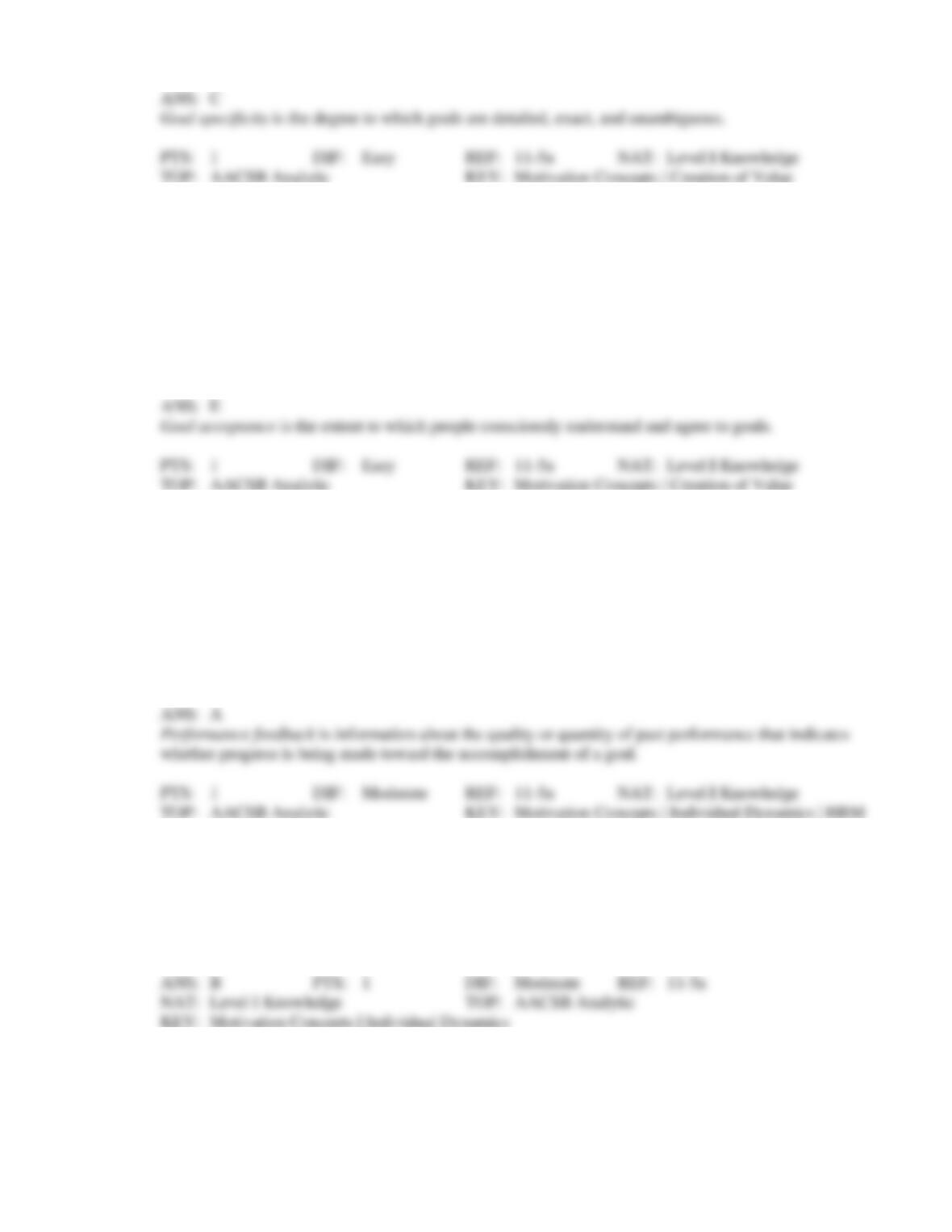 87.
According to management expert Bill Roche, results from goal setting can virtually be guaranteed, but
only if "you have first won the hearts and minds of your workers. When they are on board with the
goal
—
they agree that it is important and can be done

—

you

really will get dramatic improvement."
Roche is describing ____.
88.
The goal of the Apollo 11 moon flight was to put a man on the moon. According to Charles Garfield,
who worked at NASA on the Apollo mission, Apollo 11 was off-course 90 percent of the time
between here and the moon. But the crew of Apollo 11 used ____ that allowed it to make rapid course
corrections.
89.
Which of the following is NOT a basic component of goal-setting theory?
90.
____ is the extent to which goals are detailed, exact, and unambiguous.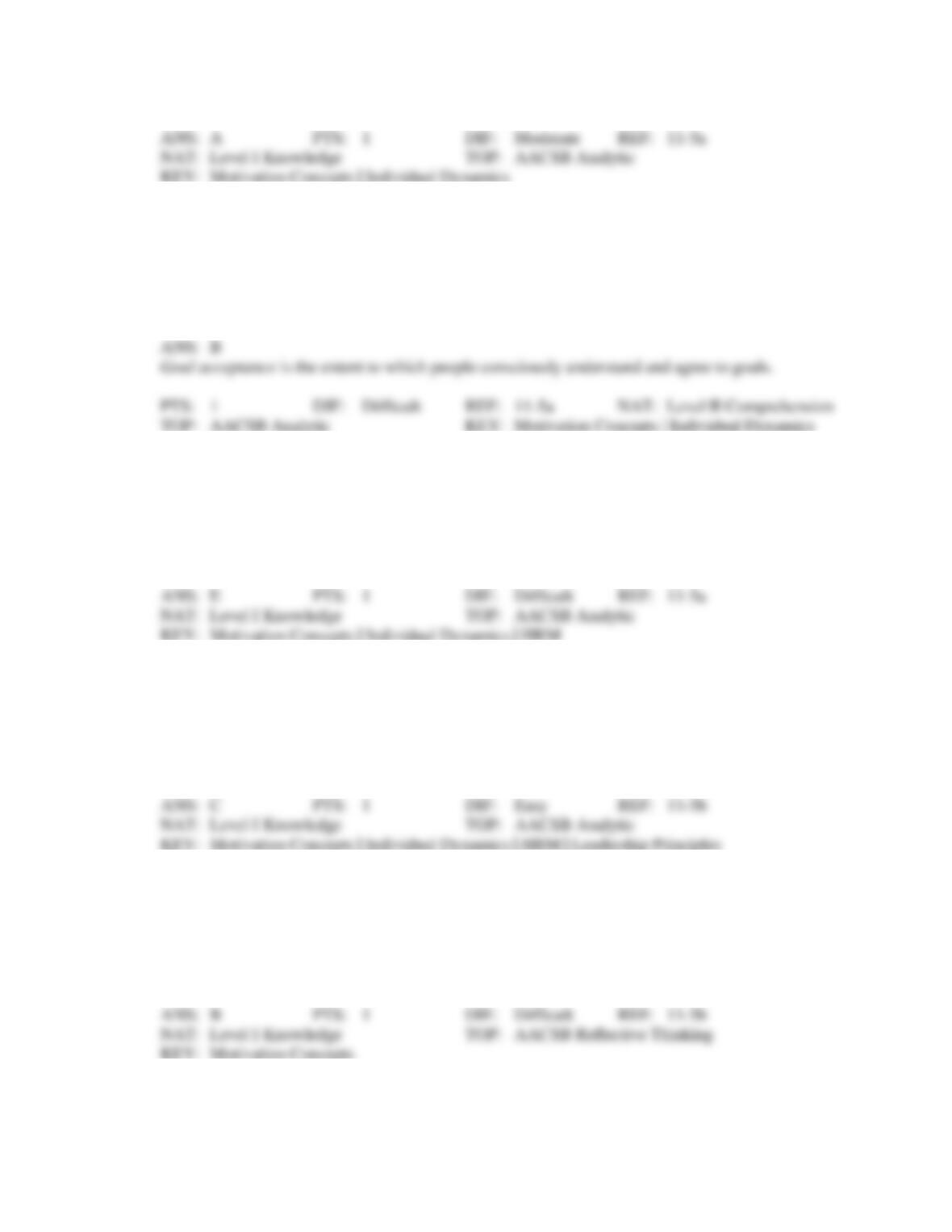 91.
Goal acceptance is most similar to the idea of ____.
92.
For the goal-setting theory to work, goals must ____.
focus employees' attention on critical aspects of their jobs
create a tension between the current state and the desired state
be truly accepted by workers
93.
Managers who use goal-setting theory to motivate employees should ____.
look for and correct obvious performance inequities
make sure workers truly accept organizational goals
avoid the use of empowerment
94.
For workers to truly accept organizational goals, the workers must ____.
respond to an autocratic management style
not require any more training in order to achieve the goal
operate outside the organizational communication channel
95.
Which of the following statements about goal-setting theory is true?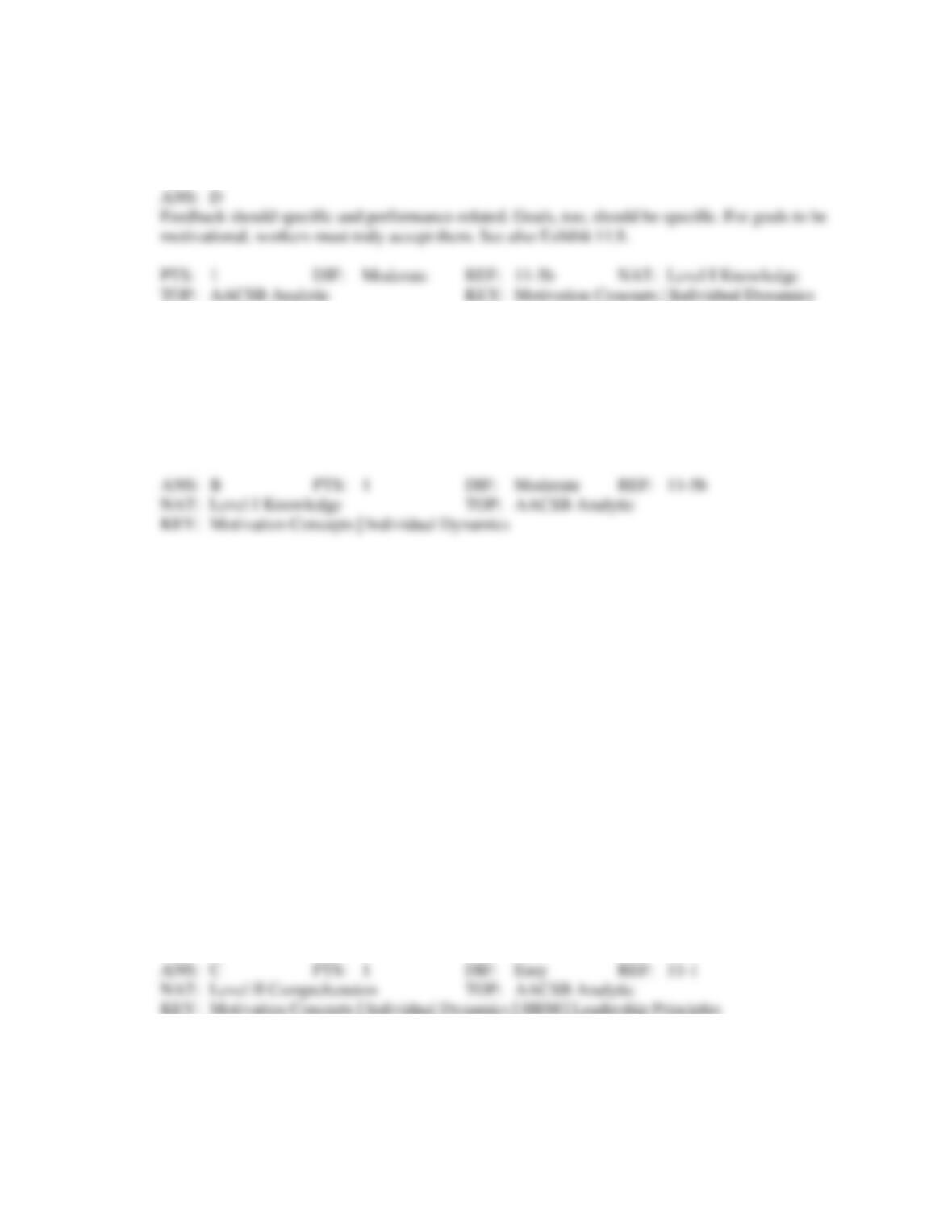 Feedback should not be specific.
Goals should be specific, measurable, attainable, and generalized.
Workers do not have to truly accept organizational goals for goal-setting theory to be
motivational.
Goals can energize behavior.
None of the above statements about goal-setting theory is true.
96.
Feedback can lead to stronger motivation and effort if it _____
supports a country club style of management, which offers more freedom of action.
encourages employees to set higher, more difficult goals after the initial goals are
accomplished.
allows managers to offer criticism without seeming to do so.
creates a direct relationship between goal congruity and higher-level needs
One industry with a reputation for less-than-
stellar customer service is that of the nation's pay
-TV
providers. Much of the terrible customer service is blamed on outsourcing. To cut costs, most pay-TV
providers have farmed out customer service functions to vast call centers that hire low-paid, poorly
trained employees who lack any incentive to care about faceless customers. There is one exception to
that rule
—
DirecTV, which has the best customer service record in the industry even though it, too,
uses outsourcing. The primary difference between DirecTV and other pay-TV providers is motivation.
The customer service reps get free satellite TV at their homes after three months on the job. The call
reps are invited to special events and given the opportunity to mingle with NFL stars and television
celebrities. In addition, the reps were given the power to handle customer's complaints themselves,
rather than simply acting as listeners.
97.
Refer to Pay TV. In terms of the management function of leading, ____ is the source of poor customer
service by most pay-TV providers.
98.
Refer to Pay TV. Providing free satellite television to call reps after three months of employment is an
example of a(n) ____.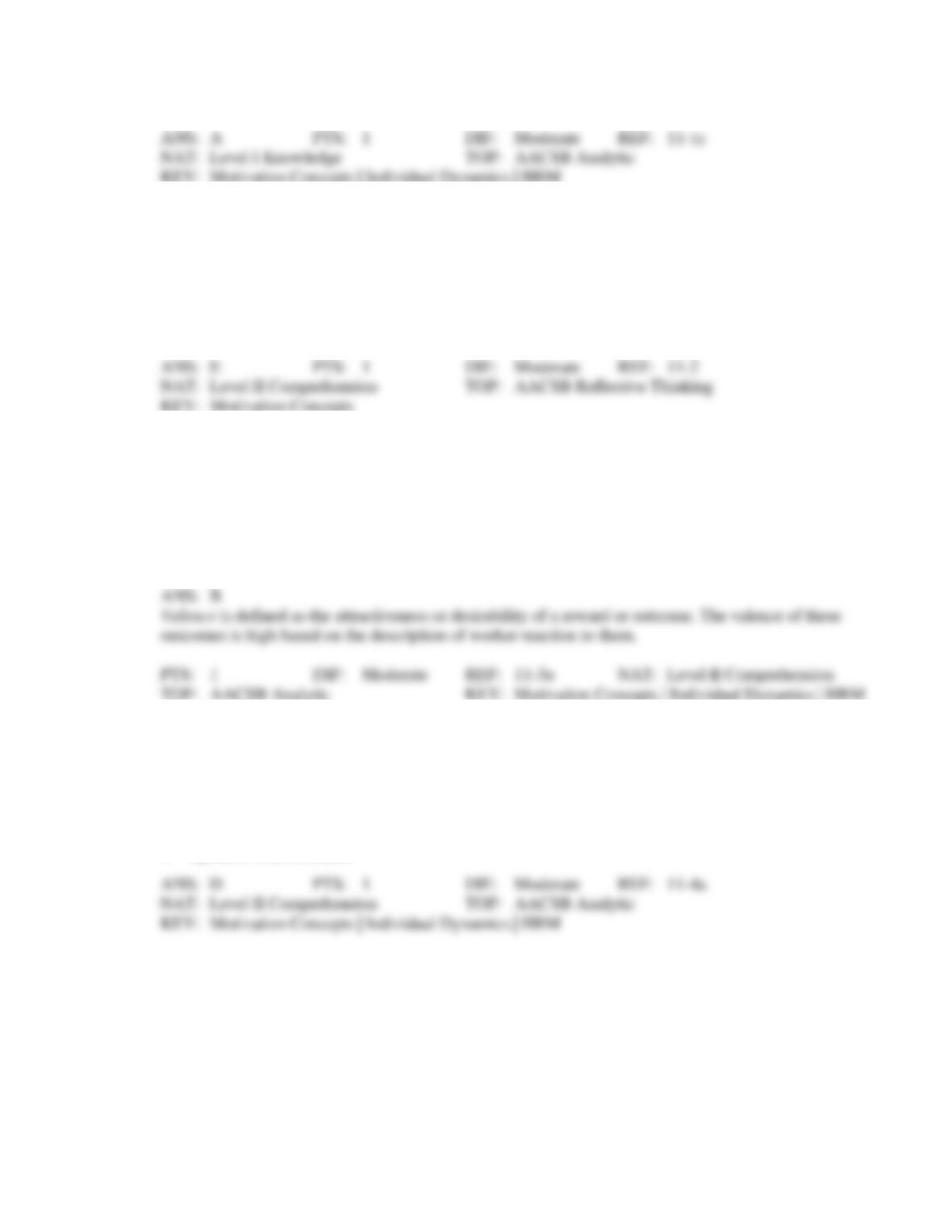 99.
Refer to Pay TV. According to the ____, employees at most call centers would likely believe they are
being treated unfairly compared to DirecTV employees.
100.
Refer to Pay TV. Apparently, rewards such as empowerment and free satellite television have a ____
for people who are the customer service reps for DirecTV.
101.
Refer to Pay TV. According to the reinforcement theory, DirecTV's practice of gi

ving free satellite
television after three months of work would be an example of ____.
reinforcement on a variable ratio schedule
Wegmans Wegmans, a supermarket chained based in the northeast United States, has been in business since
1915. Its founder believes that if the company could survive the Great Depression, it can survive the
intense competition of today's grocery industry, fueled, of course, by Walmart. The grocery business
has margins between 2 and 4 percent. Plus, because of low pay, long hours, and, frankly, a mundane
industry that doesn't attract and keep top
-notch talent, employee turnover averages 100 percent per
year. In fact, turnover costs are so high and profit margins are so low (because of intense competition)
that over the last 13 years, 13,500 individual grocery stores, 17 percent in all, have closed because they
weren't profitable. Wegmans plans to beat those odds by differentiating itself through service.
Providing great service requires a highly educated, motivated work force, and accomplishing that
The first step in Wegmans' plan to recruit a highly motivated work force is to offer workers
excellent medical, dental, and life insurance as well as long-term disability coverage. Everyone who
makes less than $55,000 a year receives complete medical insurance and a 401(k) retirement plan in
which every employee dollar is matched by 50 cents from Wegmans. In addition to benefits for
full-time workers, part-time workers such as cashiers and baggers, most of whom are high-school
students, can earn a scholarship bonus (for good grades) of $6,000 over their four years of high school.
In fact, Wegmans has given 17,500 full- and part-time employees $54 million for college scholarships
over the last 20 years. Wegmans also pays some of the highest salaries in the grocery industry, which,
combined with the company's benefits package, keeps Wegmans' turnover rate at an astronomically
low 6%!
Wegmans also invests in its employees through training. Employees must pass 30- to 55-hour
long training classes before they can work in the meat or fish departments. And some are sent to Italy
to learn about cheeses or to France to work in
patisseries
(pasty shops). Produce employees might be
sent to California to learn from strawberry growers.
At Wegmans, the motto is "Employees first, customers second." But because Wegmans'
employees are so satisfied with their work and because the company invests so heavily in them, they
are glad to deliver what Wegmans calls "telepathic levels of customer service." In pursuit of
"telepathic" customer service, employees are allowed, even encouraged, to do anything they need to
do to satisfy customers
–
and that's without getting approval from their managers. In fact, Wegman
chefs have gone to customers' home
s to fix incorrect food orders. When a customer purchased a
Thanksgiving turkey too large for her oven, a Wegmans' employee cooked it for her in the large ovens
at the store. Bill Gamer, a part-
time employee in a meat department, said, "They let me do what
ever
comes into my head, which is kind of scary sometimes." Jack DePeters, head of company operations
concurs, saying, "We're a $3 billion company run by 16
-year-
old cashiers."
102.
Refer to Wegmans. Part-time workers at Wegmans such as cashiers and baggers, most of whom are
high-school students, can earn a scholarship bonus (for good grades) of $6,000 over their four years of
high school. These bonuses are examples of ____ rewards.
103.
Refer to Wegmans. Because the company invests so heavily in employee training and then empowers
employees to make decisions, Wegmans' managers increase employee ____.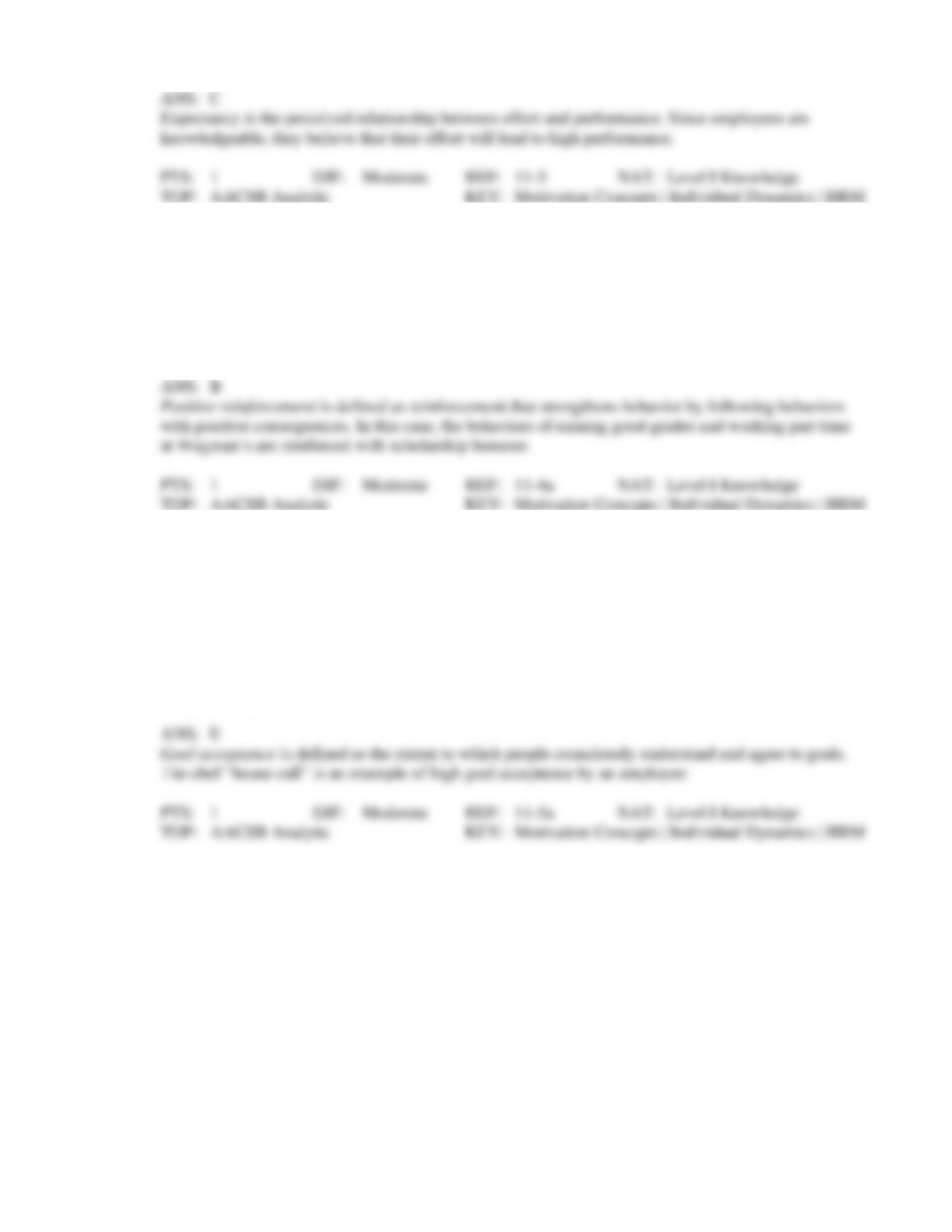 104.
Refer to Wegmans. Wegmans' scholarship bonuses for part

-time workers indicate the company is
using ____.
an expectancy contingency
105.
Refer to Wegmans. The goal at Wegmans is to create "telepathic customer service." Employees are
allowed, even encouraged, to do anything they need to do to satisfy customers In fact, chefs at
Wegmans have gone to customers'
homes to fix incorrect food orders. In terms of goal-setting theory,
these chefs had exceptional ____.
WWYD SAS
SAS (pronounced "sass") is short for Statistical Analysis System, which started out as statistical
software written by academics, intended for academics. During the 1970s, SAS further developed its
software to standardize how statistical programs were written for many different applications. This
allowed the company to market its software to Fortune 500 companies and universities during the IT
revolution. While SAS has been profitable every year since inception, there are threats to its highly
successful business model. First, it will need to grow its workforce to meet skyrocketing demand.
Second, although powerful, SAS's software is expensive and complicated, which makes SAS
susceptible to competition. Existing software services firms, such as SAP, Oracle, and IBM are buying
business intelligence companies to compete directly with SAS. Finally, intense competition for
increasingly scarce technology workers, like software engineers, may make it difficult for SAS to
attract, motivate, and retain a top-notch workforce. In addition to highly competitive benefits (i.e., health insurance, life insurance, and short- and
long-term disability coverage), few companies offer a better set of employee perks than SAS: flexible
wo
rk hours, a 35-hour workweek, country club, subsidized day care centers, free snacks, coffee, and
drinks, a barber, dry cleaner, car detailer, tax advisors, and the like, even subsidized cafeterias that
serve breakfast to 500, lunch to 2,300, and takeout food for employees to take home for dinner.
There's also the SAS health care center with doctors and nurse practitioners.
Few employees leave SAS voluntarily. SAS employees typically get a year-end bonus (linked
to their individual performance) and a profit-
sharing check (which can be as high as 15% of one's
salary, depending on how well the company performs). In this way, it balances a focus on merit pay,
which is based on individual performance, with a focus on treating people in a more egalitarian way,
by paying everyone the same percentage of salary based on company performance. Likewise, SAS
works hard to make sure its employees are paid current market wages.
With a shortage of high tech workers and an average industry turnover rate of 22 percent, are
SAS's incredible employment benefits and perks, combined with its aggressive performance bonuses
and profit sharing, enough to get people to stay? At most companies and most industries, the answer
would be yes.
But the high-tech industry is different. For example, when Facebook offered one of
Google's software engineers a job, Google countered with a 15 percent raise, a $500,000 cash bonus to
stay one year, and four times the stock benefits. But, the engineer still left! If Google is challenged to
keep its
best people, then you'd think SAS would be, too. But, other than their locations, there's one
key difference between these companies. Google is publicly owned, and can offer stock and stock
options to its employees, but SAS is not. SAS is privately owned, with 2/3 of that ownership belonging
to founder and CEO Jim Goodnight. So, unlike Google, SAS is unable to offer stock and stock options
to its managers and employees.
Jeffrey Chambers, SAS's HR manager, says, "To attract people, we have to have a strong
employment brand, we have to be the employer of choice, and we have to be known as a culture that
engenders trust. And to keep people, we need to do all those things, and provide intellectually
challenging work for employees."
106.
Refer to WWYD SAS. By providing its employees free snacks, coffee, and drinks; subsidized meals;
and on-site barber, dry cleaning, and tax services, SAS is drawing most heavily on which motivational
107.
Refer to WWYD SAS. The year-end bonus and profit-sharing check received by SAS employees are
examples of:
reinforcement contingencies