Your Business Case Analysis Fans Are Going Bananas for Baseball
This is a preview content. A premier membership is required to view the full essay.
View Full Essay
Last name: 1
Name: Junjie Xu
Your Business Case Analysis
Fans Are Going Bananas for Baseball
The selected company for the analysis is a rebranded baseball team from Savannah,
Georgia. The Bananas is the example of how the old business models could get a new life and
attract new clients even better than in the years of its popularity. The case of the business venture
can be analyzed from several standpoints. The general feature of the business is that it
successfully removed barriers which hindered their success. The opportunities seen by the
entrepreneur, Jesse Cole, were crucial in defining the future success of the team. The profitability
of the business also underwent a significant boost because of the experienced transformation.
The company even offered unique options which the competitors could not present to stand out
from the crowd of similar business initiatives.
There were various barriers for the Gastonia Grizzlies in North Carolina to struggle in
achieving even the minor success as a baseball team. Jesse Cole correctly understood that the
challenge was demanding, and his work was cut out for him. In fact, the team was considered as
one of the worst in the country because of losing money, having no fans, and demoralized setting
in among the players ("Fans Are Going Bananas for Baseball"). The solution to overcoming the
framing of poor business performance was found by speeding up the game to create non-stop
stream of entertainment focused on the viewers.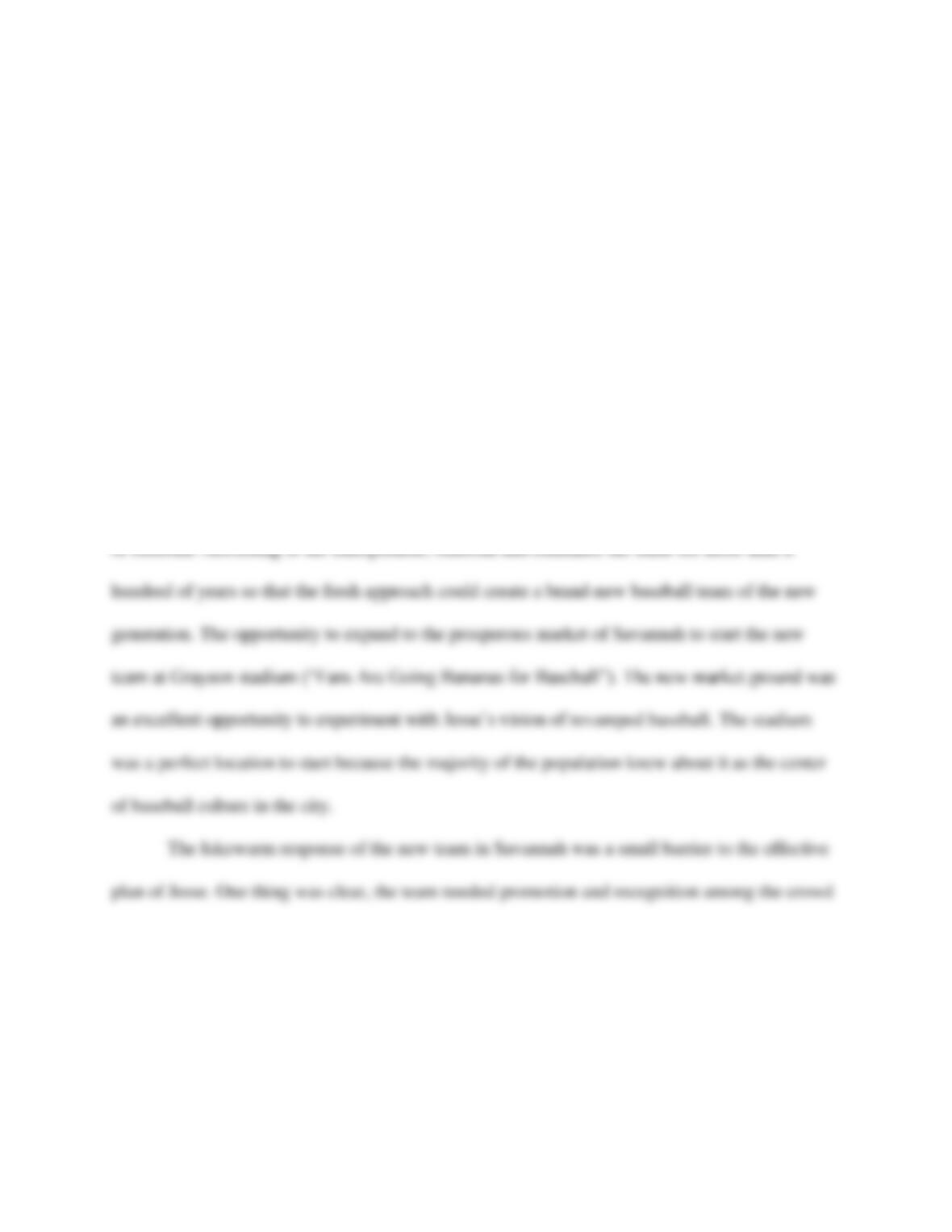 Last name: 2
Jesse Cole realized that baseball as the business had been long overdue of creativity and
innovation to survive in the future as the option for generating the revenue. He decided to adopt
baseball to the modern standards of entertainment looking at TV and various shows in the USA.
As a result, the experiment removed the barriers which postponed the team as a successful and
recognizable business unit. Jesse Cole saw an opportunity to manifest new chapter in the history
of baseball. According to the entrepreneur, baseball had remained the same for more than a
hundred of years so that the fresh approach could create a brand-new baseball team of the new
generation. The opportunity to expand to the prosperous market of Savannah to start the new
team at Grayson stadium ("Fans Are Going Bananas for Baseball"). The new market ground was
an excellent opportunity to experiment with Jesse's vision of revamped baseball. The stadium
was a perfect location to start because the majority of the population knew about it as the center