Trader Joe's Case Analysis
Type
Essay
Pages
3
Word Count
760
School
University of Arizona
Course
MGMT 433
Tiana Collins
MGMT 433
Elizabeth McClean, PhD
31 January 2019
Trader Joe's Case Analysis
The key sources of Trader Joe's competitive advantage come from their physical, financial and
human resources, and their local and corporate capabilities.
Resources
Trader Joe's low-technology usage in store and low-cost outlets found in old suburban locations
keep operating costs low. Their locations are typically less than 15,000 square feet with unique
layouts to create more of a "treasure hunt" like style of shopping for their customers. Their stores
are typically centralized in one physical location to keep distribution costs lowered. Luckily
enough, Trader Joe's is privately owned and never has to change their strategy due to
stakeholders. The company can avoid imitators while continuously securing their strategy and
secret financial success. You never know who you will meet during a transaction at Trader Joe's.
This is due to their human resources including a set of employees who are creative and
well-educated. These creative employees add value to the company's niche target market, as well
as helps with in-house marketing by adding beautiful hand writing to signs around the store.
Capabilities
Additionally, the company creates unique sets of activities that add to their competitive
advantage. They source products from across the globe that are not available at grocery stores
like Fry's, Safeway, and Walmart. It has the ability to majorly eliminate distributor margins by
sourcing large quantities directly from manufacturers. With these large quantities of unique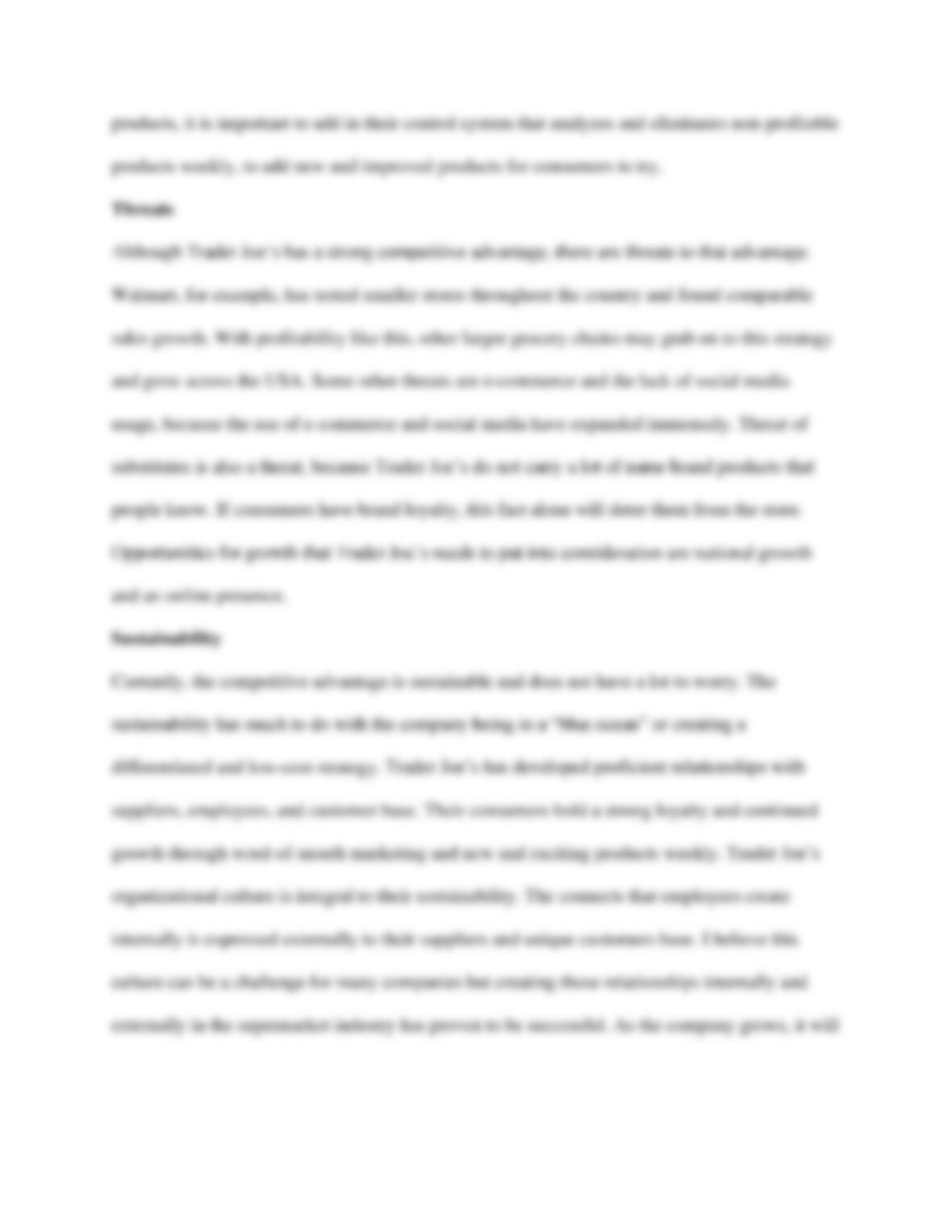 products, it is important to add in their control system that analyzes and eliminates non-profitable
products weekly, to add new and improved products for consumers to try.