The effect of business in the economy
Type
Essay
Pages
16
Word Count
3875
School
school of business and accountancy
Course
5284
Time Management as a factor in developing the Academic Performance of First
Year Accountancy Students of Holy Angel University
_______________
A Research Paper
_______________
Presented to the Faculty of
School of Business and Accountancy
Holy Angel University
_______________
In partial fulfillment for the requirements of the subject
Math in the Modern World
MANABAT, NIÑA SHAIRA
NICODEMUS, DAENA
PONCE, CYLE LOUISE
SAMPANG, ELLA
TEODORO, GWEN CHARLES
UMALI, FRANCIS ISAAC
VALENCIA, KATHLEEN
March 2019
Abstract
This research aims to determine if there is a significant relationship between time
management and the academic performance of the First Year college students taking
an accountancy course in the Holy Angel University. The researchers used stratified
sampling in determining their respondents, the researcher divides the population into
separate groups then a probability sample is drawn from each group. The researchers
developed questionnaires to conduct a survey to their randomly chosen respondents.
In this study, it was found that students who perceived control of their time
reported significantly greater evaluations of their academic performance. This means
that time management greatly affects one's academic performance and daily routines.
In addition, it was found that time management is a factor affecting the compliance of
performance tasks of first year college students.
Moreover, this study shows that weak time management and failure to control
time can lead to rushed works or procrastination and difficulties with self-esteem among
the students. Also, students tend to not finish their tasks like their performance task
because they fail to manage their time properly. However, being able to manage time
properly leads to benefits like being less stressed and they can also experience the
benefit of better academic performance.
CHAPTER 1
Background of the Study
In a modern world, time is seen as an indefinitely divisible and usable commodity.
Students' time is a limited resource. Likewise, time can be more or less effectively
managed. The self-perception of having good time management is considered to have a
direct impact to academic performance of a student. Students who have a good time
management are usually the students who are more involved and have a high desire to
achieve a certain goal. According to (Macan, Shahani, Dipboye & Phillips, 2000), the
secret
of
achieving
goal
in
academic
performance
is
effectively
managing
time.
However, effective and efficient use of time varies with respect to the tasks performed,
the further increase in the level of knowledge and skills expected to the students has
further
increased
the
necessity
of
time
planning.
Today,
we
live
in
a
competitive
environment that encourages people from as early as their elementary education to plan
and
manage
time
effectively.
Other
important
issues
related
to
time
management
includes developing effective study habits, learning effective memorization techniques,
critically
analyzing
problems
and
assignments,
knowing
one's
peak
hour
of
concentration, thinking aloud and most importantly, avoid procrastination.
Time management plays a vital role to enhance student's achievements and
especially, academic performance. According to (Campbell, Svenson, and Jarvis, 1992),
time management refers to the way students manage their time in order to have better
academic performance which is invaluable for a good academic performance. Doing
that students may have a better time management skills begin with prioritizing studies,
placing more emphasis on important tasks, being able to say 'no' to less important issue
like going
out
with friends,
and being able
to stop
and start
immediately specific
activities at a pre-set schedules. Moreover, implementing such skills related to time
management, one must have a "to do" list and need discipline themselves to stay
focused with
the list in order to have better management of one's available time.
According to (Brigitte, Claessens, Eerde, & Rutte, 2005), time management is only
possible through self-motivation; high performance level and ability. These are the few
activities performed by today's students, which act as an obstacle between them and
their academic performance. However, due to lack of time management students have a
gap behind their academic performance. Lack of time management such as improper
allocation of time have been frequently been discussed as one of the prime factor of
poor academic
performance.
It
is quite
a
common
practice
that
students
become
overcome with feelings that there is not sufficient time to perform their all tasks properly.
It is mostly because of time management inefficiency.
On the other hand, there is no one right way to manage our time; however; it is
important to get to know our self, so we can make good decisions about how to use our
time. According to (Denlinger, 2009), the process of providing educational services this
issue has been a subject of interest that emphasized in several platforms and an
attempt has been initiated to analyze time management attitudes and behaviors of
students in educational institutes. In line with this, our study investigates how time
management as a factor in developing the Academic Performance of the students
particularly, the First Year Accountancy Students of the Holy Angel University.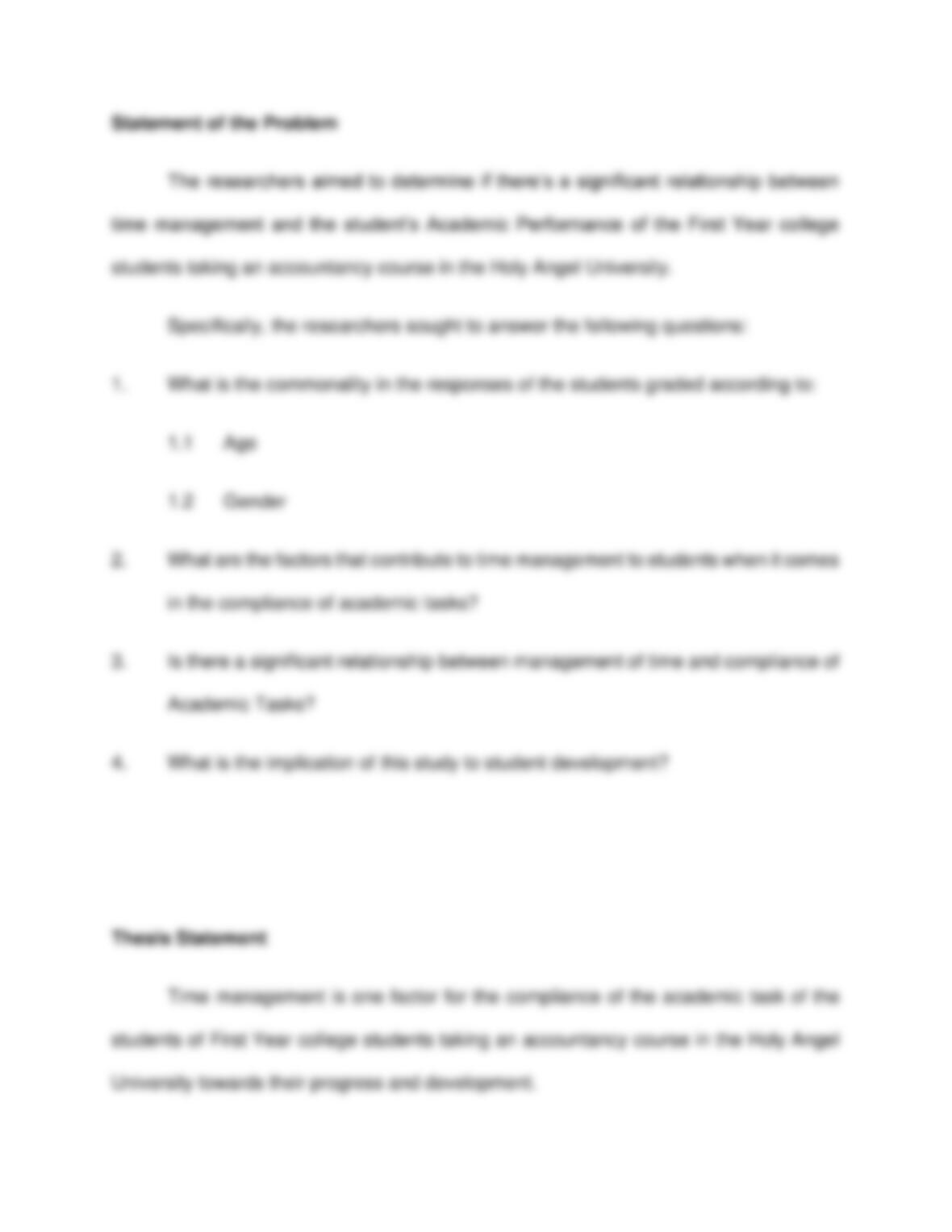 Statement of the Problem
The researchers aimed to determine if there's a significant relationship between
time management and the student's Academic Performance of the First Year college
students taking an accountancy course in the Holy Angel University.
Specifically, the researchers sought to answer the following questions:
1.
What is the commonality in the responses of the students graded according to:
1.2 Gender
2.
What are the factors that contribute to time management to students when it
comes in the compliance of academic tasks?