Spiderman
Type
Essay
Pages
3
Word Count
811
School
Southeast Missouri State University
Course
LI222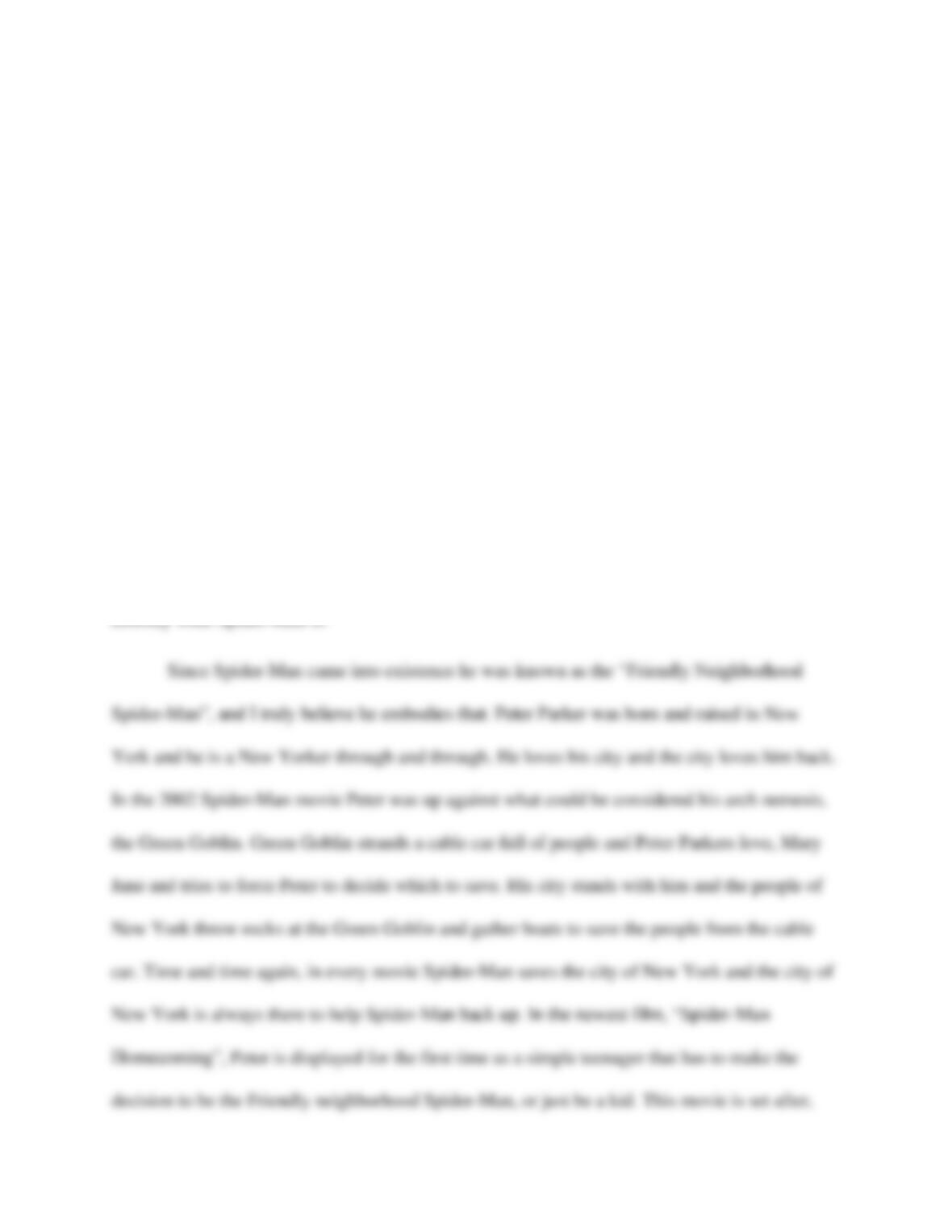 LI 222
Unit 2 Exam
Cole Collins
12/4/18
Prompt 2: Spider-Man
Spider-Man has been my favorite hero since the beginning of childhood. In fact, I dressed
up as Spider-Man for Halloween 3 years in a row. It wasn't until I got older that I realized why
he was such an important character and honestly, I wasn't even until this class that I actually
started understanding why superheroes are such a powerful influence. Since the rise of
superheroes in the 1940's there have been multimillion-dollar movies hitting the screens with
millions of die-hard fans watching them. There have been six Spider-Man movies made, with
another expecting to be out next year. Every Spider-Man movie is slightly different but they all
embody what Spider-Man is.
Since Spider-Man came into existence he was known as the "Friendly Neighborhood
Spider-Man", and I truly believe he embodies that. Peter Parker was born and raised in New York
and he is a New Yorker through and through. He loves his city and the city loves him back. In the
2002 Spider-Man movie Peter was up against what could be considered his arch nemesis, the
Green Goblin. Green Goblin strands a cable car full of people and Peter Parkers love, Mary Jane
and tries to force Peter to decide which to save. His city stands with him and the people of New
York throw rocks at the Green Goblin and gather boats to save the people from the cable car.
Time and time again, in every movie Spider-Man saves the city of New York and the city of New