portfolio project
Type
Essay
Pages
8
Word Count
1577
School
N/A
Course
N/A
Running head: Starbucks
Starbucks Corporation
Talia Brown
BUSS 340- Operations Management
L. Jackson
February 16, 2018
.
Running head: Starbucks
Operations strategy, competitive priorities, and positioning the firm in the
marketplace
Our team chose Starbucks Corporation mainly because of their broad popularity
Starbucks Corporation, is an American company founded in 1971 in Seattle, WA. It is a premier
roaster, marketer and retailer of specialty coffee around world. Their product mix includes
roasted and handcrafted premium priced coffees, tea, a variety of fresh food items and other
beverages. They also sell a variety of coffee and tea products and license their trademarks
through other channels such as licensed stores, grocery and national foodservice accounts.
In the article,
Starbucks brews up advanced technologies,

Wayne Labs, Senior Technical
Editor, discusses developments in the operation of Starbucks since December 2015. The
company has invested in facilities and equipment for its modern processes. In previous years,
Starbucks relied on two or three vendors/co-manufacturers—located in South America, Europe
and Asia. It became evident to the company that this is no way to get consistency and control of
their product. Popular instant coffee had been lacking due its consistency and not measuring up
to freshly brewed coffees. Also presented is the firm's modern facility in Augusta, Georgia, is its
annual production capacity, as well as the innovative features of the plant including the
conversion of spent grounds to energy, multiple cooling media, and the firm's compliance to the
British Retail Consortium's (BRC) food safety standard. Starbucks reasoned it might have been
15 to 20 percent cheaper to operate a plant in Central America or Asia due to lower labor costs.
However, much of that gain would have been lost in transportation costs, slower order
fulfillment and the lack of complete quality control. (Labs, 2015, p.36).
In the article,
Starbucks Has Recruited the Former CEO of Sam's Club to Run Its
Operations,
author Phil Whaba (Fortune), explains that Rosalind Brewer will join Starbucks as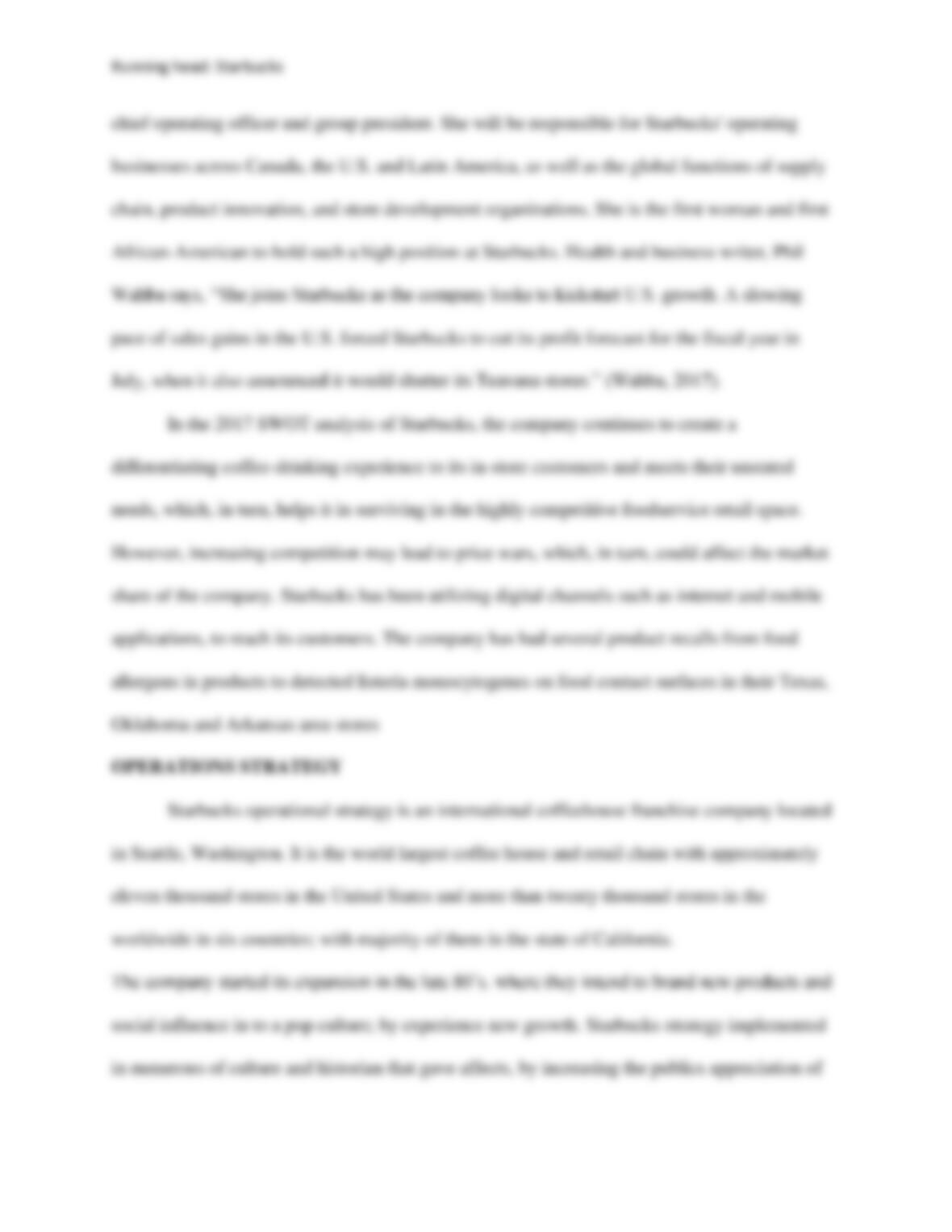 Running head: Starbucks
chief operating officer and group president. She will be responsible for Starbucks' operating
businesses across Canada, the U.S. and Latin America, as well as the global functions of supply
chain, product innovation, and store development organizations. She is the first woman and first
African-American to hold such a high position at Starbucks. Health and business writer, Phil
Wahba says, "She joins Starbucks as the company looks to kickstart U.S. growth. A slowing pace
of sales gains in the U.S. forced Starbucks to cut its profit forecast for the fiscal year in July,