Persuasive Essay-Electric Cars
Type
Essay
Pages
4
Word Count
820
School
City University of Seattle
Course
ENG102
Running head: ARE ELECTRIC CARS THE ENEMY OF
GERMANY?
1
Are Electric Cars the Enemy of Germany?
Hernández Barrios Ingrid Ameyalli
City University of Seattle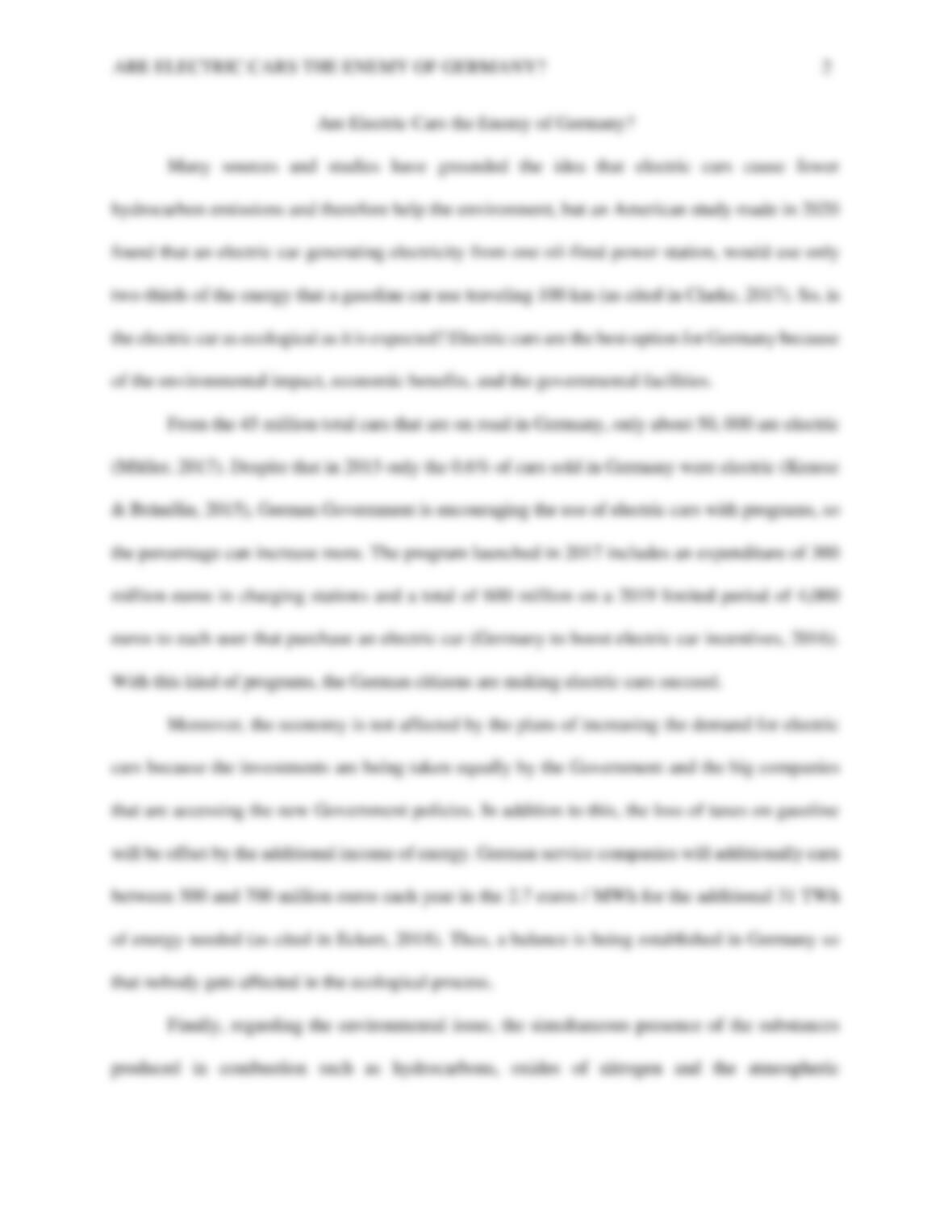 ARE ELECTRIC CARS THE ENEMY OF GERMANY?
2
Are Electric Cars the Enemy of Germany?
Many sources and studies have grounded the idea that electric cars cause fewer
hydrocarbon emissions and therefore help the environment, but an American study made in 2020
found that an electric car generating electricity from one oil-fired power station, would use only
two-thirds of the energy that a gasoline car use traveling 100 km (as cited in Clarke, 2017). So, is
the electric car as ecological as it is expected? Electric cars are the best option for Germany
because of the environmental impact, economic benefits, and the governmental facilities.
From the 45 million total cars that are on road in Germany, only about 50, 000 are
electric (Müller, 2017). Despite that in 2015 only the 0.6% of cars sold in Germany were electric
(Krause & Brändlin, 2015), German Government is encouraging the use of electric cars with
programs, so the percentage can increase more. The program launched in 2017 includes an
expenditure of 300 million euros in charging stations and a total of 600 million on a 2019 limited
period of 4,000 euros to each user that purchase an electric car (Germany to boost electric car
incentives, 2016). With this kind of programs, the German citizens are making electric cars
succeed.
Moreover, the economy is not affected by the plans of increasing the demand for electric
cars because the investments are being taken equally by the Government and the big companies