Organizational Behaviour
Type
Essay
Pages
7
Word Count
1304
School
University of the Cumberlands
Course
Organizational Behaviour
1
A Case Study on Ben Ladner's Years of Living Lavishly
Spandana Pounzula Venkataratnam
University of the Cumberlands
2
Abstract
Power and politics go hand in hand, as illustrated in the case of Ben Ladner's reign at the
American University. Ben Ladner came with no knowledge or prior experience of management,
his doctorate in Philosophy and religion made him a contender to the stability seeking board of
AU. Ladner has been accused of abusing his power as the president of American University; he
expensed the board for his personal costs and deviated from the university's goal and vision. His
negotiation skills were remarkable as during his reign he was able to bring international interests
and funds to the University, there was also an increase in student intake and campus development
for the most part. But with time and power there came change in his leadership style and which
in turn was all about the money that dragged him down to the dust.
3
Key Issues that led to his Downfall
Leaders often deviate from their initial visions as they begin to grow. Leaders are responsible for
motivating making important achievements and setting examples for others to follow. If a leader
begins to disconnect them from their subjects would be the first step to their down fall. Ben
Ladner had a doctorate in philosophy and no one better would know the basics of existence than
a philosophy student Ben's first step that led to his downfall was moving away from the
university and secluding him from the student life compared to previous presidents. Ben had a
vision to bring in the public sector to look into private interests. He wanted to move away from
tradition and bring in a change.
Ladner was a big dreamer, he always demanded for extras, and that did not only limit to him but
extended to the family as well. Ladner's wife used her husband's position to get her way around
the campus; she socialized with the affluent women and made a presence count around her. She
demanded a title of "First Lady" which was portraying a boisterous image to the faculty and
students. Ben and his wife took advantage of the situation that the university required a constant
leader and accomplishments. The board members that hired Ben were a set of men who did not
deeply asses his attitudes and behavior. Ben took the advantage of the diversity of the board
members to meet his needs. The actual problem started when William Jacobs joined the board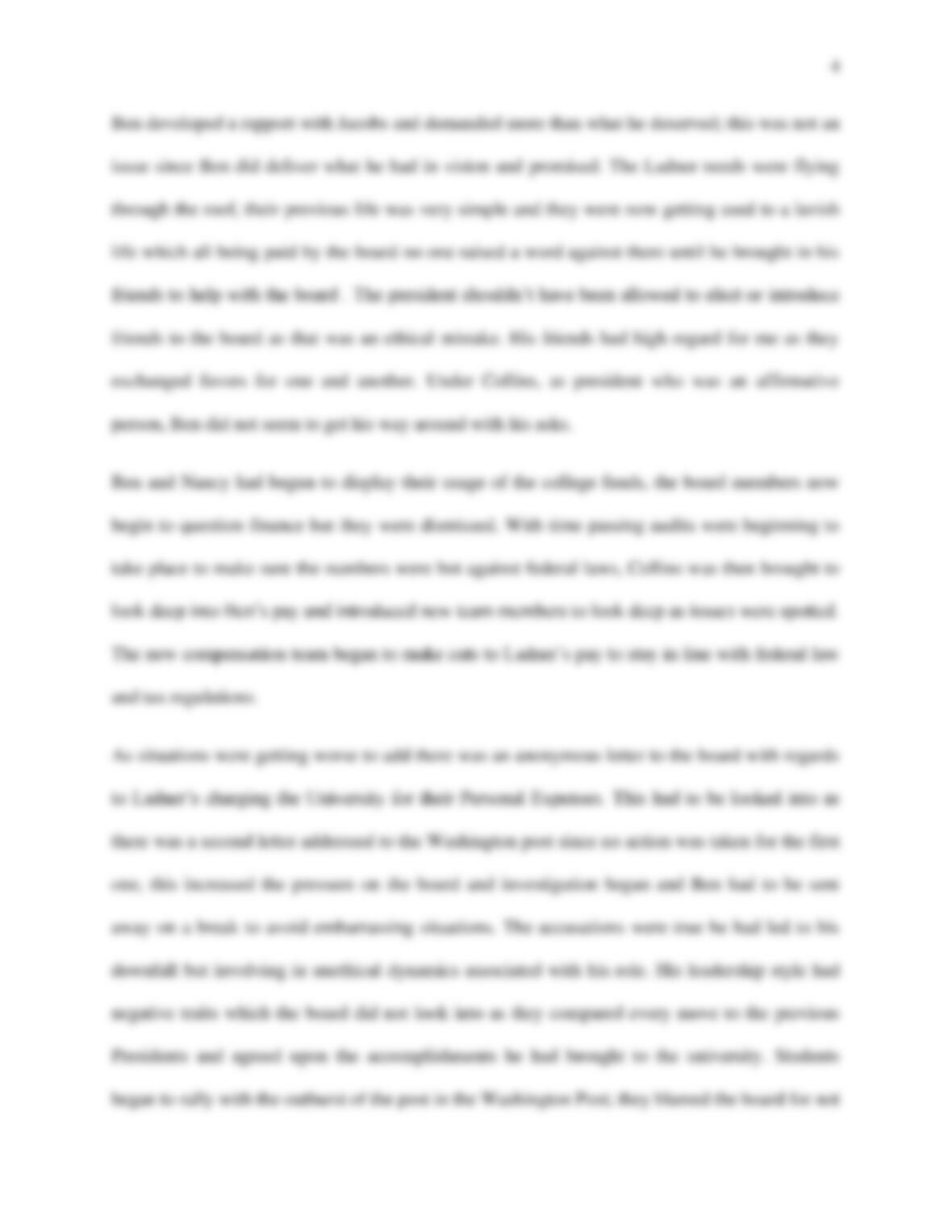 4
and secluded the board members from decisions and contracts, ignorance of the board members