musium exhibition
Type
Essay
Pages
9
Word Count
2246
School
conestoga
Course
Canadian history
THE OCTOBER CRISIS (1970)
The October crisis (1970)
Yafiet Oqbalidet
7491061
LIBS1160-Sec8
Carly Simpson
April 5, 2019
1
THE OCTOBER CRISIS (1970)
The history of Canada covers the time from ancient times to today's Paleo-Indian
era. Prior to the colonial rule of Europe, these areas including Canada lived for
thousands of years in indigenous peoples and had a unique trade network, spiritual
belief and social organization style. Some of these ancient civilizations have
disappeared for a long time when the first Europeans arrived and were found in
archaeological research. From the end of the 15th century, France and Britain's
expedition explored, colonized and fought in various parts of North America to form
modern Canada. The new French colonies were founded in 1534 and transferred to
Britain in 1763 after the seven-year war, which defeated France for seven years. The
current state of Quebec is divided into upper and lower Canada in 1791 and reunited in
1841.
French Quebec or Quebec that is located in the eastern province of Canadians.
Occupies about one-six Canada's land. It is the largest of Canada's 10 provinces and is
second to Ontario in terms of population. The name Quebec was originally given in
1608 and comes from the Algonquin language, which means the edge of a river,
attracting tourists to beautiful views of spectacular scenery on St. Lawrence. Montreal,
Montreal, and the northern part of Saint Lawrence are the second largest cities in
Canada.
2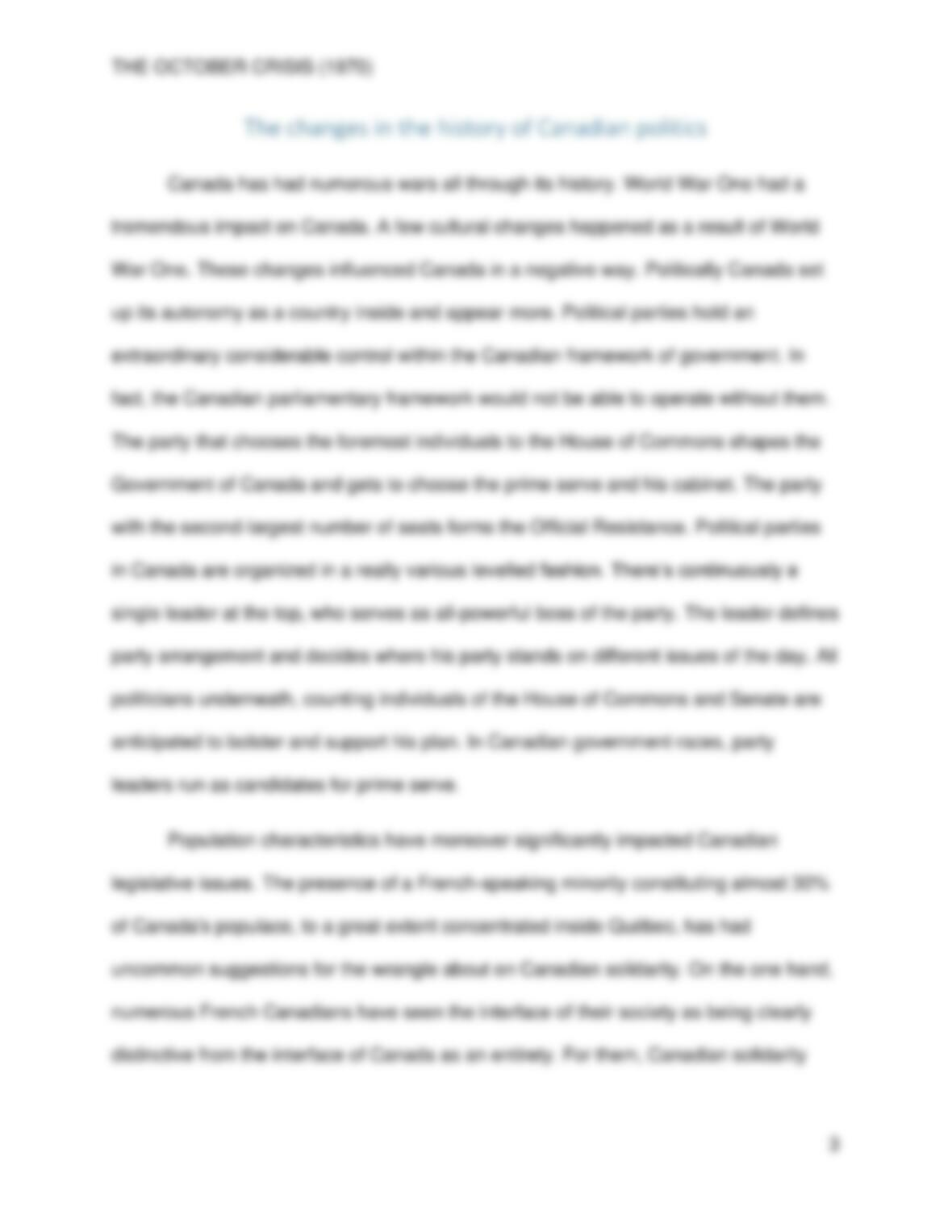 THE OCTOBER CRISIS (1970)
The changes in the history of Canadian politics
Canada has had numerous wars all through its history. World War One had a
tremendous impact on Canada. A few cultural changes happened as a result of World
War One. These changes influenced Canada in a negative way. Politically Canada set
up its autonomy as a country inside and appear more. Political parties hold an
extraordinary considerable control within the Canadian framework of government. In
fact, the Canadian parliamentary framework would not be able to operate without them.
The party that chooses the foremost individuals to the House of Commons shapes the
Government of Canada and gets to choose the prime serve and his cabinet. The party
with the second-largest number of seats forms the Official Resistance. Political parties
in Canada are organized in a really various levelled fashion. There's continuously a
single leader at the top, who serves as all-powerful boss of the party. The leader defines
party arrangement and decides where his party stands on different issues of the day. All
politicians underneath, counting individuals of the House of Commons and Senate are