Module 9 Assignment: Public Relations and IMC Plan Evaluation
Type
Essay
Pages
5
Word Count
828
School
Walden University
Course
MRKT-4506D-1
Module 9 Assignment: Public Relations and IMC
Plan Evaluation
Name:
Date:
November 11th, 2018
Course Number and Title:
Multicultural Marketing
Walden University:
•Analyze how you plan to include public relations in your Integrated
Marketing Communications plan to meet your objective for your brand and
product.
The way in which I would include a public relations plan would be by relying
primarily on social networks and the creation of a website.
After having established that my target market is a young market with high average
socioeconomic characteristics, I can infer that a plausible plan would be the use of
social networks.
To affably use social networks, a strategic plan must be drawn up to dictate the
channel where the information will be transmitted as there are several social
networks.
The information must also be managed so the message is as efficient and effective
as possible so that the message could be attractive to our buyers and potential
customers so they may be interested in our offer.
Likewise,
a
competent
person
would
be
hired
to
administer
social
networks
productively and efficiently.
Besides, it is necessary to transmit our information in a more specific way, so it is
essential to use Brochures and catalogues.
Brochures and catalogues give specific information about our product and transmit
detailed information about our offer.
With the usage of Brochures and catalogues, our buyers and potential clients can
have greater knowledge of our products and can reduce the uncertainty at the
moment of acquiring them.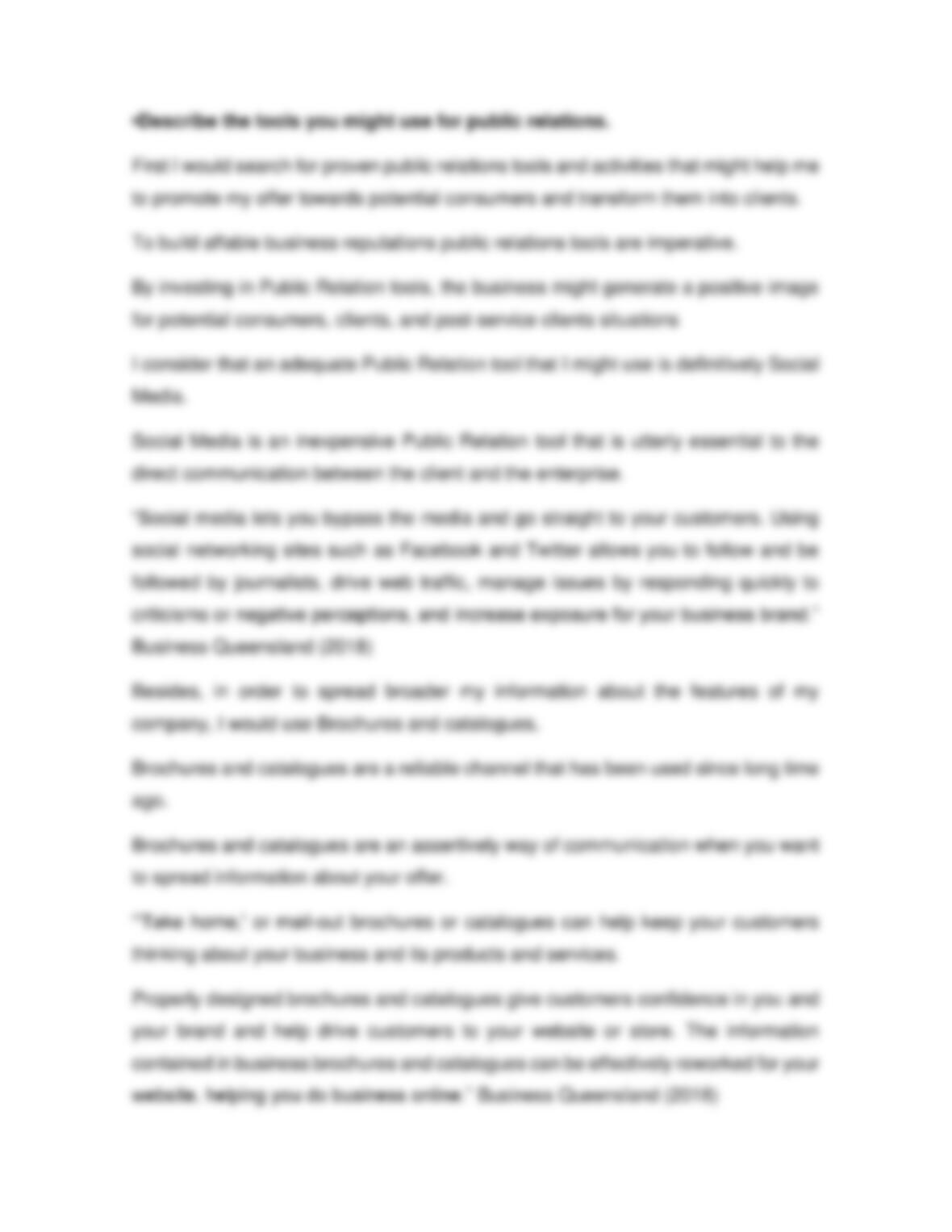 •Describe the tools you might use for public relations.
First I would search for proven public relations tools and activities that might help