Library
Type
Essay
Pages
9
Word Count
1715
School
conestoga
Course
English
Library computers vs Library books
Library computers vs Library books
Yafiet Oqbalidet
7491061
COMM1380-Sec21
Dawn Grimmer
April 10, 2019
1

Library computers vs Library books
174 Fergus AVE.
Kitchener, ON
H0H 0H0
April 10, 2019
Amena Nasri
Director, Library Services
Conestoga College
299 Doon Valley Drive
Kitchener, ON
N2G 4M4
Dear Ms. Nasri
I have attached a report whether the Professional Writing Skills for Business students at
Conestoga College prefer Computer or books for their courses semester.
The report will layout the using of computer and books within the libraries. Students
appear to be battling with the provided materials by the library. Student's sometimes
complain about the shortage of computers in the library. Almost all of the assignment
given are have to be done by computer.
Based on the secondary research on the topic and surveyed students result I have
provide a report depending on the students frequent use of computers than books
Please don't hesitate to contact me if you have any question.
Sincerely,
Yafiet Oqbalidet
2
Library computers vs Library books
Executive Summary
Introduction
The Conestoga college Doon libraries consists of 84 computers and 4 printers the Doon
campus have over 16000 student's enrolled fulltime and over 30000 enrolled
pastime[Con19]. With this kind of number there is high demand of library material like
computers…
Finding
The research showed that computers in Libraries is an critical asset for library experts
endeavoring to remain a step ahead in their field and for students who will have to be up
to speed on the mechanical perspectives of library work. Computers in Libraries
analyzes the impact of coordinates library administration frameworks, computerized
assets, and the Internet on the functions and operations of students.
Survey found that Professional Writing Skills for Business students do not use books in
the library instead there is highly using of computers. Only less than 4% of the surveyed
student never use computers.
Conclusion
A. More collaborative structures are getting to be the standard in various
organizations.
B. Students prefer computers than books.
3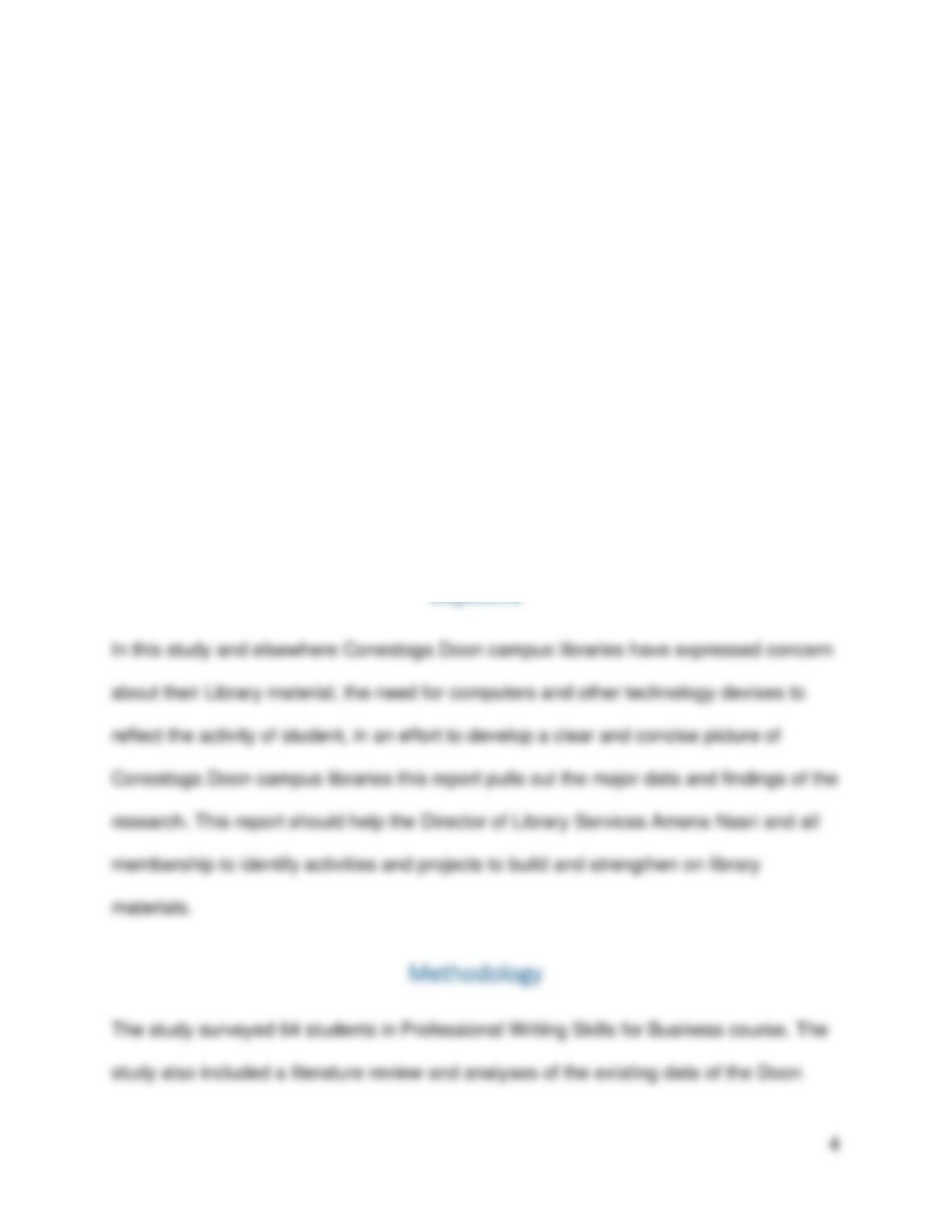 Library computers vs Library books
Introduction
Most libraries nowadays exist as hybrid models, offering both the administrations of the
conventional library and ones upgraded by computerized innovation. The exercises of
searching, storing, and filing more as of late, online searching, utilizing digitized and
filtered collections, and computerized filing, all exploit the digital era's[Lus16]. The
academic library's integration of digital innovation is coordinated primarily at a focused
mission of research. Each day increasingly individuals are coming to libraries for all
intents and purposes. Those who choose to come to the library, regularly come to use
the libraries' technology or to learn how to utilize their own or library devices.