Journal Article Review Social Factors and Student Behavior
Type
Essay
Pages
5
Word Count
697
School
Liberty University
Course
EDUC 624
Running Head: JOURNAL ARTICLE REVIEW: SOCIAL FACTORS 1
Journal Article Review:
Social Factors and Student Behavior
Amanda L. Henriksen
Liberty University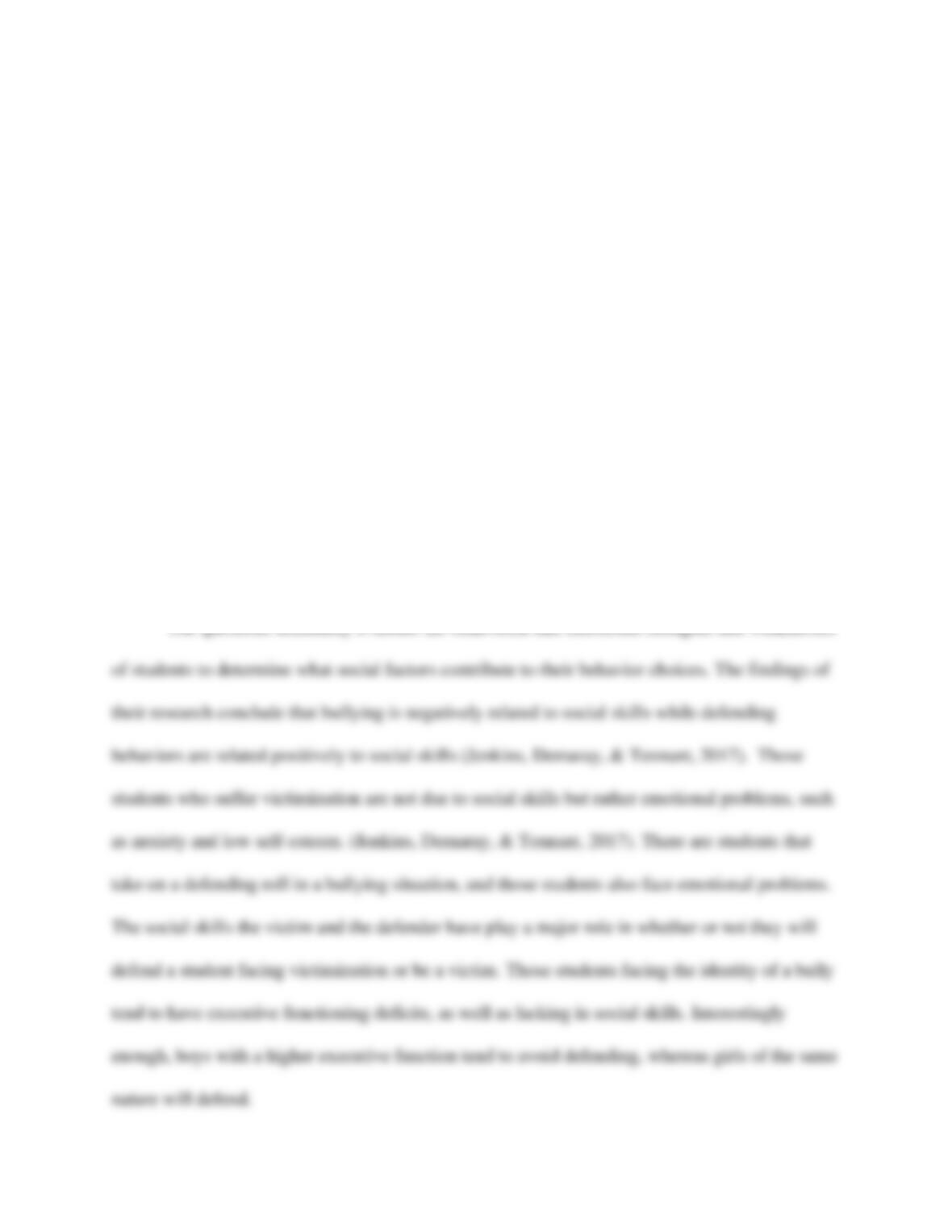 JOURNAL ARTICLE REVIEW: SOCIAL FACTORS
2
Summary
Students go to school to learn and become productive members of society. A portion of
that learning includes things that happen outside of the classroom. Students learn how to
appropriate interact with their peers and develop the social skills they will need throughout their
life. However, not all social factors that are learned are appropriate. Regardless of the social
factors that are demonstrated, it will reflect in student behavior, positively or negatively. Often,
negative student behaviors lead to bullying. Jenkins, Demaray, and Tennant (2017) ask a variety
of questions using a Likert scale to a population of students and teachers in order to determine
what social factors, emotional difficulties, and executive functioning skills positively and
negatively contribute to the various roles of bullying, including being the bully, being the victim,
and being the defender.
The questions ultimately evaluate the behavioral and emotional strengths and weaknesses
of students to determine what social factors contribute to their behavior choices. The findings of
their research conclude that bullying is negatively related to social skills while defending
behaviors are related positively to social skills (Jenkins, Demaray, & Tennant, 2017). Those
students who suffer victimization are not due to social skills but rather emotional problems, such
as anxiety and low self-esteem. (Jenkins, Demaray, & Tennant, 2017). There are students that
take on a defending roll in a bullying situation, and those students also face emotional problems.