Informative Essay-Electric Cars
Type
Essay
Pages
6
Word Count
1082
School
City University of Seattle
Course
ENG102
Running head: GERMAN´S PLANS TO INCRESE THE USE OF
ELECTRIC CARS
1
German´s Plans to Increase the Use of Electric Cars
Hernández Barrios Ingrid Ameyalli
City University of Seattle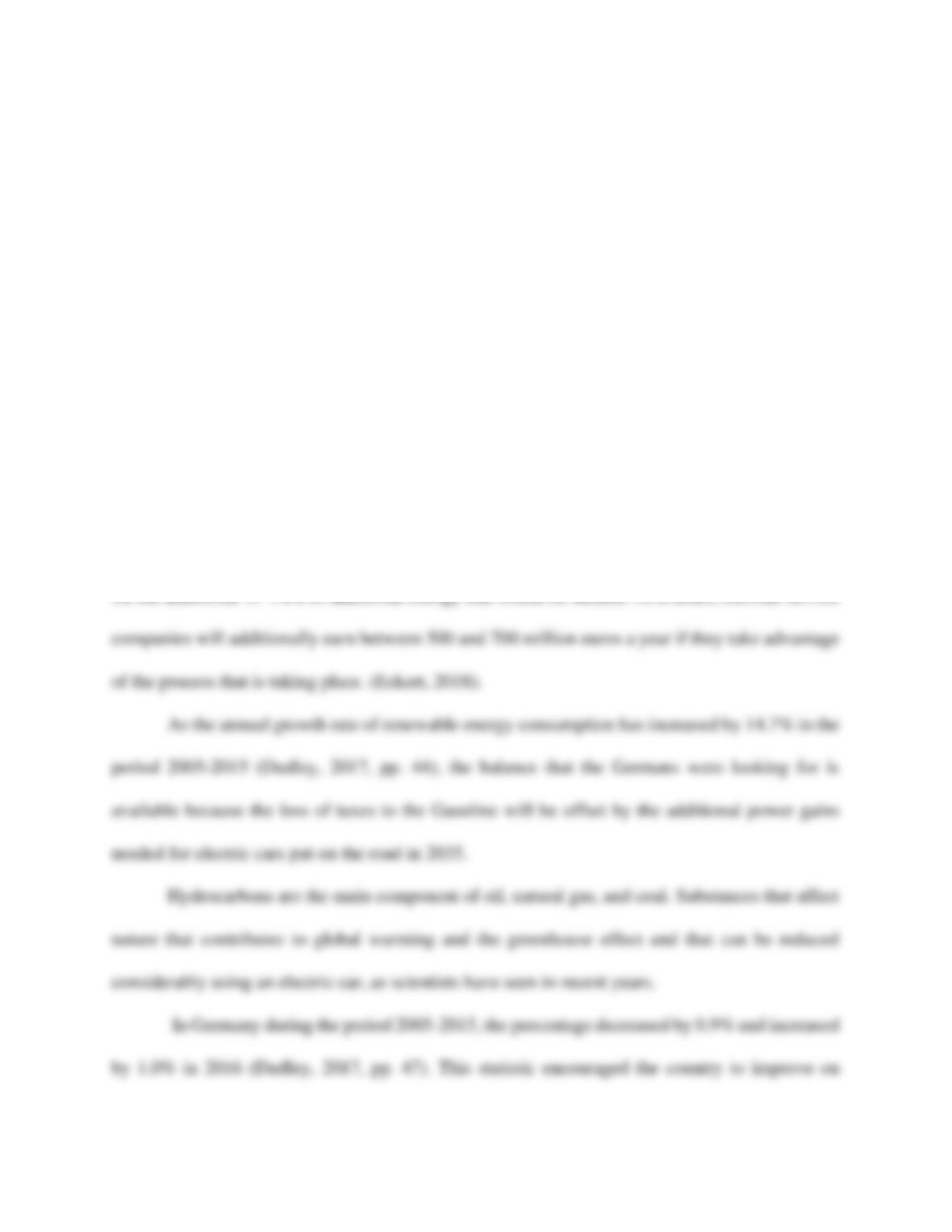 GERMAN´S PLANS TO INCRESE THE USE OF ELECTRIC CARS
2
German´s Plans to Increase the Use of Electric Cars
An electric car is a car powered by an electric motor that gets energy from an energy
controller and uses the energy stored in its rechargeable batteries. Germany plans to increase the
use of electric cars due to the numerous benefits it brings, such as health benefits, economic and
environmental impact.
The automotive industry faces enormous challenges in Germany because it accounted for
11% of its exports and 4.9% of imports in 2016 (The Observatory of Economic Complexity,
2016), so the changes they want to make must be taken carefully. Germany needed to find a way
to compensate for the loss of gas taxes or a way to tax the renewable energy that is consumed.
An independent study by Aurora Energy Research estimated that 40% of electric cars on
the road in 2035 could generate additional revenue for utilities of approximately 2.7 euros /
MWh for the additional 31 TWh of additional energy that would be needed. As a result, German
service companies will additionally earn between 500 and 700 million euros a year if they take
advantage of the process that is taking place. (Eckert, 2018).
As the annual growth rate of renewable energy consumption has increased by 14.7% in
the period 2005-2015 (Dudley, 2017, pp. 44), the balance that the Germans were looking for is
available because the loss of taxes to the Gasoline will be offset by the additional power gains