In The World Of Baseball
Type
Essay
Pages
11
Word Count
4118
School
N/A
Course
N/A

In the world of baseball, there stands out one particular player that broke records and was
enamored as one of the greatest switch hitters in baseball. Enabling the possibility for every
young man that wanted to do something great for their country? This person wore #7 for the New
York Yankees, the great Mickey Mantle.
Mickey Charles Mantle was born on October 20, 1931, in Spavinaw, Oklahoma to the
parents of Elvin Charles "Mutt" Mantle and Lovell Mantle. Mickey got his name from his fathers
hero ball player Mickey Cochrane, the hard-nosed catcher of the Philadelphia Athletics. Mutt had
Mickey marked out as a ball player from the day of his birth. Having Mickey's first baseball cap
while still in a crib. Before Mickey was in 1
st
grade, Mutt had made a switch-hitter out of him.
Mickey would bat left-handed against his dad and right-handed against his grandfather, Charlie
Mantle. Mickey would play ball with his friends and pretend they were in the big leagues. His
friend LeRoy would be the Red Sox, his friend Nick would be the Yankees, and Mickey would
be the Cardinals'.
The Cardinals' had a slugger named Stan Musial; this was Mickey's, idol ever since his
dad had taken him to see a minor league game in Joplin, Oklahoma and Stan would belt line
drives all over the ballpark. Mickey would turn around and bat left-handed just like Stan against
his friends. One year when the Mantles had lost their crops due to a flood, Mutt moved the
Mantle clan to a poor community on the edge of Commerce, Oklahoma named White Bird. In
White Bird, there were seven Mantle family members living in a beaten down old house with no
kitchen or indoor plumbing. This is where Mickey would boast to his dad that he could run faster
than him, and then beat him. Though Mickey was only five-foot-seven and 150 pounds at the age
of sixteen, Mickey's speed and competitiveness made him a first-rate athlete at Commerce High
School, especially in football. Playing football in high school, and getting hit in his knee, Mickey

found out that he had a disease called osteomyelitis (bone infection) that a year earlier was
uncurable. Due to this disease, doctors had told Mickey to take it easy; this is when Mickey just
played baseball. Then more and more baseball. He was playing for the Whiz Kids, an amateur
team in nearby Baxter Springs, Kansas.
Playing for the Whiz Kids, was Mickey's big break at the age of 16, in 1947, being seen
by Yankees scout Tim Greenwade and then signed by the New York Yankees. Mickey spent two
years in the minors at Independence, Kansas, primarily at shortstop. In the fall of 1949, an
unexpected threat stalled Mickey's baseball career. Mickey received a notice in the mail for him
to report to the local draft board for a physical, to see if he was able to join the U.S. Army.
Mickey didn't make the cut, due to his osteomyelitis and was given a 4-F classification because
of his disease. Mantle then got the go-ahead to return to spring training at Baxter Springs, Kansas
in 1950. In spring training, Mickey could run the fastest sprint at spring camp, and on the fourth
day, Mantle slammed home runs from both sides of the plate during an intrasquad game. Mickey
was then bumped up to the Yankees Class AAA Kansas City team for the rest of spring training
and hit .313. In Mantle's first professional game home run on June 30. 1949, at Shulthis
Stadium, the ball went over the center field fence, which was 460 feet away.
Mantle was invited to the Yankees instructional camp before the 1951 season. After an
impressive spring training Yankees manager, Casey Stengel promoted Mantle to the majors as a
right fielder. Mantle getting called up to the Yankees after 40 games with Kansas City; he hit .
267 with 13 home runs and 65 RBI's in 96 games. Mantle taking over center field in 1952,
replacing Dimaggio who retired at the end of 1951 season. In Mantles first world series (1952),
Mickey was a hitting star, with a .400 on-base percentage and hitting percentage of .600. Mantle
played center field for the Yankees until 1965. On May 20, 1952, being on the lineup for the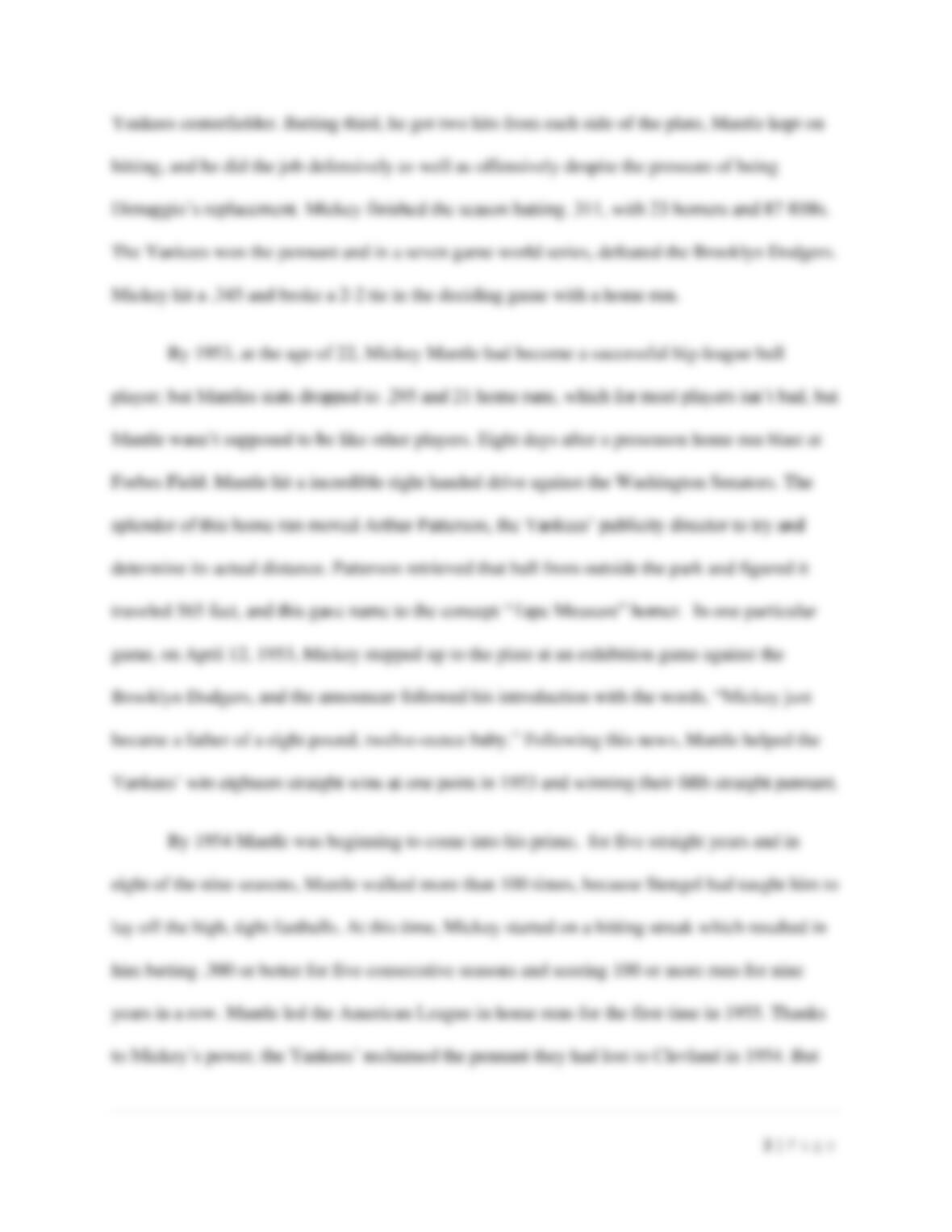 Yankees centerfielder. Batting third, he got two hits from each side of the plate, Mantle kept on
hitting, and he did the job defensively as well as offensively despite the pressure of being
Dimaggio's replacement. Mickey finished the season batting .311, with 23 homers and 87 RBIs.
The Yankees won the pennant and in a seven game world series, defeated the Brooklyn Dodgers.
Mickey hit a .345 and broke a 2-2 tie in the deciding game with a home run.
By 1953, at the age of 22, Mickey Mantle had become a successful big-league ball
player; but Mantles stats dropped to .295 and 21 home runs, which for most players isn't bad, but
Mantle wasn't supposed to be like other players. Eight days after a preseason home run blast at
Forbes Field. Mantle hit a incredible right handed drive against the Washington Senators. The
splendor of this home run moved Arthur Patterson, the Yankees' publicity director to try and
determine its actual distance. Patterson retrieved that ball from outside the park and figured it
traveled 565 feet, and this gave name to the concept "Tape Measure" homer. In one particular