IMC Plan for ClaFlora
Type
Essay
Pages
8
Word Count
2039
School
N/A
Course
N/A
Integrated Marketing Communications Plan
for CLAFLORA
By Vy Nguyen, Thi Huynh, Ngan Tran, Quan Vo, Binh Tran
Hang Tran and Khang Nguyen
1
CONTENTS
A. IMC SITUATIONAL ANALYSIS………………………………………….……………….. 3
1. Company Analysis
2. Product Analysis
3. Audience Analysis
4. Competitor Campaigns
B.
COMMUNICATION OBJECTIVES……………………………………………………….. 3
C. STRATEGIC COMMUNICATION…………………………………………….…………... 4
1. Campaign Impact & Duration – Creative Strategy
2. Integration Strategies
3. Promotional Budget
D. PROMOTIONAL MIX………………………………………………………….…………… 7
E. IMPLEMENTATION………………………………………………………………………... 8
1. Project Timeline
2

A. IMC SITUATIONAL ANALYSIS:
1. Company Analysis:
(SWOT Analysis)
Strong:
- The owners of the flower shop have many years of experiences in flower decoration. With the
huge ambition to deliver not only quality domestic flowers but also import flowers.
- Furthermore, with the vast amount of young employees, they are inspired to learn and indicate
their potential imagination in designing flower.
- The owners of the shop has a strong relationship with many flower farms in Da Lat City, with a
sustainable supplier, this can promise various fresh and flowers kinds.
Weakness:
- Tough market, a lot of competitors, lack of brand image and awareness
Opportunities:
- Flower decoration and design has a huge market profit.
- The potential market share is very high if the shop has right strategy for deliver outstanding
decorating service and offering style flower for special occasions.
- With strategy location in the center of Ho Chi Minh City, where vast amount of people cross by
every day this will increase chances that potential and target notice the shop.
Threat:
- Flowers design market is not new, and there are some strong brand names in market: 38 Degree
Flower, Flower Box…
- Can be easily eliminated from the market if the company can't make them self-different from other
competitors
2. Product Analysis:
The shop provides multiple flowers: fresh flower, paper flower, dried flower. However, our client
has more opportunities in selling their product styles and decoration.
3. Audience Analysis:
B2B B2C
- Events companies
- Restaurants or hotels that use flower to
décor
- Coffee shops or flower shops
- Design & Interior decoration companies
-
Locations: Ho Chi Minh City,
Ha Noi.
4. Competitor Campaigns:
- Free delivery
- Can offer book and choose design online
- Promote with small gift with every design
- Loyal customers are offered high degree of discount
B. COMMUNICATION OBJECTIVES:
BIG IDEA: Everyday Life is Color.
Slogan: Make Your Own Color.
The objectives of the campaign will focus in achieving brand awareness and brand purchase
intention.
3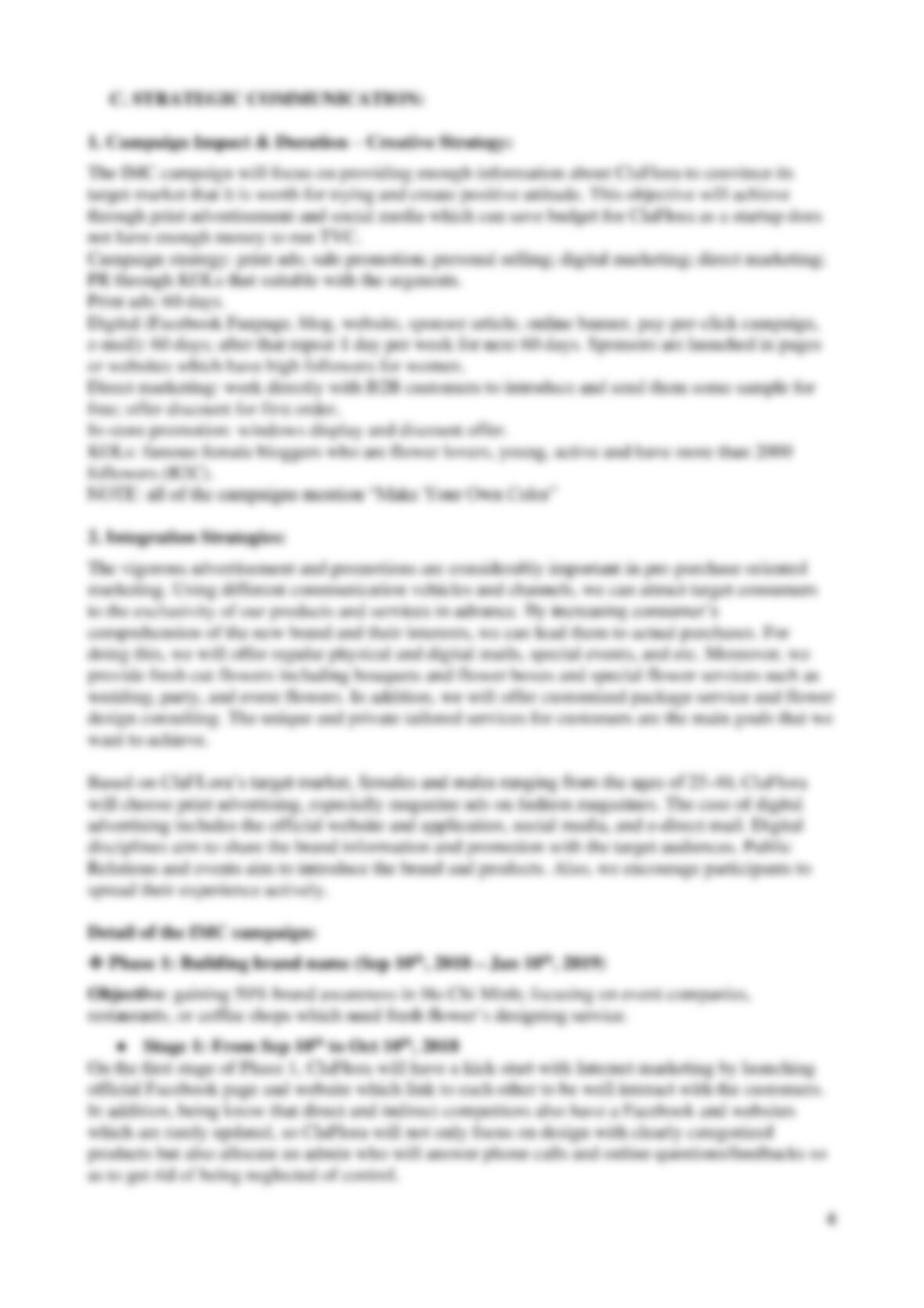 C. STRATEGIC COMMUNICATION:
1. Campaign Impact & Duration – Creative Strategy:
The IMC campaign will focus on providing enough information about ClaFlora to convince its
target market that it is worth for trying and create positive attitude. This objective will achieve