Homelessness In Porland
Type
Essay
Pages
9
Word Count
3199
School
Columbia Gorge Community College
Course
PS 203 1
Homelessness
1
has always been a problem in major cities across
the United States; Portland, Oregon is a growing city that is
currently dealing with a homelessness problem. According to Oregon
Housing and Community Services' 2017 Point-in-Time results, "Multnomah
County had 4,177 people experiencing homelessness, representing 30% of
the state's homeless population", which is a about a ten percent
increase compared to the last two years
2
.
There are many possible reasons why people experience
homelessness; however homelessness advocates as well as city and
county leaders believe it is the current housing crisis that is
forcing many people onto the streets
3
. The United States Bureau of
Census states that "Oregon's population, in general, has been
increasing at a faster pace than the U.S. population as a whole"
4
Other
U.S. Census Bureau reports show that from 2005 through 2010 there was
1
As used in this section, "homelessness" means the lack of a decent, safe, stable and
permanent place to live that is fit for human habitation.
2
Oregon Gov. Oregon Housing and Community Services "2017 Point-in-Time Estimates of
Homelessness in Oregon"
http://www.oregon.gov/ohcs/ISD/RA/2017-Point-in-Time-Estimates-Homelessness-Oregon.pdf
* "Every two years, during the last ten days of January, there is a nationwide effort
to count every homeless person across the country. This Point-in-time count attempts
to capture both sheltered and unsheltered homeless people to provide a snapshot of
homelessness in the United States"
3
Harbarger, Molly. "Portland's Homeless Population Jumps Nearly 10 Percent, New Count
Shows." Oregon-Live. June 20, 2017. Accessed May 22, 2018.
http://www.oregonlive.com/portland/index.ssf/2017/06/portlands_homeless_population.htm
4
The United States of America. Department of Administrative Services. Economic
Analysis.
OREGON'S DEMOGRAPHIC TRENDS
. OR, 2017.
available at:
http://www.oregon.gov/das/OEA/Documents/OR_pop_trend2017.pdf
"Between 1950 and 2017, Oregon's population increased by 170 percent, whereas U.S.
population increased by 115 percent."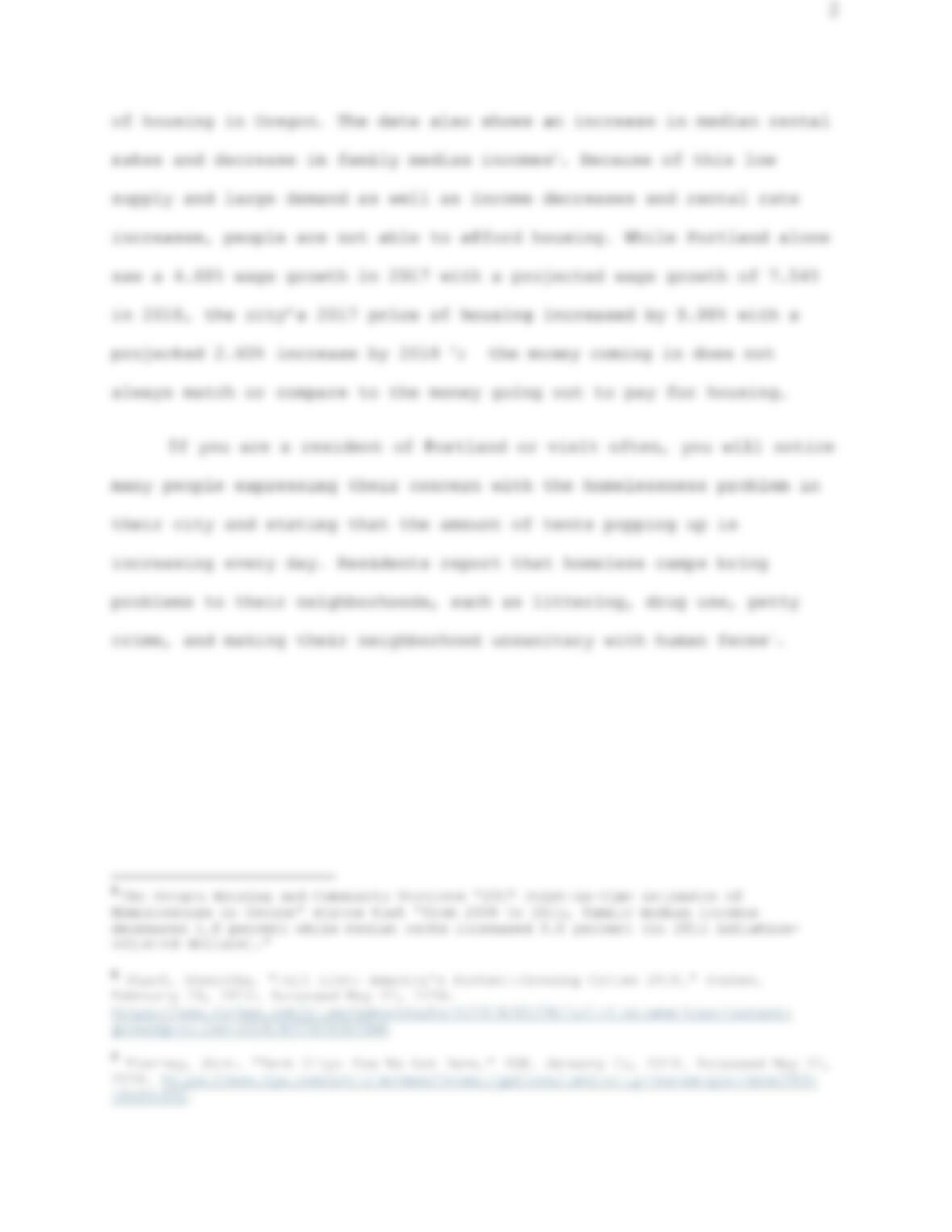 2
a substantial decrease in housing manufacturing, causing a low supply
of housing in Oregon. The data also shows an increase in median rental
rates and decrease in family median incomes
5
. Because of this low
supply and large demand as well as income decreases and rental rate
increases, people are not able to afford housing. While Portland alone
saw a 4.68% wage growth in 2017 with a projected wage growth of 7.54%
in 2018, the city's 2017 price of housing increased by 9.98% with a
projected 2.60% increase by 2018
6
; the money coming in does not
always match or compare to the money going out to pay for housing.
If you are a resident of Portland or visit often, you will notice
many people expressing their concern with the homelessness problem in