"HIPS FEEL GOOD"—DOVE'S CAMPAIGN FOR REAL BEAUTY
Type
Essay
Pages
8
Word Count
2437
School
N/A
Course
N/A
1. Executive Summary
This report analyzes how Dove, which regards as one of the flagship brands under
Unilever, the largest consumer products companies in the world, has established a
successful first phase re-launch, earned $3 billion revenues in 2005, and is commissioned
to give recommendations to the second phase of re-launch in the ultra-competitive beauty
industry to maintain its advantageous position.
Further analysis illustrates Dove's merits, demerits, opportunities and threats in today's
skin care market, especially outlines the opportunities Dove may grab to implement in the
next movement.
This report also suggests three alternatives which Kerstin may submit to Unilever's
executives:
1. Shift the orientation of the campaign to outstand its functional advantages
2. Expand new target segments while keep close attention with the existing customers
3. Extend new product line with the first campaign
Through the analyses, Dove is recommended to establish a deeper emotional link to the
already customers for a sustainable long-term strategy. In addition, an outline of the action
plan and a contingency plan for the second phase will be provided at the end of this report.
2. Problem Statement
Kerstin Dunleavy, a brand manager of Unilever's Dove product line, was appointed to
shape a marketing plan and make specific recommendations for the second step of the
successful re-launch campaign to remain the brand's momentum and bring it to a further
level. These series of strategic moves have to pay close attention to their competitors,
which attempting to imitate Dove's success via establishing similar marketing campaigns,
and stand out a difference from them.
3. Situation Analysis
3.1 Background
Unilever is the largest consumer products companies worldwide with roughly $50 billion
revenues annually and a staff of 250000. In 2003, a considerably branding policy
revolution which involved in the Dove product line has been launched to cater for the
emphasizing product brand names strategy. Originally evolved from a non-irritating skin
cleaner for pre-treatment on burns and wounds during World War II, Dove has become a
multi-product brand which includes body wash, facial cleansers, moisturizers, deodorants
and hair care products in today's ultra-competitive beauty industry. Although the sales of
Dove once has been declined due to the highly competitive industry and its old-fashioned
brand image, the successful first phase of the re-launch campaign has transformed it to a
stylish and top-quality brand, while the effect of the controversial debate of real beauty has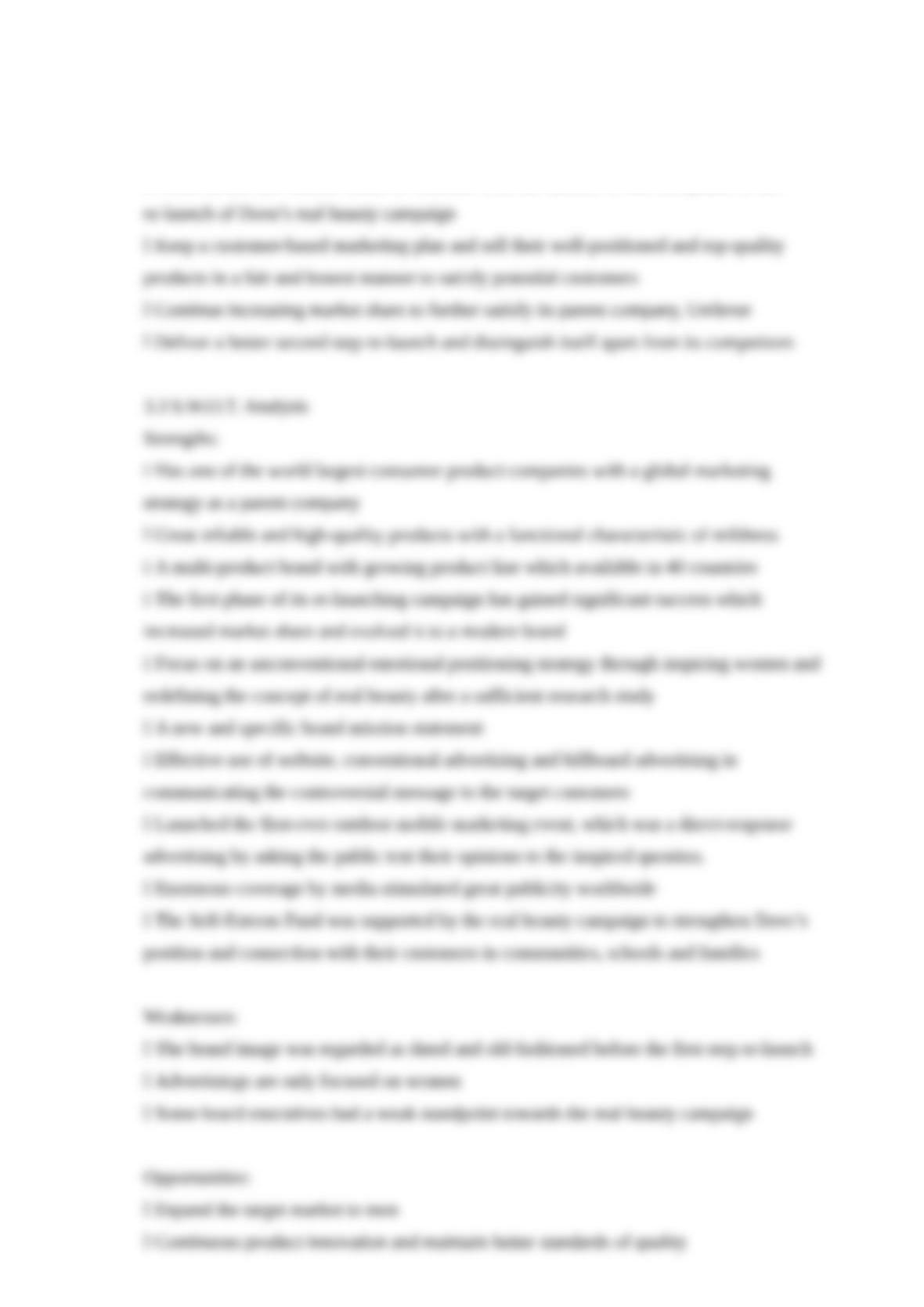 brought it to the cutting-edge of the industry.
3.2 Objectives
In terms of the second phase of Dove's campaign:
 Focus on the self-esteem issues to continue with the success of the first phase of the