Family Roots
Type
Essay
Pages
7
Word Count
1726
School
N/A
Course
N/A
1
My Family Roots
Reyna L. Jusino
Capital Community College
2
My Family Roots
Have you ever wondered what it would be like to be raised in a culture besides your
own? I come from a Hispanic background but to be more specific my family roots stem from the
beautiful island of Puerto Rico. My understanding of a very traditional Puerto Rican family is
one that is always united from toddlers into adulthood it ranges from grandma (Abuela)- grandpa
(Abuelo), aunts (Tia)- uncles (Tio), Cousins (Prima/Primo), Mom (Mami)- Dad (Papi).
Unfortunately, I wouldn't consider my family to be the old fashion traditional Puerto Rican
family. It is crazy to think that although all Puerto Ricans share the same ethnicity we are not all
the same. We share many similarities but we also have many differences ranging from religious
beliefs, how we are raised (values), and how the family celebrates the holidays and comes
together for these special occasions.
When it comes to religious beliefs Puerto Ricans are very devout to Catholicism faith it is
the most popular form of religion for many Puerto Ricans. In fact, according to the Puerto Rico
Channel Catholic faith holds 85% of the population (Puerto Rico Channel, 2017). My family
doesn't fall within that 85% of the population because our religious beliefs are the
Pentecostalism which according to Richard T. Schaefer is a type of evangelical Christianity that
believes in the infusion of the Holy spirit into services and in religious experiences such as faith
healing (Schaefer, Racial and Ethnic groups). My mom was raised in a very religious household
because my grandma was deeply devout to her Pentecostal beliefs. They went to church, prayed,
didn't wear certain kinds of clothing such as jeans or revealing shirts, and didn't wear makeup.
Some of those customs stuck with my mom but as she went into adulthood and began to start her
own family she stopped doing some of the things that she once did as a child. I was raised
believing in our religion but my mom never forced me to have to go through the customs she was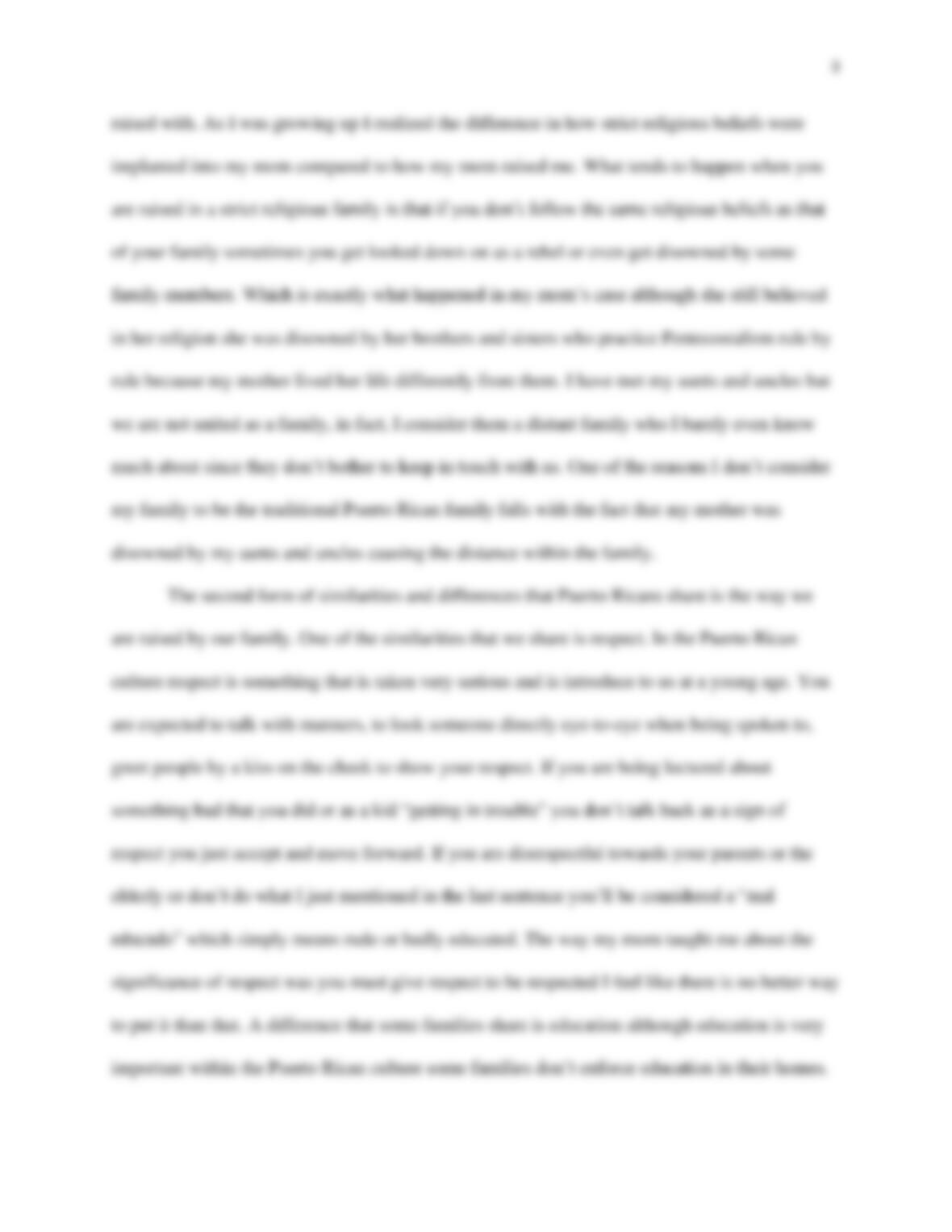 3
raised with. As I was growing up I realized the difference in how strict religious beliefs were
implanted into my mom compared to how my mom raised me. What tends to happen when you
are raised in a strict religious family is that if you don't follow the same religious beliefs as that
of your family sometimes you get looked down on as a rebel or even get disowned by some