ETH301 week 7 assignment
Type
Essay
Pages
4
Word Count
902
School
Grantham University
Course
ETH301
Running head: ENVIRONMENTAL ISSUES FACED BY BUSINESS AND SOCIETY
1
Environmental Issues Faced by Business and Society
Your Name
Grantham University
Abstract
Many environmental issues have taken place around the globe and the impacts are devastating to
the fragile world we live in. I am going to go into greater detail on offshore drilling and how it
has effected the environment, businesses, and society. I will also go over some of the strategic
methods that are being used today to prevent further offshore drilling disasters from happening
again.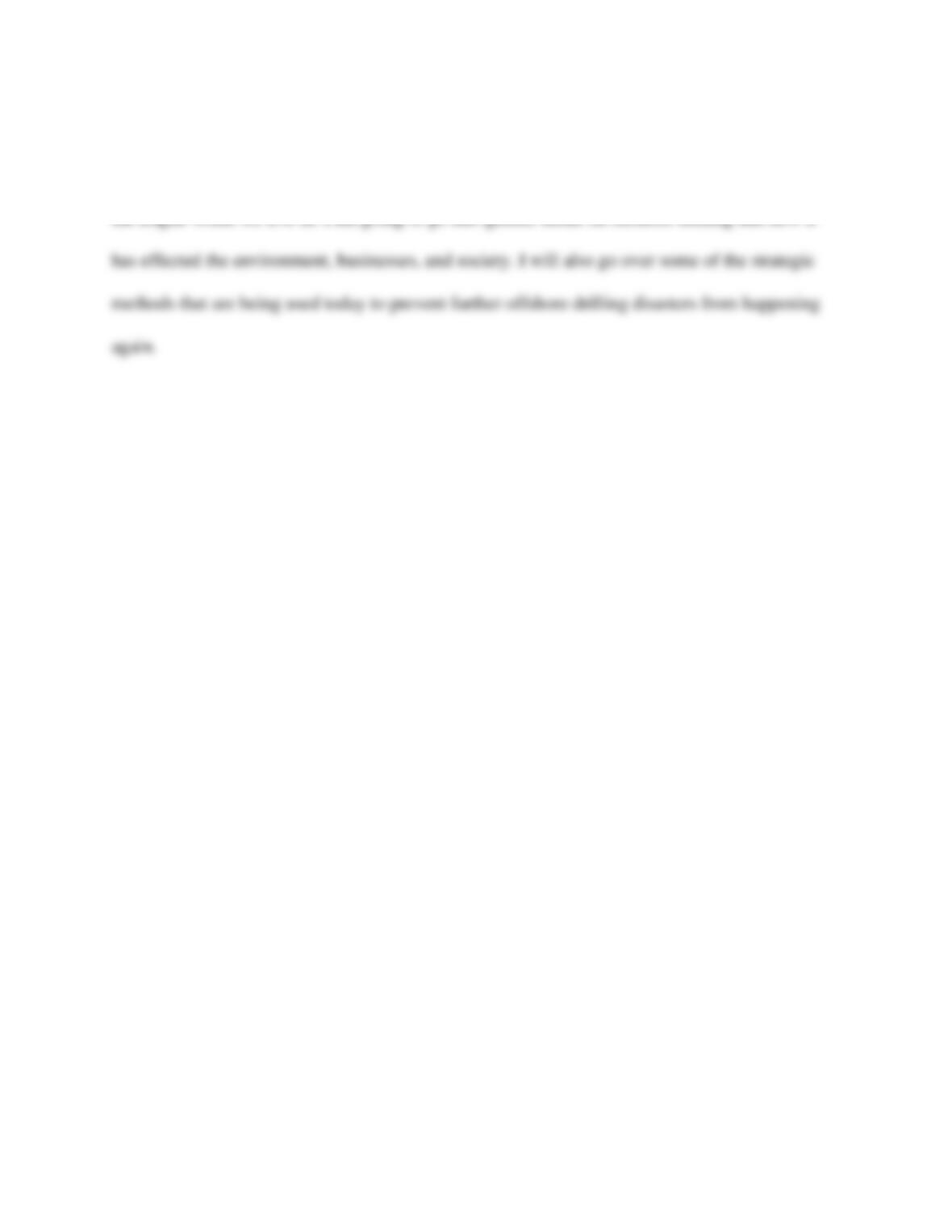 ENVIRONMENTAL ISSUES FACED BY BUSINESS AND SOCIETY
2
Environment Issues Faced by Business and Society
Today's environment has been disturbed by human's large industrial era and
advancements in technology. The demand for oil has expanded since the creation of the
automobile, production of plastics and chemicals, and producing electricity. Offshore drilling
disasters have leaked millions of gallons of crude oil into the ocean impacting sea life forever.
Some lessons have been learned and offshore drilling is more regulated than ever before to
prevent another large scale spill from happening again. Businesses have been largely impacted,
as well as members of society.
People around the globe heavily rely on oil for fueling cars, jet fuel, propane, residual
fuel oil and asphalt. Most people associate crude oil with fuel for planes, cars and to produce
heat. However, there are a myriad of uses for crude oil that affects our lives – which means that
reducing our dependence on oil may not be as easy as buying a hybrid car (Crumbley, K., 2015).
Besides fuel, Oil is also used to make plastics, and plastic is used on, just about, everything.