Employment Strategy
Type
Essay
Pages
5
Word Count
766
School
University of Phoenix
Course
Human Capital Management/HRM 531
Running head: EMPLOYMENT STRATEGY 1
Employment Strategy
Tiffany Swindoll
HRM/531
July 9, 2018
Melissa Jackson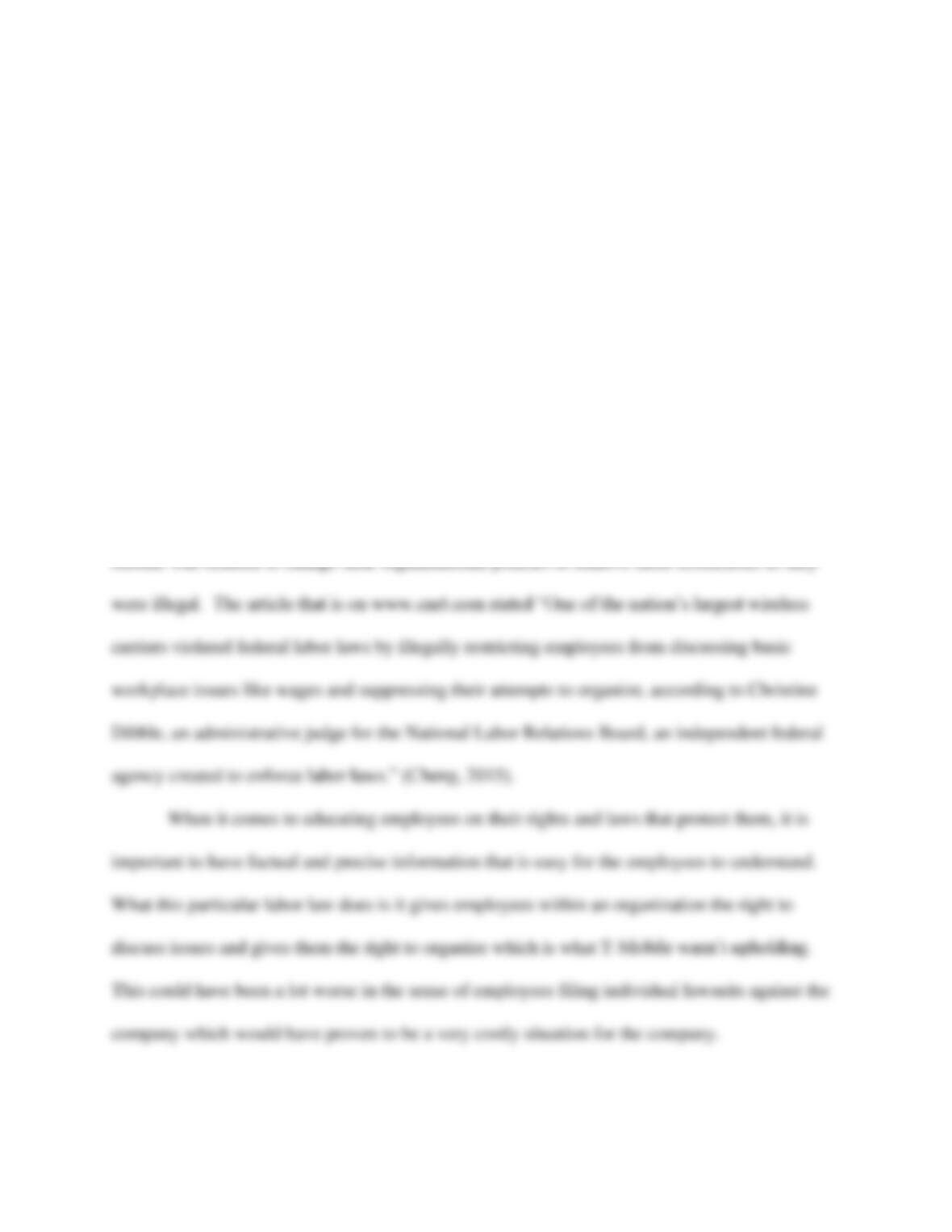 EMPLOYMENT STRATEGY 2
Employment Strategy
There are many laws that must be followed when it comes to any human resources
department within an organization. It is the responsibility of the organization's leadership team
as well as the human resources department to ensure that these laws and regulations are followed
and upheld to the fullest extent. Unfortunately, that isn't always the case which can prove to be
detrimental to the company as a whole.
Several years ago, T-Mobile was put into the media spotlight when it surfaced that they
were violating federal labor laws when it came to the rights of their employees. It appears that
the company forbade their employees from discussing problems at work and prevented them
from organizing as well. This case was reviewed by the National Labor Relations Board, and
T-Mobile was ordered to change their organizational policies to remove these restrictions as they
were illegal. The article that is on www.cnet.com stated "One of the nation's largest wireless
carriers violated federal labor laws by illegally restricting employees from discussing basic
workplace issues like wages and suppressing their attempts to organize, according to Christine
Dibble, an administrative judge for the National Labor Relations Board, an independent federal
agency created to enforce labor laws." (Cheng, 2015).
When it comes to educating employees on their rights and laws that protect them, it is
important to have factual and precise information that is easy for the employees to understand.
What this particular labor law does is it gives employees within an organization the right to