Effective/Positve Teacher-Student Relationships
Type
Essay
Pages
5
Word Count
725
School
Liberty University
Course
EDUC 624
Running Head: JOURNAL ARTICLE REVIEW: RELATIONSHIPS 1
Journal Article Review:
Effective/Positive Teacher-Student Relationships
Amanda L. Henriksen
Liberty University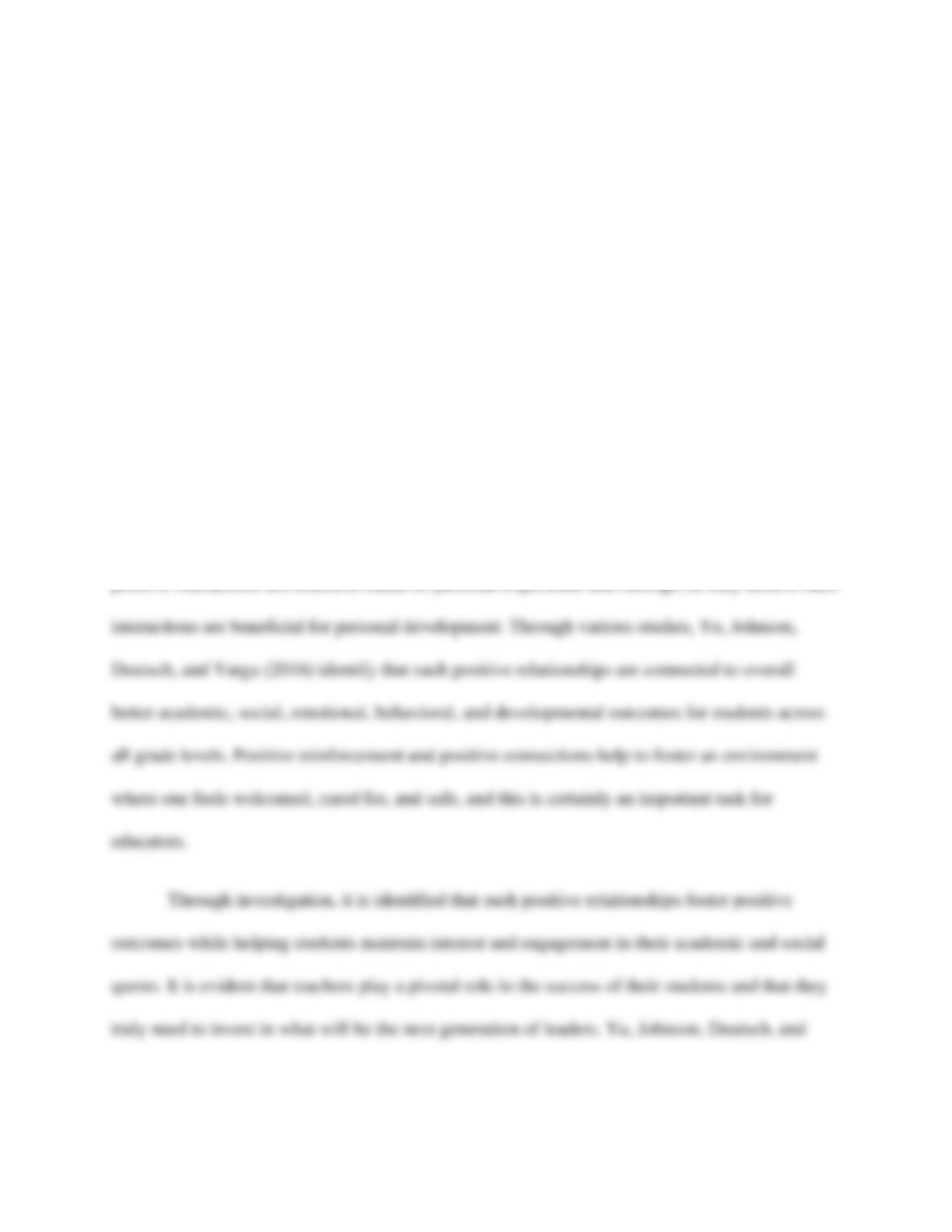 JOURNAL ARTICLE REVIEW: RELATIONSHIPS 2
Summary
Creating positive teacher-student relationships is an integral key to the success of a
classroom, including the element of effective classroom management. It is important that
"teachers create positive personal relationships and a community of support in the classroom by
establishing positive student-teacher and peer relationships" (Jones & Jones, 2016, p. 9). Positive
interactions occur in and out of the classroom, and it is important for teachers to interact with
students in a positive manner in order to effectively support their education, as well as their
social and emotional needs.
Yu, Johnson, Deutsch, and Varga (2016) ask a small population of students about the
positive interactions they have with a teacher they feel connected to in order to identify what
positive interactions are effective based on personal experience and feelings, as they believe such
interactions are beneficial for personal development. Through various studies, Yu, Johnson,
Deutsch, and Varga (2016) identify that such positive relationships are connected to overall
better academic, social, emotional, behavioral, and developmental outcomes for students across
all grade levels. Positive reinforcement and positive connections help to foster an environment
where one feels welcomed, cared for, and safe, and this is certainly an important task for
educators.
Through investigation, it is identified that such positive relationships foster positive
outcomes while helping students maintain interest and engagement in their academic and social
quests. It is evident that teachers play a pivotal role in the success of their students and that they