ED 720 State Standards Scavenger Hunt
Type
Essay
Pages
7
Word Count
1283
School
Louisiana State University System
Course
ED 720
Running head: STATE SCAVENGER HUNT 1
State Scavenger Hunt
Running head: STATE SCAVENGER HUNT
Tosha Beach Neill
Louisiana State University 1) What A-M state curriculum did you examine?
https://www.louisianabelieves.com/docs/default-source/teacher-toolbox-resources/k-12-ela-stand
ards.pdf?sfvrsn=52b98a1f_38
2) What N-Z state curriculum did you examine?
http://www.doe.virginia.gov/testing/sol/standards_docs/english/2010/stds_english1.pdf
3) From the educator perspective, which curriculum did you prefer and why?
Taking a close look at both Louisiana and Virginia's state standards for English
Language Arts in first grade, the standards have many similarities and differences. From an
educators perspective, the standards in Louisiana are far more detailed and preferable to Virginia
Department of Education's standards. The depth to which the Louisiana Department of
Education goes into describing specific final outcomes for first graders would be a tremendous
help for any teacher. Louisiana's Speaking and Listening Standards has students "ask questions
to clear up any confusion about the topics and texts under discussion" (
​
K-12 Student Standards,
2019).
​
When looking into Virginia's standards
​
,
​
teachers find that students are expected to
"begin to ask for clarification and explanation of words and ideas" (
​
English Standards of
Learning, 2010).
​
The ideas behind both of these documents is to have students ask for
explanations when they are not understanding a topic. As an educator this is clear, but
Louisiana's state standards clarifies specifically when students should clarify a
misunderstanding. From an educator's perspective, this is preferable. The more detail in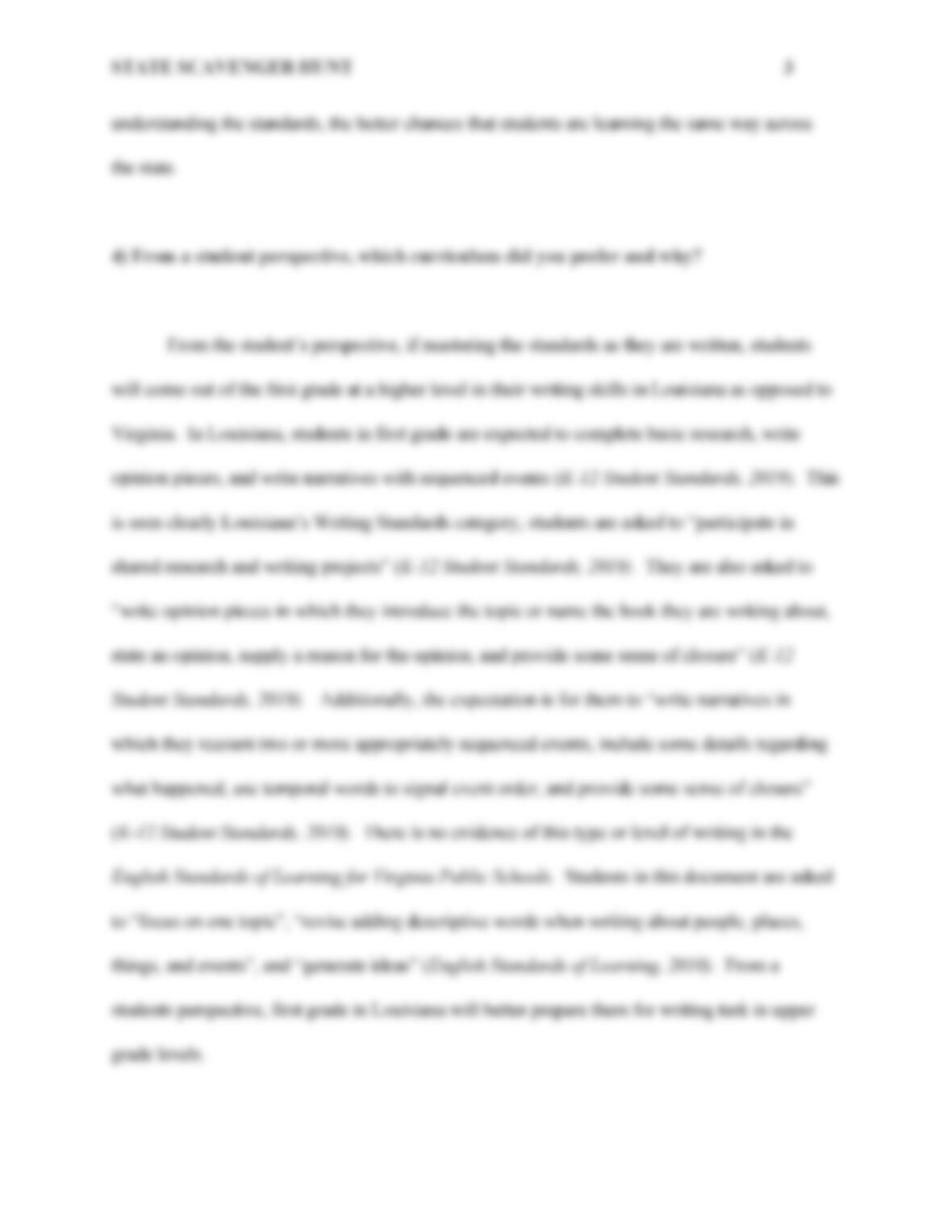 understanding the standards, the better chances that students are learning the same way across
the state.
4) From a student perspective, which curriculum did you prefer and why?
From the student's perspective, if mastering the standards as they are written, students
will come out of the first grade at a higher level in their writing skills in Louisiana as opposed to
Virginia. In Louisiana, students in first grade are expected to complete basic research, write
opinion pieces, and write narratives with sequenced events (
​
K-12 Student Standards, 2019
​
). This
is seen clearly Louisiana's Writing Standards category, students are asked to "participate in
shared research and writing projects" (
​
K-12 Student Standards, 2019)
​
. They are also asked to
"write opinion pieces in which they introduce the topic or name the book they are writing about,
state an opinion, supply a reason for the opinion, and provide some sense of closure" (
​
K-12