Economic
Type
Essay
Pages
6
Word Count
701
School
Strayer University
Course
Economic
Economic Brief
Beauty Industry
Krystal Boone
ECO100
Dr. Slinsky
05/07/2019
Brief Introduction:
We all are well known about the quote "beauty begins the moment you
decide to be yourself." In the beginning, the beauty industry was considered only to the
glamorous, the vain, or just those in the spotlight. The industry was only about to produce the
products which help us look our best.
It has become more diverse than we think, and now it's not about only makeup, hair color and
perfumes but also the deodorant, toothpaste and even ear and hair clippers. Now it's not just
the saloons but also the waxing franchises, massage franchises, barber shops and a plethora of
another things.
Now, all things which make us look be2er, smell be2er and to look the way, we want comes in
the beauty industry. As it turns out it takes a plethora of effort to keep us looking and smelling
good. The beauty industry is itself a world. This industry includes a lot of things and treatments,
and each of these segments are produced in the way that these are comfortable/adjustable for
every skin tone, allergy, age, sex, color, hair type.
The beauty industry has gloomed so much that more than 80% of the women believe that the
main reason of changing in these trends is social media. It's a constant 7ow of new fashion and
beauty 8ps and tricks not only from celebri8es but also from friends, friends of friends, rela8ves
and an entire universe of strangers.
Services/Goods Beauty Industry Produce:
The beauty industry produces almost an army of beauty products and
services. This industry produces cosme8cs (nail polish, lips8ck, perfumes, eye and facial makeup
preparation, shampoos, toothpaste, hair colors, permanent wavers), skin care (sunscreen,
neonate, acne, pressure sore), hair styling, hair coloring, hair removal, nail salons, massage
parlors, luxury spas, shower and shaving products, deodorants and a lot more.
Following is the product with its share percentage:
Market Structure of Beauty Industry:
The main manufacturers in this industry includes:
Last but not the least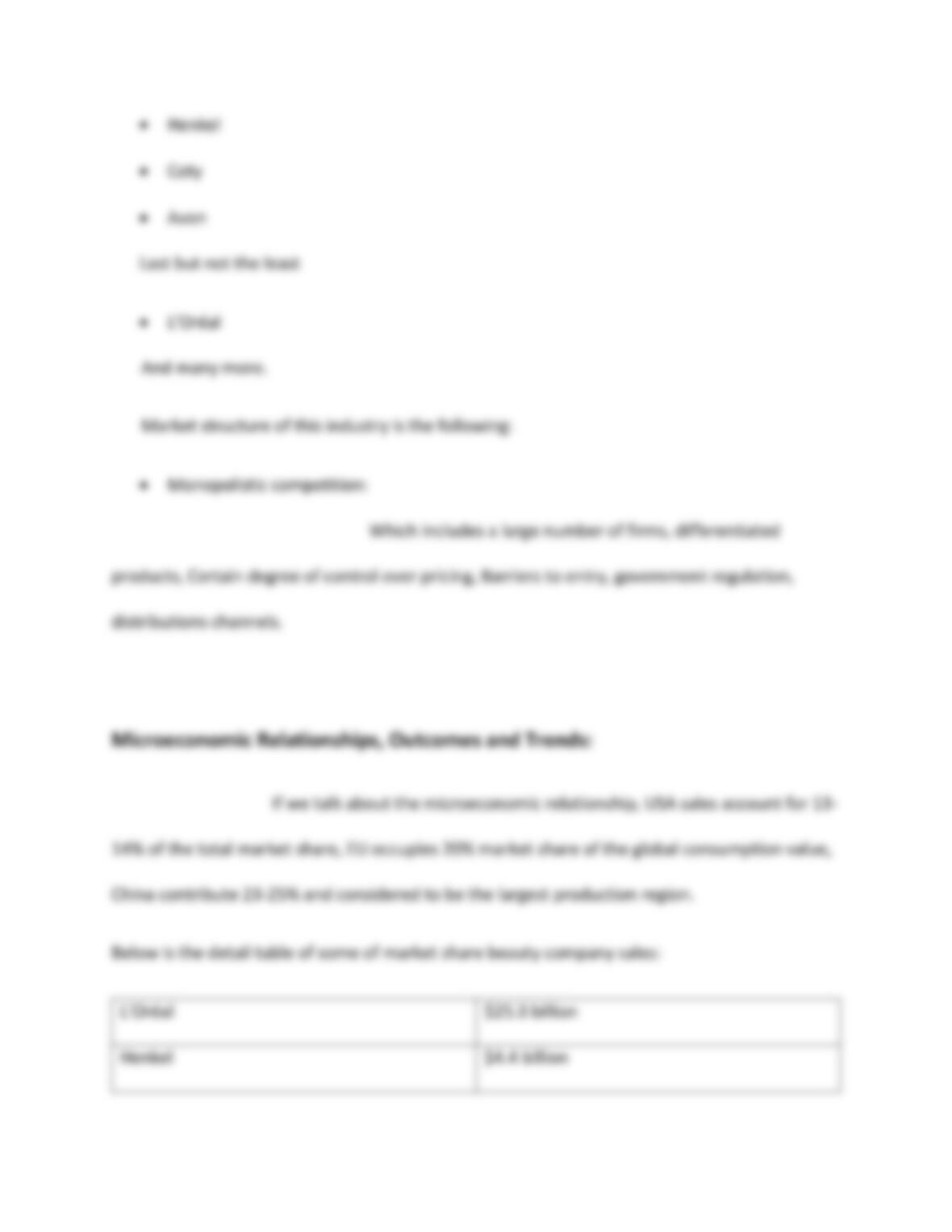 And many more.
Market structure of this industry is the following:

monopolistic competition:
Which includes a large number of Grms, di4eren8ated
products, Certain degree of control over pricing, Barriers to entry, government regulation,
distribution channels.
Microeconomic Relationships, Outcomes and Trends:
If we talk about the microeconomic relationship, USA sales account for