Conceptual Framework Project
Type
Essay
Pages
4
Word Count
568
School
Philadelphia University
Course
Accounting Theory and Practice
Christina Fauci
Conceptual Framework Project
Philadelphia University
1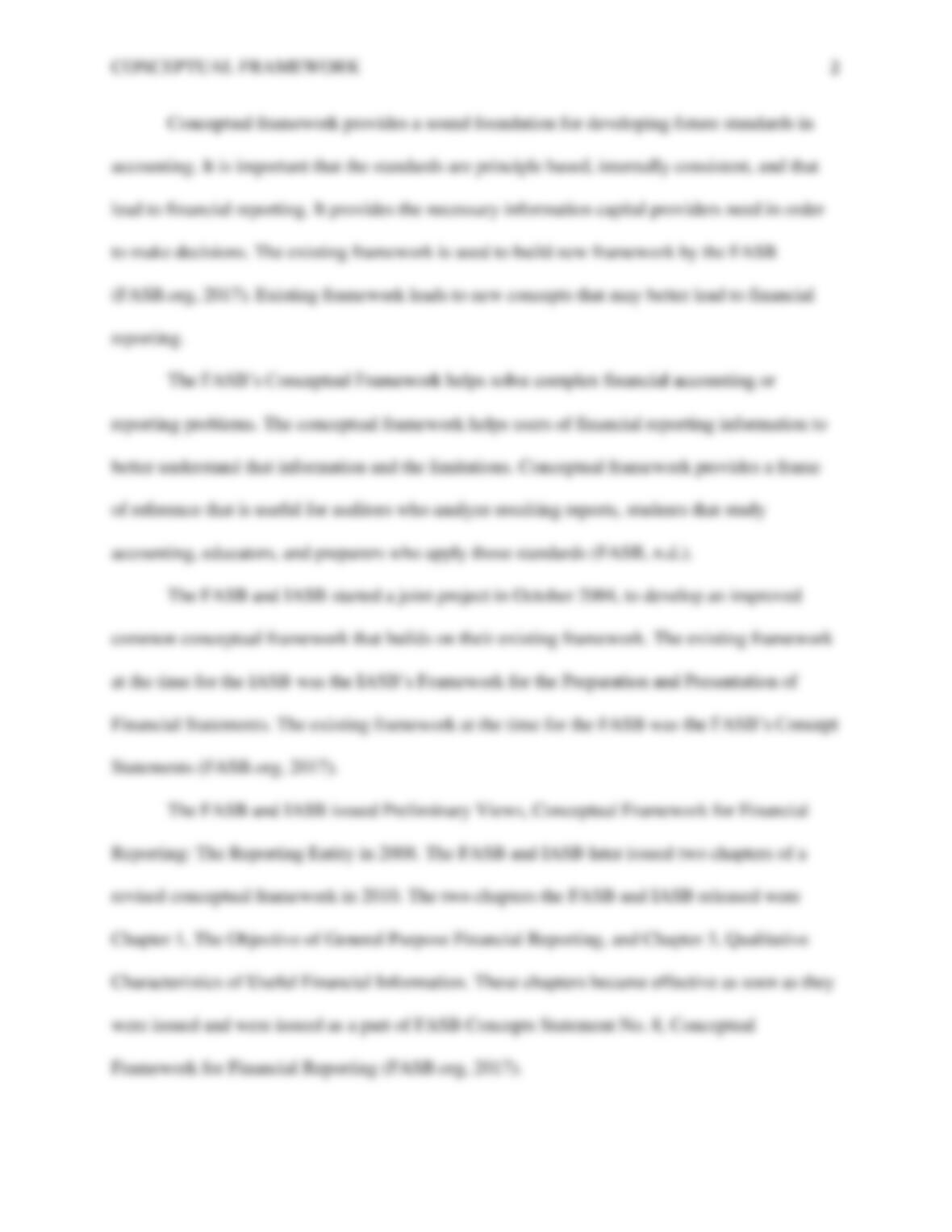 Conceptual framework provides a sound foundation for developing future standards in
accounting. It is important that the standards are principle based, internally consistent, and that
lead to financial reporting. It provides the necessary information capital providers need in order
to make decisions. The existing framework is used to build new framework by the FASB
(FASB.org, 2017). Existing framework leads to new concepts that may better lead to financial
reporting.
The FASB's Conceptual Framework helps solve complex financial accounting or
reporting problems. The conceptual framework helps users of financial reporting information to
better understand that information and the limitations. Conceptual framework provides a frame
of reference that is useful for auditors who analyze resulting reports, students that study
accounting, educators, and preparers who apply those standards (FASB, n.d.).
The FASB and IASB started a joint project in October 2004, to develop an improved
common conceptual framework that builds on their existing framework. The existing framework
at the time for the IASB was the IASB's Framework for the Preparation and Presentation of
Financial Statements. The existing framework at the time for the FASB was the FASB's Concept
Statements (FASB.org, 2017).
The FASB and IASB issued Preliminary Views, Conceptual Framework for Financial
Reporting: The Reporting Entity in 2008. The FASB and IASB later issued two chapters of a
revised conceptual framework in 2010. The two chapters the FASB and IASB released were
Chapter 1, The Objective of General Purpose Financial Reporting, and Chapter 3, Qualitative
2