Competition in Energy Drinks
Type
Essay
Pages
3
Word Count
943
School
N/A
Course
N/A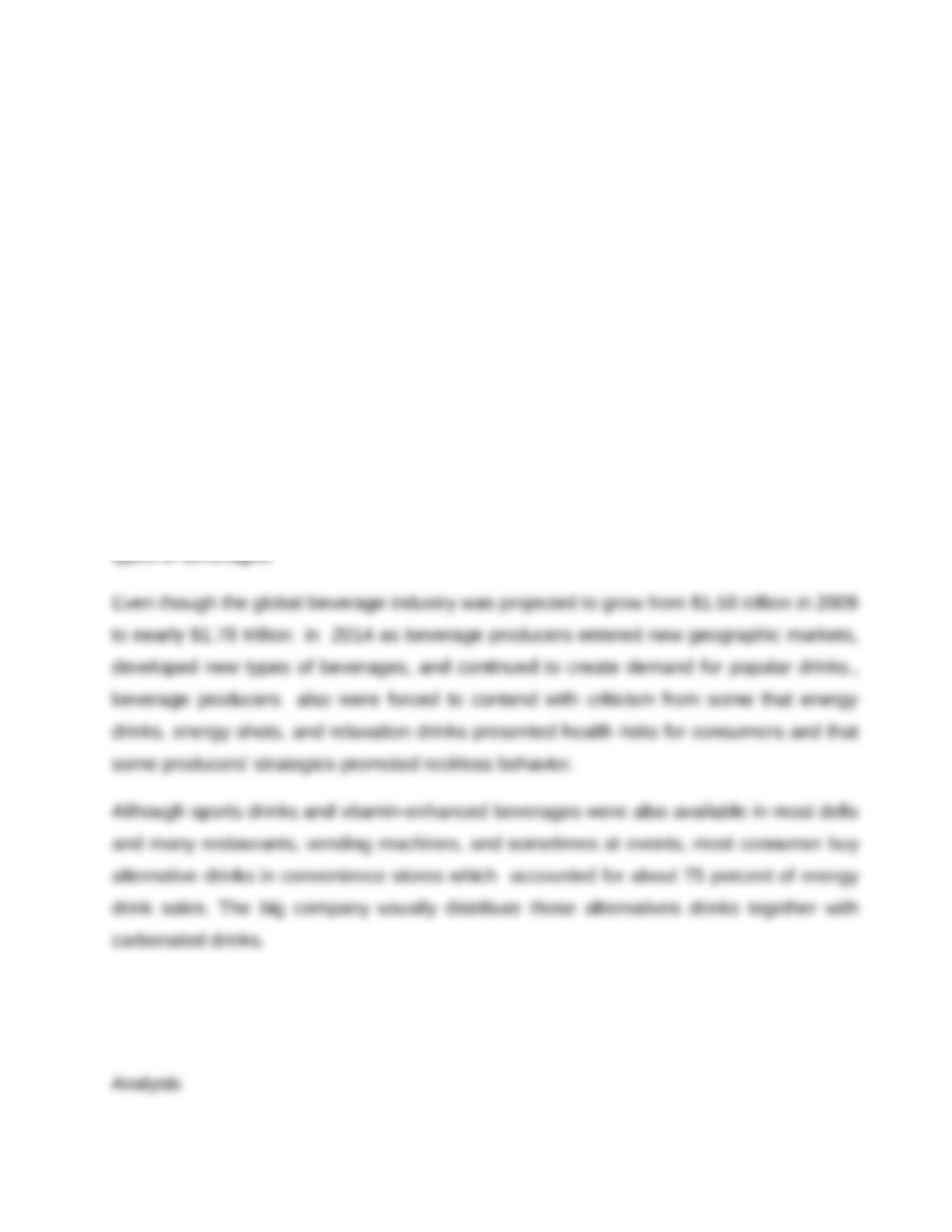 Competition in Energy Drinks, Sports Drinks, and Vitamin-Enhanced Beverages
Executive Summary
Beverage companies were intent on expanding the market for alternative beverages by
introducing energy drinks, sports drinks, and vitamin drinks in more and more emerging
international markets. Energy drinks, sports drinks, and vitamin-enhanced beverages were
the stars of the beverage industry during the mid-2000s. Rapid growth in the category,
coupled with premium prices and high profit margins made alternative beverages an
important part of beverage companies' lineup of brands. On the other hand, Fifth
consecutive year data show that U.S. consumers had purchased fewer carbonated soft
drinks than the year before. Carbonated soft drinks sales would continue to decline as
consumers developed preferences for bottled water, sports drinks, fruit juices, readyto-
drink tea, vitamin-enhanced beverages, energy drinks, ready-to-drink coffee, and other
types of beverages.
Even though the global beverage industry was projected to grow from $1.58 trillion in 2009
to nearly $1.78 trillion in 2014 as beverage producers entered new geographic markets,
developed new types of beverages, and continued to create demand for popular drinks.,
beverage producers also were forced to contend with criticism from some that energy
drinks, energy shots, and relaxation drinks presented health risks for consumers and that
some producers' strategies promoted reckless behavior.
Although sports drinks and vitamin-enhanced beverages were also available in most delis
and many restaurants, vending machines, and sometimes at events, most consumer buy
alternative drinks in convenience stores which accounted for about 75 percent of energy