Communication plan
Type
Essay
Pages
5
Word Count
1009
School
Strayer University
Course
Communication
1
Business Communications COM 510
Strayer University
Dr. Anne Nelson
Assignment 1: Strategic Communications Plan
By: LaToya Baker
July 24, 2018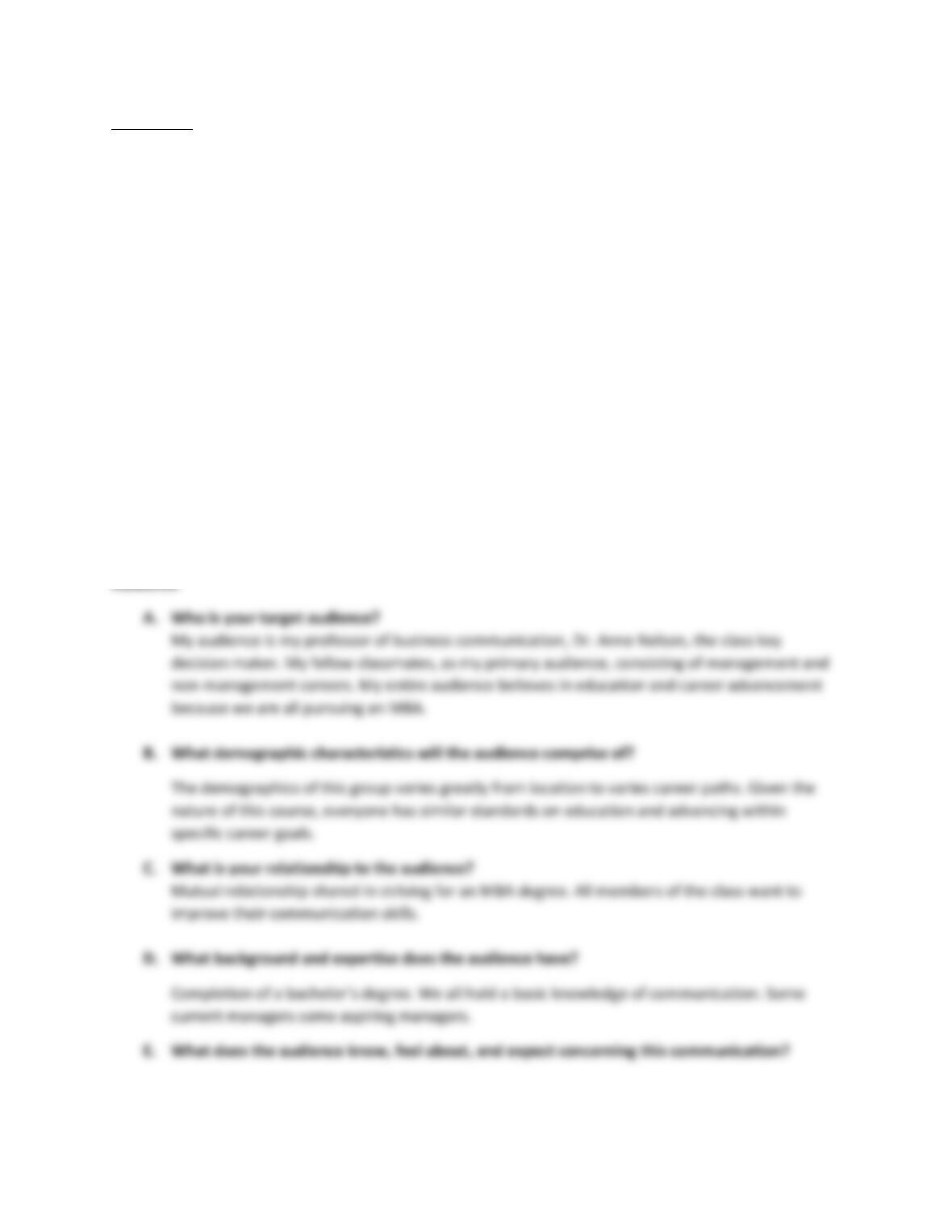 2
Description
A. What is your challenge or opportunity?
To introduce new steps and concepts to consider from being a coworker to managing coworkers.
The concepts introduced will help my fellow classmates strategically change their mindset for a
new career opportunity in management. Improving the communication skills of my audience
who are currently in management will improve their professional presence.
B. Why is this professionally important to you?
This is my first introduction to management. Advancing within my career is extremely important
to me. It's important that I can make the best professional first impression. I want to increase my
responsibility and manage my coworkers effectively.
Goal
A. What goal or outcome do you want to achieve with this communication?
My goal is to increase my audience of various steps to easily make the transition from being a
coworker to effectively managing coworkers. My goal is to share my research I gathered to equip
my audience with the tools needed to transition into management and improve strategic
communication.
Audience
A. Who is your target audience?
My audience is my professor of business communication, Dr. Anne Nelson, the class key decision
maker. My fellow classmates, as my primary audience, consisting of management and
non-management careers. My entire audience believes in education and career advancement
because we are all pursuing an MBA.
B. What demographic characteristics will the audience comprise of?
The demographics of this group varies greatly from location to varies career paths. Given the
nature of this course, everyone has similar standards on education and advancing within specific