commercial law
Type
Essay
Pages
9
Word Count
2776
School
fed
Course
commercial law

Assignment 1
BULAW5914
Commercial Law
Name of student: Pawandeep Kaur
Student ID: 30365734
Topic co-ordinator: Juliana Graham

This assignment is about to discuss, if there are any rights and claims under which the couple Joe
and Kamela are entitled to claim for the sustained injuries under the tort law and view the
circumstances that they can sue the liable party under the
Australian Consumer law

.
In this assignment, I will discuss the rights and obligations of tort law and Australian Consumer
law. Under what situations the tort law exercises.
I am going to discuss the tort of negligence law with the help of case references and what
rewards for incurred damages Joe and Kamela can claim.
1.
Rights of Joe
and
Kamela to sue under the tort law
1.1
Introduction of Tort of Negligence
Law
, what is Law? This is the question arises when we talk about law that what is it. The answer
is law can be defined as rules, principles or policies framed by the parliament of the country. In
other words, law is made by the
selected representatives and judges of the
country. Law is
maintained
to
protect
the
rights
and
responsibilities
of
the
nation's
public.
Law
is
further
categorized
into
various
categories.
1
Tort
of
negligence
is
one
from
those
categories,
it
is
formulated to assure the rights of people. The legal term 'Tort' comes from the French word
"wrong" which means civil wrong. Negligence refers to unsuccessful duty of care. This law
conserves the person, property and any economic loss incurred by any other person as a result of
negligence. The person who gets injured by the negligence of other party have the full right to
sue and claim compensation for the loss. The tort law considers various elements while dealing
with a case, such as duty of care owed by every person to another person because of the duty not
to cause harm, breach of duty of care that is a standard enforced by law to ensure whether there
1
Latimer, P. (2012).

Australian Business Law 2013

. 32

nd

ed. Sydney, N.S.W. CCH Australia Limited.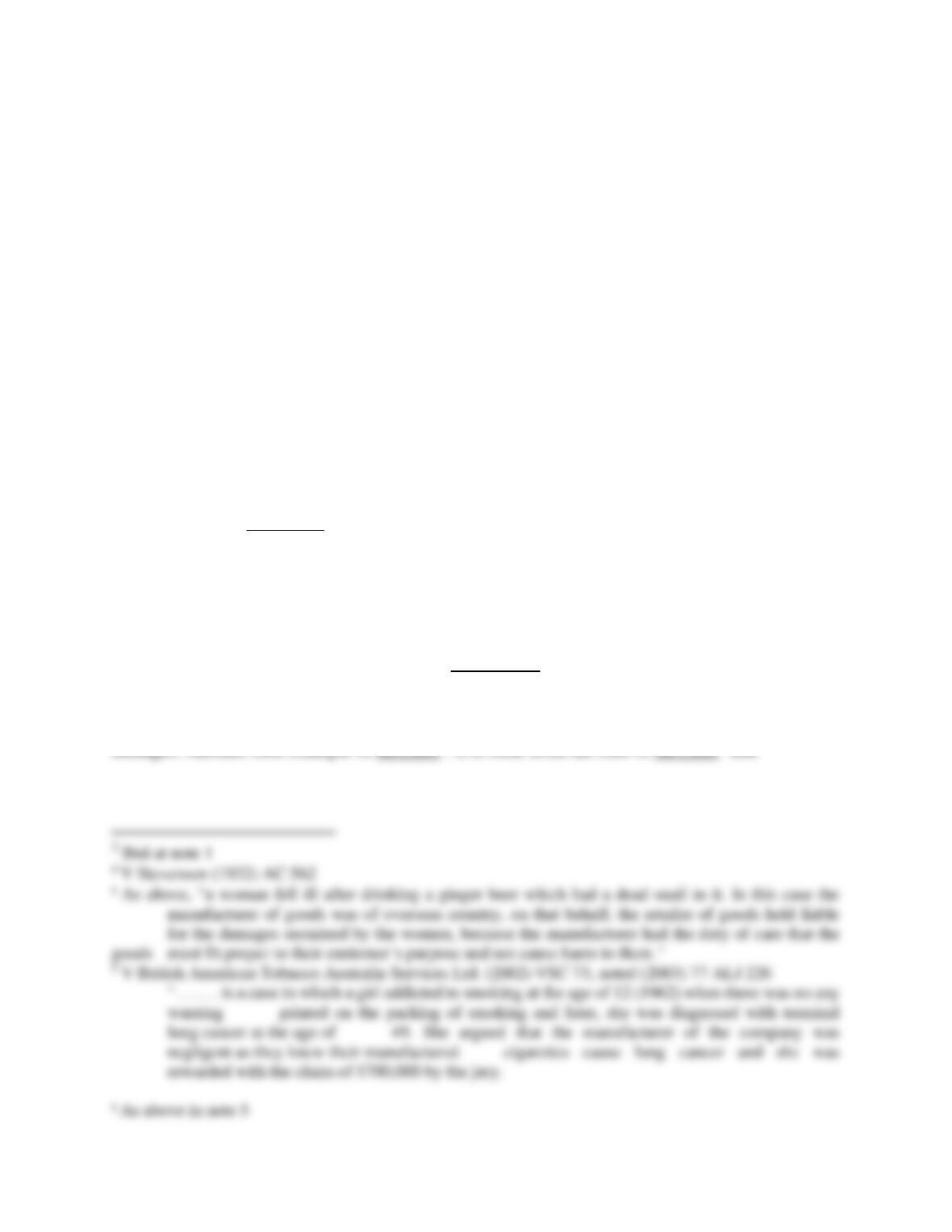 is a
negligence or
not. Finally,
the damages
which are
incurred to
a person
because of
the