case study RosaLee Cunningham
Type
Essay
Pages
10
Word Count
3997
School
Liberty University
Course
subs 505
1
The Case of Rosa Lee Cunningham
Homer Critteden
Liberty University
2
Name: Rosa Lee Cunningham
DOD/Age: 52
Dates of Interviews: 2/23/2019
Evaluator: Homer Critteden
Reason for Assessment
Rosa Lee Cunningham is a 52- year old African American female of average height and
weight she should be, she had ten brothers and sisters, she is not married but have eight children
two daughters and six sons by six different men and three of her children and a grandchild stay
with her in a two bed apartment with no lights or heat. Rosa Lee has never had a job she stated
stealing at the age of nine and have continue to steal, today Rosa Lee is in the hospital which she
say is a vacation from her daily routine of getting high she is an addict and all but two of her
children are to. Rosa Lee have been in the Howard University Hospital for four days, that is
where she goes when she needs a break from the drug use to get a full night sleep. "A full night's
sleep and daylong quiet are rare luxuries in her life. This is the closest she ever comes to having
a vacation" (Leon Dash, 1997). Just looking at Rosa Lee's medical records it shows that she has
been using drugs for the last thirteen years, the drugs she has used are heroin, amphetamines, and
cocaine. Knowing who Rosa Lee has been using with is very important to understand who she
hangs around with and to learn if she has a disease. Rosa Lee and two of her children has Aids
from sharing needles even though they know they just keep on doing what they are doing, Rosa
Lee is one who love her family, but wish at times they would just leave her along. Petty is one of
Rosa Lee's Daughter who has aids and can not get medicine for herself to help with her aids, so
3
Rosa Lee try to get enough for the both of them, because Petty let her Medicaid get taken away
and is to busy using drugs to try and get it back.
Sources of Information
Self-report the book by Leon Dash written in 1997 Rosa Lee:
A MOTHER AND HER
FAMILY IN URBAN AMERICA
Psychosocial History
Rosa Lee was "born Washington D.C. on October 7, 1936, she was the daughter of a
North Carolina sharecropper, who moved to the city"
(Leon Dash, 1997). Rosa Lee grow up
poor on the out skirts of a Capitol Hill neighborhood, she was thirteen when she first got
pregnant and dropped out of school and never learn to read. Her eight children--the eldest of
whom she bore at age fourteen, At sixteen she got married to escape the nagging of her mother
with in a very short time her husband began to beat her, this force her to move back with her
mother. Rosa Lee has a problem with the men she meets, including the six who father her six
children they all came from the same poor neighborhoods where she lived; she got pregnant as a
result of trying to hold to a man. It turns out that she raised all six of her children without help
from any of their fathers, she supported them by waitressing in nightclubs, selling drugs,
shoplifting, and working as a prostitute.
In 1950 when her eldest child was born, Rosa Lee had moved eighteen times within the
District of Columbia and to the homeless shelter twice,
she is fifty-two years old,
145 pounds
settle easily on her 5-foot-1-inch frame, and she likes to boast that her narrow waist still turns
men's heads. Her hands are firm and strong, the result of washing countless baskets of laundry
on a scrub board when she was a child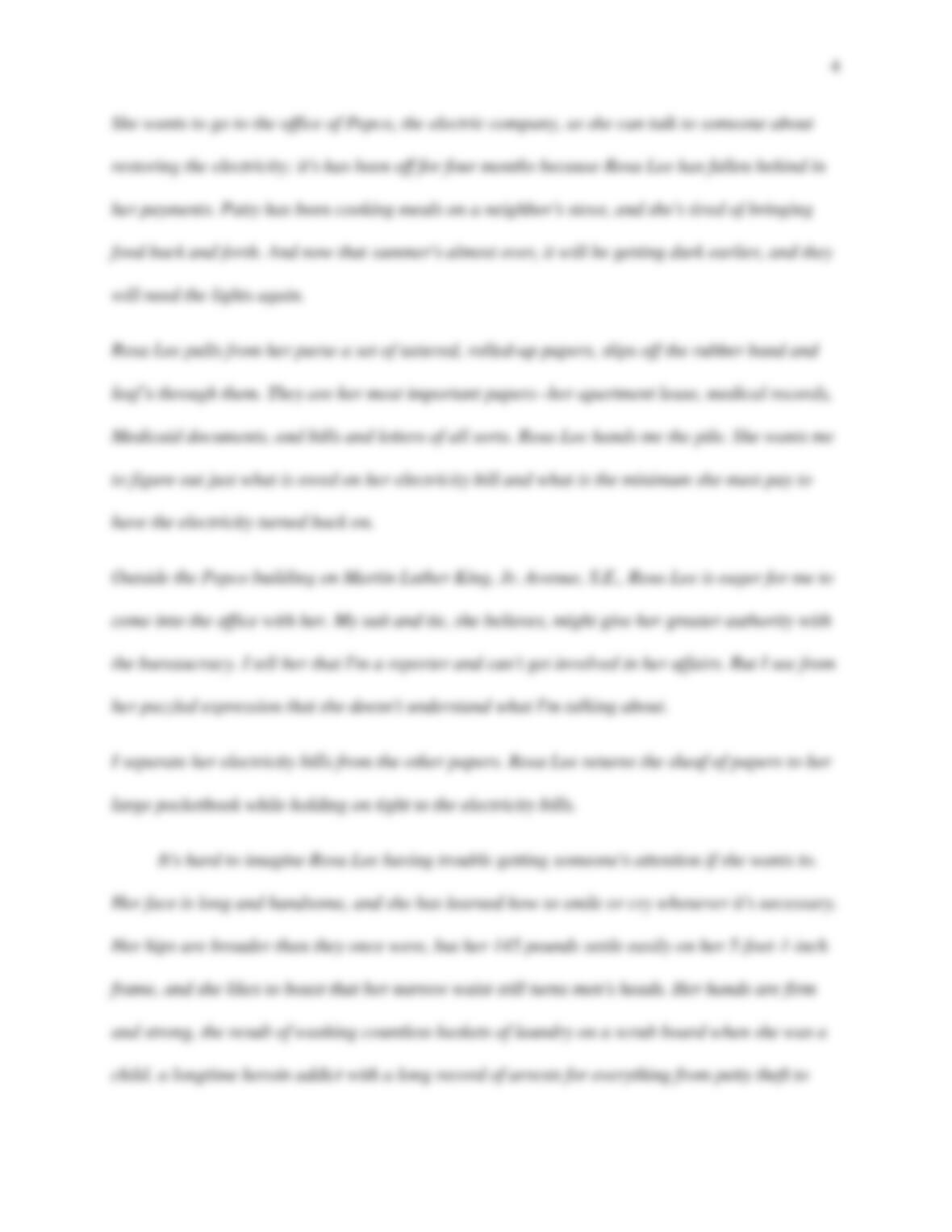 4
She wants to go to the office of Pepco, the electric company, so she can talk to someone about
restoring the electricity; it's has been off for four months because Rosa Lee has fallen behind in
her payments. Patty has been cooking meals on a neighbor's stove, and she's tired of bringing
food back and forth. And now that summer's almost over, it will be getting dark earlier, and they
will need the lights again.
Rosa Lee pulls from her purse a set of tattered, rolled-up papers, slips off the rubber band and
leaf's through them. They are her most important papers--her apartment lease, medical records,
Medicaid documents, and bills and letters of all sorts. Rosa Lee hands me the pile. She wants me
to figure out just what is owed on her electricity bill and what is the minimum she must pay to
have the electricity turned back on.
Outside the Pepco building on Martin Luther King, Jr. Avenue, S.E., Rosa Lee is eager for me to
come into the office with her. My suit and tie, she believes, might give her greater authority with
the bureaucracy. I tell her that I'm a reporter and can't get involved in her affairs. But I see from
her puzzled expression that she doesn't understand what I'm talking about.
I separate her electricity bills from the other papers. Rosa Lee returns the sheaf of papers to her
large pocketbook while holding on tight to the electricity bills.
It's hard to imagine Rosa Lee having trouble getting someone's attention if she wants to.
Her face is long and handsome, and she has learned how to smile or cry whenever it's necessary.
Her hips are broader than they once were, but her 145 pounds settle easily on her 5-foot-1-inch