Case Brief
Type
Essay
Pages
4
Word Count
876
School
N/A
Course
N/A

Student Name 1
HAYNES v. OHIO TURNPIKE COMMISSION
177 Ohio App.3d 1(2008)
Factual Background
Bennie Michael Haynes (appellant) was employed by the Ohio Turnpike Commission ("OTC")
as a section roadway maintenance employee for 19 years. Robin Clarlin, Human Resource
Director for the OTC terminated Hayne's employment on March 3, 2006. The OTC claims
Haynes was terminated for leaving the scene of an accident that occurred during one of his shifts.
Haynes was 53 years old when the OTC terminated him. Haynes stated in his affidavit; he was
told by the Teamsters' attorney that the OTC's attorney, "did not expect to win arbitration
challenging my termination. However, if I did win and was reinstated, I would be fired the same
day upon return because 6 points on commercial license."
Appellants filed a complaint for discriminatory wrongful termination based on age in violation of
R.C. 4112.02(A) and 4112.99, and loss of consortium on behalf of Haynes wife, Melanie in Aug.
2006.
Further, appellees argued that Haynes failed to exhaust his remedies under the
collective-bargaining agreement. Haynes argued he was not required to exhaust his remedies
under the agreement before pursuing an age discrimination claim.
Procedural Background
March 2006, Haynes filed a grievance with his union, Teamsters Local Union No. 436 ("the
Teamsters") because he did not agree with the discipline imposed.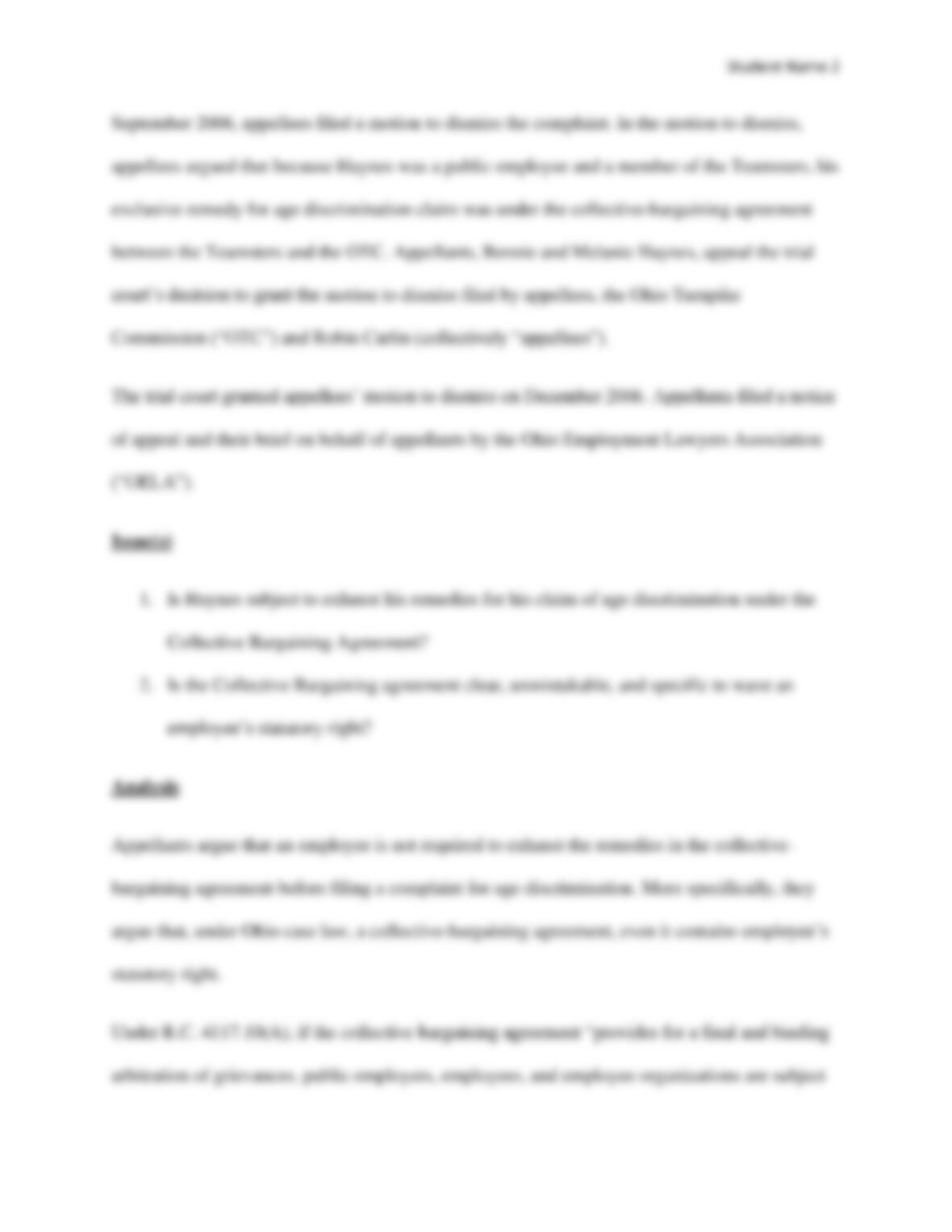 Student Name 2
September 2006, appellees filed a motion to dismiss the complaint. In the motion to dismiss,
appellees argued that because Haynes was a public employee and a member of the Teamsters, his
exclusive remedy for age discrimination claim was under the collective-bargaining agreement