Busi 310 research paper
This is a preview content. A premier membership is required to view the full essay.
View Full Essay
Running Head: Strategic Planning
Strategic Planning
Name
Liberty University
Abstract
Strategic planning is one of the fundamental factors for the success of an organization. This
research paper discusses its importance as well as its different components. Most organizations
fail to accomplish their goals due to their lack of strategic planning. Organizations need to be
well informed about strategic planning and how it can benefit their operation. The performance
of workers, the effectiveness of plans and efficiency of resources are all affected by the strategy
an organization chooses to follow. Committed mangers and employers who have clear purposes,
the right plans and evaluation methods often meet their goals effectively within the desired time.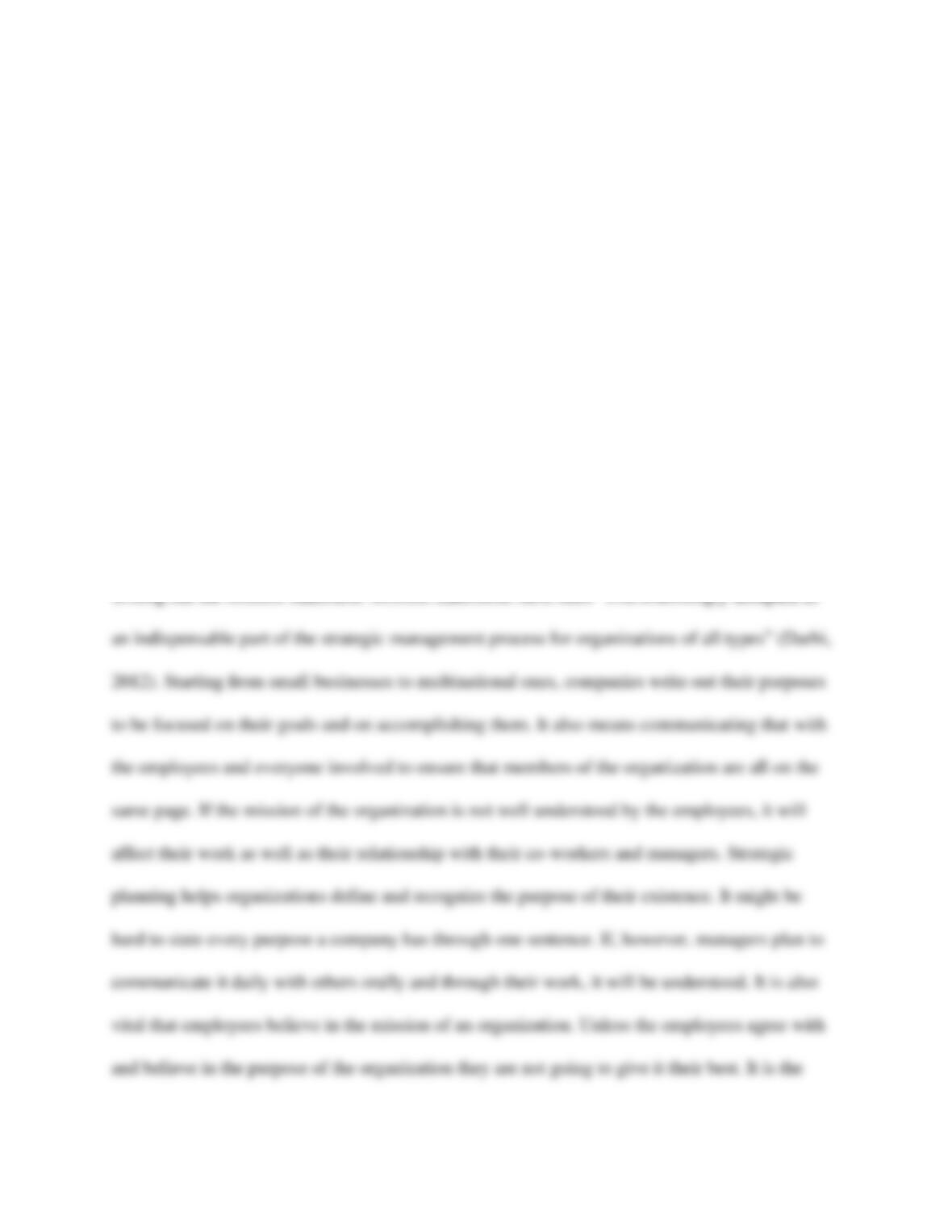 Strategic Planning
Strategic planning is the direction an organization takes in planning and implementing its
goals. A strategy helps an organization to have a clear perspective in how to go about
accomplishing the goals it has set for itself. A successful organization has a clear vision on what
its purpose and mission is, how to fulfill it and how to ensure that it is accomplished. The path
the organization takes to define these things determines how effective it will be. Some
organizations run on general ideas while some, being more focused, go into specifics. Strategy
not only determines which way an organization should head towards but it also includes looking
back at the path it has taken thus far and how successful it has been.
The first step in strategic planning is defining the purpose of the organization. Unless an
organization has a clear and defined purpose, no good strategy will be helpful. This may mean
writing out the mission statement. Mission statements have been "overwhelmingly accepted as
an indispensable part of the strategic management process for organizations of all types" (Darbi,
2012). Starting from small businesses to multinational ones, companies write out their purposes
to be focused on their goals and on accomplishing them. It also means communicating that with
the employees and everyone involved to ensure that members of the organization are all on the
same page. If the mission of the organization is not well understood by the employees, it will
affect their work as well as their relationship with their co-workers and managers. Strategic
planning helps organizations define and recognize the purpose of their existence. It might be hard
to state every purpose a company has through one sentence. If, however, managers plan to
communicate it daily with others orally and through their work, it will be understood. It is also