Big 5 Project
Type
Essay
Pages
5
Word Count
1167
School
Rowan-Cabarrus Community College
Course
BUS 253
Bri-An Wiggins
Professor Lynden
BUS 253
13 Nov 2017
The Big 5 Project
Leaders know that gaining confidence from people they seek to lead is the most
important step to becoming a leader such as these interviewers, most people say their leaders but
don't know how to lead a crowd, where to go or how to gain an organizations or a team. In a
trusty environment, people come around and shared their vision, look out for each other, and are
in the right place to properly produce results that meet, and often exceed their expectations. Trust
is the main focuses that these leaders have. If you gain trust in your audience or whomever it
might be this means you gain their attention and keeps the focus on you, building your
relationship with that crowd. They understand that in order to lead they understand their purpose
for their audience, they have a clear understanding strategy for moving forward or towards their
goals.
I would say for someone to become a leader you need to look at the bigger picture,
learning what needs to be done, taking action and not afraid of taking risk, being knowledgeable,
taking steps by analyzing, and helping things grow. A leader is built for a specific purpose,
leader. A leader has to motivate and inspire a team, an organization, have to persuade a crowd. A
leader always makes sure they have great communication skills and just raising the bar. Be very
competent, be very good at what you do, own it so that others can look and follow, be so good
they can't turn you down. Take care of your people like always building that trust is very
important in leadership like I stated in the last paragraph. These are some of the things I would
consider and keeping in mind on how to become a successful leader.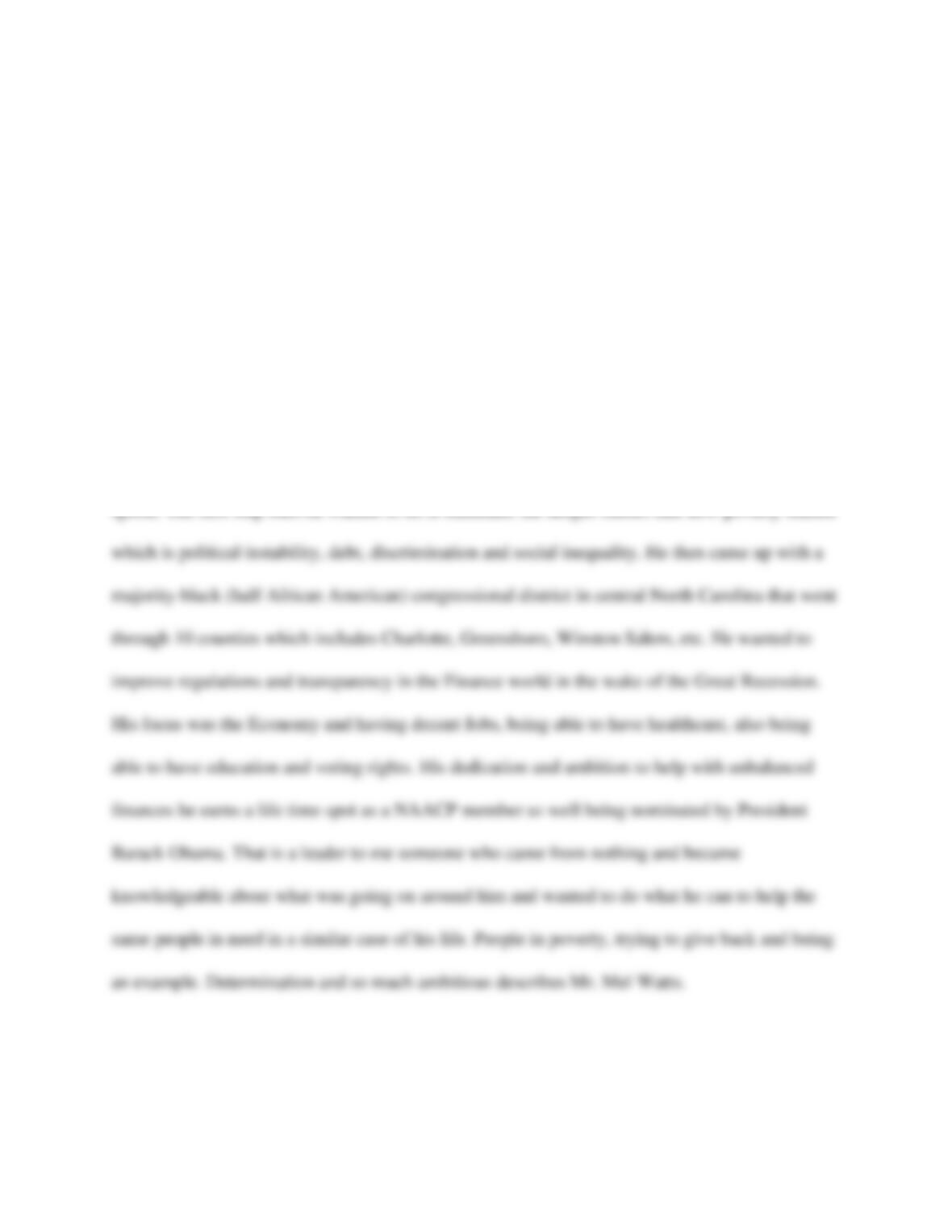 Bri-An Wiggins
Professor Lynden
BUS 253
13 Nov 2017
Melvin Luther Watts
Melvin Watts was an American politician who played a role in the Federal Housing
Finance Agency. He became a member of U.S House of Representative and is the second black
member elected for congress in this century. Melvin Watts severed as an advocate for the civil
liberties and wanted to build ties with businesses from his seat on the Financial Committee. He is
a leader in today society to me because like most born into poverty, it's a struggle for most
having to make ends meet in order to have things unlike like most who were feed with a sliver