Apple FBI Encryption Case Study
Type
Essay
Pages
6
Word Count
1644
School
University of Cumberlands
Course
MBA
For this paper, I would like to draft the project charter for a recent project that we initiated as a
team. The goal of this project was to develop new functionality to the already existing
functionality. The project charter is going to define what it tries to achieve and how it achieves.
Since this draft is the starting point for the entire project implementation, it clearly outlines the
final product expected, a statement of the business needs, and all the other details explaining the
reason and the purpose for its existence for building the project. The project charter is done once
the Statement of Work is completed (Kloppenborg, T., Anantatmula, V., & Wells, K. 2019). The
drafting of the project charter would contain complete yet brief information about the initiating
and planning details for the project. It can be also called the project approval form because the
approval is provided based on the information provided in the project charter.
For the project charter that I draft, would have the basic information of project name, its
description, project manager and the project sponsor. It should be able to clearly define the limits
of the project implementation, be a source of tracking down the objectives and milestones that
are going to be achieved during the implementation stage and a source of making sure the path
towards the final product goal is not deviated (Tereso, A., Ribeiro, P., Fernandes, G., Loureiro, I.,
& Ferreira, M. 2019). I would have details about the project owners and other possible important
stakeholders that are involved in the project (Hayes, D. S. 2000). In my current project the main
project owners are company management itself and the other important stakeholders include the
developers for the third-party software libraries that we were planning to use. A clear input is
needed from the above-mentioned parties to make detailed notes about the final product required,
and how to achieve the final goal desired. The owners of the third-party tools and software
provide support and instructions to implement the necessary parts of the application. Once all the
important inputs have been achieved from all the important stakeholders, the information must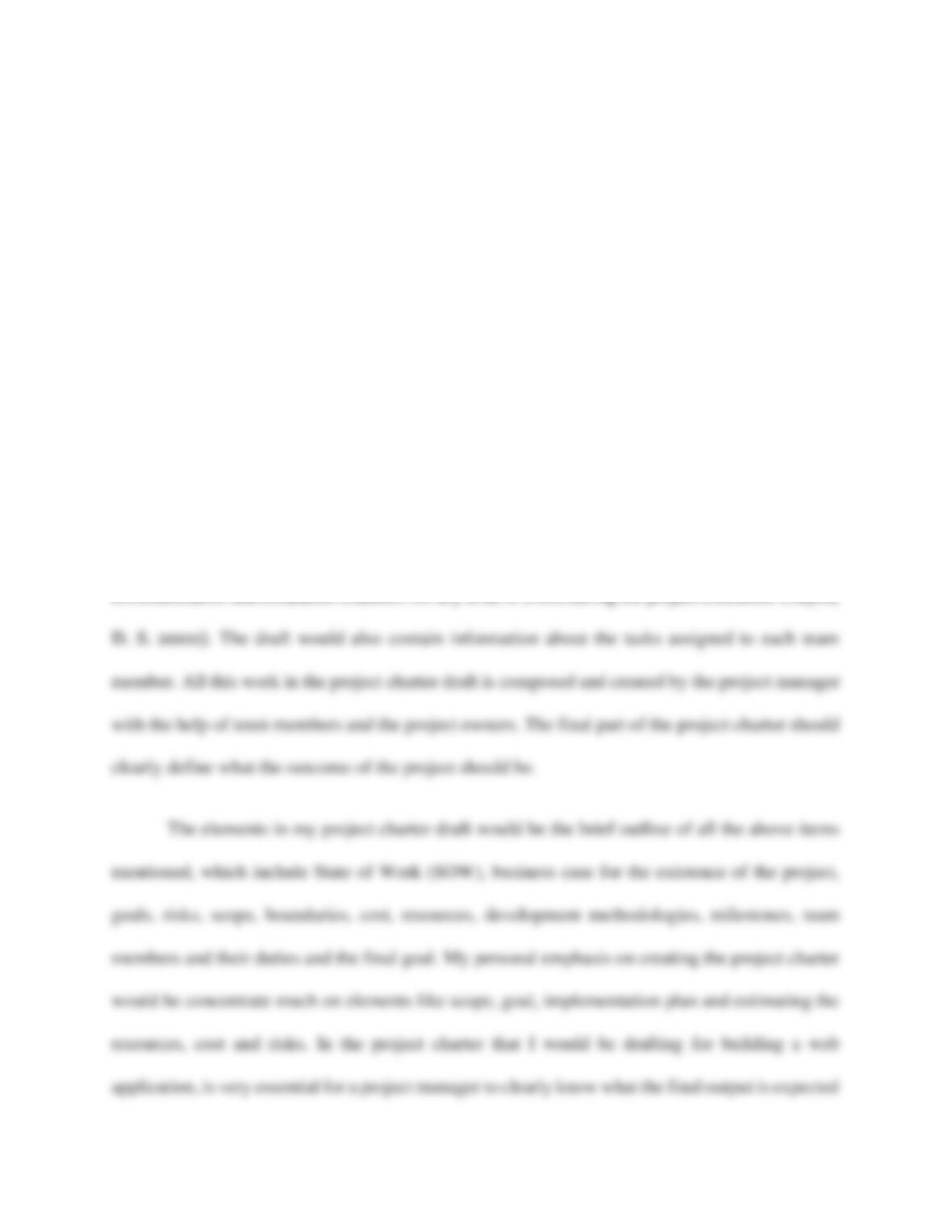 be clearly communicated with the other stakeholders who are involved in the project initiation
and the implementation phase. In our project we made sure all the inputs and requirements were
clearly communicated to the developers and the testers in our team. Using all the inputs needed a
development methodology to be used should be present in the project charter (Hayes, D. S.
2000). For our project, we have chosen the agile software development methodology which suits