33165
Type
Essay
Pages
4
Word Count
1228
School
33165
Course
33165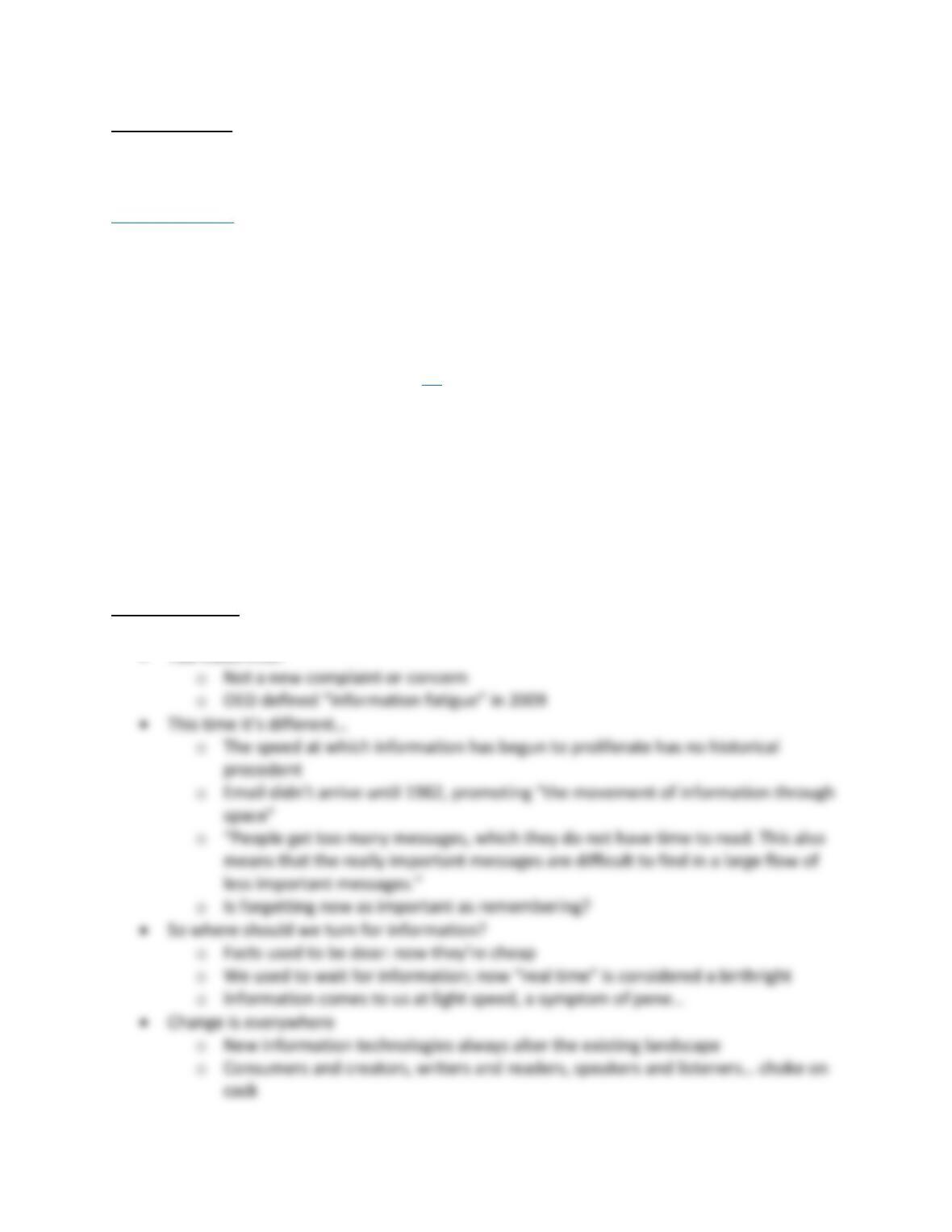 Gleick Prologue
Transistor
Claude Shannon
(1916-2001)

Had bigger concerns about the electronic/information age

What exactly were they making? And how to measure it?
o
'The fundamental problem of communication is that of reproducing at one point
either exactly or approximately a message selected at another point. Frequently
the messages have meaning.'
o
Shannon came up with a "

bit

." "A unit for measuring information."
A Theory of information

The growth of electronic info meant that Claude Shannon needed a way to understand
info and systems for the transmission of intelligence

Shannon – Weaver model of communication (look it up)

Once we had the bit, it became clear that information was integral to everything else
o
Now we're dealing with TMI; we compress it, stream it, sort it, match it, :lter it.
But how can we make sense of it?
Gliek Chapter 15
New News, Every Day
o
Not a new complaint or concern
o
OED defined "information fa$gue" in 2009
o
The speed at which information has begun to proliferate has no historical
precedent
o
Email didn't arrive until 1982, promoting "the movement of information through
space"
o
"People get too many messages, which they do not have $me to read. This also
means that the really important messages are diAcult to :nd in a large Bow of
less important messages."
o
Is forgeCng now as important as remembering?

So where should we turn for information?
o
Facts used to be dear: now they're cheap
o
We used to wait for information; now "real $me" is considered a birthright
o
information comes to us at light speed, a symptom of pene…

Change is everywhere
o
New information technologies always alter the existing landscape